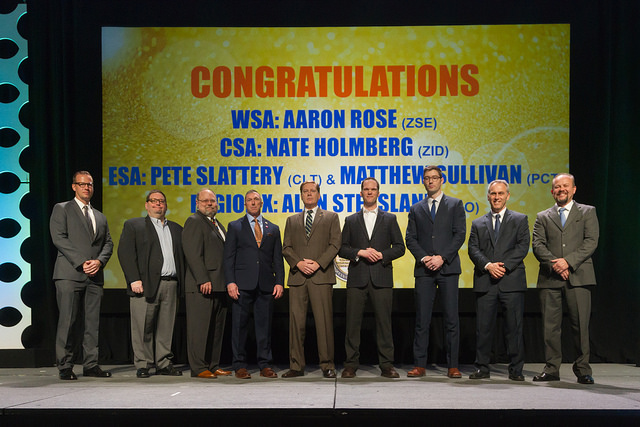 March 10, 2017 // NATCA National Professionalism Awards: Alan Stensland, NRX-ESO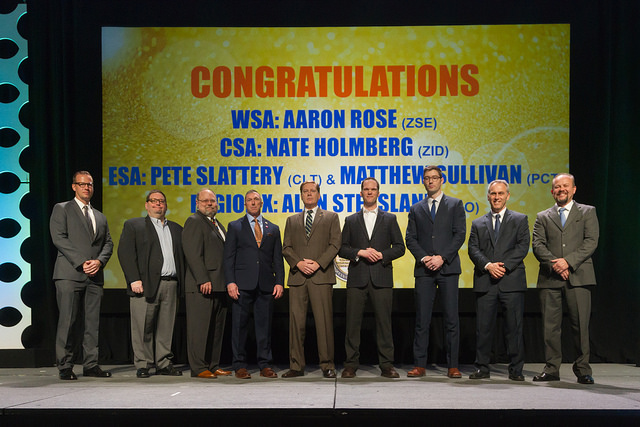 This is the fifth and final article in our series profiling the 2017 NATCA National Professionalism Award winners.
Alan Stensland (Region X-Engineer Southern Region, ESO) is one of the five winners of this year's second annual NATCA National Professionalism Awards. NATCA will recognize his great work on March 21 at Communicating For Safety. He is the co-winner for the Eastern Service Area.
The NATCA Professional Standards Committee (PSC) created the National Professionalism Award in 2015 as a means to recognize those members who have demonstrated a consistent personal commitment to safety and excellence, and whose professional contributions and individual performance has enhanced the standings of our profession.
Those who know Stensland, an FAA Engineer and Field Incident Response Lead, fondly refer to him as Hurricane Alan because he has worked during every hurricane from Andrew in 1992 to Matthew in 2016. He began his career with the FAA in 1984 as an En Route Resident Engineer. During Hurricane Andrew, he performed collateral duty as the initial regional program manager for Environmental and Occupational Safety and Health, also working to start the current EOSH Program. Prior to this, there were not processes or procedures for FAA Field Incident Response. Stensland proposed a system and was "challenged" to proceed and make it work. The state-of-the-art Incident Command System (ICS) was used as the basis of the proposed system.
The Field Incident Response (FIR) created an organization to be used to manage the complexities of assessment and recovery when local area infrastructures had been subjected to a disaster. The ESA FIR Plan has been used and continually improved for every disaster since its creation.
In 2011, Stensland began the task to document the plan and then train all Tech Ops responders possible. In 2012 the first draft of the ESA FIR District and SSC Guidance Manual was completed. In 2013 Stensland began the training for the District Management Teams, which included the District Managers and SSC Managers, Engineering Services, and Technical Services. In 2014 he began the training at the System Support Centers (SS). During that time he also represented the FAA as the subject matter expert with New York/New Jersey Port Authority after Hurricane Sandy. In 2016 Stensland developed an air traffic version of the guidance manual and training, with district and facility managers when possible.
In addition, Stensland has been the ESO Engineers and Architects representative for Technical Operations and Technical Services for many years. During that time he has worked to represent the Union and mentor and coach other bargaining unit employees. He is also a strong advocate for the Boy Scouts of America. He has received numerous awards and honors from them and has held several leadership positions.
Here is what several of Stensland's peers and co-workers had to say:
"I have been involved with hurricane responses for a long time. When we first started, it was a handful of smart, well-meaning engineers that would travel into harm's way to investigate the hurricane's effect on our facilities. Many times the employees traveled with backpacks and little else. Communication was poor, food and water and lodging may not be available, so the teams traveled with their own provisions, much like going on a camping trip. When Alan became involved, he brought organization and planning into the process which eventually lead to the all-important funding. This is one of the reasons why we affectionately call him "Hurricane Alan."
"The last component of "Hurricane Alan's" major contributions was the development and formalized documentation of processes and procedures. Alan expanded the teams to include support from the acquisition team, the logistics support team along with the human component to support both the impacted employees as well as those responders. Now we have a very formalized and efficient process and program that is funded, well trained and prepared to safely respond to not only hurricanes, but any type of disaster. Alan is to be commended for this vision and his tenacity to bring his vision into reality. The NAS is in better hands with Alan's efforts as are those responding to the disasters as well as those impacted by disaster. Alan is truly the father of our extremely successful disaster response program."
"Although my staff and I constantly monitor tropical weather, it is often Alan who beats us to early analysis of tropical wave development and potential risks for major storm development. He has a genuine passion for emergency planning and preparation. He has developed web portals that pale NWS and commercial weather organizations in that he correlates tons of data to forecast potential impact to NAS equipment so that Tech Ops resources are in place to ensure the most efficient protection and restoration of equipment. Alan's combination of an impeccable work ethic, passion, experience, and dedication make him a tremendous asset."
"Alan Stensland is, in my opinion, the most qualified expert that the FAA has in the area of emergency response. I have had the pleasure to work at least three emergency events with Alan in my role with the Eastern Service Center Significant Incident Response Group. When prioritizing the restoral of NAS equipment after events, Alan's professionalism, technical expertise, and knowledge allowed us to quickly restore out of service equipment. Alan is not only an expert in responding to events but he also developed the emergency response procedures used by Tech Ops. Alan shows a willingness to learn as much as he can about the role of other lines of business to help him succeed in his emergency response role."
"Alan Stensland has been an inspiration for the entire nine years I have known and worked with him. There are very few people who love their calling as much as Alan does. His calling has been to improve the safe and effective response to adverse events in the NAS, through thorough understanding, planning, and practice."
"Alan is, at the same time, knowledgeable, determined, patient, and passionate. He encourages his co-workers to take ownership of the challenges of emergency response as he has, and teaches them how. He also asks for their input to refine processes. Because of his leadership style he has developed a cadre of volunteers who are eager to step up at a moment's notice and respond to emergency events."
"It has been an honor to know a man of the high moral character Alan Stensland lives out; a privilege to work with someone as competent, inquisitive, and dedicated as he is; and a rare opportunity to know someone who embodies all those attributes. Alan is deserving of all the accolades that could be heaped upon him."