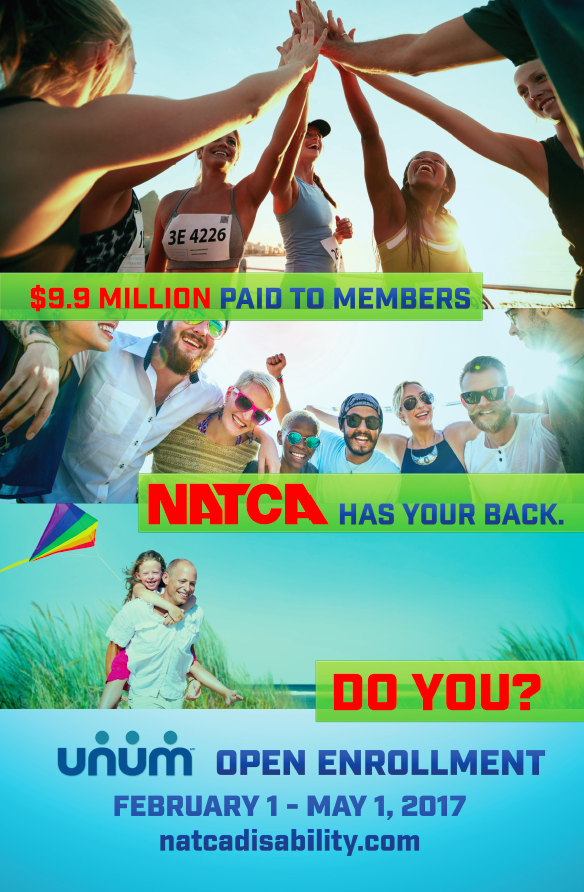 March 10, 2017 // This Week's Notebook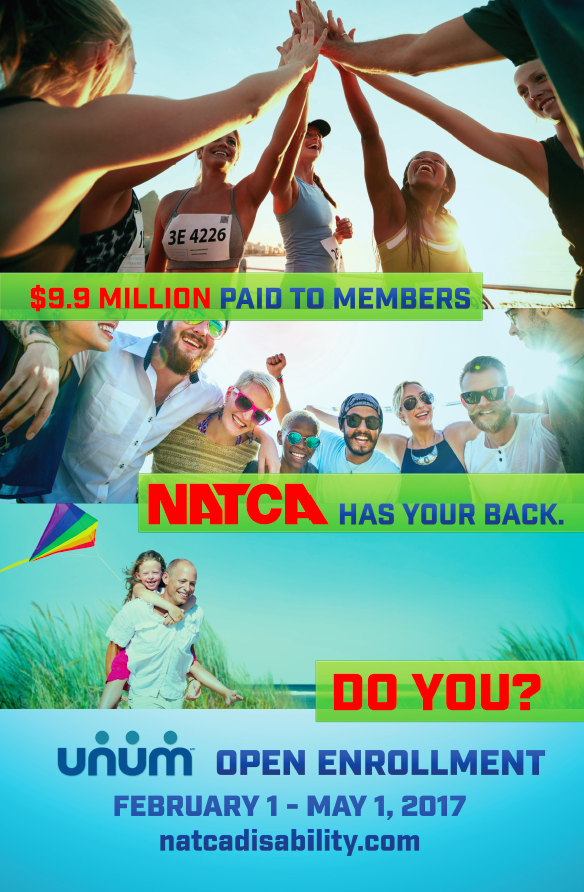 ---
Next Oklahoma City Meet & Greet: April 13
The next NATCA Meet & Greet in OKC will take place Thursday, April 13th at Shorty Small's Restaurant. The lunch meeting is at 12:30 p.m. and the dinner meeting will begin at 6 p.m. Our schedule will also include a 4 p.m. happy hour for current NATCA members who are in training at the Academy. All three events will take place at Shorty Small's.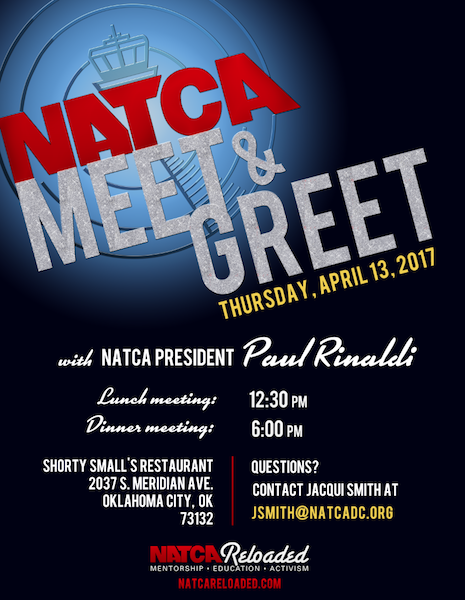 NATCA leadership makes it a priority to educate ATC Academy students about NATCA and their rights as part of the future air traffic controller workforce. NATCA will host a lunch meeting in Oklahoma City at 12:30 p.m. local time and a dinner meeting at 6 p.m. local time for each date listed below in Oklahoma City. Check back in the Insider for more details as each date approaches.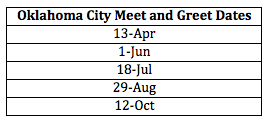 ---
NATCA ZHU Members In Need Of Leave Donations
Two Houston Center (ZHU) NATCA members – Greg Jackson and Sarah Krzak – have been placed on the Voluntary Leave Transfer Program (VLTP) list. Greg's son was killed in a tragic accident last week. Greg is a longtime NATCA member. Sarah had surgery recently and will be away from work for 6-8 weeks. Sarah is a developmental in the AUS area and has been at ZHU for about 10 months. She joined the Union on Day 1 at ZHU.
Leave donations can be made from annual and/or sick leave balances. TO DONATE: Please see a supervisor and they (at a FAA workstation) will be able to get you into the VLTP system. From there, search and find Greg Jackson and/or Sarah Krzak from the list of recipients. If you have any questions or encounter any difficulties in donating please see your NATCA rep.
Please consider helping our Union brother and sister through this difficult time. Thank you.
---
NATCA STORE ITEM OF THE WEEK: Metallic Mug
Features of this product: NATCA 16 oz. thermal travel mug It is metallic-foiled, double-walled insulated, with break resistant plastic and a mechanical open/close lid. The NATCA logo is imprinted on front. Easily fits in automobile beverage wells. Top rack dishwasher safe.
Colors: Royal Blue and Ruby Red
Price: $6.
Made in the U.S.A.
To see the item and how to order: Select USPS or UPS as your shipping preference on your orders. Reminder: Apparel items take three-to-four weeks to deliver from date of order. If you need items by a certain date, please contact NATCA Store customer service for arrangements. Expedited shipping charges may apply.
To check on stock availability or for further assistance, call 800.266.0895 or email natcastore@natcadc.org.
To check on stock availability or for further assistance, call 800.266.0895 or email natcastore@natcadc.org.
---
Member Portal
Have you moved recently and need to update your mailing address? No problem! Simply log in at the Member Portal and update your contact information. Those registering for the first time must have your NATCA member number ready as it is needed when you register. Please also include or update your email address so we can send you NATCA updates like the NATCA Insider or other important announcements. For further assistance, contact Customer Service at 800-266-0895 or email uwadmin@natca.net.
---
Benefits Spotlight ABOD & ASSOCIATES, LLC
Tax season is upon us and NATCA is pleased to announce that we have partnered with Abod & Associates, LLC accounting and tax professionals to provide nationwide services to every NATCA member with assistance with individual income tax return preparation.
Abod & Associates can also assist with evaluating your pension plan portfolio, or reviewing your stock option plans. Their team of tax and accounting professionals are able to resolve the most complex issues. They have over 100 combined years of experience in working with thousands of individuals and businesses to help them to fulfill their financial and business goals. Their mission is to help NATCA members fulfill their financial goals, through tax, and wealth management expertise; and since many NATCA members have business on the side, they also help with your business. They help you achieve your goals by providing proactive advice which allows you to maximize your opportunities, minimize risk, and unlock your full potential to succeed!
Utilizing their professional team of business experts, their network of strategic partners, and the latest information technology, they are able to provide you with the best resources available at the lowest reasonable cost, and provide responsive solutions to resolve your business, financial, and tax challenges. Check them out at www.cpabod.com/natca/ or www.natcabenefits.com.
They offer their individual clients the following comprehensive services:
Complete overall financial and tax physical
Review of your personal financial statement
Review of pension, 401K and retirement assets
Income tax return review
To ensure you are maximizing your deductions
Minimizing your federal and state tax liability
Year-end planning for tax savings strategies
Federal and State Individual Income tax preparation
Using their secure Sharefile portal, you can transmit your documents electronically
They use the latest Tax Organizer available on their website to ensure they identify all the proper deductions
Sign your return using their secure RightSignature portal
They will eFile your returns using their advanced IT infrastructure to ensure you receive your refund ASAP!
Business return preparation
From selecting the proper business entity
To developing a plan to sell your business
Registered QuickBooks professionals
LLCs Corps, S Corps, and Trusts
Year-end tax planning
They perform a comprehensive review of your prior year returns
They review your current year pay stubs, broker statements
They provide a detailed analysis of your current tax status
They make proactive recommendations to save $$$.
They are your DEDICATED financial and tax resource
They are available year round to answer all of your questions
They don't charge for phone calls
Most questions are answered during your call
---
Upcoming Retirement Seminars Provided By 4 Square: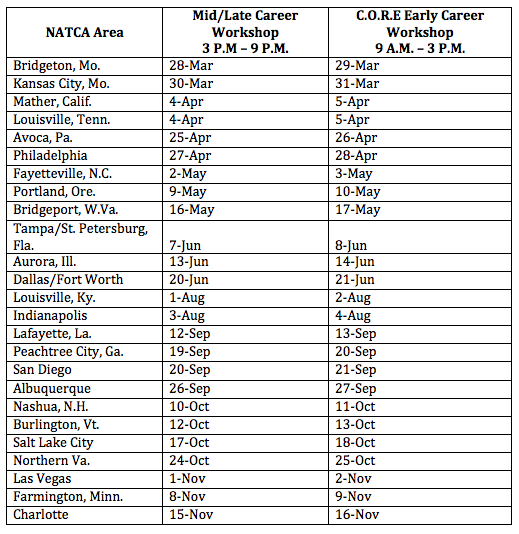 Thank you for your interest in attending a NATCA Retirement Seminar by 4Square Financial Literacy Partners. Each locale hosting a seminar will hold both a standard seminar for members with more than 15 years of service from 3 – 9 p.m. local time, and a Career Optimization and Retirement Education (CORE) Seminar for members with fewer than 15 years of service from 9 a.m. – 3 p.m. local time.
To register for a seminar, log in to the NATCA Portal and click the "Events" tab, followed by "2017 Retirement Seminars." Complete the requested information and click "Next." When you come to the screen listing the seminars, select the one you wish to attend, hit "Next," verify your requested seminar information and then click "Done."
You will receive a confirmation email once your registration is complete. A second email will be sent three weeks prior to the seminar with logistical information for the seminar along with instructions on how to obtain a benefits estimate at the seminar. You may access the benefits data collection form on the confirmation page once you register.
Spouses and significant others are also invited to attend. Please ensure that you add them to the registration when asked if you will be bringing a guest.
Although you may register anytime, we ask that you register three weeks prior to the event. Walk-ins are permitted with a membership ID number. However, you will be unable to obtain a benefits estimate at the seminar.
For any questions or problems with registration, please contact Grace Colby, NATCA Executive Administrative Assistant: 202-220-9829, gcolby@natcadc.org.
---
NATCA EDGE – Designed exclusively for NATCA members!

Can't get to an in-person retirement seminar? We'll bring the seminar to you! Presenting an all-new, flexible access, web-based session of our popular retirement benefits seminar. Log in to the NATCA Portal to register.