March 17, 2017 // Archie League Medal of Safety Award-Winning Event Highlighted

Mason Braddock (left) and pilot Cathy Lewan. Photo courtesy of ABC World News Tonight.
Atlanta TRACON (A80) FacRep Mike Ryan hosted a press conference on Tuesday, March 14 at the facility. There, A80 Archie League Medal of Safety Award-winning members Mason Braddock, Patrick Burrows, Nichole Surunis, Clay Sutton, and Keith Tyus reunited with Georgia pilot Cathy Lewan and told their story of last year's dramatic flight assist to a large group of reporters and local television crews.
Federal Aviation Administration Public Affairs and facility management allowed the media into the facility, which enhanced the coverage. Atlanta TV crews were even allowed to film inside the control room for a brief time to give viewers a peek into the world of the air traffic controller.
Afterward, the winners sat down and described how they guided Lewan to a safe landing at Atlanta Hartsfield-Jackson International Airport after her throttle got stuck.
Braddock, Burrows, Surunis, Sutton, and Tyus will be honored on March 22 at Communicating For Safety during NATCA's annual Archie League Medal of Safety Awards banquet.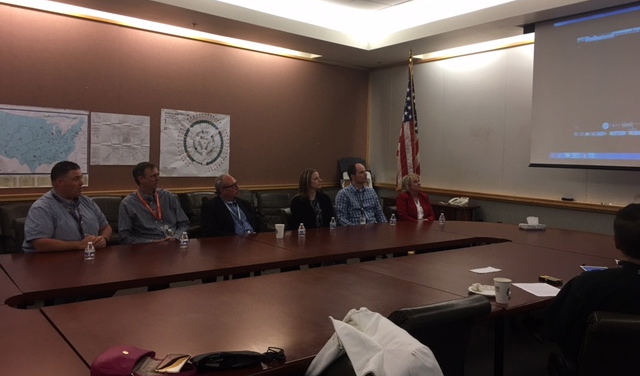 The Archie League Winners from A80 along with pilot Cathy Lewan (far right) participate in press conference at A80.
Here are some excerpts from this week's reporting:
THE WASHINGTON POST, VIA THE ASSOCIATED PRESS
Unable to move her throttle, the pilot of a small plane found herself over the world's busiest airport with the flashing lights of firetrucks gathering on the runway below, preparing for the worst.
Fearing calamity, Cathy Lewan asked Atlanta's air traffic controllers to call her husband and request immediate prayers.
But air traffic controllers guided her to a safe landing at Hartsfield-Jackson Atlanta International Airport on Feb. 14, 2016.
On Tuesday, she was able to thank them at the FAA's air traffic control (TRACON) in nearby Peachtree City, Georgia.
"I was nervous and I was terrified, but I also knew I was in the best hands in the world," she said Tuesday.
ATLANTA JOURNAL-CONSTITUTION
"You know, if I had an emergency and I had to put it down in a field I think I could do it in a second," Lewan said to Braddock during their exchange. "I think there's something about having to land at Hartsfield. The whole amount of red and blue lights … it just unnerves ya' a little bit, but I'm fine."
But she also was thankful to be near such a huge airport.
"There's plenty of equipment to help you and there's plenty of runway to work with so, uh, that's the preferred route," Braddock told her at one point.
"No doubt about it," she replied. "God gave me that 9,000-foot runway and I do appreciate it."
NBC 11 ALIVE ATLANTA
As Lewan prepared for the landing, Braddock continued to calmly talk her through it.
"You can take more time if you need," he coached from the tower. "Or what we can do is a fly-by, kind of get a look at the airport and the runway. It's totally up to you."
After a single-practice run, Lewan felt confident and made a safe landing, which she now credits to everyone but herself.

"What I got was my own SWAT team – the super, wonderful, Atlanta team,' (Lewan) joked. "Tremendous, tremendous comfort and guidance. I couldn't have done it anywhere else without being here and with this team."
Full coverage can be found in these press clippings:
ABC WORLD NEWS TONIGHT
Atlanta TRACON controllers win Archie League Medal of Safety Award for saving pilot whose throttle stuck near Atlanta Hartsfield-Jackson International Airport
THE WASHINGTON POST, VIA THE ASSOCIATED PRESS
Pilot reunites with air controllers who guided her in crisis
ATLANTA JOURNAL-CONSTITUTION
Pilot aided by Atlanta controllers: 'God gave me that … runway'
FOX 5 ATLANTA
Air traffic controllers honored
CBS 46 ATLANTA (WGCL-TV)
Pilot makes dramatic landing with help of air traffic controller
11 ALIVE ATLANTA (NBC AFFILIATE, WXIA-TV)
Pilot in distress: My 'SWAT team' of calm air controllers steered safe landing
WSB-TV ATLANTA
(midday broadcast story)
WSB-TV ATLANTA-Note: This story is embedded in the myajc.com story
(evening broadcast story)
WSB RADIO ATLANTA
Story previewing Tuesday's media event at Atlanta TRACON
WSB RADIO ATLANTA
Full story during the evening broadcast
NBC NEWS NATIONAL
Air traffic controller guides pilot through dangerous landing