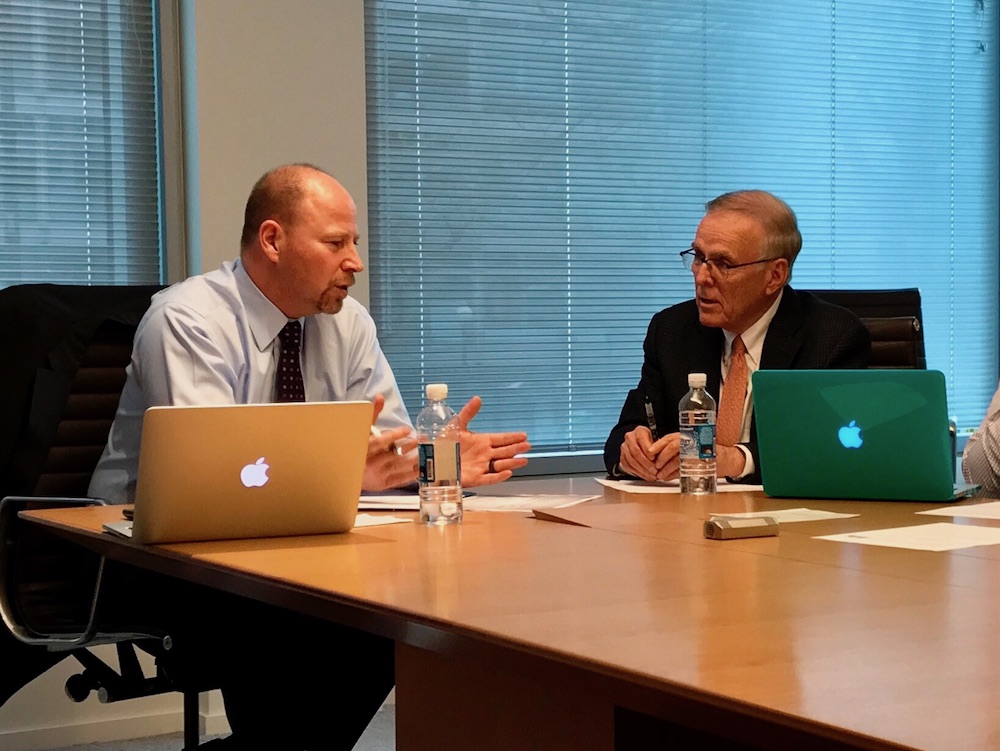 March 31, 2017 // Paul Rinaldi Discusses Possibility of Reform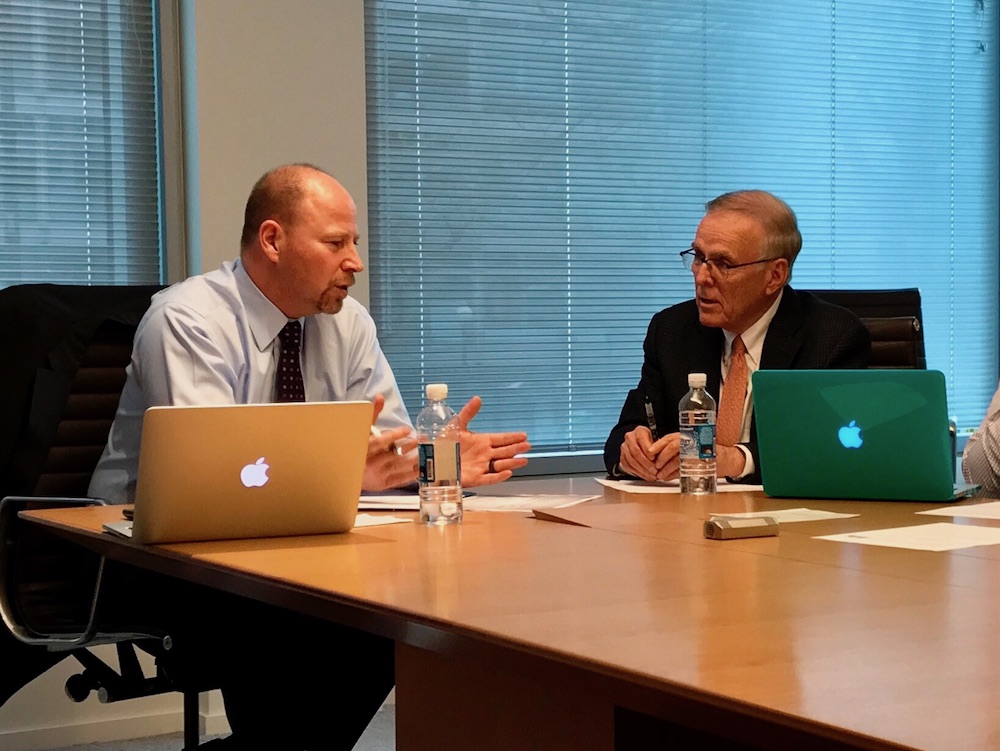 NATCA President Paul Rinaldi (left) and former Senator Byron Dorgan.
Yet another possible government shutdown looms just four weeks away. It's bad for the National Airspace System (NAS) and the country. But it provides a fitting and timely backdrop for NATCA to again make the strong case for why the status quo is broken, unsustainable, and incapable of handling the current and future needs of the NAS.
On Thursday, March 30, NATCA President Paul Rinaldi joined former Senator Byron Dorgan for an Eno Center for Transportation policy webinar entitled: Modernizing Air Traffic Control from the Labor Perspective. Before an online audience that included aviation community members and some media, Rinaldi laid out the bottom line for NATCA: we must have a stable, predictable funding stream for the NAS.
"It's no secret that our status quo is unacceptable, with unpredictable, stop-and-go funding, short-term extensions of FAA reauthorizations, sequester, furloughs, constant threats of shutdown, and now new threats of shrinking resources and budget," Rinaldi said. "We cannot sustain a robust aviation system if we don't fix the status quo."
Rinaldi cited an example of a modernization project stalled in the U.S. due to lack of predictable funding: spaced-based Automatic Dependent Surveillance Broadcast (ADS-B).
"Rockets are being launched this year and there are 13 satellites up there now to give us full global surveillance. One satellite is giving us surveillance right now and it's working," Rinaldi said. "The FAA is struggling to get on board with this technology because of lack of funding. In order to get on board, they're going to have to cut some important NextGen programs that we're in the middle of if we're going to move forward with space-based ADS-B."
Rinaldi said the current system continues to grow beyond the capability of the funding system to sustain it. Among the examples he listed: Boeing and Airbus will, over the next 17 years, produce twice the number of aircraft currently flying today, and the number of passengers served by the NAS grew over the last several years, topping 900 million for the first time in 2016. That total is expected to surpass the one billion mark in just a couple of more years.
Without reliable funding, we won't be able to keep up with today's traffic, "never mind the growth that we see coming," Rinaldi said. "With increased pressure to expand capacity, we've got to figure out a better way to do business for our aviation system."
Rinaldi serves on the NextGen Advisory Committee (NAC). He told the webinar about the recent NAC meeting at which a focus was put on New York and expanding that region's airspace and airport capacity. But as Rinaldi notes, there are not easy, quick, and affordable ways to pour more concrete in the form of new runways and taxiways. That leaves ideas such as finding ways to do more VFR operations in IFR conditions. But that, he said, requires state-of-the-art technology to do it safely, at both controller positions and in the cockpit. "That would take a tremendous amount of resources," he said.
Rinaldi also blamed unstable funding for fueling the steady decline in the number of fully certified controllers nationwide. The current total (10,619) is a 28-year low. "We are on track now" to recovering from the 2013 sequestration-caused hiring freeze and the FAA's radical 2014 change to the hiring process, Rinaldi said. But he added, "it will take years to get to appropriate levels. You can't just fix things overnight. You have to plan."
Despite the challenges, Rinaldi emphasized that we continue to run a very safe system. Building on themes he laid out in his Communicating For Safety-opening speech last week, Rinaldi made clear that a strong safety record does not mean we can take it for granted.
"It's without argument that commercial aviation is in the safest period in history," he said. "It's an accomplishment we should all be proud of, and it's a lot of work and resources that have gone in over the last eight years to make this robust culture of safety. And with the cornerstones of collaboration, communication, reporting, and professionalism, we're at an all-time high in safety. But as good as we are, it is not time to rest on our accomplishments of yesterday. It is not time to think we are good enough as an aviation system."
The risk of not keeping up, Rinaldi said, is that emerging technologies like space-based ADS-B and UAS will have to leave the United States, causing a loss of thousands of jobs "because we can't adapt to the needs of the industry. Now is the time to adapt, continue to grow," he said.
Rinaldi then answered a series of questions from the webinar participants, many of whom were from industry, the aviation community, and the media. Here are several of the more notable questions:
Question: In reference to NATCA's support last year for the AIRR Act that would have created an independent, not-for-profit corporation to run air traffic control: Is your view of that proposal the same as it was last year, and recognizing that there are expected to be new proposals in this Congress, do you believe that kind of approach could provide the kind of assurances and the funding you need to move toward new technology?
Rinaldi: We supported the AIRR Act that (House Transportation and Infrastructure) Chairman (Bill) Shuster put out because it met the principles of giving us a stable, predictable funding stream, and protecting the workforce, keeping them whole. We have this philosophy of protecting the workforce because they keep the system running. The bill also gave us the ability to be dynamic with modernization. We felt it also continued to give us a very diverse system around rural America and protecting what we hold near and dear, the general aviation community.
Now, will we support the next bill that comes out of Congress? It really depends on the provisions that lie within. We've been pretty vocal that we will not support a for-profit model, and the status quo is not acceptable. We need stable, predictable funding. The Aviation Trust Fund is bringing in a balance that we're almost able to run the whole system on alone. We've got to find a path forward to streamline the process of procurements and requirements for equipment and getting it to our facilities in a real-time basis. At the same time, we have to make sure we are protecting the workers who are on the front line.
Question: Would a proposal that met the same conditions as last year's bill garner the same support?
Rinaldi: Yes, if it met the same conditions, we would support it.
Question: How would a new, non-profit ATC system help with the controller shortage?
Rinaldi: I think if we can get a stable, predictable funding stream, we could actually start meeting our hiring goals. My hat's off to the FAA; they met their hiring goal last year for the first time in seven years but most of the goals have been built around tightening budgets. And when those things happen, when you go into just the threat of a shutdown, you start pulling back what you're going to be doing for the next two weeks or three weeks because you don't know when Congress is actually going to shut the government down."
Question: What are the worker protections that you think are essential in a new proposal?
Rinaldi: In essence, to keep the workers whole. Collective bargaining agreements would come over as-is; working conditions would come over as-is; your pay, your benefits, your health care, your retirement would come over as-is. And we would maintain that through your career. That's exactly what was in the AIRR Act and we supported it because the controllers didn't really have to worry about what was going to happen in moving to a new system – it was going to mean just a change on the pay stub of your employer but not what the benefit program is.
Question: How do you expect a new organization would affect private pilots?
Rinaldi: This country is very unique with a robust general aviation community and I think that one of the things the AIRR Act proposed was a governance board that had general aviation seats on there to protect rural America and private pilots. That's something we would support completely because that's what makes our system unique and robust, the diversity.
Question: What if nothing happens?
Rinaldi: If nothing happens, we will start to dwindle as an aviation system, in the world. If we're not able to adapt to space-based ADS-B, and able to streamline our separation standards over the ocean sectors in which we control in this country, which is the majority of the Pacific Ocean and a good portion of the Caribbean and Atlantic, then another country that could actually adapt to those procedures might get the approval from ICAO to run that airspace. And that would be a loss of jobs for us. If nothing happens, we could see a repeat of 2013; if they don't have enough money to run the system, they could look to close air traffic control towers (over 230 proposed in 2013), most of them in rural communities. They could shut them down because there was just not enough money to run the system.
If nothing happens, we would not be able to provide for the new entries into the system, and the UAV users would do their flight paths and test paths in Canada or somewhere else, and our commercial space program might go away if we're not able to protect the airspace system for them. So these are real threats to the American fabric and the jobs of this economy. Our aviation system is an economic engine. We want to see a robust, growing aviation system. We don't want to start pulling back. It's a deep concern of us.
To listen to Rinaldi's full remarks, click here.