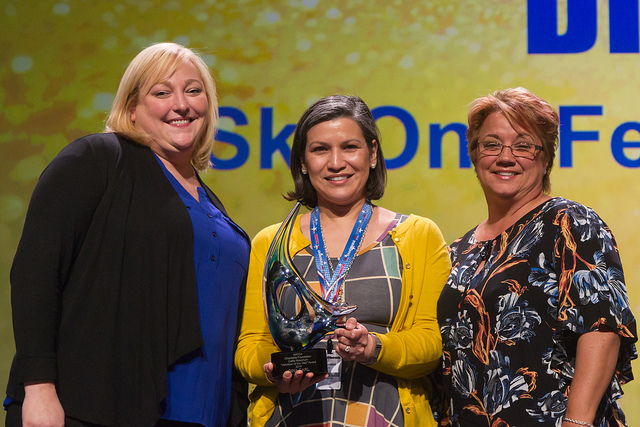 April 14, 2017 // CFS Award Recap: NCF Cathy Meachum Volunteer of the Year, Dina Earl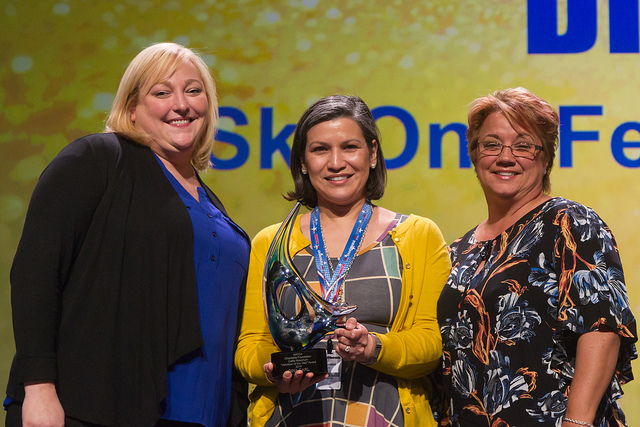 From left to right: NCF President Corrie Conrad, Dina Earl, and Elena Nash.
Former NATCA Charitable Foundation (NCF) President Elena Nash introduced SkyOne Federal Credit Union Business Development Manager Dina Earl as the winner of the NCF Cathy Meachum Volunteer of the Year Award at Communicating For Safety (CFS) 2017.
She said that while normally the winner of this award is someone less known to the membership, this year was different.
The California native was selected for her work at CFS and NATCA biennial conventions over the years. In particular, Nash highlighted a few events where Earl went above and beyond the call.
At a NATCA in Washington fundraiser, NCF had a special section at a venue. What Nash didn't explain prior to Earl signing on, was that they would be volunteer wait staff for the area, requiring the volunteers to go up and down several flights of stairs to serve attendees. Earl spearheaded the effort, working the entire night with no break to ensure the event was a success.
Earl also owns a cottage in Oregon which she allows NCF to auction off a couple of times a year in addition to providing personal lockets that help NCF raise money for charity.
Nash explained that last year, Earl joined the NCF Events Committee and has been instrumental in planning event fundraisers. She participates in many charity events in California and has been key in securing SkyOne Federal Credit Union as a platinum sponsor to NCF for the last five years.
Earl explained that when she received a text from Elena Nash that NCF was giving the award to Carrie Connor, she was so excited for her because she works so hard and she deserves the praise! Little did she know this was not the truth and just a way to make sure she was in the room during the awards luncheon.
"I was beyond surprised, emotional and honored to receive such a heartfelt award," Earl said. "I am so happy to be a part of such an amazing NCF team and family, and I am so lucky to work for a credit union that supports my involvement. Every team member contributes 110 percent to NCF, so I share this award with all the volunteers.
"I am just forever grateful for the support NCF provides me, my family and SkyOne," Earl continued. "NATCA is family and we take of each other."