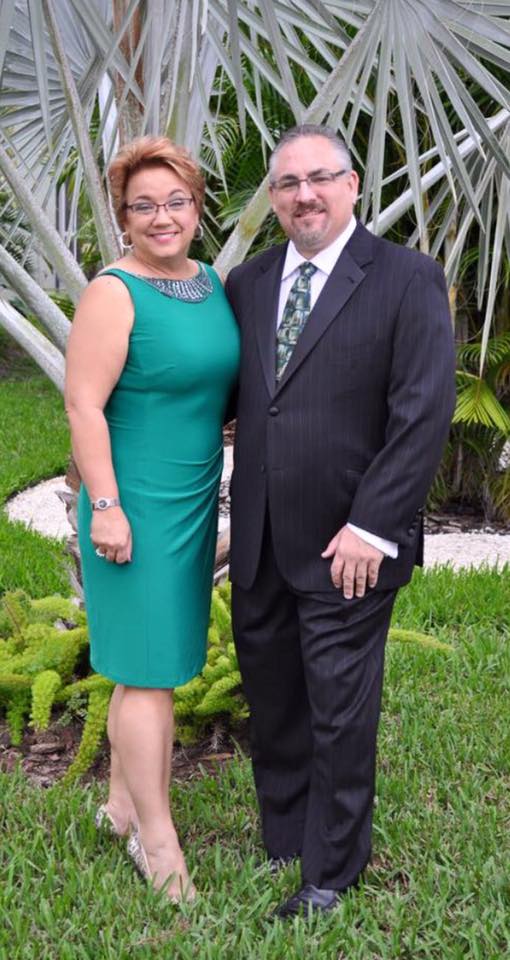 April 14, 2017 // NCF: Elena Nash Makes Way For Next Generation of Volunteers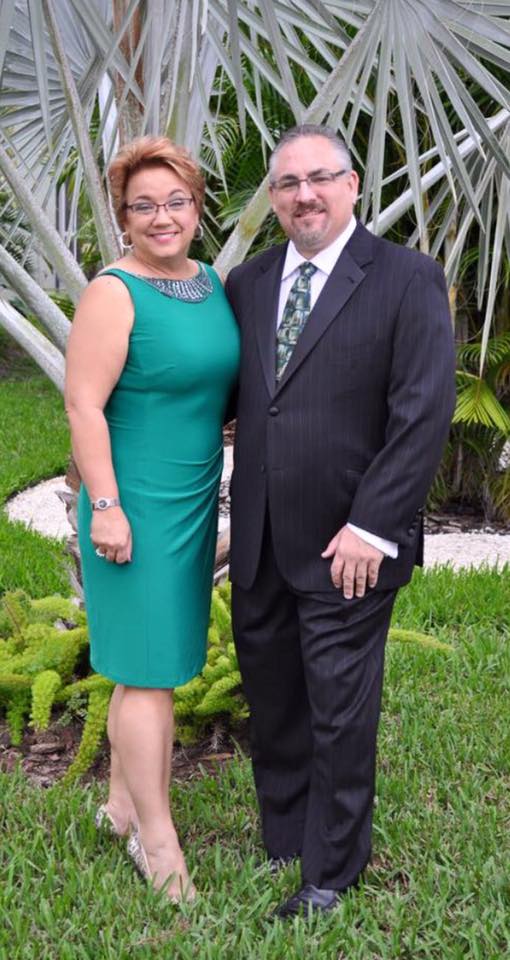 Elena and her husband, Jerry.
NATCA/FAA career: I started in the FAA at New York TRACON (N90) in 1998 and joined NATCA that same year.
Born and raised, other places of living: I was born in Buffalo, N.Y., in 1970 and moved to Central Florida in 1980. I then joined the United States Air Force in 1988 right out of high school. While in the Air Force, I lived in Moreno Valley, California, and Okinawa, Japan, where I served as an air traffic controller for the Air Force. I then lived in Staten Island, New York, selling cars until 1998. I've also lived in Trujillo Alto, Puerto Rico and worked at San Juan CERAP (ZSU), and now live in Bradenton, Fla., and work at Sarasota Bradenton Tower (SRQ).
Education: High School graduate with some college.
Family: My parents are retired union teachers from New York and Florida. My husband, Jerry Nash, is also an air traffic control specialist at SRQ and is a former NATCA Legislative Committee member.
Q: How did you become a NATCA member?
A: I grew up in a household that valued taking care of each other collectively. It was not about just looking out for yourself, but making sure everyone got a fair shot. So joining the Union was an easy sell. Being in NATCA is just the right thing to do.
Q: Do you have any family members who were involved in unions?
A: Both of my parents were union teachers. My dad was vice president of the regional chapter and served on the contract negotiating team in central Florida
Q: What made you decide to take on leadership roles within NATCA and within the NATCA Charitable Foundation?
A: I started as the NATCA Secretary at Teterboro Tower, then served as the Vice President at ZSU, and finally became the FacRep at SRQ. I've enjoyed being on the labor relations side, getting involved legislatively, and collaboratively serving on all sorts of workgroups and lobby weeks. But the best part of my NATCA career has been the NATCA Charitable Foundation (NCF). I asked co-founder Cathy Meachum to mentor me back in 2010 and I became NCF president in 2011. Leadership has its trials and tribulations and things have not always gone smoothly, but I hope that everyone I've worked with sees that the bottom line was always to help people in need in the name of NATCA.
Q: What have you been most proud of during your time as NCF President?
A: The most rewarding part of being president — and when I talk about the presidency I mean the "CEO"-type leadership role — was the division of labor created and weaving NCF into any aspect of NATCA I could. We have involved so many people, volunteers, donors, and sponsors in trying to raise awareness of NCF and what we do across the country. When I took over, this organization was singularly driven. I didn't feel that in order to grow and touch more people's lives the current way of doing business was sustainable.
With support from NATCA's leadership, NCF has worked with different NATCA event planning committees to make sure NCF's information is featured on apps associated with the events. We've also worked to weave NCF drives and auctions into different aspects of NATCA events, always tying our message with the one the committee is trying to convey at the conference. Simple things like pre-registering attendees at NATCA functions to be able to participate in NCF's activities more easily, having a "donate now" style question during registration, and bringing our knowledge and resources to future committees in order to help make each NATCA event better are just some of the initiatives that have helped NCF become even more successful.
We have also improved our website, digitally formatting our philanthropy request forms and 1187 payroll deduction forms which make it easier to give and request support from NCF. We suggested to local FacReps that they could help raise awareness and support for NCF by jumping on board with already established events like local holiday parties and meetings where local NATCA members could learn about NCF and see the direct impact we have on their communities. We doubled and then tripled our corporate sponsorship list and then, over five years, doubled the yearly amount of money NCF allocated to charities and programs across the country, going from $91,000 in 2011 to $200,000 in 2016.
Now each director and officer of the NCF Executive Board heads up a program or oversees a committee. Our success can be directly connected to this division of labor that has allowed for events like our backpack program to grow from eight to 23 locations across the country and holiday programs to grow from five to 12 locations across the country. We have formed an Events Committee that specializes in fundraising at the different NATCA events and just recently formed NCF's Outreach Committee that will work in NATCA's regions to promote NCF programs, help NATCA members in support of their personal charitable efforts, and work with NATCA locals to support NCF financially. I am proud of the diversity, division of labor, and expansion NCF has seen over the course of six years, all still staying true to our small and humble roots of touching individual's lives in a meaningful way.
Q: Can you share a favorite moment from your time in the NATCA Charitable Foundation?
A: There are too many to have just one favorite. I loved participating in the different NATCA planning committees, having my imagination and creative spirit challenged, and then seeing the execution of a good idea into a great event or really successful fundraiser. I loved that the Wave House 1187 drive at the 2016 San Diego Convention just about doubled our 1187 payroll deduction donations, the foundation of NCF support and sustainability.
Personally, I think the Bradenton Teen Shelter remodel was one of the most rewarding as I directly contributed to painting the murals on the walls and changing the institutional look of a six-room shelter into a place kids would feel safe and could escape for a moment from the emotional rollercoaster of abuse, neglect, or pain that was in their current life.
Q: Do you have any hobbies or any other activities you enjoy outside of NATCA?
A: Being an artist, illustrator, and creative person, I have lots of activities in and around the house. I've started my own business as an illustrator and event planner in my community. I plan on getting more involved with charities in my town and having more of an impact here in Bradenton.
Q: Anything else you'd like to share?
A: I'd like to say thank you to all those who don't often get thanked for their hard work. NATCA's national staff who help us spread the word, ship our stuff, help in legal and accounting, help in getting us space at conferences, tables, and extras at events. Thank you to countless friends and family who gave without question when I asked, who forgave me when I forgot, and who supported me through tough times and through successes. Thank you to my husband, Jerry, who gave up so much time, money, annual leave, nights, and weekends for me to be successful. Thank you to my parents, who made pens, painted giveaways, gave money, sewed things, edited my flyers, and supported me in any way I asked. People may not have always liked what I did or agreed with my approach, but I hope they saw that my intentions were true. I love my NATCA and NCF family and I will always care, no matter what.