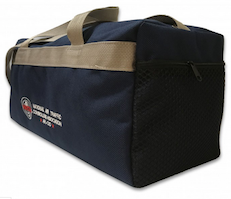 April 14, 2017 // This Week's Notebook: Get Away With the NATCA Duffel Bag, Keep Your Information Up-To-Date in the NATCA Portal, Moving Benefits, and Seminar Dates!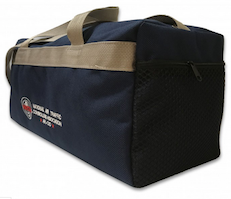 NATCA Store Item of the Week: NATCA Duffel Bag
Features of this product: Navy Duffel Bag with square-end; made of cordura fabric material that is more durable than cotton canvas. Additional features include outside mesh pocket on one side, regular end pocket on the other, an interior pocket with zipper for valuables, and bottom support. It's perfect to use for a workout or a quick weekend getaway! It's embroidered with the NATCA logo and lettering.
Size: 16' X 9" X 9″
Price: $30
Union made in the U.S.A.
To see the item and how to order: Select USPS or UPS as your shipping preference on your orders. Reminder: Apparel items take three to four weeks to deliver from date of order. If you need items by a certain date, please contact NATCA Store customer service for arrangements. Expedited shipping charges may apply.
To check on stock availability or for further assistance, call 800.266.0895 or email natcastore@natcadc.org.
---
Member Portal
Have you moved recently and need to update your mailing address? No problem! Simply log in at the Member Portal and update your contact information. Those registering for the first time must have your NATCA member number ready as it is needed when you register. Please also include or update your email address so we can send you NATCA updates like the NATCA Insider or other important announcements. For further assistance, contact Customer Service at 800-266-0895 or email uwadmin@natca.net.
---

NATCA Benefits: Moving is stressful enough. Let us help carry the load.
Are you considering a move this summer? Perhaps you've been selected by a new facility and need to relocate yourself and family to a brand-new city. As a member of NATCA and Union Plus, you have access to substantial discounts on both local and interstate moving services. Whether you're moving across town, or across the county, we've got you covered.
If your move is local or you're a do-it-yourselfer, you're eligible for 20 percent savings with Budget Truck Rental. Click here for details and the discount code to be used either online or over the phone.
If your move will take you further or you'd just like the stress-free experience of a full-service move, you're eligible for substantial savings with both Allied and North American Van Lines. Click here for more details.
---
Oklahoma City Meet & Greet Dates: 2017 Schedule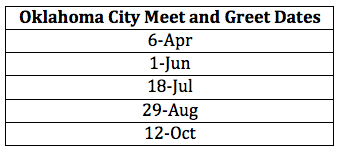 NATCA leadership makes it a priority to educate ATC Academy Students about NATCA and their rights as part of the future air traffic controller workforce. NATCA will be hosting a lunch meeting in Oklahoma City at 12:30 p.m. local time and a dinner meeting at 6 p.m. local time for each date listed below in Oklahoma City. Check back in the Insider for more details as each date approaches.
---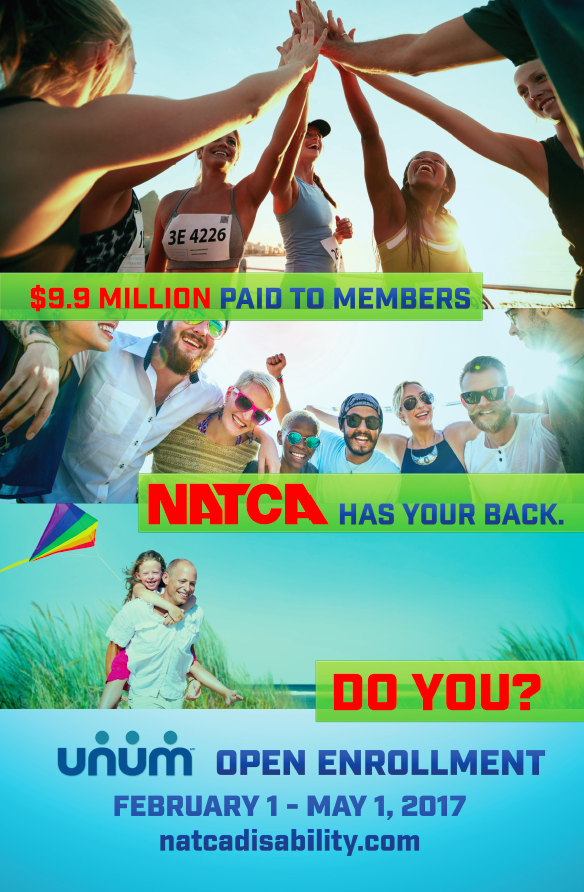 ---
Upcoming Retirement Seminars Provided By 4 Square: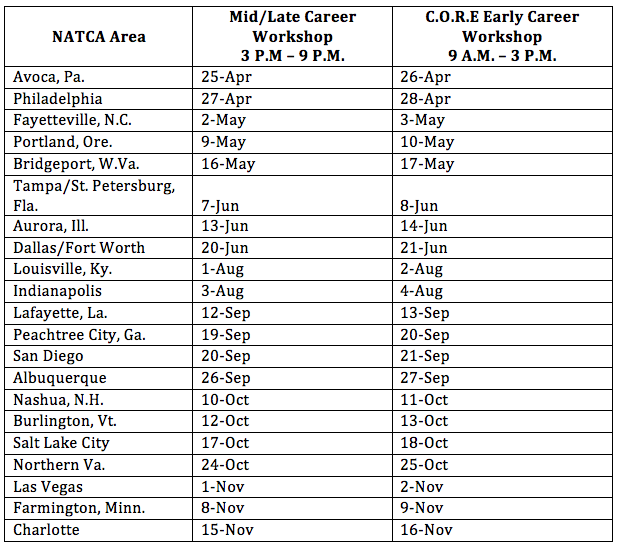 Thank you for your interest in attending a NATCA Retirement Seminar by 4Square Financial Literacy Partners. Each locale hosting a seminar will hold both a standard seminar for members with more than 15 years of service from 3 – 9 p.m. local time, and a Career Optimization and Retirement Education (CORE) Seminar for members with fewer than 15 years of service from 9 a.m. – 3 p.m. local time.
To register for a seminar, log in to the NATCA Portal and click the "Events" tab, followed by "2017 Retirement Seminars." Complete the requested information and click "Next." When you come to the screen listing the seminars, select the one you wish to attend, hit "Next," verify your requested seminar information and then click "Done."
You will receive a confirmation email once your registration is complete. A second email will be sent three weeks prior to the seminar with logistical information for the seminar along with instructions on how to obtain a benefits estimate at the seminar. You may access the benefits data collection form on the confirmation page once you register.
Spouses and significant others are also invited to attend. Please ensure that you add them to the registration when asked if you will be bringing a guest.
Although you may register anytime, we ask that you register three weeks prior to the event. Walk-ins are permitted with a membership ID number. However, you will be unable to obtain a benefits estimate at the seminar.
For any questions or problems with registration, please contact retirement@natca.net.
---
NATCA EDGE — Designed exclusively for NATCA members!



Can't get to an in-person retirement seminar? We'll bring the seminar to you! Presenting an all-new, flexible access, web-based session of our popular retirement benefits seminar. Log in to the NATCA Portal to register.