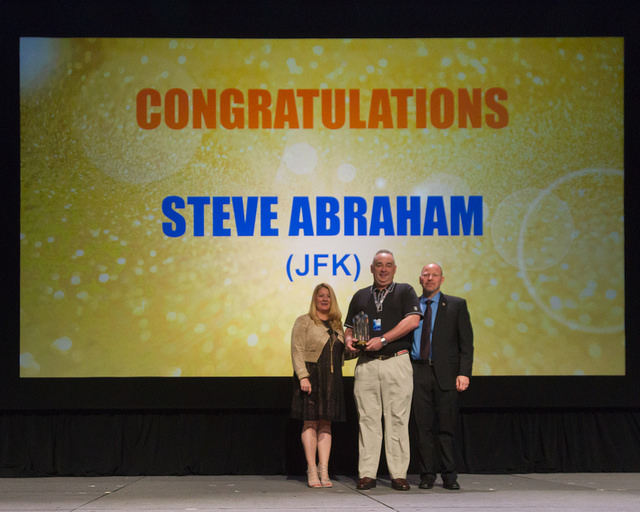 April 28, 2017 // CFS Award Recap: The Dale Wright Award for Distinguished, Professional and Exceptional Career Service to NATCA and the National Airspace System winner Steve Abraham, John F. Kennedy ATCT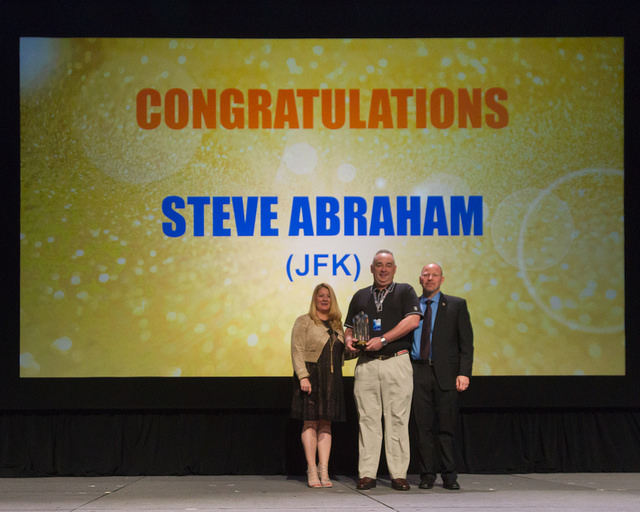 NATCA President Paul Rinaldi presented a Dale Wright Award to Steve Abraham on March 21 at Communicating For Safety. Rinaldi described the award, which closed out the annual awards luncheon at Communicating for Safety, as the granddaddy of NATCA's awards.
Named for NATCA's former Director of Safety and Technology, the Dale Wright Award honors an extraordinary, positive impact made on our ability to call the U.S. National Airspace System (NAS) the world's safest. This award symbolizes a career devoted to service to NATCA and safety.
Abraham is a 26-year veteran NATCA member who began at Teterboro Tower, working there from 1990-1994. He is currently a controller at John F. Kennedy tower (JFK), where he's worked since 1994. He served as Vice President from 1999-2008 and has served as FacRep since 2008.
"Being the FacRep at JFK is like no other place in the world because no two days are ever the same," Rinaldi quoted Abraham as saying on several occasions.
Rinaldi described him as one of NATCA's go-to guys for air safety investigation since joining the committee in 2010.
Rinaldi also said Abrahams attention to JFKs place in the national spotlight is exceptional.
"He lets his members know the New York media pays attention to aviation," Rinaldi said.
While Abraham says JFK may not be the biggest or busiest, whatever happens will always play out on national news. But for Abraham, that doesn't worry him.
"I have a great local," Abraham says. "They work hard, play hard, and are 100 percent NATCA."
Rinaldi added that his calm approach to issues is invaluable when put on national projects or working with individual facilities. He said that NATCA often calls upon him when they need help in the New York area and that Abraham always answers that call.
"It's really heavy," Abraham joked upon receiving the award.
"I've got to thank a bunch of people," he said. "Needless to say Paul and Trish. I've been fortunate enough in my career to be led three great RVPs (Regional Vice Presidents) Joe Fruscella, Phil Barbarello, and Dean Iacopelli. I also have to thank my facility," he said, joking that his members are happier when he's gone than when he's there.