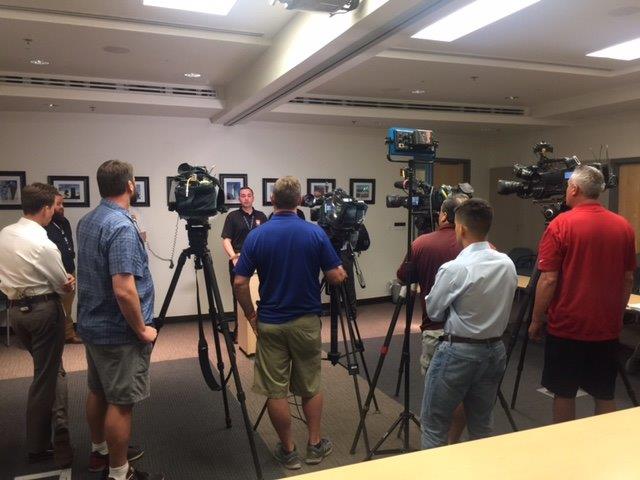 May 4, 2017 // Phoenix TRACON Air Traffic Controllers Honored for Helping Save Pilot, Passenger
Phoenix Terminal Radar Approach Control (TRACON) air traffic controllers Brian Bond, Aaron Fones, and Carlton Wickstrom displayed calm under pressure to help the pilot of a small plane who was battling harsh weather conditions and turbulence and had trouble maintaining an assigned heading. Because of this flight assist, the National Air Traffic Controllers Association (NATCA) honored Bond, Fones, and Wickstrom with its highest honor, the Archie League Medal of Safety Award, at NATCA's March 22 awards banquet at Communicating For Safety in Las Vegas. Named for the first air traffic controller, the Archie League Medal of Safety Award honors air traffic controllers who have performed life-saving work. This is the 13th year of the awards program.
The three controllers were interviewed by the Phoenix-area news media on May 2, 2017. Below are press clips and photos from the event.
THE ARIZONA REPUBLIC
Phoenix air traffic controllers who helped save pilot, passenger receive national award
ABC 15 ARIZONA (KXNV-TV)
Sky Harbor air traffic controllers honored for life saving assist
KPHO-TV PHOENIX
Air traffic controllers honored for their work in guiding a pilot to safe landing
FOX 10 PHOENIX
Air traffic controllers honored: Guided pilot through tough conditions for safe landing
KTVK-TV PHOENIX
Phoenix TRACON air traffic controllers honored