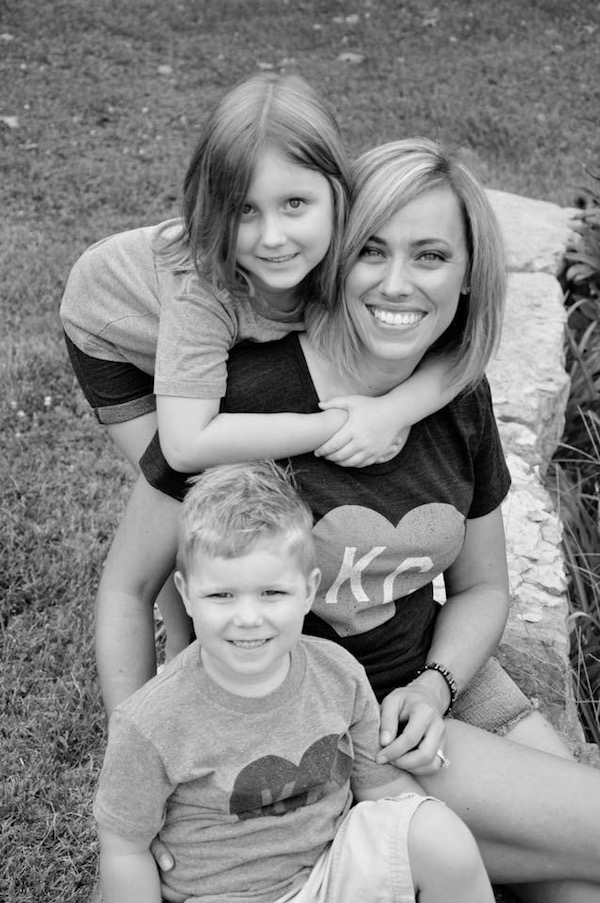 May 12, 2017 // Happy Mother's Day from NATCA!
Air traffic control is demanding, dynamic, and at times both physically and emotionally exhausting. It takes a determined and dedicated person to thrive in this career. You must be resourceful, constantly alert, an expert problem solver, and capable of clear communication. Simply put, controllers, who are also moms, manage chaotic situations and ensure safety at work and at home every day.
This Mother's Day, NATCA is proud to give the spotlight to the incredible women who dedicate their lives to ensuring the safety of the National Airspace System and the families lucky enough to call them mom. Thank you for all you do and for the sacrifices you make each day to make your families and this Union great. Happy Mother's Day, from the NATCA family to yours!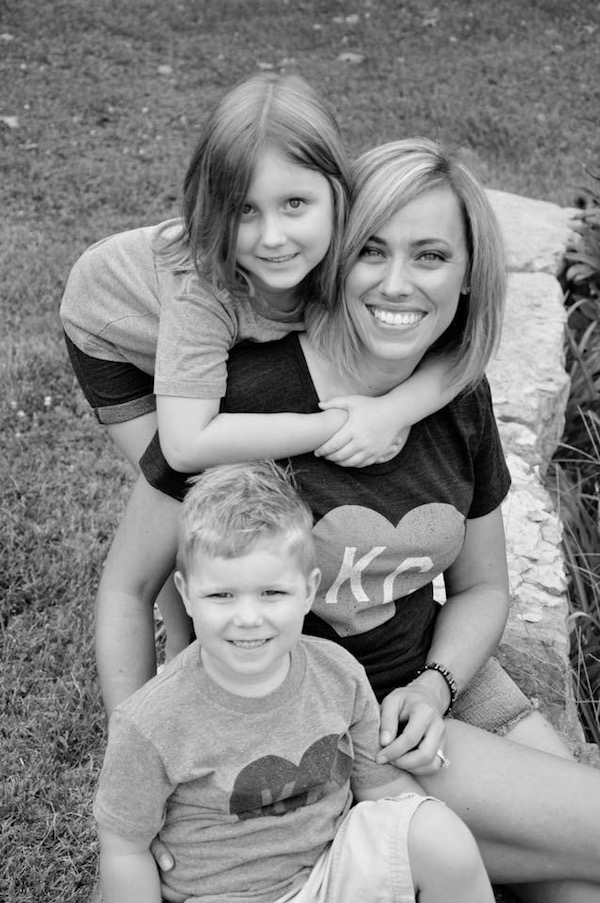 Sarah is pictured here with her children: Kelsey, 6, and Eli, 4. Grampp is the Ozark Area rep at ZKC as well as a member of the Critical Incident Stress Management (CISM) team.
Sarah Grampp, Kansas City Center (ZKC)
"There are a few parenting rules that I also like to apply at work. For example, 1) Sleep whenever you can. 2) Sometimes you need to take a deep breath and start over. 3) If you can sound cool, calm and collected, people will believe you have it together. Everything else is negotiable. If you stick to those rules, you'll be fine."
---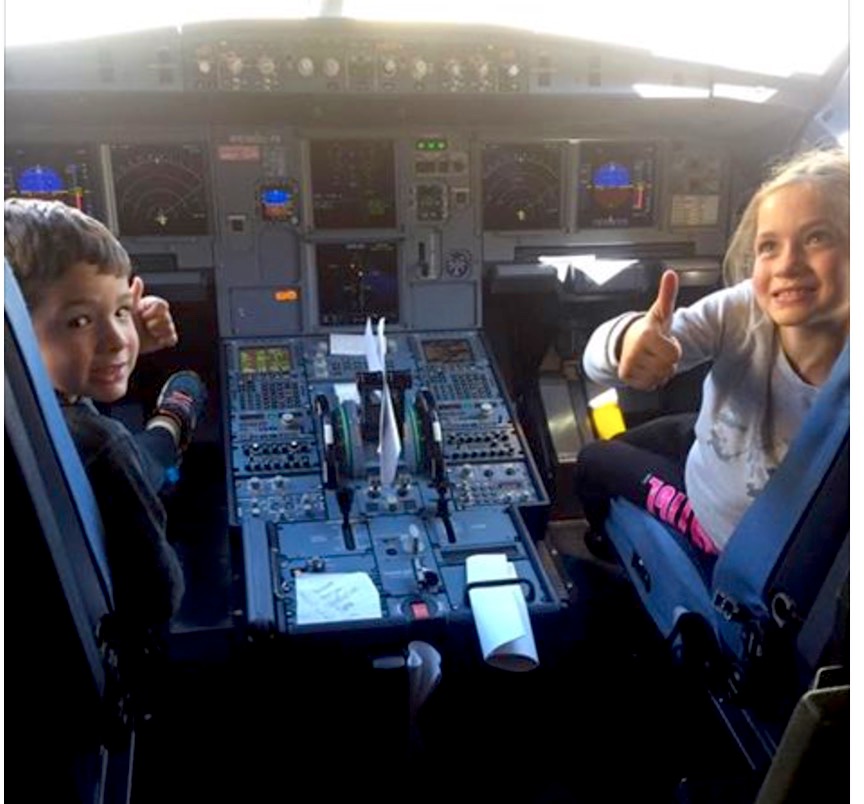 Latifa's two children, Tanner and Lexi.
Latifa Totty, Kansas City Center (ZKC)
Latifa has two children, Tanner and Lexi. They're pictured here in a cockpit of a plane prior to takeoff. Totty is a controller in the Ozark area and has served on the ZKC NATCA Executive Board.
---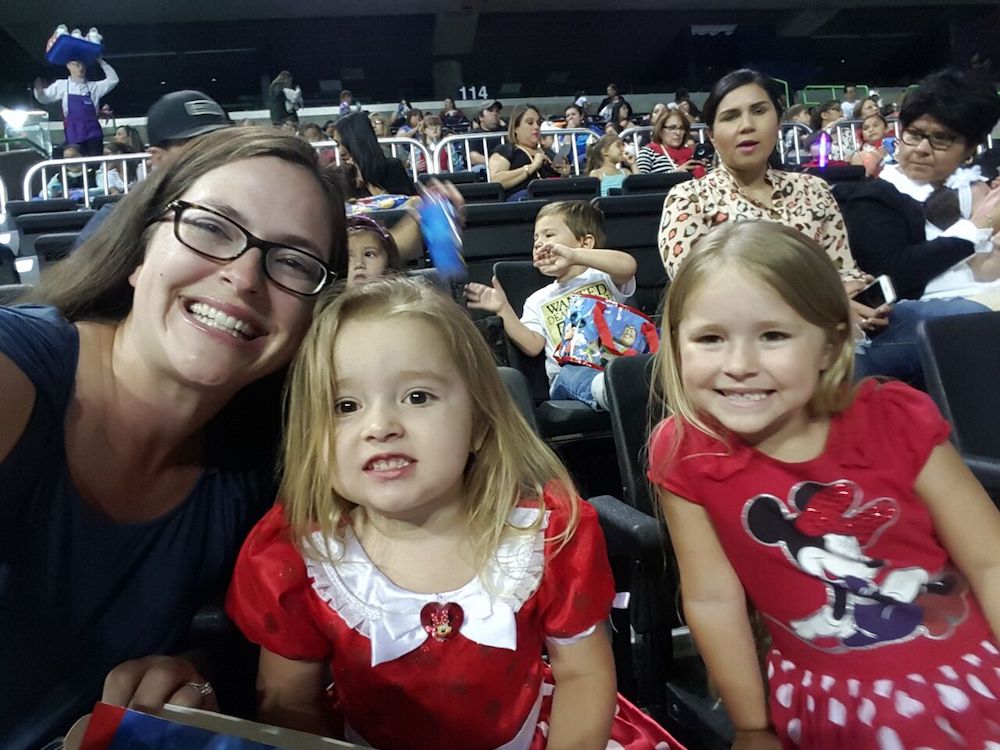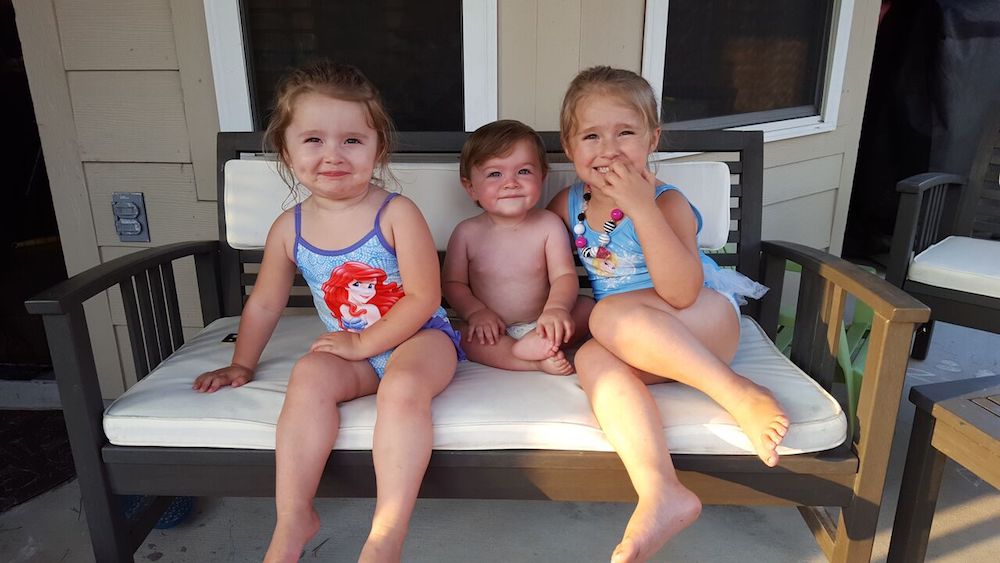 Amanda and her three children.
Amanda White, Corpus Christi Tower/TRACON (CRP)
Amanda has been with the Agency since 2010 at CRP. She has served as facility treasurer in the past, and currently holds a position as the local training rep. She and her husband, Evan White (CRP FacRep), have three children, all delivered while she was in training.
"She is an incredible woman," says Evan of his wife. "The strongest I know to put up with and support me in my role as FacRep, take care of the kids, and make it to work on time every day, no matter the stresses."
---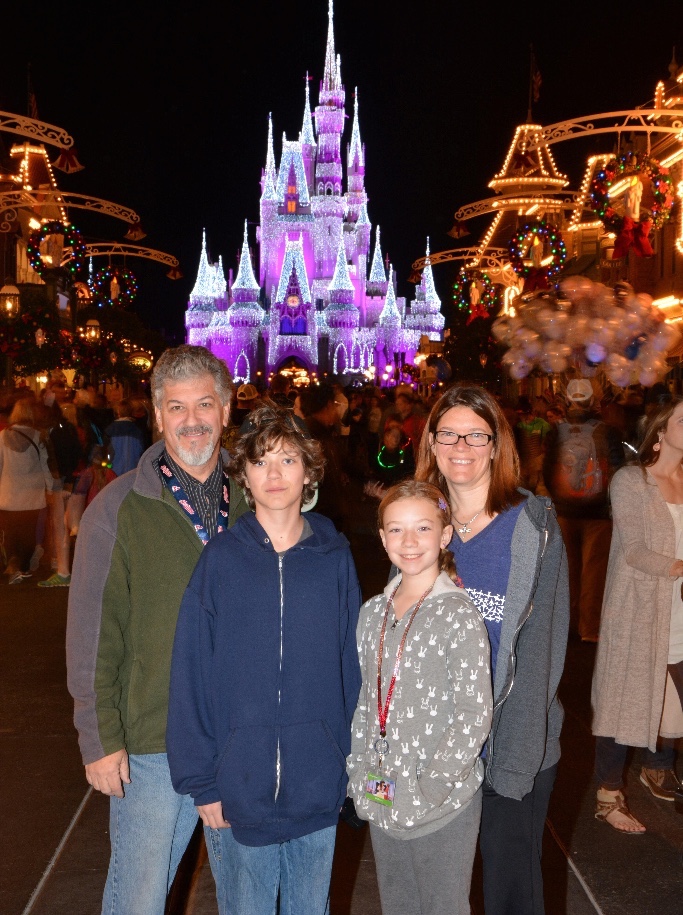 Alissa is a controller who works in Area 1 at ZDV.
Alissa Guilkey, Denver Center (ZDV)
---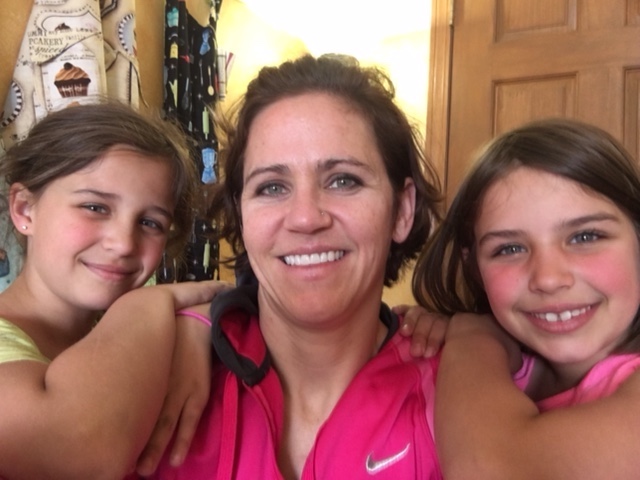 Amber works in Area 3 at the Center.
Amber Cotten, Denver Center (ZDV)
---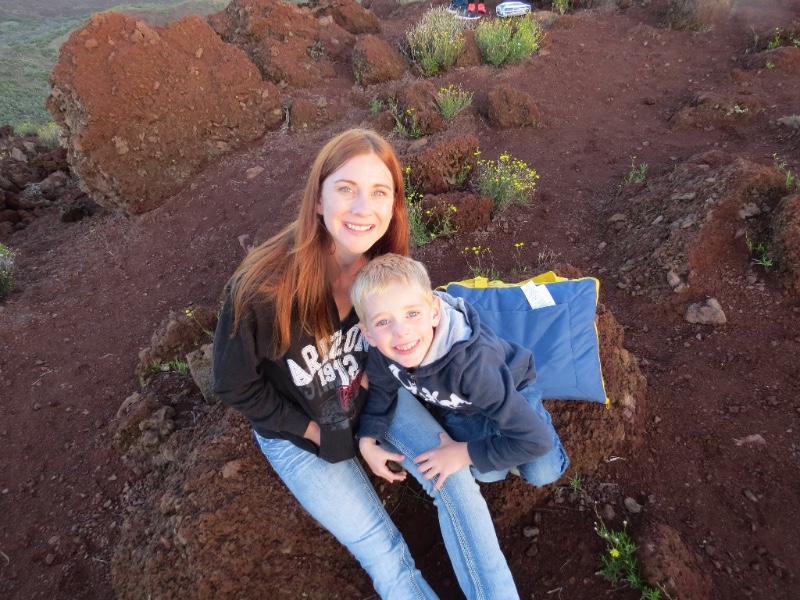 Christine is a controller in Area 2 at ZDV.
Christine VanMiddlesworth, Denver Center (ZDV)
"Growing up with a mom that was an Air Traffic Controller (Rita Maxwell, PHX Tower), I never thought much about how difficult it really was to balance shift work with daily family life. She always made it seem so easy! Now having a child of my own, I can fully appreciate how many shift swaps and behind the scenes schedule maneuvering she must have done to make life work. The best tip she handed down was the idea of floating holidays, kids don't care if Christmas comes a day or two earlier!"
---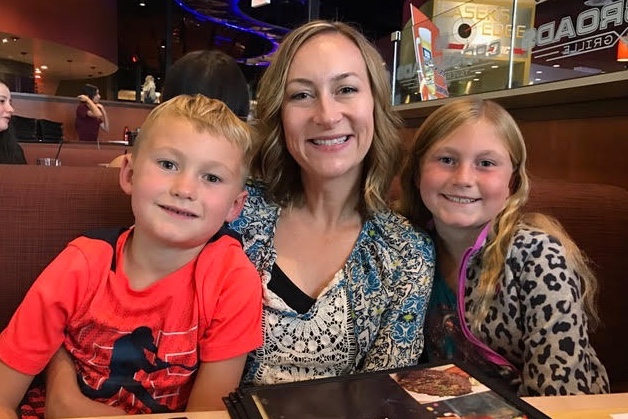 JeAnna is a controller in Area 4 at the Center.
JeAnna Murray, Denver Center (ZDV)
---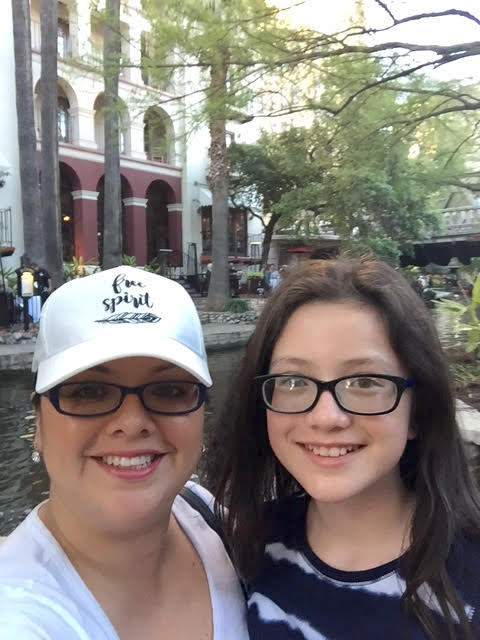 Kathy works in Area 4 at the Center.
Kathy Flores, Denver Center (ZDV)
---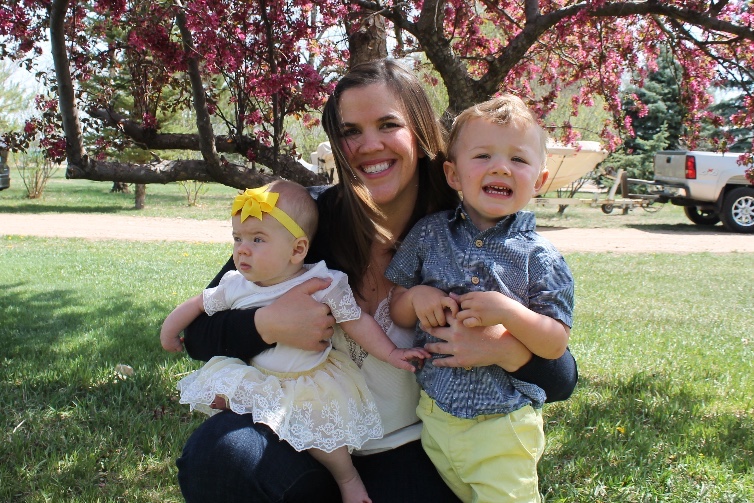 Megan is a controller in Area 4 at ZDV.
Megan Jennett, Denver Center (ZDV)
---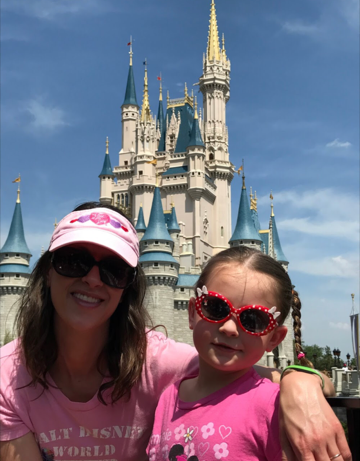 Megan and her daughter, Lucy.
Megan Wadsworth, Denver Center (ZDV)
"Working in the air traffic field has been so rewarding to me. The challenges and pace of it, not to mention the hours, have helped prepare me to be the best mother I can to my greatest accomplishment, my daughter Lucy. Being a mother has offered me the greatest joy of any 'job' I've ever had.
I am immensely grateful to have such an amazing example in my own mom, as well as the support of my air traffic controller husband. It's busy, a whirlwind, but most of all fun and I couldn't ask for anything more."
---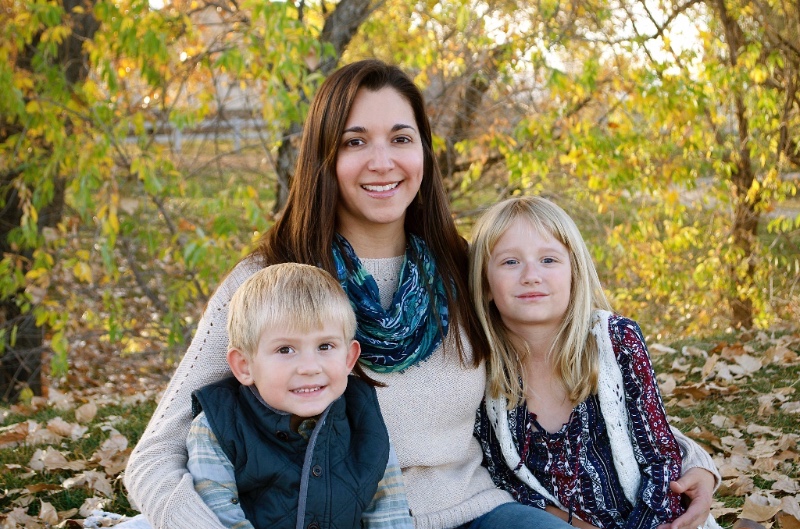 RoxAnne is a TMU at ZDV.
RoxAnne DeBella, Denver Center (ZDV)
---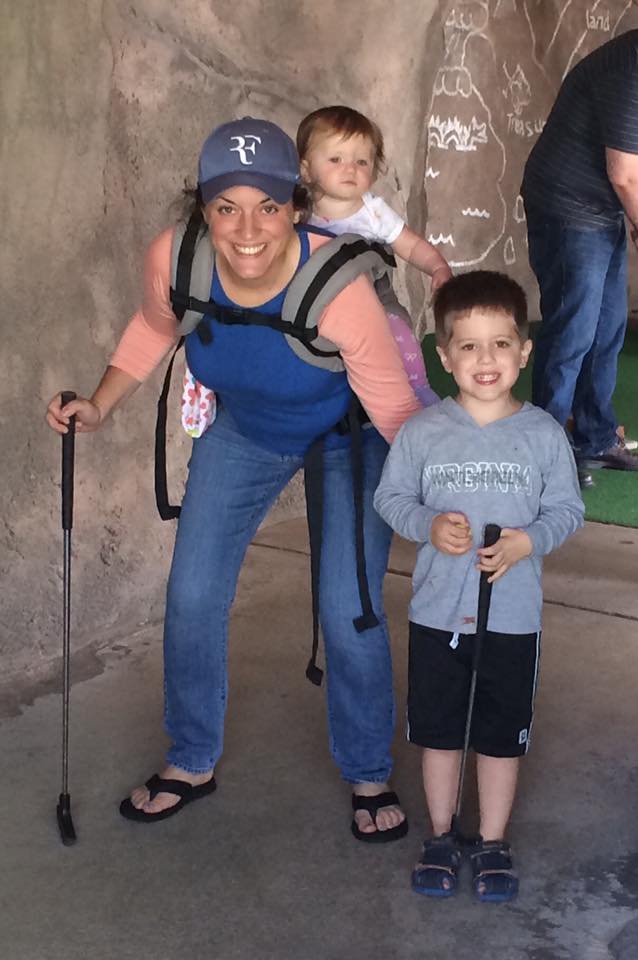 Julie is the Treasurer at ZFW.
Julie Odietus, Fort Worth Center (ZFW)
"Julie sets the standard for hard work and dedication to her profession and Union," says ZFW FacRep Nick Daniels. "Her work ethic and attitude in and out of the control room is uplifting to everyone around her. She is a driving force on our Executive Board and always keeps us moving forward."
---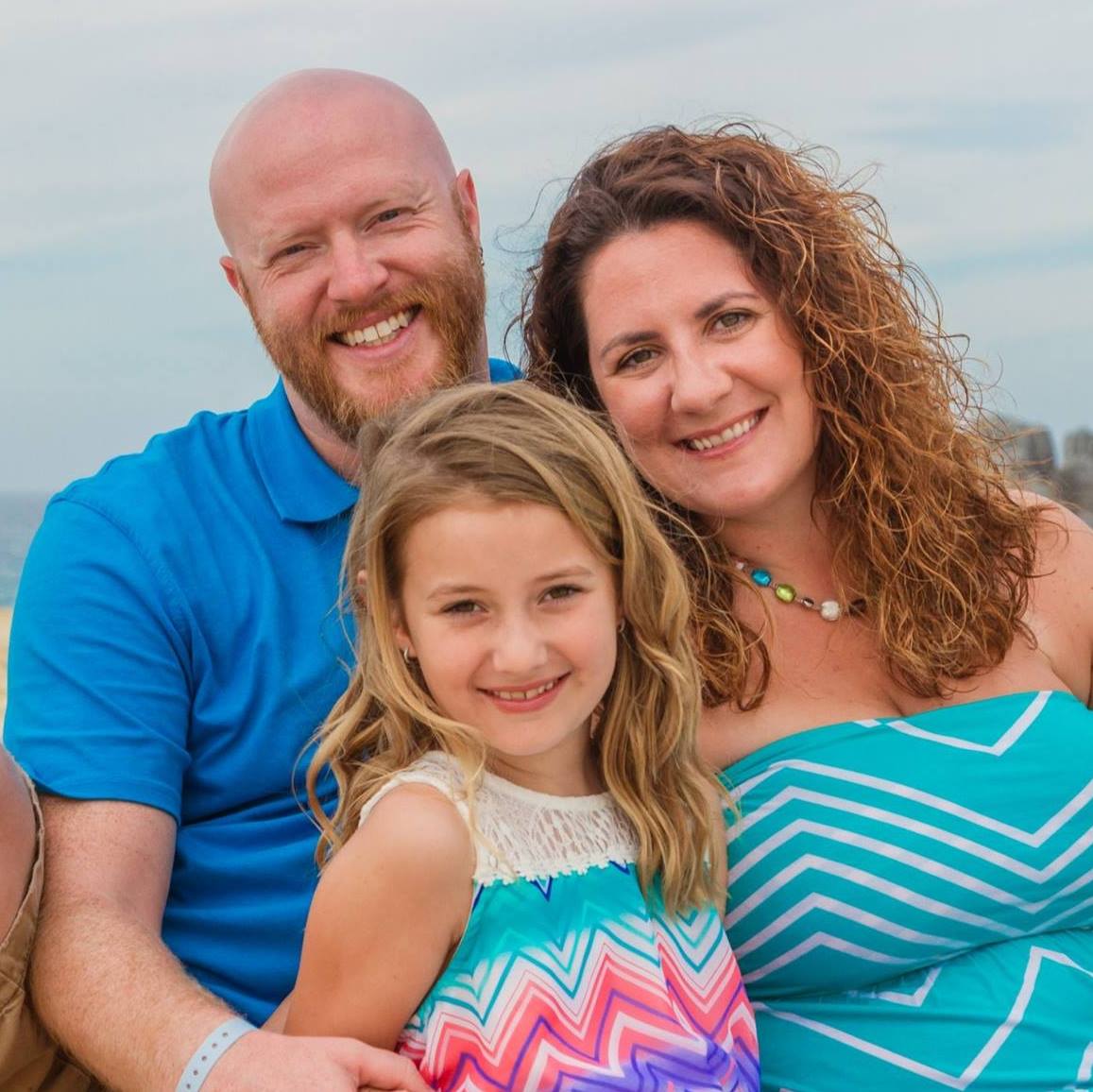 Sherry is a member of the ZFW LSC.
Sherry Taylor, Fort Worth Center (ZFW)
"Sherry works in ZFW's only 100% NATCA area," says ZFW FacRep Nick Daniels. "Sherry's dedication to NATCA and the facility are unparalleled and makes us stronger in every way!"
---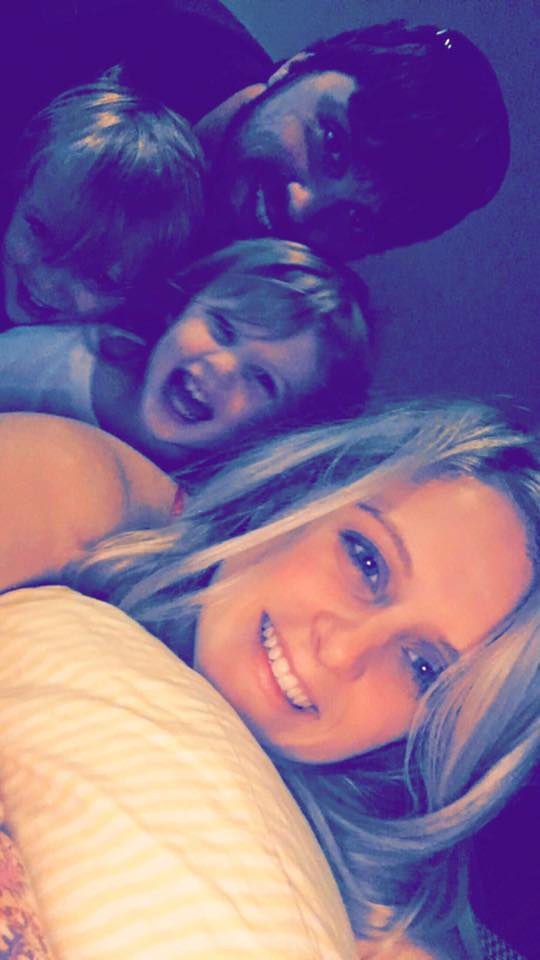 Brittany is a Training Representative for the Dallas Specialty at ZFW and mother of two.
Brittany Forese, Fort Worth Center (ZFW)
"Brittany's commitment to the success of our developmentals has helped the Dallas area and ZFW tremendously," says ZFW FacRep Nick Daniels. "Brittany is someone who is always willing to step up and help."
---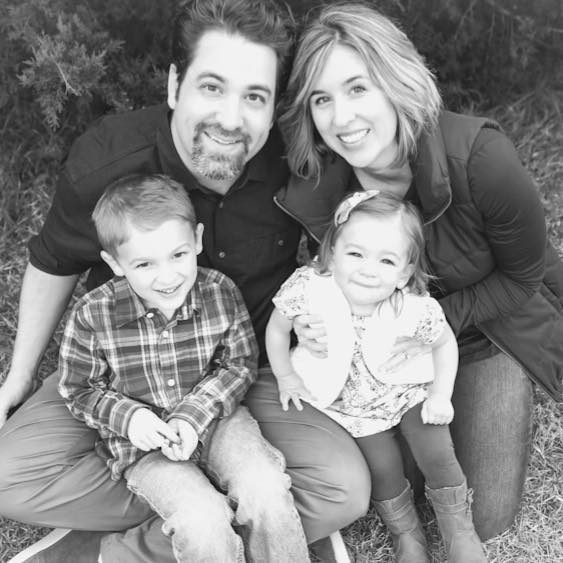 Holly served on the ZFW ProStan Committee and is a mother of two.
Holly Cochran, Fort Worth Center (ZFW)
"Holly is a dedicated mother who is a consummate professional," says ZFW FacRep Nick Daniels. "Holly served on the ZFW ProStan committee in the past and sets the standard in so many ways. Her work and commitment to the success of ZFW is inspiring."
---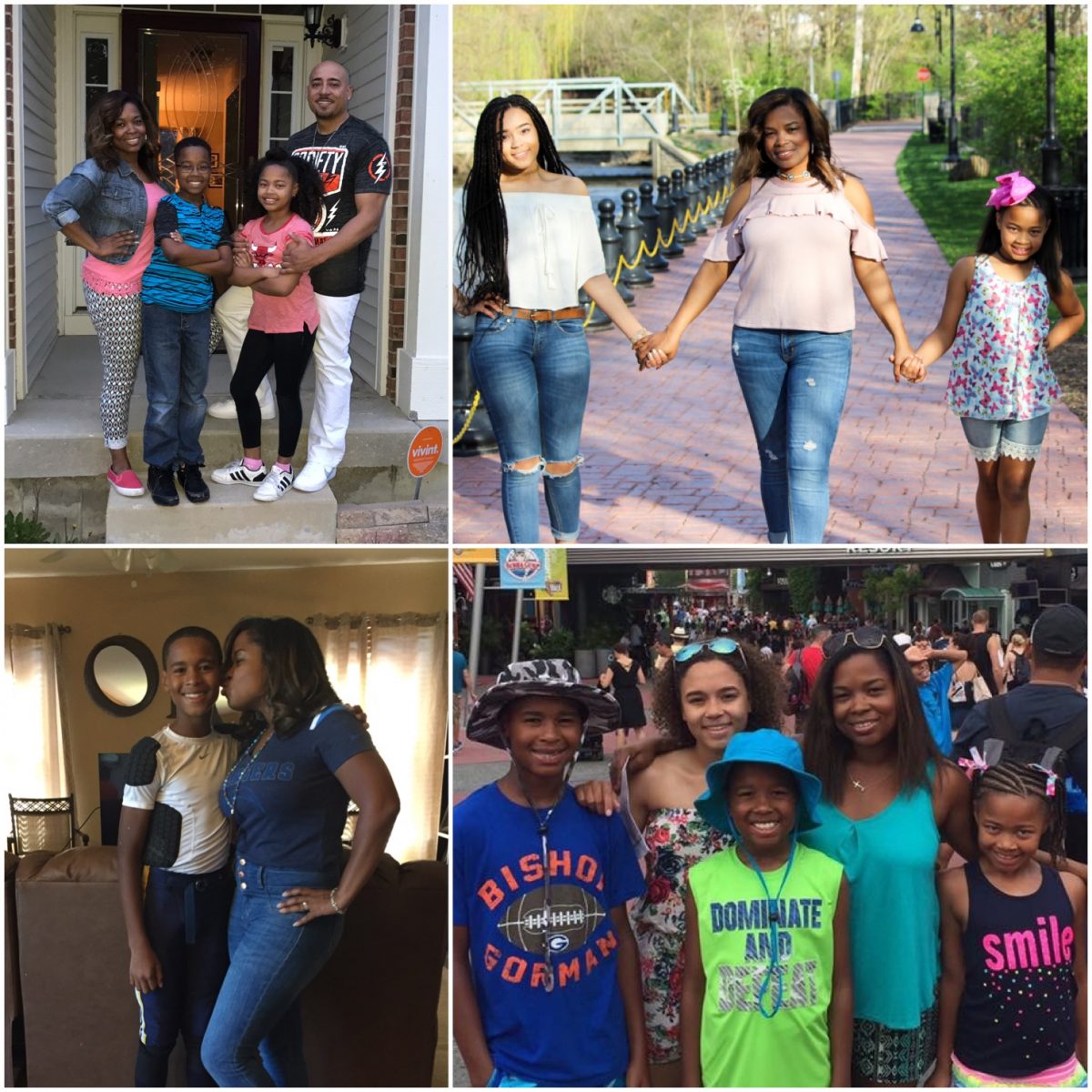 Tamekia and her children: Jaidyn, 16, AJ, 13, Aiden, 11, and Jorfyn, 9.
Tamekia Puckett-Parnell, Chicago Center (ZAU)
Tamekia has been married to her husband, Antwaun, for 17 years. She is a SE Area controller at the center, and on the job trainer, and ZAU Professional Standards Chairperson. She says her scariest experience with motherhood to date has been teaching her oldest to drive.
---
Below we celebrate the dedicated mothers NATCA has highlighted in the past.
---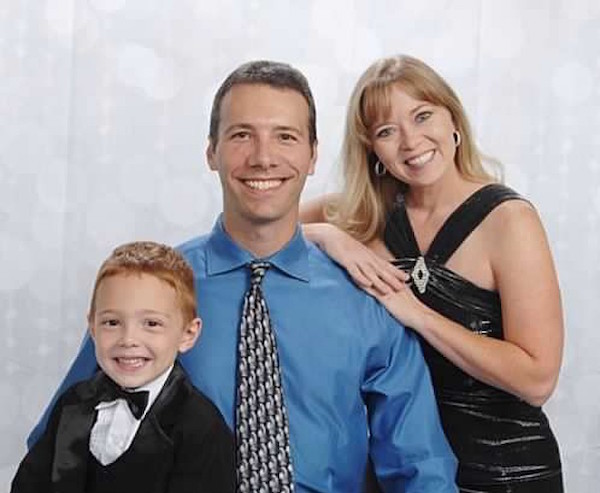 From left to right: Jessica's son, Braeden, her husband, Michael, and Jessica Strahley.
Jessica Strahly, Command Center Vice President, NATCA Project Team
For the last seven years, I have had the privilege of being called mom. My home life is filled with family activities and I am very involved in my son's life. Every Wednesday, you can find me volunteering in his 1st grade classroom and twice a week I am on the soccer field as the assistant soccer coach. I love being the best mom I can be. This is who I am.
For 12 years, I proudly wore the title of air traffic controller at Kansas City Center. Three years ago, I accepted a position at the Command Center as a Traffic Management Specialist in the Severe Weather Unit. I strongly believe that it is vital that we take an active role in the development and implementation of equipment and policies that affect the National Airspace System. NATCA provides this opportunity; to be involved, to have a voice. I am honored to be the Command Center Vice President and a member of the NATCA Project Team. I get to go to work everyday to a job I absolutely love. This is who I am.
Both of these identities are essential to who I am. I am Braeden's mom. I am an ATCSCC-Traffic Management Specialist. Balancing life's challenges and commitments at work and home can be challenging, but I wouldn't change it for the world.

---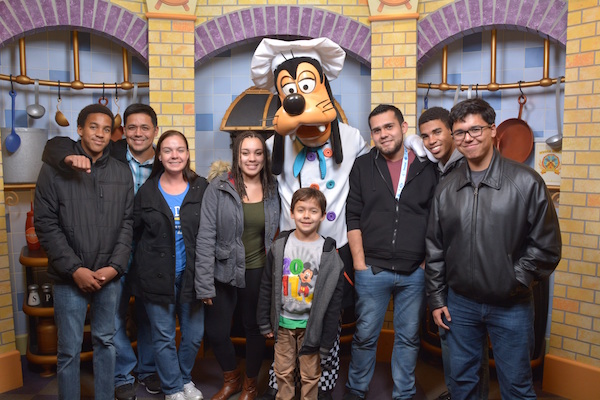 The Rivas Family: Miles, Jerry, Bridget, Aliyah, Nicholas, Alex, Dillon, and Cristian.
Bridget Rivas, Southern California TRACON
"Being an air traffic controller and a mom is just like having two full-time jobs and it can be very exhausting. Shiftwork is not easy in itself, but it allows me to spend the maximum amount of time at both places. I thank God every day for the life I have, even if it does wear me out. The craziness is full of blessings big and small, you just have to look for them sometimes. Coffee helps too! I am lucky to have two jobs that I love very much. Finding the balance between the two takes some learning, but I think I've got it down. Thank you to my family for making this another wonderful Mother's Day! I hope all the other moms out there have the best family like I do."
---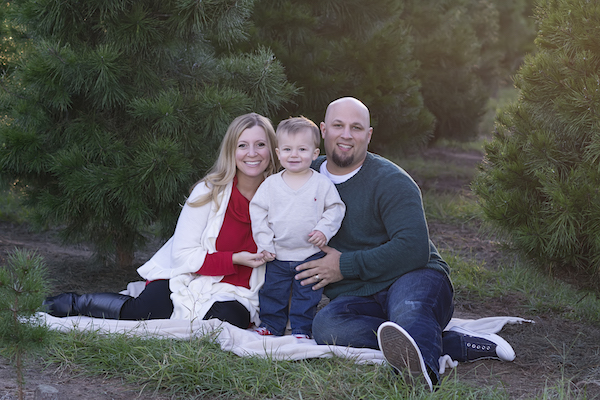 The Norwood family.
Deedra Norwood, Houston Center
"I've been a controller at Houston Center since 2007 and currently serve as one of the NATCA Professional Standards representatives (which can at times also require playing the role of a mom). I take pride in my job and sincerely wouldn't want to do anything else. I find that being a mom and a controller is challenging but also rewarding. The schedule can be quite hectic, but it lends itself to many cherished mommy/son mornings and early afternoons. I am also lucky enough to have a wonderful husband there for support; who takes on the role of mom and dad when I have to work nights/mids/weekends. I love that I have a job that little boys find 'cool.' My heart melts every time Graham looks up in the sky and shouts 'airplane,' because I still do the same thing. Perhaps we have a future controller on our hands."
---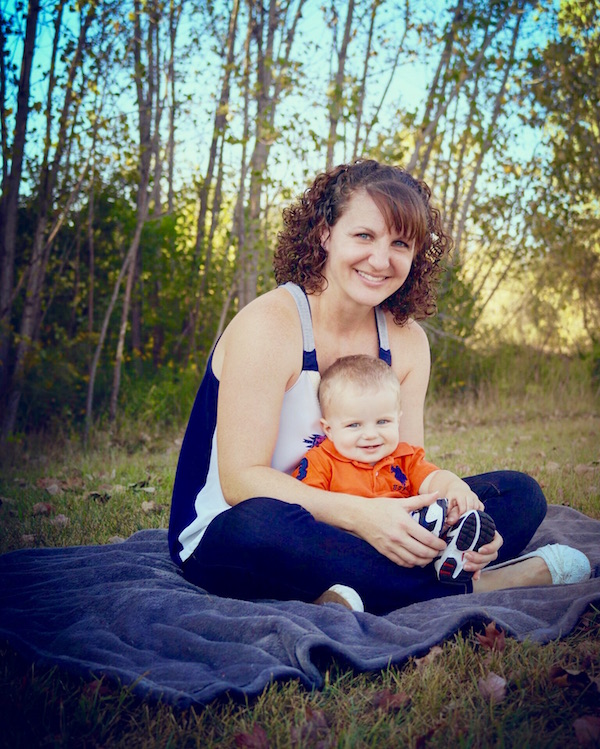 Christie and her son, Gage.
Christie Ljunggren, Indianapolis Center
"I'm proud. Proud of the many titles that represent my accomplishments in life. Mom, Wife, Air Traffic Controller, and NATCA member are the ones that make me most proud. I've created a life that I love and NATCA has stood by me the whole way. I wouldn't be where I am today if they didn't believe in me and stand by me through the hard times. I only hope that one day my son will follow in my foot steps and NATCA will be there to guide him along the way."
---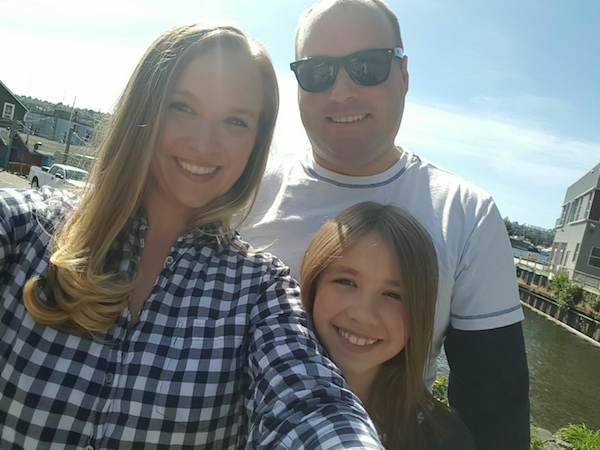 Dawn Hastings, Scott Kanlyn, and Gaby Hastings.
Dawn Hastings, Juneau ATCT
"I am a recent addition to the FAA and member of NATCA (September 2015), but have very much enjoyed the culture so far. My background includes 14 years of military, DoD, and contract ATC experience, and the FAA has been exceedingly more family friendly than any previous agency. Having a nine-year-old daughter, I cherish every moment I'm afforded to spend with her. As a family, we enjoy hiking, flying, and learning to sail with the special man in my life. I'm looking forward to continuing my career with NATCA and taking full advantage of all the agency offers!"
---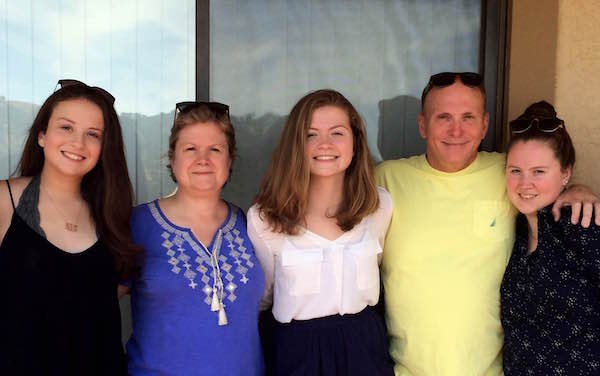 Jennifer, Carla, Lexie, Lincoln, and Laura Lounsbury.
Carla Lounsbury, Command Center
"Being a mom has been the most rewarding experience of my life. I love spending time with my husband and our three daughters, ages 21, 18, and 16. I am grateful for our many benefits as FAA employees and the CBA (collective bargaining agreement) which allowed me to stay home for extended leave with all my daughters when they were born. I also appreciate the flexibility in our schedules as I've done countless shift and RDO swaps in order to attend school events and activities. Being involved with NATCA as our local secretary has provided me a window into everything NATCA does for air traffic controllers whether they have children or not."
---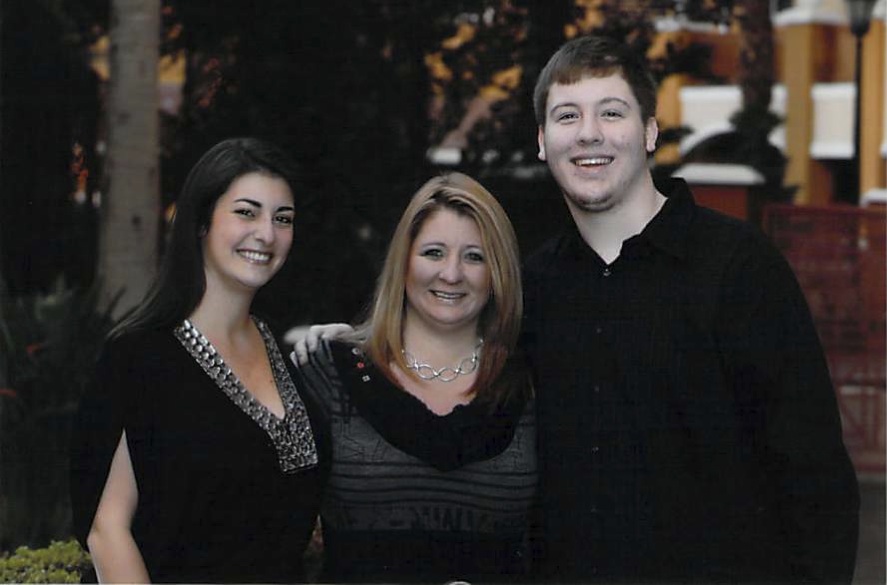 Trish Gilbert (center) with daughter, Jenna, and son, Colby.

Trish Gilbert, Executive Vice President
"Family life takes planning, prioritization, and a lot of multi-tasking, especially when you work on a shift schedule and volunteer a great deal of time to both NATCA and your children's activities. Luckily, the skills it takes to be a great mother also lend themselves well to being a great air traffic controller. You have to be able to make decisions quickly, while being thorough in your thought process and planning. Then you have to be clear and concise when communicating.

"Being a mother to my two kids has taught me a lot about leadership. Leadership is about balance, and the balancing act has been key as I moved in and out of the many NATCA leadership roles I've filled. As a controller communicating with pilots and a leader to many NATCA activists and staff, it has been really important to remain calm, be confident but not arrogant, firm but not aggressive, and most of all never forget what's important. My children really helped me to learn and hone those skills. Even now that they're grown and have moved out of the house, they still help me to keep it all in perspective."
---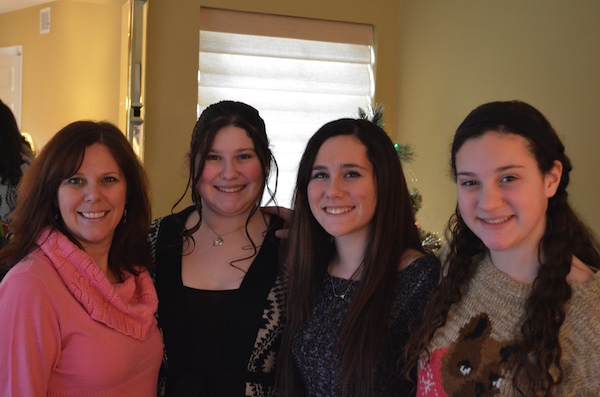 Tracey Acampora (left), with daughters Danielle, Gianna, and Angela.
Tracey Acampora, New York Center (as written by her husband, George)
"My wife, Tracey Acampora, is a beautiful wife, the mother of three perfect girls, and a ZNY air traffic controller. Tracey has been a controller for almost 26 years. She started her career in 1989 at TEB, then JFK, and now ZNY. Our daughters, who are 19,17 and 14, adore her and look to her for everything from support, to homework, to hairstyles! Tracey has tirelessly juggled raising three perfect girls with the stress, shift work, and rigors of being an air traffic controller more than I feel is even possible. To make it more complicated, I also am a controller at ZNY, and have been traveling much in the last five years as the ERAM Principle Facility Representative. Being a controller while being a wife and mother does mean that she has missed some events, worked holidays and weekends over the course of the years, but she still finds a way to make it seem as normal as possible. This is not easy, but she is also one of the most dedicated and professional controllers I have ever met.
Thank you for being the best wife and mother our family could ever dream of.
Happy Mother's Day! –George"
---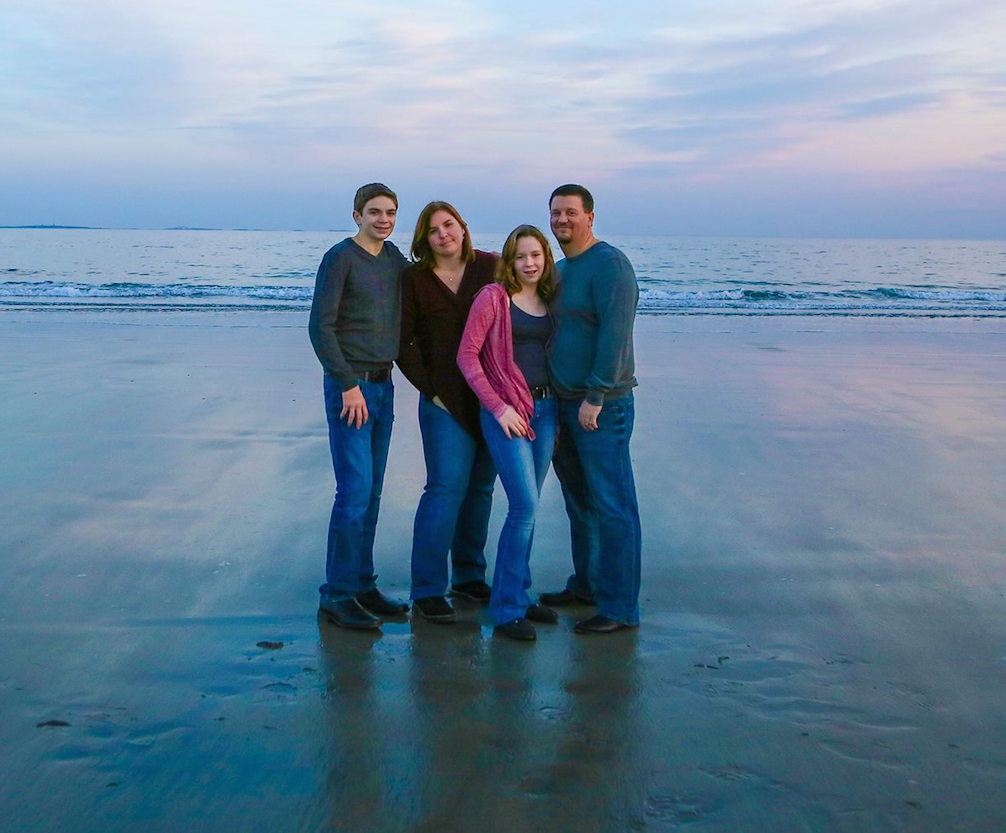 Kristine Mooso with son Owen (left), daughter Payson, and husband Robb (right).
Kristine Mooso, Boston Center
"Being a mom is one of the hardest, yet most beautiful and rewarding things I'll ever do. When I had the kids, I lost my identity; but in reality, I became so much more. Every day, I kiss each of them goodbye so I can go to work and they can learn how to live their lives. It's an act that may seem routine to most, but it's a challenge each and every day. However, knowing that they are learning how to be great people makes it worth it. The truth is that I know we share the same exact fear. They have to walk away from the comfort of their home and face challenges everyday. When Robb and I go to work each day, to make a better life for them, to show them that you must grow to be successful, we are setting an example that we can only hope they follow. As an activist, I've experienced the times that I thought it was just too busy at home to think I could give anything of value to NATCA. I was wrong. I realized that my family is part of NATCA. I've said it before, and I'll say it again, my kids will always be first. But my kids have grown up with NATCA their entire lives. Time management allows for me to know my limitations and commitments. It allows me to be there for our kids and my union. Believe me, our kids are more than busy; we just make it work. And if the day ever comes that I need to be with them, I'd walk away from whatever I'm doing in a heartbeat, and I know my NATCA family would be there for us.

Owen and Payson, you are my life. You make each day worth living. I love you."
---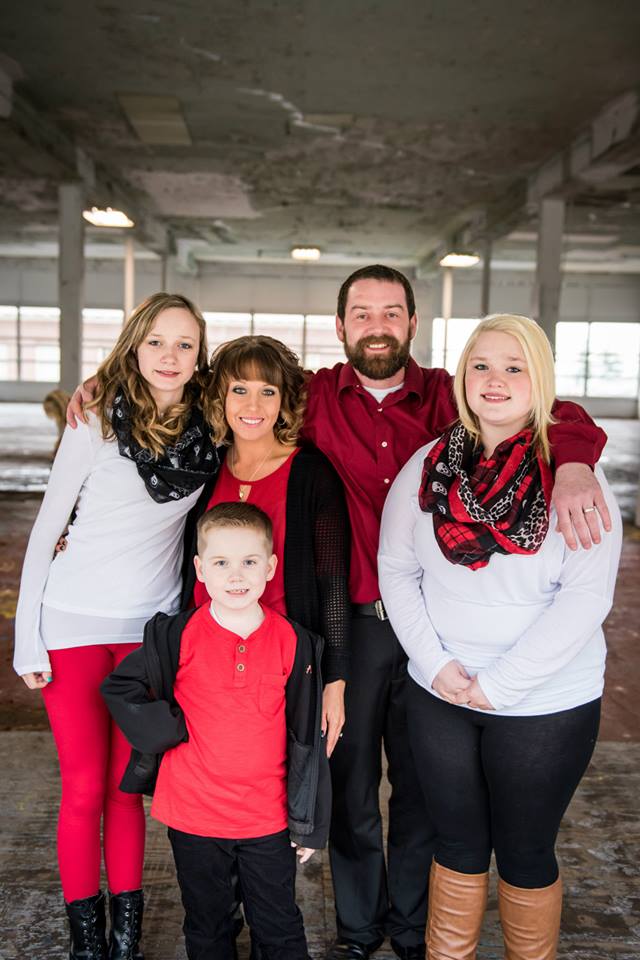 Nichole Driscoll (center left) with children Mykah, Jayden, Krista, and husband Dan.
Nichole Driscoll, Seattle ATCT
"I would have to say that being a successful air traffic control mom is all about balance and understanding. Each job is tough, exciting, and rewarding, and each requires a lot of attention, determination, and sacrifice. Being able to find a healthy balance between home life and work life is important in being successful in both jobs. This and having a great support system is what drives my success. Controlled chaos as our family refers to it."
---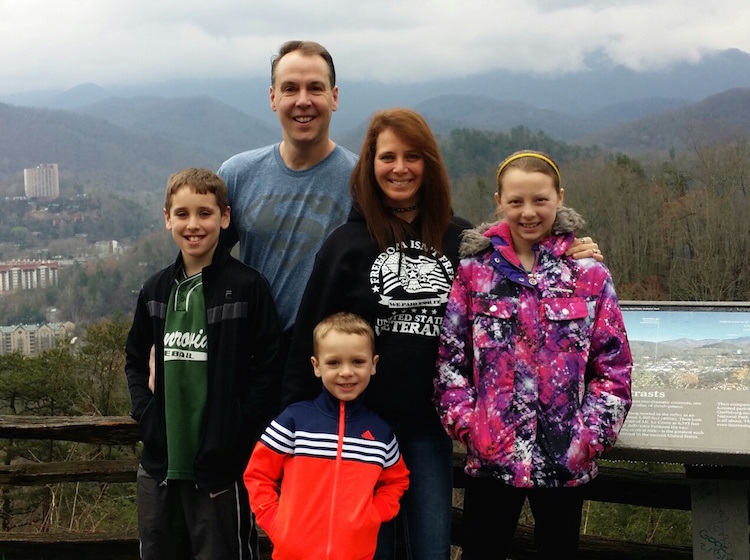 Michelle Trudeau (center right), with children Ashley, Cory, Tj, and husband Chris.
Michelle Trudeau, Indianapolis Center
"I'm a veteran Air Force air traffic controller with experience in the DOD and 15 years at ZID. I knew I wanted to be an air traffic controller when I was 10 years old and attended an open house at ZMA with my dad. Now, I'm also the wife of a controller, Chris Trudeau, and mother of three wonderful children, Ashley, Corey, and Tj, who have taught me more about love and joy than I could've ever hoped for! I can't decide if being a controller has made me a good mom, or if being a mom has made me a better controller! I have supporting points for both sides, and I just know I'm blessed with both."
---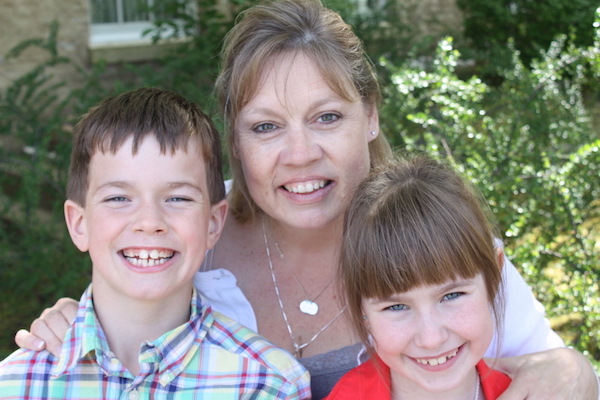 Lisa Hall (center), with children Ian and Anna.
Lisa Hall, Chicago Center
"Being an air traffic controller and a mom really does let me have the best of both worlds. A fun, challenging job I love, combined with the schedule flexibility to be able to be a hands-on mom, make it to my kids' activities, and also volunteer for school and sports events (although the downside is the sometimes crazy schedules I occasionally have to trade in to do it…Can you say swing/off/mid/day/mid?). Even better is that I met my husband at ZAU, and he also gets to do a job he loves with the flexibility to be an awesome, hands-on dad. It sure is crazy sometimes, juggling everything, but we wouldn't change a thing!"
---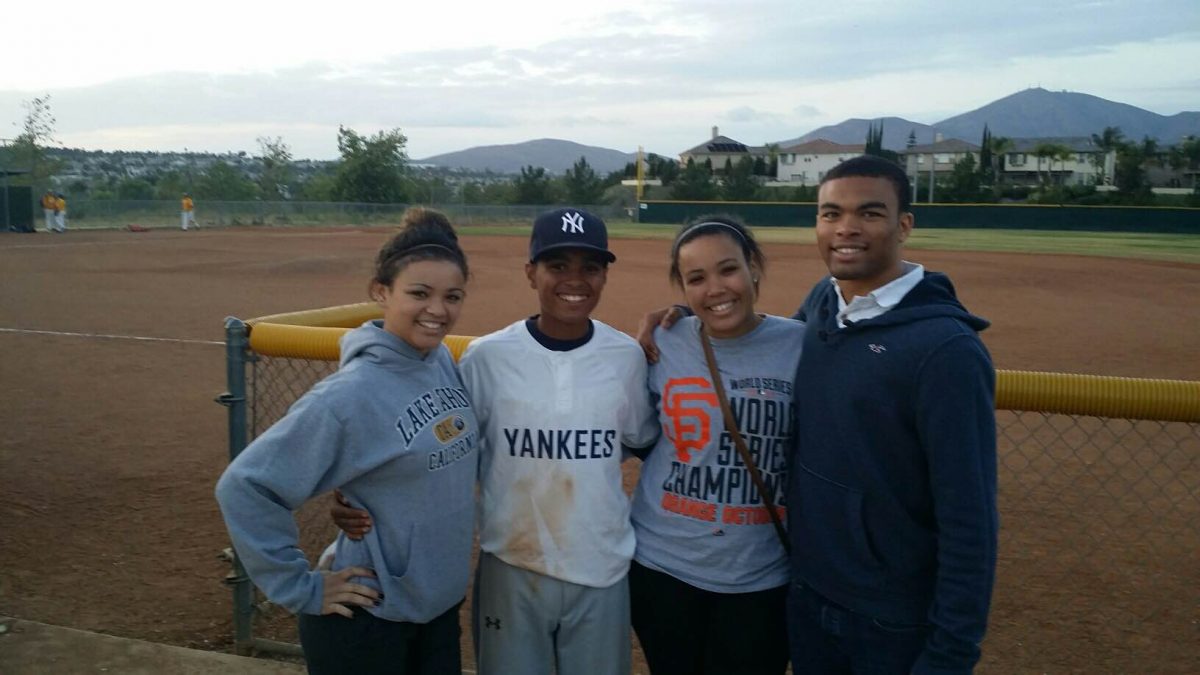 Catherine's children Tenia, Johnathan, Bria, and Jaison.
Catherine Caloca-Miller, Montgomery ATCT
"The day I became a mom was the best day of my life. Two years later I became a step-mom, and then I became an air traffic controller. For the last two years I have been a FacRep. Loving what I do and being able to have my children look up to me is a joy in itself, but being able to not only be a member of NATCA but also a FacRep has shown them the value of our union. Mom is my number one job, and I am thankful that I can have all the other titles as well."
---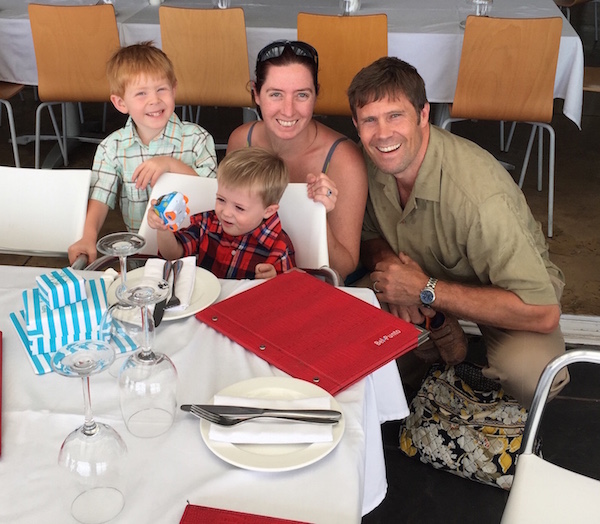 Sharlotte (center), with children Marshall and Griffin, and husband Ed.
Sharlotte Sonnthal Yealdhall, Dulles ATCT
"Being an air traffic controller is my dream job. I get to work in a field I am passionate about and keep people safe on a daily basis. I love that I have flexibility to spend time with my three boys since we work such varying shifts. I am able to attend school functions, and my boys know I am available for them when other moms typically are at work. It also means my kids are fanatical about airplanes and travel."
---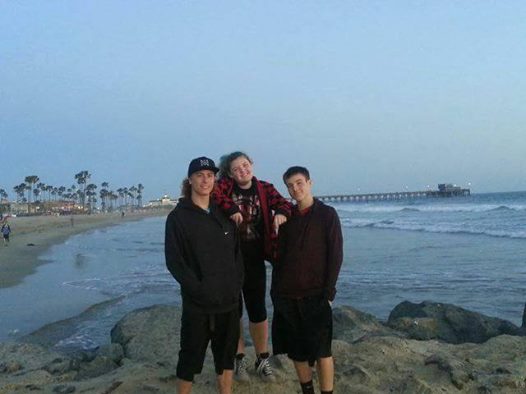 Jennifer Stahley's children Luke, Leah, and Adam.
Jennifer Stahley, Oakland Center
"I have been an air traffic controller for 23 years, and when my husband, who is also a controller, and I started our family, I considered staying home with the kids. Instead, we balanced work schedules, school, sports, clubs and everything else life threw at us. We have three wonderful kids, who are now 20, 16 and 12. I am so thankful I chose to keep my career AND be a mom. I feel truly blessed to have found that balance and to show my kids that moms CAN have it all!"
---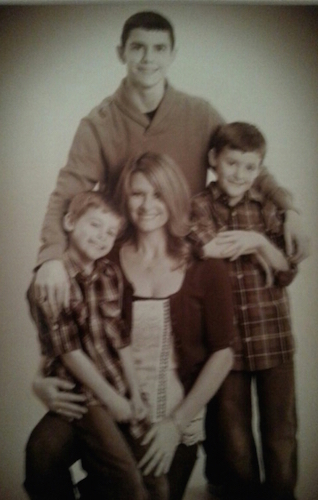 Jennifer Dickinson (center) with children Beau, Lucas, and Scott.
Jennifer Dickinson, Boston ATCT
"Every day I strive to raise my children in a way that fosters a strong work ethic, self confidence, a sense of purpose, patience, the ability to be flexible, and a genuine love for life. It is these qualities that I feel have translated well into helping me to balance the demands of the job as an air traffic controller and be the best mom I can possibly be for them every day. I feel so blessed. Happy Mother's Day!"
---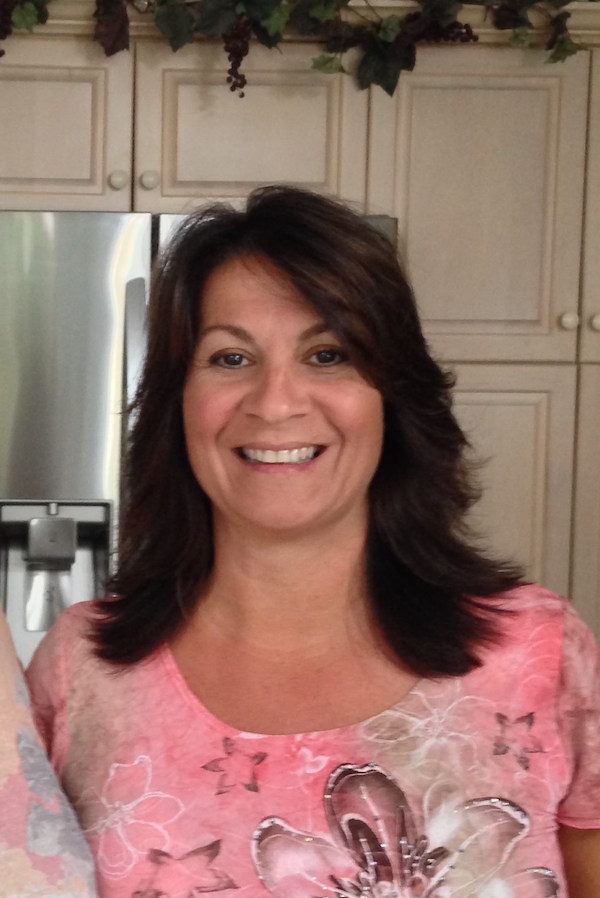 Susan Molloy.
Susan Molloy, New York Center
"What is like to be a mother and an air traffic controller? I guess just like with any working mother, it is a juggling act. I am most grateful to the agency for allowing me to work part time for 10 years when my children were first born, as that was such a blessing. Being able to keep one of the best jobs and be a mother at the same time was wonderful. The flexible hours enabled me to be at most of my children's functions (even if I was at times sleep deprived). Working full time now and getting older, the crazy hours are starting to take their toll. But I wouldn't trade any of it for the world. Fulfilling career, great pay, and being able to be mostly there for my kids…who could ask for anything more?"
---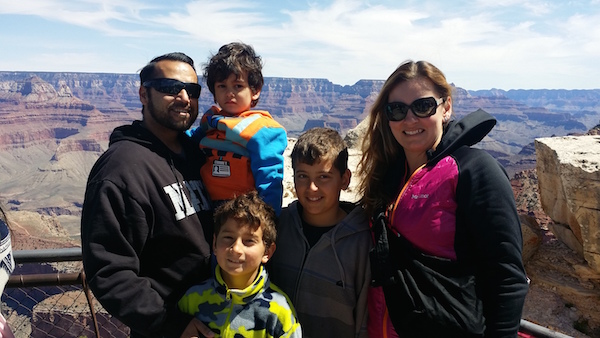 Karena Marinas (right) with children Carson, Luke, Elijah, and husband Frank (left).
Karena Marinas, Los Angeles Center
"I love being a mom and I love being an air traffic controller. I'm lucky that my husband, Frank, is also a controller and truly an equal partner. I'm grateful that my union has ensured me a schedule that allows me to volunteer at my kids' school, be home early enough to help them through homework, and cook them dinner, that our pay allows us to provide well for our family and give our kids so many wonderful experiences, and that I have so many opportunities to grow in my profession as a union rep. My sons are growing with the knowledge that it is important to work toward goals and contribute to a better future."
---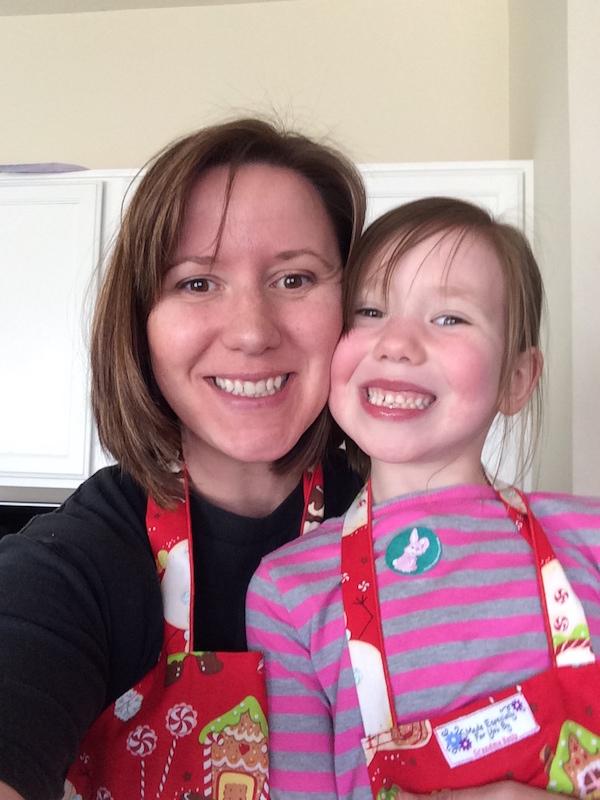 Stephanie Winder with daughter, Sophie.
Stephanie Winder, Salt Lake City Center
"I love being an air traffic controller and a mother. I've been a controller at ZLC since 2008 and became a mom shortly after in 2009. I have two girls, Sophie, 5 and Abigayle, 20 months. I wouldn't trade being a mother for anything. I traveled as a national SME for ERAM and facetimed with my children regularly. The best thing about being a mom and an air traffic controller is that when I'm at work, people actually follow my instructions."
---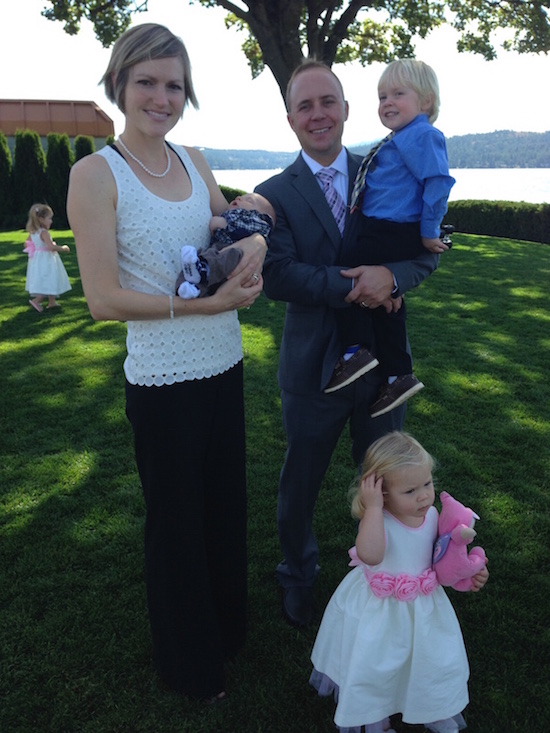 Lydia Baune (left), with children Dylan, Jackson, Elliot, and husband Joe.
Lydia Baune, Spokane ATCT
"Being a controller and a parent can be crazy, as many of us know, but it's the good kind of crazy that I love. Being a controller makes me a better parent, and being a parent makes me a better controller. It's really improved the effectiveness of my "mom" voice when I have to use it on frequency. I have three kids three years old and under, a wonderful husband, a job that I couldn't enjoy more, and a union that I am very passionate about. Thank you to all the great people I work with every day who make work an enjoyable place to be, and thanks to the inspiring people that I've met through NATCA who make me a better person."
---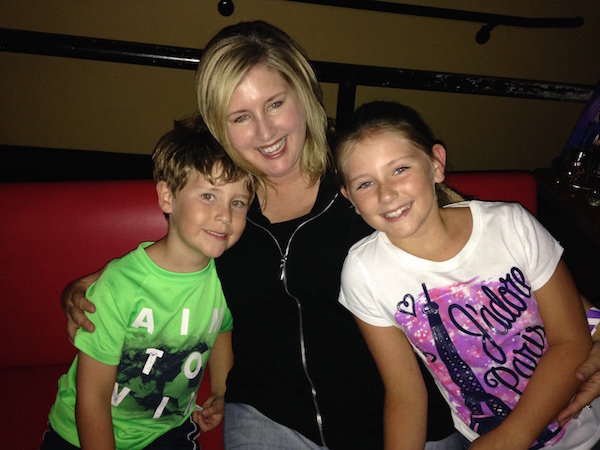 Heather Borcalli (center) with children, Chase and Nina.
Heather Borcalli, Southern California TRACON
"My life as a controller and a mother is BUSY. It's sometimes difficult to juggle everything, but I wouldn't trade it for the world. I love my kids, and I love my job at SCT!"
---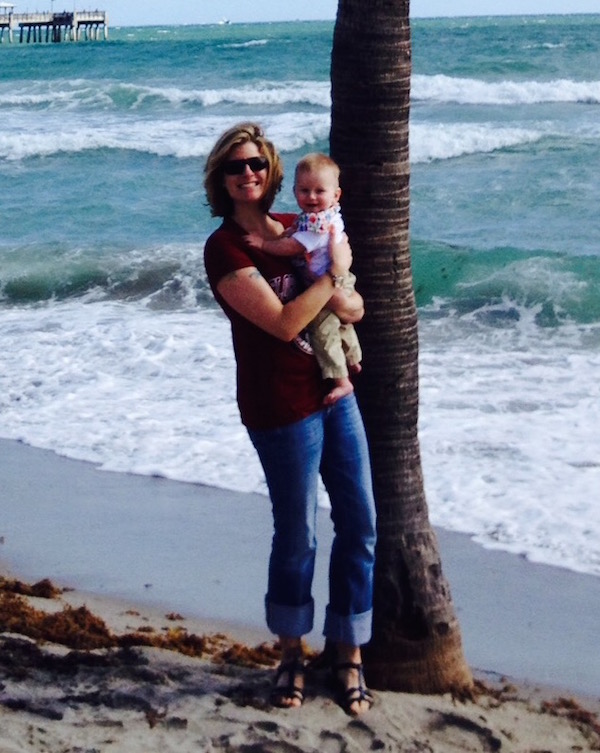 Lisa Fulford and her son, Ray.
Lisa Fulford, Boston TRACON
"Being a mother AND an air traffic controller are the most rewarding and challenging jobs I could ever have. I love knowing that my son, Ray, will grow up knowing his NATCA family and what NATCA does for all air traffic controllers."
---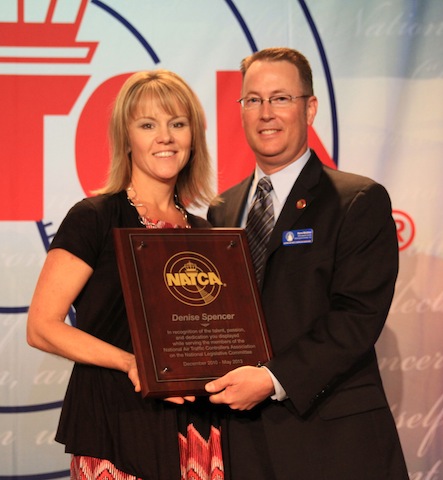 Denise Spencer with her children Ethan, Kyle, and Claire.
Denise Spencer, Seattle Center
"It is challenging being a mom and an air traffic controller, but I am sure every working mom faces similar challenges. I am very fortunate to have a husband, who is also an air traffic controller, and is an equal partner in parenting our three children. We put our children first, their wellbeing and their activities. We make it work. I want to be a strong role model for Ethan, Kyle and Claire. They see by my actions that you can be a good mom, a professional at your job, and involved in supporting your union. They believe I work for NATCA first, and I have to remind them that I actually am employed by the FAA."
---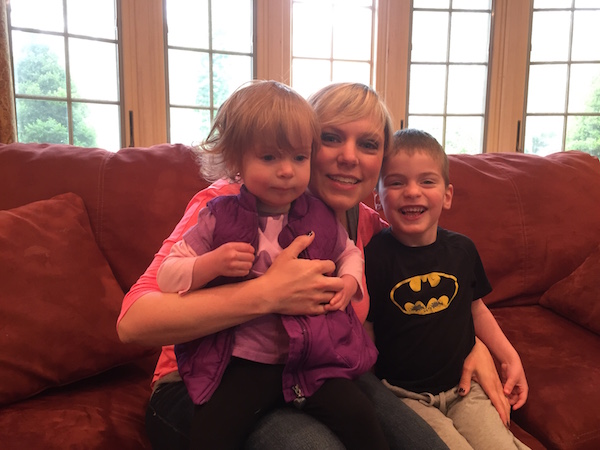 Meredith Fox (center) with her children, Vincent and Alice.
Meredith Fox, New York Center
"I love being a mom. Sometimes it is tough working shift work, weekends, and holidays while having little ones at home, but it is also beneficial at times. I was able to work a night shift so I could attend my sons first Mothers Day Tea this week. So many mothers were saying they had to take time off from work or not get paid for that day. I am fortunate to have the flexibility to do it all. I feel like I have the best of both worlds sometimes: I have a great job and the flexibility to be available to my family when I am needed. I was able to get a head start in caring for both of my babies by taking six months of uninterrupted maternity leave afforded by the CBA. Thanks to NATCA and their support for mothers."
---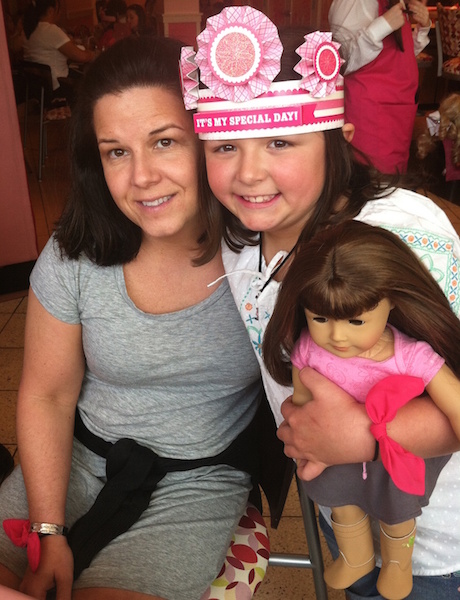 Mary with her daughter, Malia.
Mary Mayconich-Beasley, Savannah ATCT
"I've home schooled Malia since 3rd grade, and I'm a Basketball and Dance Mom. I am very passionate about taking care of my NATCA family, and I've attended every NATCA class except OWCP in order to serve my members better. I love when I get to help other members when given the opportunity to function in the LR world. The good thing about being a mom is coming home and being with my 10 year old daughter, Malia, and seeing life through her eyes. It's all about being simple and prioritizing, no matter what life situation presents itself at work or home. Time is always limited for me, but nothing beats going to the tearoom for a cup of tea with Malia."