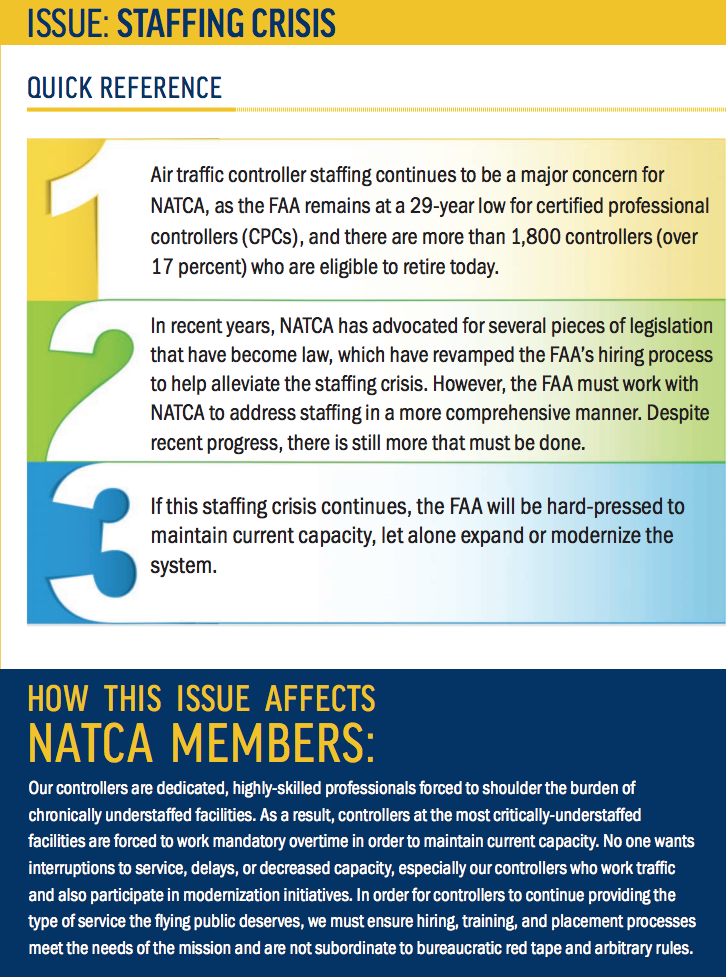 Legislative Issues: Staffing Crisis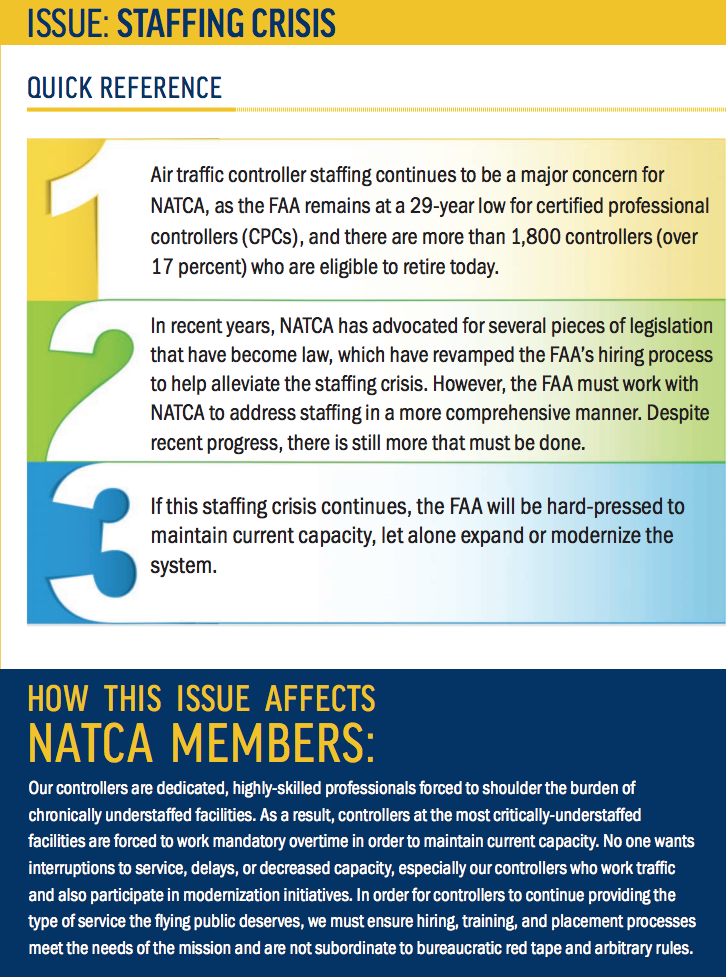 QUICK REFERENCE
Air traffic controller staffing continues to be a major concern for NATCA, as the FAA remains at a 29-year low for certified professional controllers (CPCs), and there are more than 1,800 controllers (over 17 percent) who are eligible to retire today.
In recent years, NATCA has advocated for several pieces of legislation that have become law, which have revamped the FAA's hiring process to help alleviate the staffing crisis. However, the FAA must work with NATCA to address staffing in a more comprehensive manner. Despite recent progress, there is still more that must be done.
If this staffing crisis continues, the FAA will be hard-pressed to maintain current capacity, let alone expand or modernize the system.
HOW THIS ISSUE AFFECTS NATCA MEMBERS
Our controllers are dedicated, highly-skilled professionals forced to shoulder the burden of chronically understaffed facilities. As a result, controllers at the most critically-understaffed facilities are forced to work mandatory overtime in order to maintain current capacity. No one wants interruptions to service, delays, or decreased capacity, especially our controllers who work traffic and also participate in modernization initiatives. In order for controllers to continue providing the type of service the flying public deserves, we must ensure hiring, training, and placement processes meet the needs of the mission and are not subordinate to bureaucratic red tape and arbitrary rules.
FULL BACKGROUND
ISSUE
Air traffic controller staffing has been a concern for many years. It reached a crisis level in 2015 and despite recent progress, it remains a crisis. The National Airspace System (NAS) has reached a 29-year low in the number of certified professional controllers (CPC). Controller staffing has fallen nearly 10 percent since 2011, and a significant percentage of the certified controller workforce remains eligible to retire (more than 17 percent). Stop-and-go funding for the FAA has made this problem worse, with sequestration forcing the FAA to suspend hiring and shutter its training Academy for most of 2013. If this staffing crisis continues, the FAA will be hard-pressed to maintain current capacity, let alone modernize the system and expand it for new users, such as commercial space and Unmanned Aircraft Systems (UAS).
MESSAGE
NATCA believes the FAA must take a holistic, collaborative approach to resolving the staffing crisis. We are committed to working with all stakeholders to develop a permanent, sustainable solution. NATCA would be deeply concerned with any action that could impede efforts to properly staff the NAS with CPCs, including the potential for future furloughs or another closure of the training Academy.
Two years ago, we took a step in the right direction to resolving this staffing crisis when Congress passed the FAA Extension, Safety, and Security Act of 2016, which improved the FAA's hiring process by streamlining the hiring of controllers who have prior experience, as well as veterans and CTI students.
Additionally, as part of the government funding bill passed on March 23, NATCA was able to work with members of Congress to secure two important provisions: (1) a provision that allows the FAA to reinstate its Retired Military Controller (RMC) program; and (2) a provision that helps address the staffing crisis at New York TRACON (N90) and New York Air Route Traffic Control Center (ZNY) by allowing the FAA, after consultation with NATCA, to post vacancy announcements for these two facilities within the local commuting area.
Both of these provisions take a step in the right direction, but there is much work still to be done. NATCA recommends the following actions to continue alleviating the staffing shortage:
The FAA should routinely post vacancy announcements for experienced air traffic controllers and should continue to hire as many experienced controllers as are qualified.
The FAA should continue posting, at least annually, an all-sources open announcement for non-experienced candidates, many of whom come from CTI schools, the military, and other aviation-related professions.
The FAA should hire as many employees as maximum throughput would allow at the FAA Academy in Oklahoma City.
The FAA should continue to streamline the hiring process, specifically easing the bottlenecks and bureaucratic delays in HR, security, and medical.
The FAA should discontinue its use of finance-driven staffing numbers and replace them with the operationally-derived CPC staffing targets, as reflected in its Priority Placement Tool, for the FAA's annual Air Traffic Controller Workforce Plan (CWP) and all future reports.
In addition to these hiring improvements, after many years of advocacy by NATCA, the FAA has finally put in place a less bureaucratic and more expeditious transfer policy for current FAA controllers that encourages experienced controllers at lower level facilities to voluntarily move up (at their own expense) to busier, more complex facilities. While this alone does not fix the staffing crisis, it does allow experienced controllers to move to busier facilities where they are more likely to certify than Academy graduates. Subsequently, it allows the FAA to place Academy graduates in the less complex and less busy facilities where they are more likely to certify. Previously, Academy graduates were often placed in busy towers and radar facilities upon graduation, which resulted in dismal success rates.
BACKGROUND
The air traffic controller workforce is in the midst of a staffing crisis. Sequestration forced the FAA to institute a hiring freeze and shutter the FAA Academy between March and December 2013. The hiring freeze compounded an already tenuous staffing situation in which the FAA had barely been able to replace retiring controllers.
Even increased hiring in 2015, 2016, and 2017 did not make up for the attrition experienced from 2013 through 2017. As a result, the FAA remains unable to adequately staff many facilities.
New hires who are admitted into the FAA Academy beginning in June 2018 will require two to four years of training before they become fully trained and capable of separating traffic on their own. Moreover, of those who are admitted, currently only 60 percent of students in either the Tower/Terminal or En Route options will successfully complete their Academy training before moving on to train at their facility.
Fully certified air traffic controllers (known as CPCs) must train these new hires, often taking those controllers away from their primary job of separating traffic. Thus, facilities that are already at critical staffing levels (defined as requiring mandatory overtime and a six-day work week to fully staff all positions) are facing a dire situation, as retirement-eligible controllers continue to retire at a high rate, and those left on the job begin the time-intensive process of training Academy graduates.
The FAA's 2018 Controller Workforce Plan (CWP) is problematic for a number of reasons and is another example of how the FAA's bureaucracy is negatively affecting operational staffing. In particular, the CWP ignores the staffing targets that NATCA jointly developed with the FAA's Air Traffic Organization to meet the agency's operational needs. The CWP also relies on actual on-board "headcount" staffing numbers used by FAA Financial Services, which lump together CPCs with CPC-ITs (previously certified controllers who reenter training due to a transfer to another facility) and developmental stage trainees. These issues, in addition to others, render the CWP inaccurate and misleading.
Additional staffing concerns are as follows:
Reduced Capacity
A further staffing reduction could have an immediate and detrimental effect on capacity, meaning fewer planes in the sky and greater potential for delays.
Deployment of NextGen
Understaffing hinders facilities throughout the NAS from deploying and training for NextGen programs, procedures, and equipment.
Overtime
Critically-understaffed facilities require controllers to work mandatory overtime to provide adequate coverage of all needed positions. Some facilities may lack sufficient staffing — even with mandatory overtime and extended workweeks — to open all positions.
Fatigue
These extended workdays and workweeks can lead to significant fatigue problems for the workforce. The National Transportation Safety Board has identified fatigue as one of its highest priority safety concerns. Although NATCA and FAA, along with other stakeholders, have worked collaboratively to develop a fatigue awareness and education campaign called "Fully Charged," which is part of the collaborative Foundations of Professionalism program, the only long-term solution is sufficient staffing.