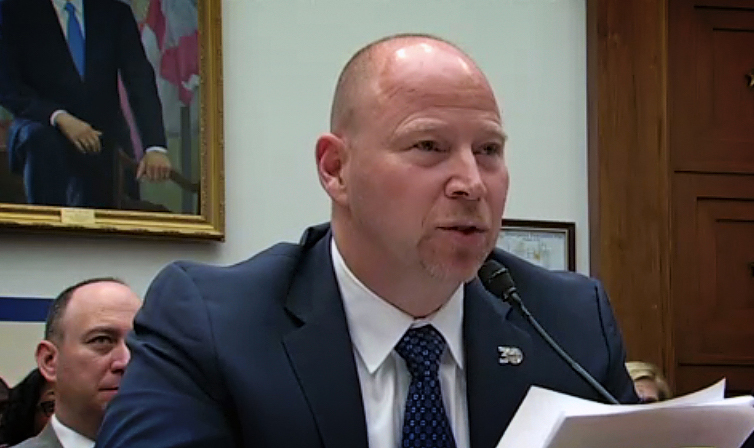 May 19, 2017 // Rinaldi: "Status Quo is Unacceptable": NATCA President testifies before House Transportation and Infrastructure Committee
VIDEO: NATCA President Paul Rinaldi's Opening Statement at Hearing
VIDEO: Highlights of Hearing Featuring NATCA/Rinaldi
VIDEO: Unedited Footage from Hearing
DOCUMENT: Rinaldi's Full Written Testimony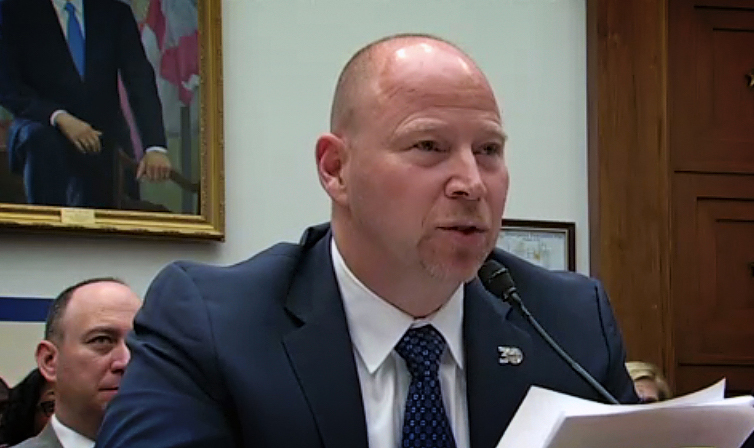 During the House Transportation and Infrastructure (T&I) Committee's hearing on the Federal Aviation Administration and air traffic control reform on May 17, NATCA President Paul Rinaldi made one point clear multiple times; that the status quo is "unacceptable."
Rep. Rodney Davis, R-Ill., asked Rinaldi, "What do you think would be the cost of us doing nothing?"
"Status quo, or doing nothing, is unacceptable," Rinaldi replied. "September will be here before you know it. We will be looking at another possible government shutdown and — as I said in my opening statement — as we lead up to a shutdown, the FAA turns their attention from NextGen, from UAV (Unmanned Aerial Vehicles) implementation, to shutdown procedures.
"For the last 10 years, it happens a couple of times a year, and we lose this time. It's four or five weeks leading up to it, five weeks on the back end of it, and they're not sure what sequester is going to bring us if we do get a budget and we do get a bill passed, what types of cuts we will have into the aviation system."
In his opening statement, Rinaldi said that while the United States airspace system is considered the "gold standard in the aviation community, that status is at risk. Unstable, unpredictable funding and status quo threatens it. We need a reliable, stable, predictable funding stream to operate our current system and allow for growth."
Rinaldi then stated exactly what NATCA would not support and also the principles by which any proposal will be evaluated.
"Although NATCA is calling for change, we cannot support any proposal without fully reviewing all its details," he said. "It's not only that we oppose the status quo, which is very much broken, we also oppose any system that would put ATC in a for-profit model."
In order for NATCA to consider and support any proposal, it must meet our Four Core Principles for Reform:
First, any reform must protect our members' employment relationship. This must maintain our members' pay, benefits, retirement system and healthcare system, as well as their work rules and our contract;
Second, any new system must keep the safety and the efficiency of the National Airspace System its top priority;
Third, any reform system must have a stable predictable funding stream adequate to support air traffic control services, growth, new users, staffing, hiring, training, and long-term modernization projects. Also, this reform must provide a stable funding stream through a transition period;
Fourth, any reform must maintain a dynamic, diverse aviation system that continues to provide services to all settings of the aviation community and to all airports across America.
Last year, NATCA supported the House T&I Committee's "Aviation Innovation, Reform & Reauthorization Act of 2016" (AIRR) because it met the Union's Four Core Principles for Reform, Rinaldi testified.
"While we do not believe there is only one solution to the problems, we will carefully review all proposals using the same standard," he said.
During the hearing, Rep. Eleanor Holmes Norton, D-District of Columbia, and Rep. Dina Titus, D-Nev., pressed Rinaldi, about whether he has received any assurances from proponents of reform concerning collective bargaining, pensions, and other workers rights. While no bill has been introduced in the current Congress, Rinaldi stated, "In the 2016 AIRR Act, there was strong language that gave us a fair bargaining process and also a robust transition period that would allow us to keep everything we have and keep the workforce whole." He added that NATCA will fight for continuing labor protections in any reform legislation.
Near the end of the hearing, T&I Committee Chairman Bill Shuster, R-Pa., stressed the importance of having the air traffic controller workforce on board in any successful proposal to reform the FAA and the ATC system.
"One of my biggest concerns in this proposal is that we make sure we move those highly trained, highly technical, highly skilled, efficient air traffic controllers to the new system," Shuster said. "And if you don't do it in the right way, a third of them — a third of the certified controllers — can retire tomorrow if they're not happy. So for me, that's something very important and I can tell you I've been criticized by conservative groups around this town because they just don't get it. You have to take the qualified workforce with you."
Rinaldi was joined on the panel of witnesses by Department of Transportation Inspector General Calvin Scovel, President of Hartzell Propeller, Inc. Joseph W. Brown, Reason Foundation Director of Transportation Policy Robert W. Poole, and Independent Policy Analyst Dorothy Robyn.
Another highlight from the hearing's question-and-answer session included the topic of the transition period to any new ATC corporation. Rep. Daniel Lipinski, D-Ill., asked Rinaldi if he had any concern over ATC hiring and any "troubling lack of accountability and transparency" during what could be as long as a five to seven year period of transition to any new ATC corporation.
"One of the things we would really have to see in the bill is a very robust transition period where we would seek a stable, predictable funding stream so that we could continue to hire and accomplish the goals of the Agency while it's still under their control and if it was going to a federally-chartered, not-for-profit organization at the same time," Rinaldi said. "It would need to be a robust transition period enhancing the safety of the system and at the same time, continuing to hire, train, and modernize the system."