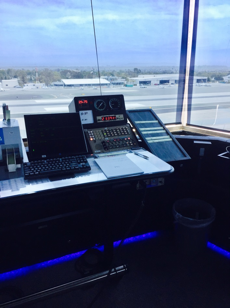 May 19, 2017 // Santa Monica Tower (SMO) Completes Refurbishment Project
Below, read Santa Monica Tower (SMO) FacRep Michelle Mann's account of the much-needed modernization project.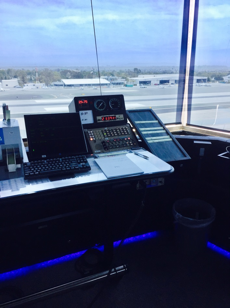 Santa Monica Tower recently completed a six-week modernization project. The final product is the result of collaboration by all divisions of the Agency: facilities and engineering, tech ops, air traffic control, NATCA, and the Professional Aviation Safety Specialists (PASS) all contributed to the stunning transformation of the 49-year old "Type O" design tower.
The project accomplished a complete redesign of the tower cab including the newest "slat wall" consoles developed by Russ Bassett Corp. Those consoles opened up 68 square feet of area in the tower cab. Controllers are now appreciably closer to the windows of the tower, which allows for better surveillance of the airport environment.
Resident engineer Bob Norrito, Western Service Area (WSA), oversaw the project and guided each phase, coordinating the efforts of all parties. Fellow WSA Engineer Paul Mershimer assisted Norrito. Each of the three night phases included a demolition of existing consoles, rewiring of equipment, and moving and installation of equipment — all while SMO remained completely functional.
Local Los Angeles (LAX) Nav/Comm Staff Specialist Dao Cline, SMO Air Traffic Manager Robert Russ, and NATCA designated renovation project lead Josh Wendt collaborated on all decisions, including the location of air traffic equipment as well as tech ops equipment mounted on the slat wall.
"What made this work was the attitude and flexibility of both NATCA and FAA management here at SMO," Russ stated. "Many times, we started on the same page, but when we didn't, mutual interests were communicated and collaboration kicked in. Working with (the vendor), Tech Ops, Engineering Services, and everyone else who touched this was very easy. I think the end product is a testament to our combined desire to show this can be done and it can be done correctly."
Because of this project, SMO air traffic control now has improved functionality, more efficient use of cab workspace, and better-organized equipment.
"The end product is an amazing metamorphosis that not only modernizes the tower cab, but improves the controller's view of movement areas and access to essential equipment which helps to maintain or improve the safety margin," Wendt said.