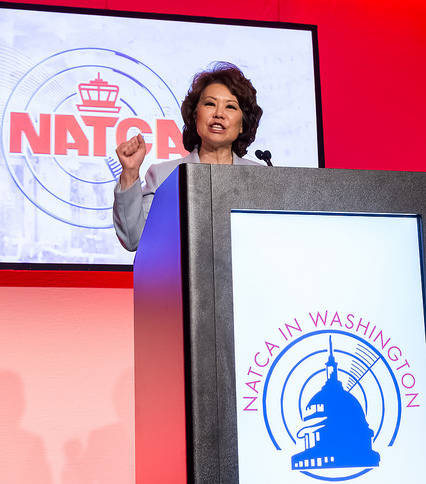 June 9, 2017 // NiW 2017 Speaker Recap: The Honorable Elaine Chao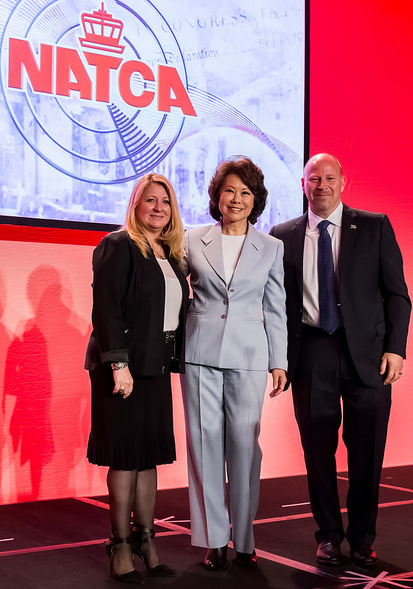 "But ATC modernization is about much more than technology; it's about people," said Chao. "I understand there may be concerns about large scale change, and how it will impact your lives and your ability to do your job. We care about your concerns and we are working closely with your leadership to ensure that your voices are heard."
Chao said the collective goal is to ensure the air traffic control system remains the safest and best in the world. That includes taking steps to ensure that the system can continue without disruption, and that existing arrangements important to the workforce are preserved. She said that technology is important, but people will always be the most important resource.
She also said that the uncertainties resulting from annual appropriations have contributed to the slow adoption of the latest air traffic technologies, driving home that the status quo is unstable and that unpredictable funding holds the NAS back. Chao said that any potential solution would come with its fair share of both support and criticism but that modernizing the Air Traffic Organization branch of the FAA is worth the effort because the benefits are far-reaching.
Chao listed several benefits including improving safety by giving the workforce the most modern technology available, keeping America's airspace competitive through innovation and hiring the next generation of talented air traffic controllers, and saving consumers time with more direct flight routes and increased capacity.
Improving the NAS is not something that can be accomplished by one party. Chao said it will take cooperation, collaboration, and thoughtful dialogue among all stakeholders, but most importantly it will take leadership from the men and women who run the system day in and day out.
"You are the blood and guts of the air traffic control system, making it the best in the world," Chao said. "Your country needs your leadership in forging a new path for our air traffic system. Your wisdom, experience, and expertise are needed to help bring us to a new beginning."
Chao closed by thanking all aviation safety professionals for their unwavering dedication to keeping the skies safe. She said that this Administration looks forward to working with NATCA leadership — and with all aviation safety professionals — to ensure that the NAS continues to be the world's aviation leader.