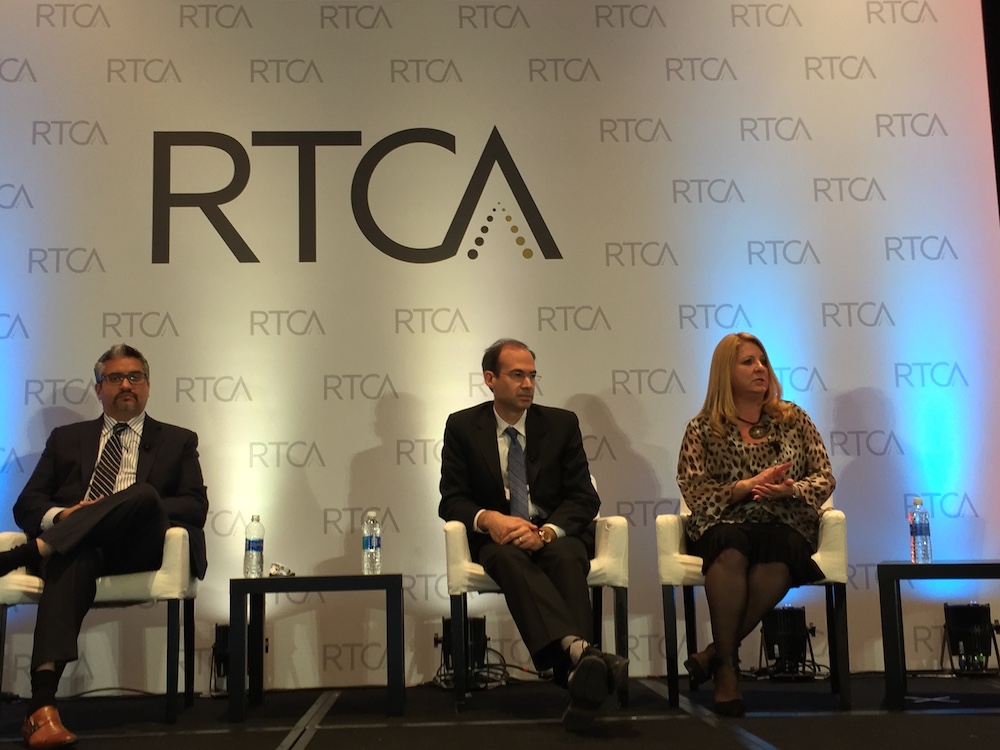 June 16, 2017 // Executive Vice President Trish Gilbert Speaks with Fellow Members of Drone Advisory Committee
What: RTCA Global Aviation Symposium Drone Advisory Committee (DAC) panel
When: Tuesday, June 13, 2017
Moderator:
Captain Houston Mills, Director of Airline Safety, UPS Airlines
Panelists:
Gilbert participated on a panel with fellow members of the Drone Advisory Committee (DAC) at the 2017 RTCA (Radio Technical Commission for Aeronautics) Global Aviation Symposium. Panelists gave insiders' perspectives of unmanned aircraft system (UAS) use and integration. They described how the DAC operates. Panelists discussed operational policy issues and introducing innovative technology into the National Airspace System (NAS). RTCA brings stakeholders together to discuss issues facing the NAS.
Schulman outlined the DAC's three main workgroups that cover roles and responsibilities, access to airspace, and funding. Panelists described progress that has been made since the introduction of UAS into the national spotlight. Panelists said coming together also has taught DAC members the far-reaching implications of UAS technology and how many areas of the NAS the technology touches. Safety continues to be the number one priority of every member of the DAC. Panelists explained how discussing important safety concerns surrounding the use and integration of UAS has allowed them to learn from each other and begin paving a path forward.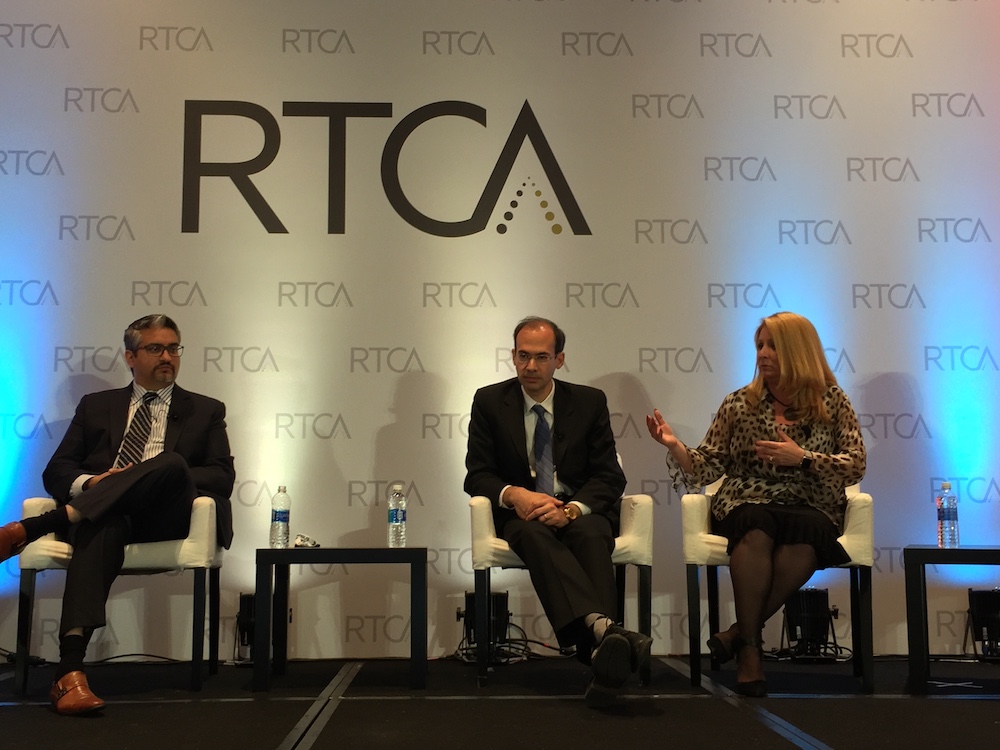 Pictured from left to right: Banga, Schulman, and Gilbert.
Gilbert explained that when it comes to funding, it's not just how UAS integration will be funded but how UAS users will pay into the system in a way that is both transparent and fair.
Panelists also discussed the pros and cons of UAS integration. Banga and Gilbert explained that while UAS may be great for things like inspections and aerial photography. Schulman added that UAS could have far-reaching ecological benefits as well. But the group agreed there also are shortcomings such as the possibility of mechanical failure, uneducated users, non-conforming users, tracking UAS traffic, and how drones may impact the electromagnetic spectrum.
Gilbert explained that NATCA's goal as an organization is that any new user introduced into the system is integrated safely, while ensuring that innovation is not stifled. "We have to be part of finding solutions," she said. She said that currently, the NAS is accommodating UAS flight operations, but that the focus should shift to full integration with defined roles of who will control that traffic.
The panel also discussed the need to further educate pilots and controllers on UAS use and where the NAS is going in terms of fully integrating this technology. Currently, there is training in place, but that training may not be dynamic enough to keep up with the pace of UAS development.