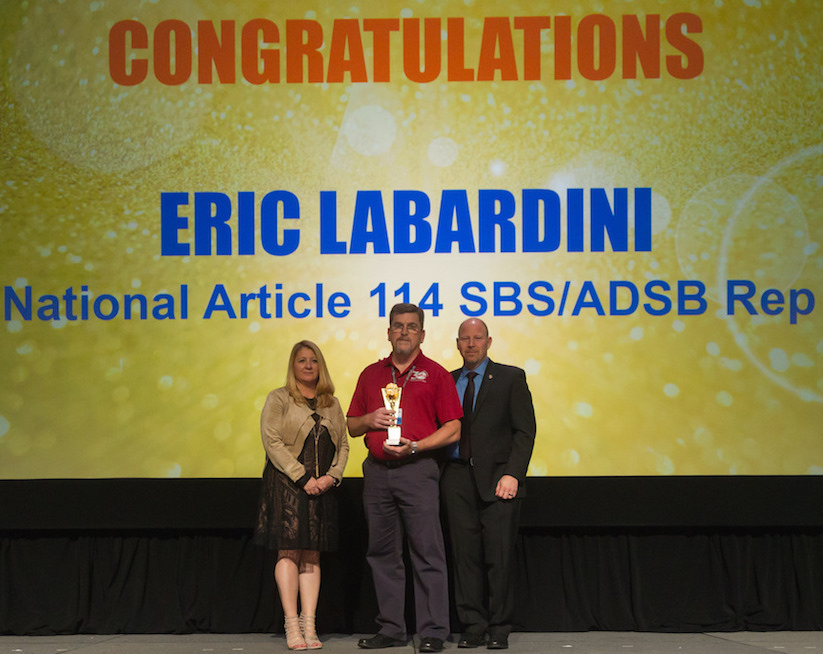 July 14, 2017 // CFS Award Recap: Tim Haines Memorial Award Winner Eric Labardini
NATCA Executive Vice President Trish Gilbert presented Eric Labardini the Tim Haines Memorial Award of Honor and Distinction at Communicating For Safety. The award, also know as a "Timmy" Award, is typically presented at every Biennial Convention to union members and employees who have done an exceptional job representing NATCA values.
This prestigious award was originally named the "Natty Award," first presented by former President John Carr at the 2002 Biennial Convention in Cleveland. The "Natty Award" was changed to the "Timmy Award" during the 2008 Biennial Convention in Miami in honor of Haines, who, with hard work and dogged determination, successfully implemented a reclassification project into NATCA's third contract, the Green Book. Haines passed away in 2006 and this award recognizes members of the NATCA family for their relentless dedication and Haines-like commitment to NATCA.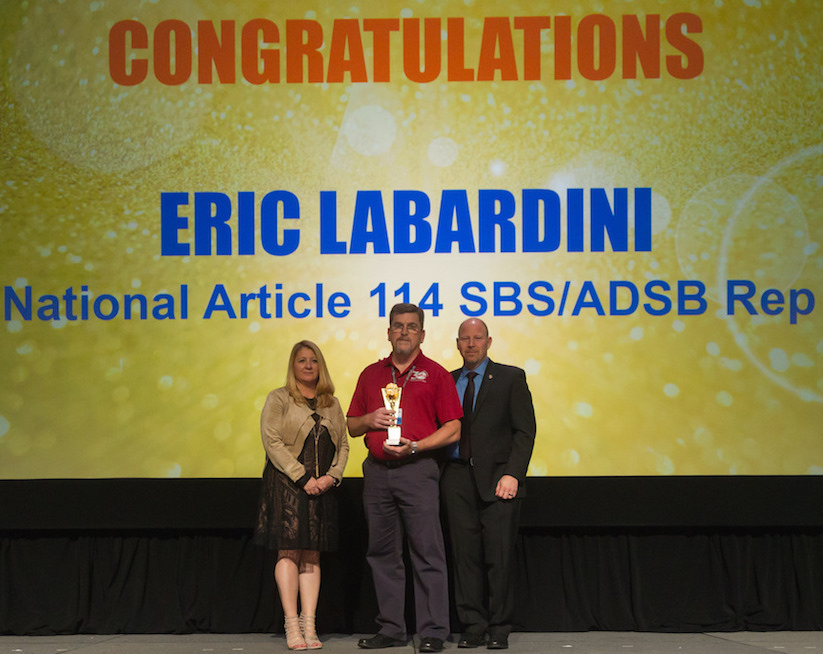 Executive Vice President Trish Gilbert, Eric Labardini, and President Paul Rinaldi.
This year, a Timmy Award was given at Communicating For Safety because of the important safety-related work Labardini does for NATCA. Labardini has spent his 25-year career at Houston Center. He had served as Area Representative and Secretary when Gilbert and Rinaldi asked him to become the National Article 114 Rep for ADS-B (Automatic Dependent Surveillance-Broadcast) and SBS (Surveillance and Broadcast Services), a role that requires a tremendous about of travel and dedication. He has committed himself to that task since 2009.
"He does it exceptionally well," Gilbert said. "He leads a very talented group of Reps on all those programs. And for that, we could never thank him enough."
Larbardini was overwhelmed by the recognition, saying it was an honor that meant the world to him.
"I'm humbled and I can't say there's any greater recognition than being recognized by your peers," Labardini said. "I would say that this is a team success. I can't do what I do without the support of this membership, my team, and my family."