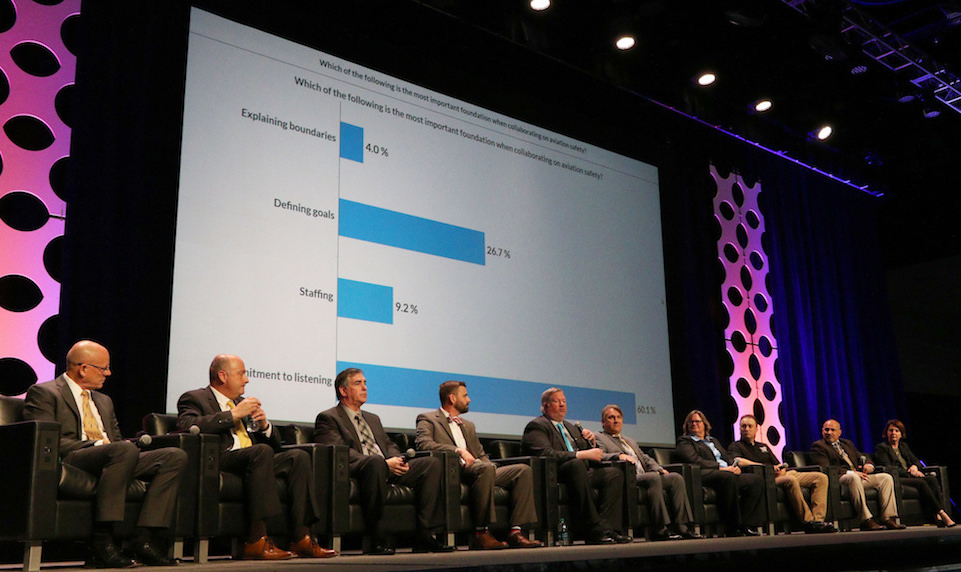 July 14, 2017 // CFS Panel Recap: Improving Safety Through Collaboration
What: Improving Safety Through Collaboration Panel
Where: Communicating For Safety 2017
When: Monday, March 20, 2017
Moderators:
Phil Hughes, National Lead for Collaboration, NATCA
Tammy Burroughs, Manager, ATO Collaboration, FAA
Panelists:
Chrissy Padgett, NATCA Safety Committee, Partnership for Safety Rep
Ernesto Lasen, Safety Programs Manager, ATO
Fred Naujoks, San Francisco (SFO) Facility Rep, NATCA
Dawn Cawrse, SFO Support Manager, ATO
Jay Barrett, NATCA Safety Committee, Human Performance Rep
Jason Demagalski, Human Performance Manager, ATO
Brandon Miller, Potomac TRACON (PCT) Facility Rep, NATCA
Stephen Smith, PCT Manager, ATO
Al Arcese, ATSAP X ERC Member, NATCA
Cliff Rustad, ATSAP X ERC Member, ATO
Collaboration is always better than confrontation.
CFS's "Improving Safety Through Collaboration" panelists agreed with that statement, with one caveat:
"Because we're people, we're going to have conflict," said Rustad. "But you need to work on your relationships to overcome that conflict. Let's be honest. If you haven't worked with your group to handle conflict, you're going to have confrontation."
The panel discussed collaborative safety successes and challenges and other topics, including Partnership for Safety initiatives, local safety councils (LSC), and how facilities can use collaboration to deal with common issues like staffing.
Naujoks and Cawrse credited collaboration and work with their LSC to ensure a successful move to the new SFO tower, which opened last year.
"Collaboration isn't always easy, but when it comes to safety, our goals are the same," Naujoks said. "Collaboration is part of our culture now."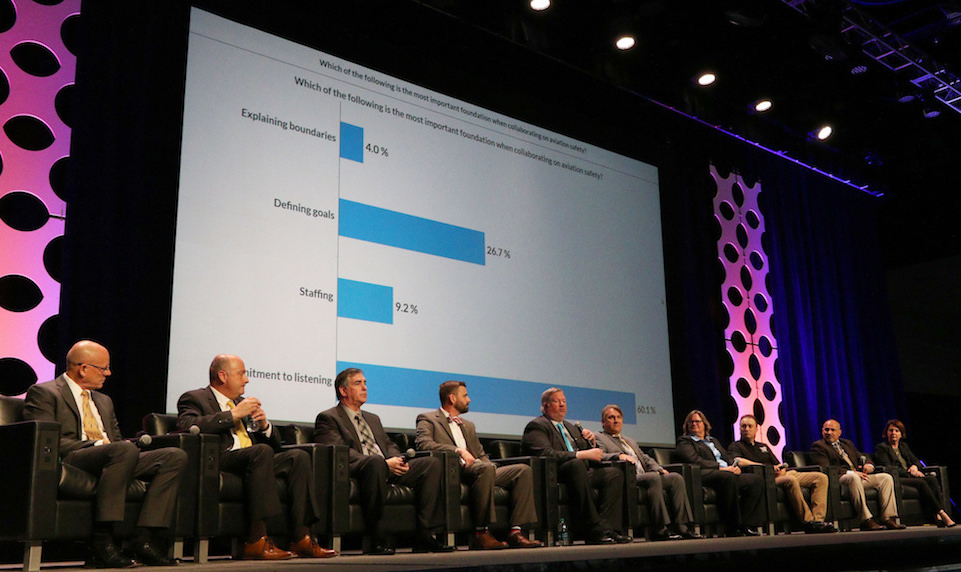 Hughes said the FAA and NATCA are approaching what he called the "sweet spot" in collaboration.
"It takes five to seven years for a cultural change in any organization to occur," he said. "It's now starting to be accepted and embraced."
Added Burroughs: "We're starting to see facilities where it is just what they do. We're starting to see that it's less like a program and more of how they do business."
Demagalski said the FAA and NATCA may not always agree on the route to get to a goal, "but we know what we're trying to achieve."
Barrett added that the FAA now does human factors research, thanks to collaboration.
"From the very beginning, (Demagalski) and I have had a commitment to bring that to the operation and the employees on the floor," he said. "That requires a lot of trust and cooperation to get there."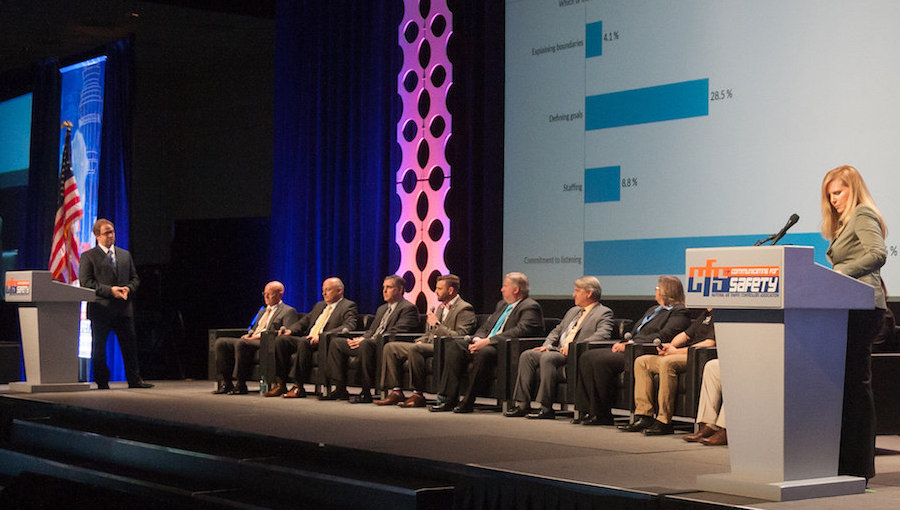 Miller credited the strong relationship he enjoys with Smith with effective handling of everything from labor management relations to safety issues.
"If we didn't have a strong relationship, there could easily be a ball dropped," he said. "We're definitely moving Potomac forward."
Padgett said a commitment to listening is the most important factor in collaboration. She also credited LSCs and sharing information with fueling the collaborative process.
"If someone contacts us, that's usually the first question: we don't know how to get started," Padgett said. "That's when we give them the scoping document so they can define their goals. Maybe we'll put them in contact with the LSC at (a facility) that is doing well and they can share their scoping document."
Panelists agreed that collaboration has reached a level of maturity that makes it sustainable and the way to do business.
"We own this," Smith said. "You can make the difference and hold onto collaboration. It doesn't matter what administration comes at you."
By relaying best practices, personal experiences, and concrete examples of success, Hughes said his hope for the panel was that attendees came away inspired. "We want to challenge the audience to say, 'you too can be up here next year.'"