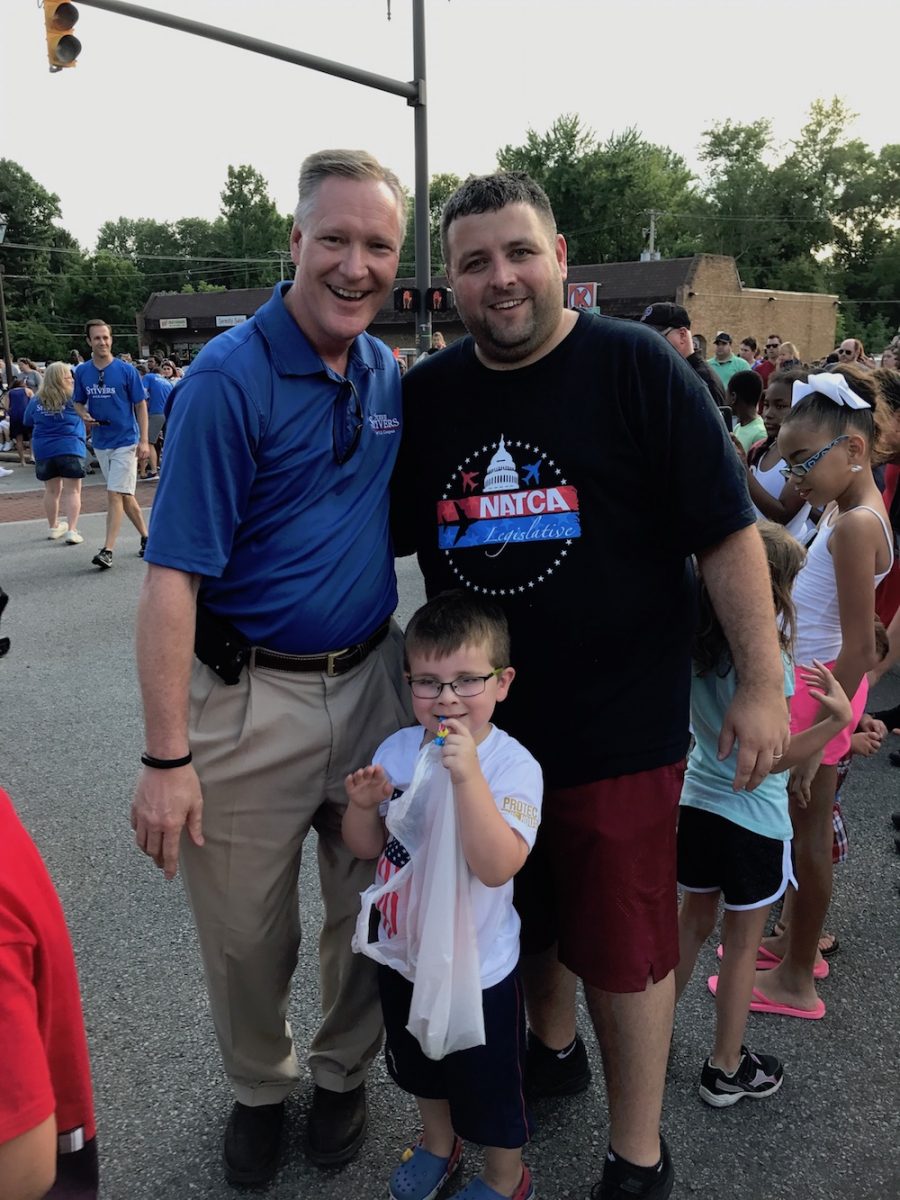 Aug. 4, 2017 // Member Focus: Phil Carpino, CMH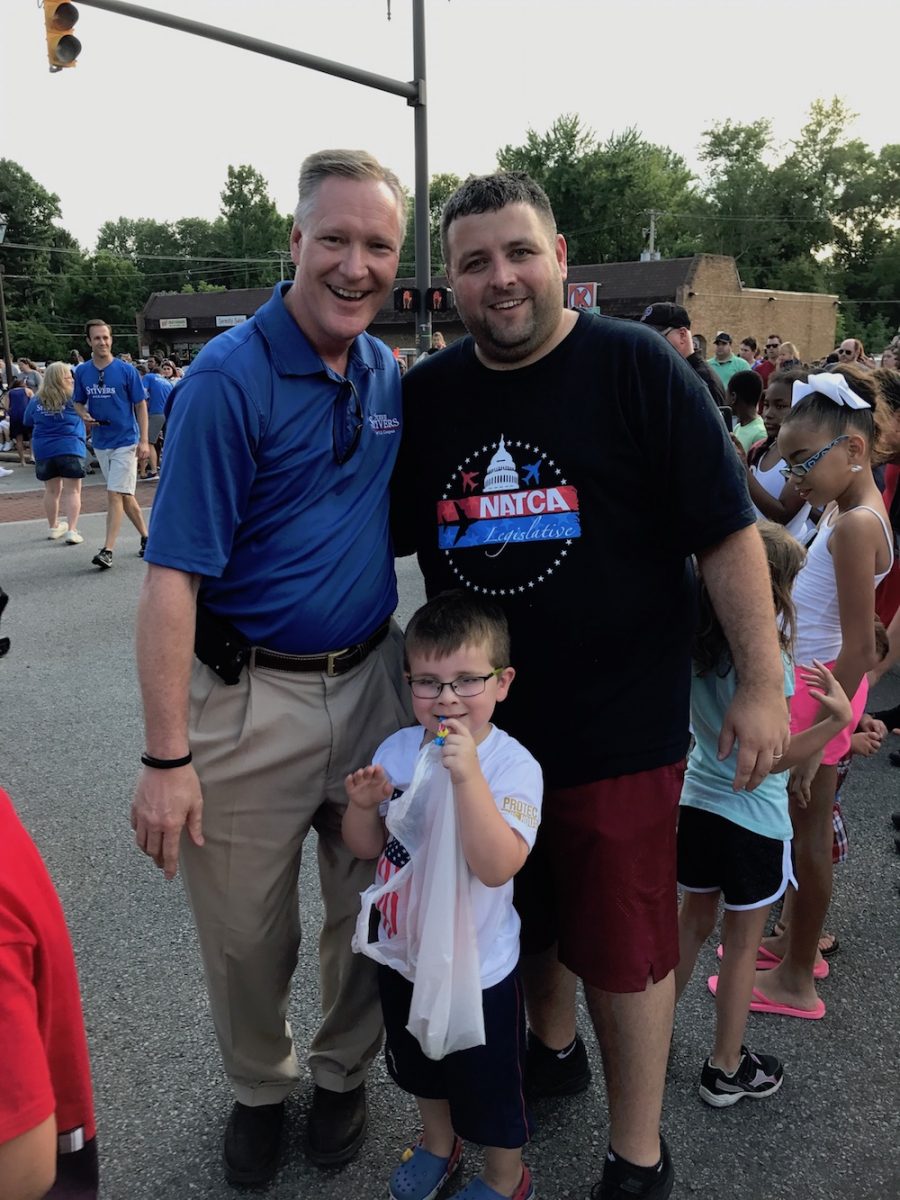 Congressman Steve Stivers, R-Ohio-15, (left), Carpino's son, Theo, and Carpino at the Pickerington, Ohio, 4th of July Parade.
NATCA/FAA career:
Columbus ATCT (CMH): August 2008-Present
CMH Facility Representative: 2012-2016
Director, NATCA Charitable Foundation: 2016-Present
CMH Legislative Representative: 2017-Present
Born and raised, other places of living:
Philadelphia, Penn., 1981-2000
Misawa Air Force Base (AFB), Japan, 2000-2002
Holloman AFB, N,M., 2002-2004
Philadelphia, Penn., 2004-2006
Beaver Falls, Penn., 2006-2007
Ashburn, Va., 2007-2008
Pickerington, Ohio, 2008-Present
Education:
Community College of the Air Force, Associates, Applied Science
Community College of Philadelphia, Associates, General Studies
Community College of Beaver County, Associates, Air Traffic Control
Family:
My wife, Kimber
My two sons, Theo, 5 and Nolan, 2.5
Q: How did you become a NATCA member?
A: My father has been a Teamster since 1972 so I have always known the benefit of being in a Union. My mother was in the American Federation of State, County, and Municipal Employees (AFSCME) for 21 years, my paternal grandfather spent 23 years with the Teamsters, and my maternal grandfather was a cop in Philadelphia who was in the Fraternal Order of Police for 25 years. I started bagging groceries at 16 and joined the United Food and Commercial Workers 1776 (UFCW) until I left for the military at 19. After serving, I was a Teamster for two years. It was a no brainer for me to join NATCA once I arrived at CMH. You could say unions are in my blood. Together my family has been unionized for 117 years.
Q: How did you get involved and what are you involved in with NATCA?
A: I attended the Basic Legislative Activism class in September of 2011 to see what NATCA was all about. I was immediately impressed and inspired. Today, I am the legislative representative at CMH and a Director of the NATCA Charitable Foundation after being the facility representative for four years.
Q: What made you decide to take on leadership roles within NATCA?
A: Initially, no one else at the facility wanted to be involved so I decided to step up.
Q: What's the most rewarding part of being a Legislative Rep? What's the most challenging?
A: The most rewarding part of being Legislative Representative is the interaction with members of Congress and being informed on current issues facing NATCA. The most challenging part is debunking all the rumors and misinformation that exists.
Q: What was it like to be presented with a regional legislative award at NATCA in Washington this year?
A: It was humbling to be recognized by ones peers for my efforts.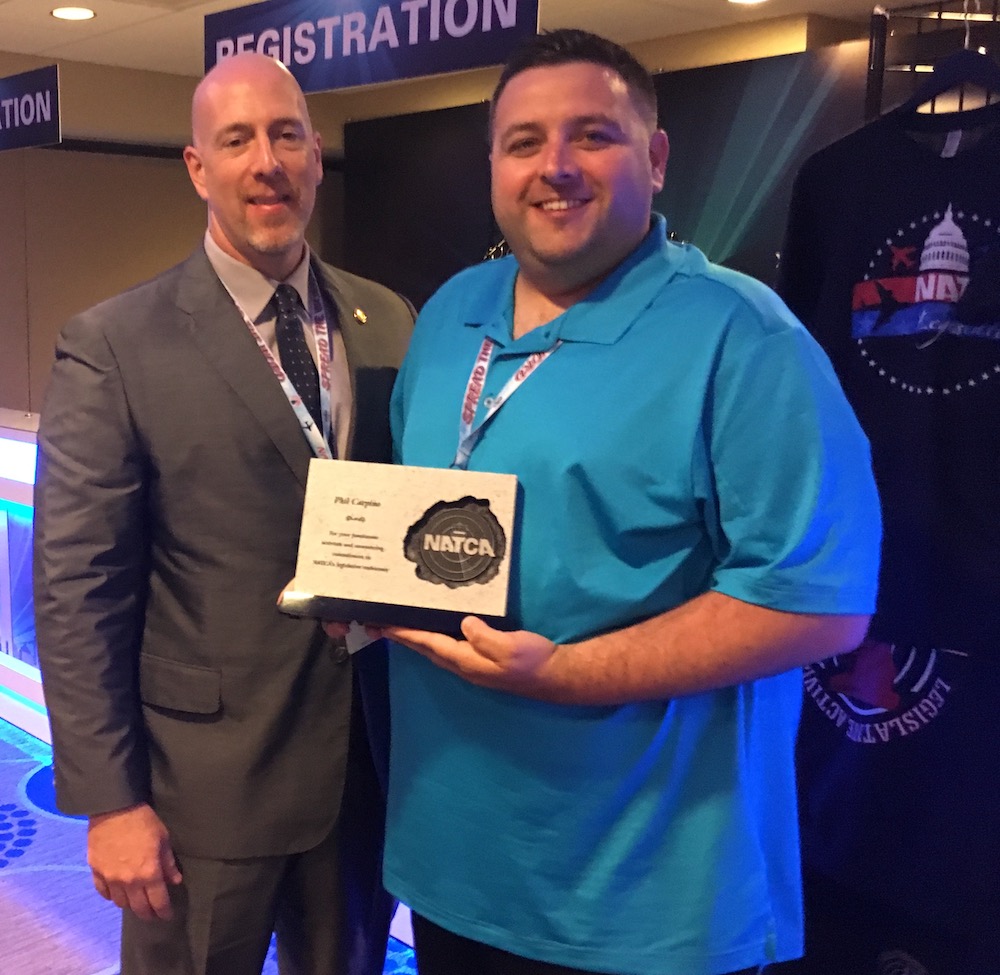 Great Lakes National Legislative Committee Chair Mike Hanlon presents Carpino with the 2017 Great Lakes Regional Legislative Activism Award.
Q: Out of all your involvement within NATCA, what speaks to you the most?
A: I know this is a piece on the Legislative Award and legislative activism, which is quite rewarding on its own. However, in all my involvement with NATCA, the work the volunteers with the NATCA Charitable Foundation do in making a difference in the lives of others throughout the country speaks to me the most.
Q: Has there been a favorite moment for you while at NATCA?
A: Witnessing the camaraderie and dedication of the NATCA membership are my favorite moments.
Let's go beyond your involvement with NATCA:
My favorite quote is: "The days are long but the years are short."
My local hotspot is: American Legion Post 283.
If I could pick four people to have dinner with, dead or alive, I would you choose: My father, grandfather, great-grandfather, great-great-grandfather.
NFL or NCAA Football: NFL.