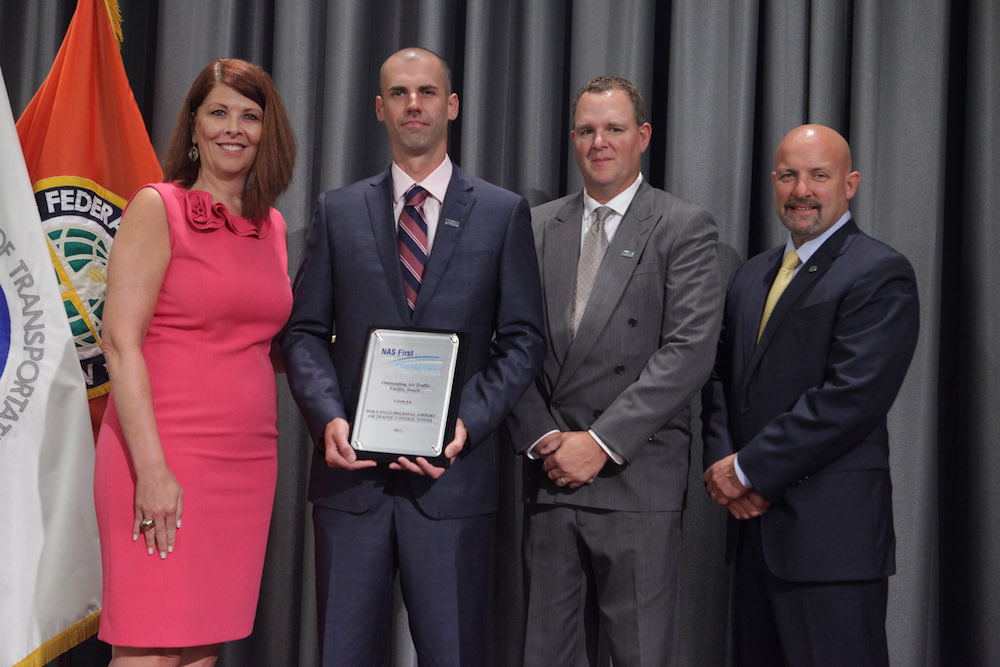 Aug. 18, 2017 // NATCA Members Honored At FAA Air Traffic Organization Awards
The Federal Aviation Administration's (FAA) honored 147 NATCA members on Tuesday, Aug. 15 at the fourth annual FAA Air Traffic Organization's (ATO) NAS First, People Always award ceremony held at FAA Headquarters in Washington, D.C. FAA Administrator Michael Huerta, FAA ATO Chief Operating Officer Teri Bristol, and FAA Vice President of Air Traffic Services Tim Arel introduced the ceremony.
"This recognition ceremony is our chance to honor our people for their outstanding achievements and contributions," Arel said. "Today we will recognize employees nominated by their peers who are demonstrating the highest levels of professionalism, leadership, excellence, and collaboration."
Arel explained that the FAA's mission is to ensure the safest, most efficient National Airspace System (NAS) in the world, saying it's the people that make the NAS successful.
"We know that in our workforce we have employees that demonstrate a range of skills: technical, and other skills of communication, collaboration, program management, leadership, administrative, business — and that's just to name a few," said Bristol. "We benefit from the diversity of these skills and those talents when they come together and they truly make us an outstanding organization."
Bristol said the FAA's future success comes down to how well employees can strengthen professional skills, both individually and as an organization. She said a great example of this is collaboration. In fact, one quarter of all submissions for the awards ceremony were for the category Collaboration and Partnership in Success.
"Over these past few years you've accomplished unbelievable things," said Huerta. "We've driven down safety risk, you've delivered real benefits for our NextGen modernization, and we've started to safely integrate drones into the NAS."
Huerta said that while it hasn't been easy, the culture built by the FAA and aviation stakeholders has put us on a firm foundation so that we will be able to meet the demands of the future.
"Our successes are really a testament to the caliber of you: everyone who makes up our workforce," Huerta noted. "People are at the center of our efforts."
(Photo courtesy of the FAA.)
---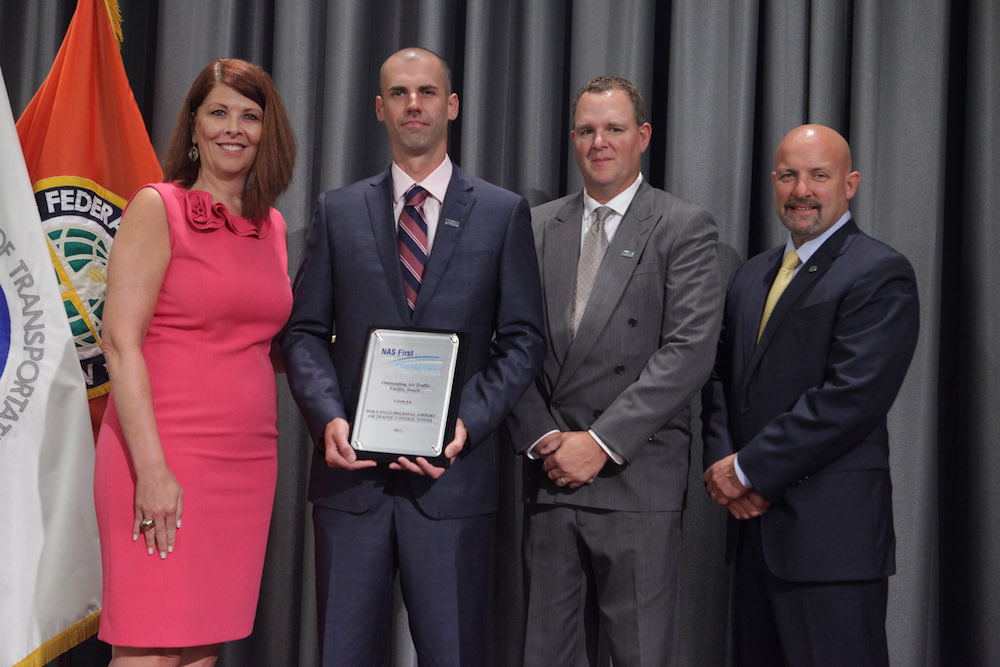 Teri Bristol, Chris Thompson, Scott Fitch, and Tim Arel.
Sioux Falls Regional ATCT (FSD) took home the award for Outstanding Air Traffic Facility Award: Levels 4-6. FacRep Scott Fitch accepted the award on behalf of the facility. FSD was honored for several accomplishments over the past year, including its status as a national test site for unmanned aircraft system (UAS) activity. Employees at FSD have achieved 11 position certifications and four facility recertifications over the past year. Controllers have also made more efficient progress through their training, in part because of the use of simulations. FSD Staff Support Specialists have helped to develop more than 20 simulation scenarios based on common types of local air traffic activity. FSD has also successfully implemented new technologies like STARS (Standard Terminal Automation Replacement System) and the Fusion surveillance system. In July 2016, they successfully hosted the Power on the Prairie Air Show, featuring the U.S. Navy Blue Angels. All of these accomplishments were aided by effective collaboration with NATCA, local safety councils, and local technical operations.
NATCA members honored during the ceremony from FSD were Jeffrey Boyd, Robert Decker, Scott Fitch, Jonathan Goeden, Kevin Hamann, Shawn Hinnant, Ethan Hintze, Brian Liberty, Ryan Massey, Kyle Nagle, Leo Nelson, Charles Odson, Kyle Paige, JoEllen Welder, Andrew Wollmuth, and Wyatt Wulf.
---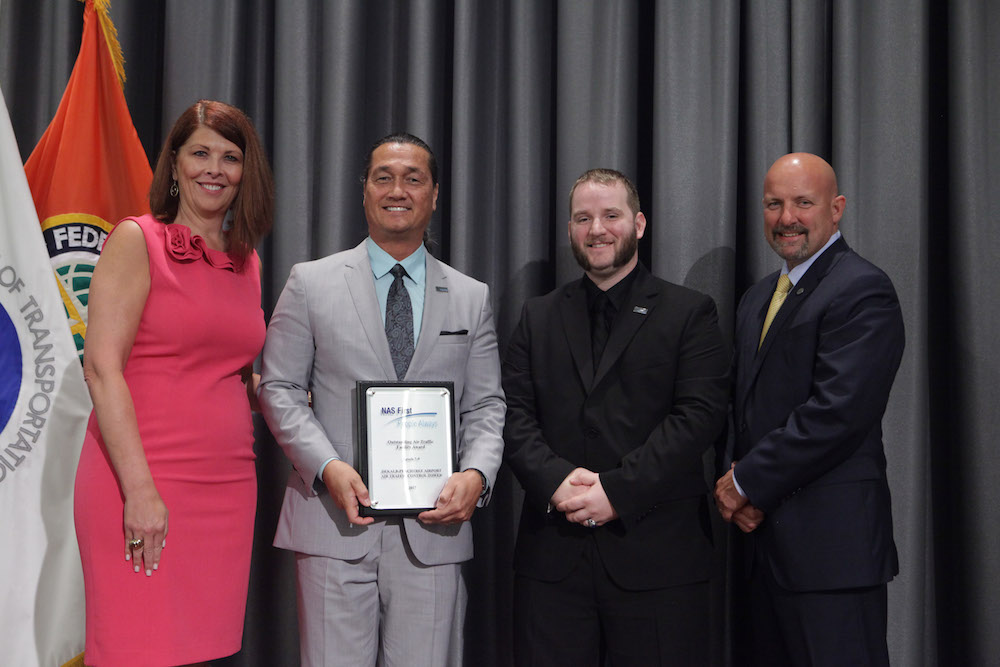 Teri Bristol, Rolando S. Caparas, William E. Cook, and Tim Arel.
DeKalb-Peachtree Airport ATCT (PDK) took home the award for Outstanding Air Traffic Facility Award: Levels 7-9. FacRep William E. Cook was in attendance to accept the award on behalf of the facility. "Team PDK" (as they like to be called) has produced an outstanding safety culture. Over the past year, they have driven down the number of high-risk runway incursions and airborne losses in separation. Around 100 local pilots attend their runway safety action team meetings regularly. They have also demonstrated excellent business acumen by reducing total overtime cost by 65 percent over the past year. In addition, they have built an environment that promotes honesty and open communication by all employees.
NATCA members honored during the ceremony from PDK were Peter D. Barnett, Scott P. Brady, Troy Clogston, William E. Cook, Marcus B. Davis, Randy Eldridge, Philip P. Maddox, Andre M. McCullough, Matthew McPartlin, Christopher R. Primrose, Bernadette E. Walker, Ursula Walker, and Margaret E. Ware.
---
Teri Bristol, Dana Rose-Kelly, Patrick Ream, and Tim Arel.
Philadelphia ATCT (PHL) took home the award for Outstanding Air Traffic Facility Award: Levels 10-12. FacRep Patrick Ream accepted the award on behalf of the facility. PHL has shown noteworthy collaboration on capacity and efficiency projects. Management support teams, labor partners, airport authority reps, and airline reps have all worked together to implement new, more efficient arrival procedures. These procedures have increased airport arrival rates during bad weather. PHL tower continues to offer subject matter experts to support several national programs. In addition, PHL worked with other FAA lines of business on short notice to install an adaption of STARS due to an airspace change required for the 2016 Democratic National Convention.
NATCA members honored during the ceremony from PHL were Daniel Abbott, Jessica Agosto, Desiree Askew, Girard Atherholt, David Beck, Levi Benson, Brian Bernhardt, Richard Bloomer, Israel Bonilla, Jason Boyde, John Bracken, Stephen Brown, Raymond Bunyard, William Bupp, Don Chapman, Gaetano Chetta, Adam Cohen, Matthew Colburn, Sharon Colvin, Walter Cornett, Freddie Delgado, Andrew Derecola, Joseph DiDonato, Richard Doak, Michael Donahue, David Dreyer, Kevin Fennell, Trevor Ferver, Shane Foskey, Lawrence Frascella, Anthony Frolio, David Giberson, Robert Goodman, Corey Grafe, Ranika Harris, Nathan Hendrickson, Christopher Hilbert, Charles Jacques, Thomas Kelley, Eric J. Kirner, Eric P. Kirner, Kristen Laubach, Kevin Leamy, Aaron Leffard, Marcia Linder, Armon Little, Sean Lynch, David Mattern, Daniel Meyers, Adrienne Morgan, Eric Mount, John Murdock, Erin Murdock, Scott Nagy, William O'Brien, Kevin O'Connor, Patrick Pacinhik, Matthew Parr, Jeffrey Paynter, George Pearcy, Christopher Perks, Daniel Phillips, Michael Ransom, Patrick Ream, Bryan Redner, Shaun Regan, Carolyn Roberts, Michael Ross, Stephen Russo, William Ryan, Andrew Scherer, Adrienne Sheridan, Nathan Sherrell, Charles Simmons, Garrett Smith, John Smith, Jennifer Snively, Adam Spina, Eva Stoneback, Ryan Stribble, Michael Strickler, Joseph Tamulonis, Ira Thompson, Anthony Tisdall, William Visconti, Joseph Wagner, LaTrice Watson, Jimmie White Jr., and Jason Wilson.
---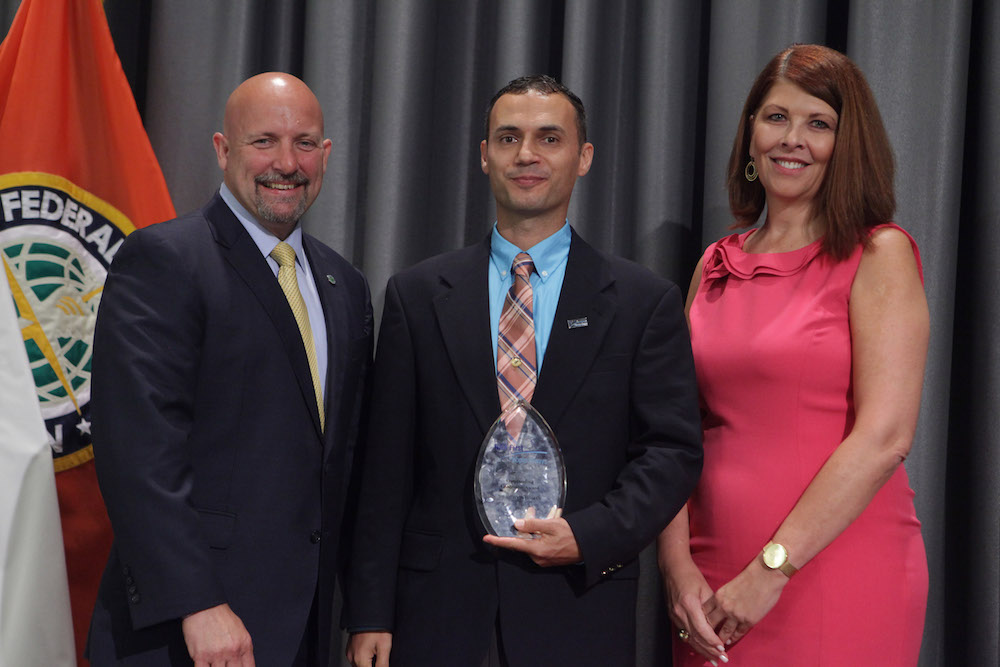 Tim Arel, Tim D. Homan, and Teri Bristol.
Tim D. Homan, Jacksonville Center (ZJX), was honored with the Outstanding Controller Award. Homan was on position on an otherwise uneventful evening when he recognized unusual activity from a pilot operating in his airspace. Homan continued to provide flight services and without raising the pilot's suspicion, gathered further information from other controllers who had handled that aircraft that night and notified the operations manager. Homan is a flight instructor and had recently completed the annual Transportation Security Administration Security and Emergency Training. By using his skill set and trusting his instincts, Homan recognized that the situation was likely illegal activity. His actions that day will have a lasting impact on the safety of his community and the NAS.
---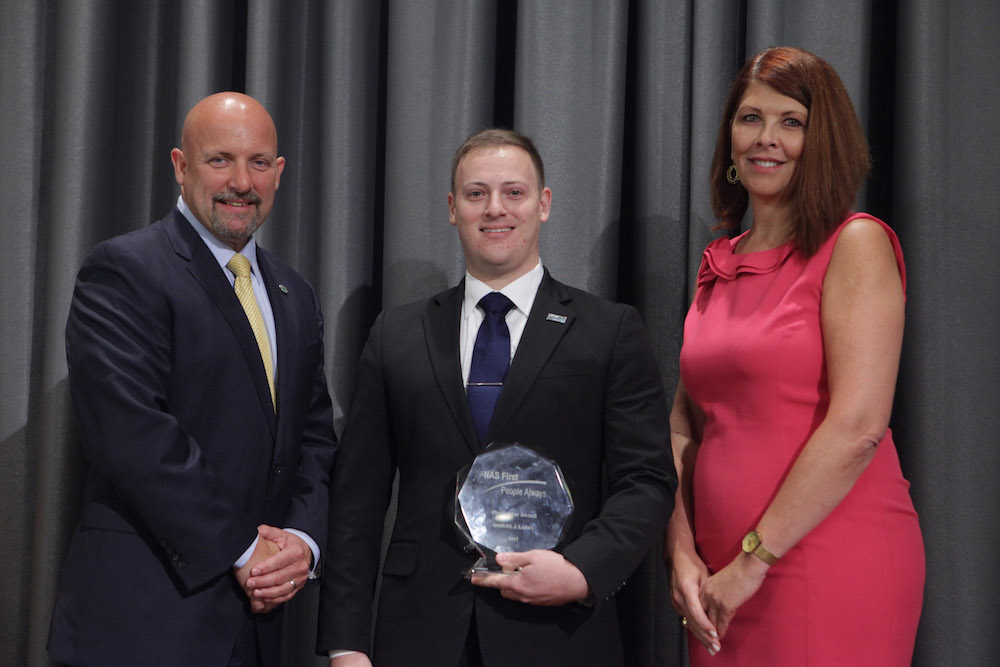 Tim Arel, Samuel J. Lasky, and Teri Bristol.
Samuel J. Lasky, Evansville ATCT (EVV), was honored with the Firefighter Award. Lasky is a former U.S. Marine who worked with tower simulator contract employees to improve the simulator at EVV, which saved the agency about $60,000 in programing costs. This year, Lasky made a big difference for EVV's security. In March, he observed a suspicious individual on airport property. He saw the driver come up to the control tower, survey the grounds, and the office area with a flashlight. The driver then drove over the curb and hid his vehicle near a retaining wall. Lasky immediately contacted airport security and law enforcement. They apprehended the man, who was found with ammunition in his vehicle and the intent of being dangerous. Lasky prevented a very serious incident at that facility and possibly saved lives that day.
---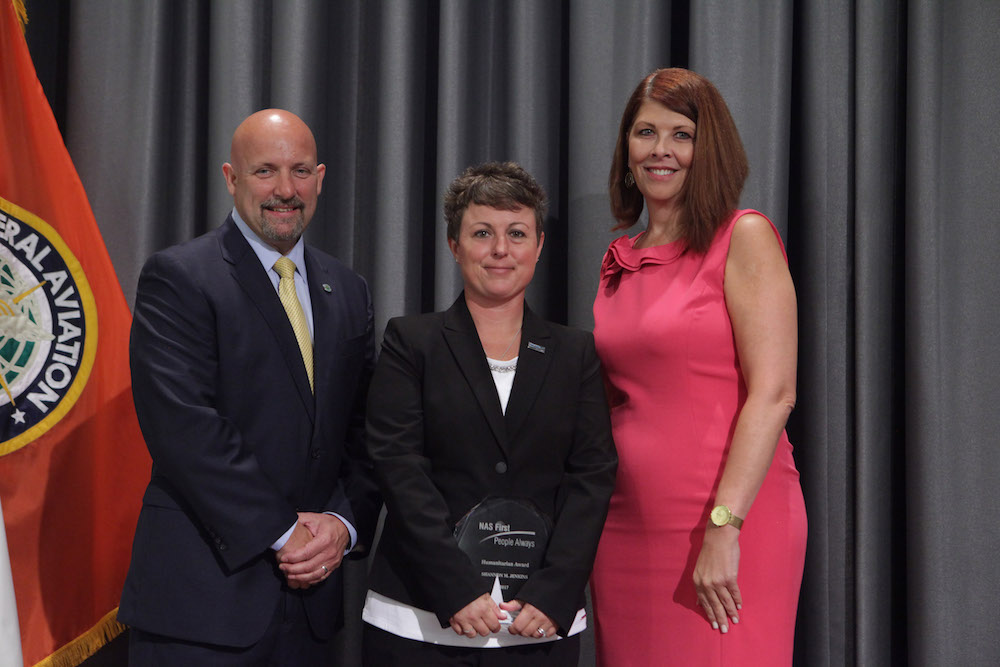 Tim Arel, Shannon M. Jenkins, and Teri Bristol.
Shannon M. Jenkins, Memphis Center (ZME), was honored with a Humanitarian Award. While off duty, she came to the aid of a technician who was experiencing a life-threatening event. He became unresponsive and eventually stopped breathing. She knew he had diabetes and called 911. With the help of her husband, she then began CPR (cardiopulmonary resuscitation). The man began to breathe on his own again as paramedics arrived to transport him to the hospital. Due to her efforts, he lived.
---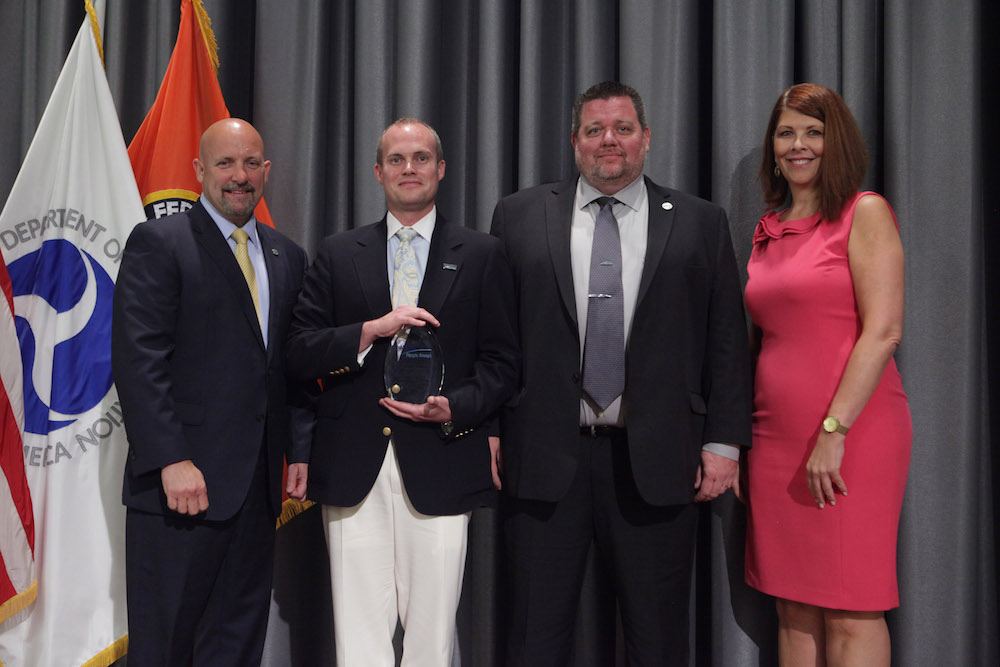 Tim Arel, Eric Wiggam, Chad Geyer, and Teri Bristol.
The Data Communications Tower Controller/Pilot Data Link Team was honored with the Exemplary Program Management team Award. NATCA Data Comm Rep Chad Geyer and his FAA counterpart Eric Wiggam were in attendance to accept the award on behalf of the team. This team implemented Data Comm at 55 control towers across the NAS. Despite the complexity of the program, the team completed the project under budget and 29 months ahead of schedule. The cost savings have made Data Comm installation possible for an additional seven airports in 2018. Stakeholder involvement from controllers and pilots from the ground up was a major factor of their success.
NATCA members honored during the ceremony from the team were Ray Adams, Ross Dickinson, Brian Dubois, Joe Dulemba, Chris Espada, Alexandr Gerasimov, Chad Geyer, Tammy Goldener, Tom Gray, Derrick Green, Jerry Johnson, Henry Kinsler, James Lanum, Jim McAllister, Michael McCarthy, Ed Natividad, Frances Roberts, Joey Ruffino, Kelli Valentine, and Chris Williams.
---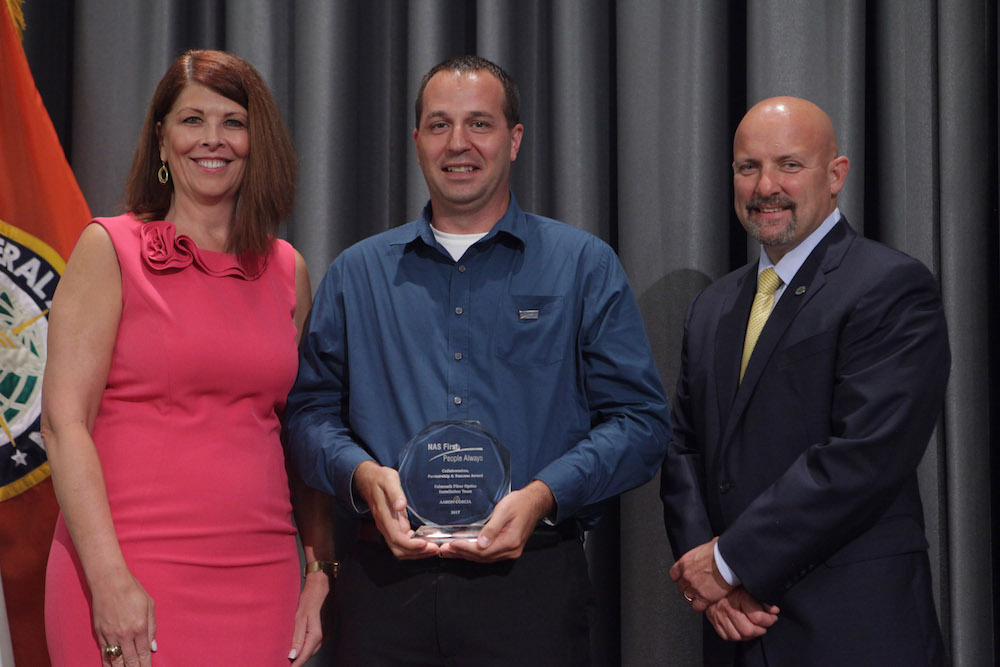 Teri Bristol, Falmouth Fiber Optics Team Member Aaron Coscia, and Tim Arel.
The Falmouth Fiber Optics Installation Team was honored with the Collaboration, Partnership and Success Team Award. NATCA Engineer Ray Sia from the New England Region was a crucial part of the team's success. The team began working with the U.S. Coast Guard after it was found that the existing communications infrastructure at Joint Base Cape Cod was in need of repair. It was dependent on 30-year-old copper wire that connected the joint base communications system to the FAA's. The team facilitated the installation of 30,000 feet of fiber optic cable and interface equipment. They ran into several obstacles with equipment procurement and installation, but they persevered through collaboration get the job done — bringing benefits to both the FAA and military partners at Joint Base Cape Cod.
---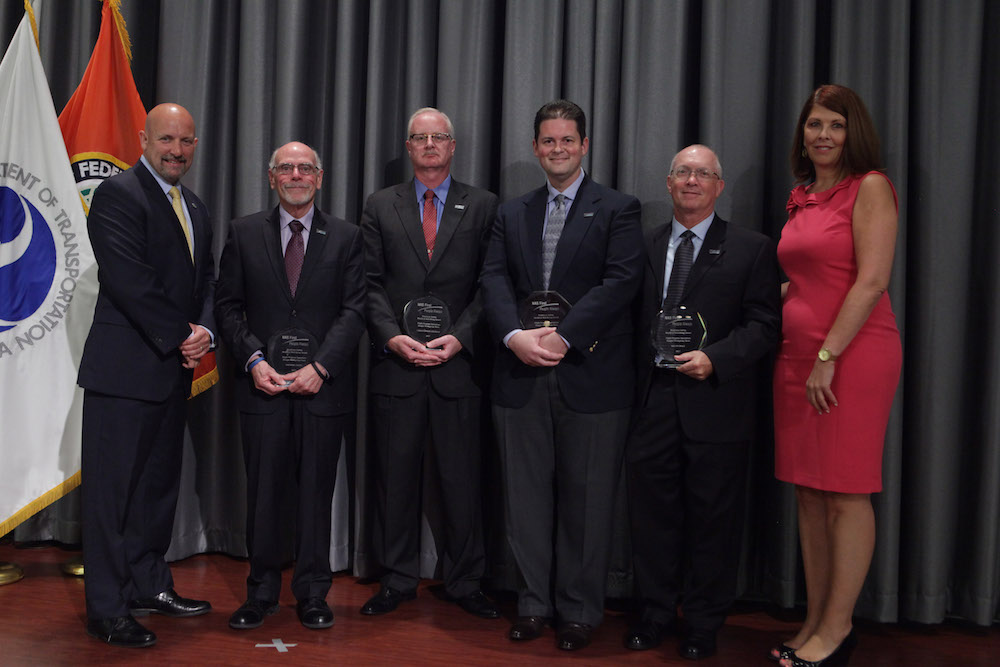 Tim Arel, Michael Casey, Chris Churylo, Jason Coffman, Kelvin Hale, and Teri Bristol.
The Flight Program Operations Hangar Workgroup (Oklahoma City) was honored with the Employee Safety, Health, and Well-Being Team Award. Kelvin Hale, NATCA's AJW-3 Rep from the Aeronautical Center and former Region X Alternate Regional Vice President was honored as an essential team member. Hale accepted the award on behalf of the team. Following the discovery of a potential chemical exposure at the Flight Program Operations Hangar 9 facility, the Director immediately established this workgroup to develop and coordinate a response strategy. The workgroup put in place several corrective actions. They halted all industrial activities and ordered an immediate cleanup of Hangar 9 from the floor to the rafters. The team then assisted with efforts to rewrite safety procedures and manuals to improve internal controls and work processes. The workgroup also kept in touch with employees and addressed every concern that they had throughout the process.
---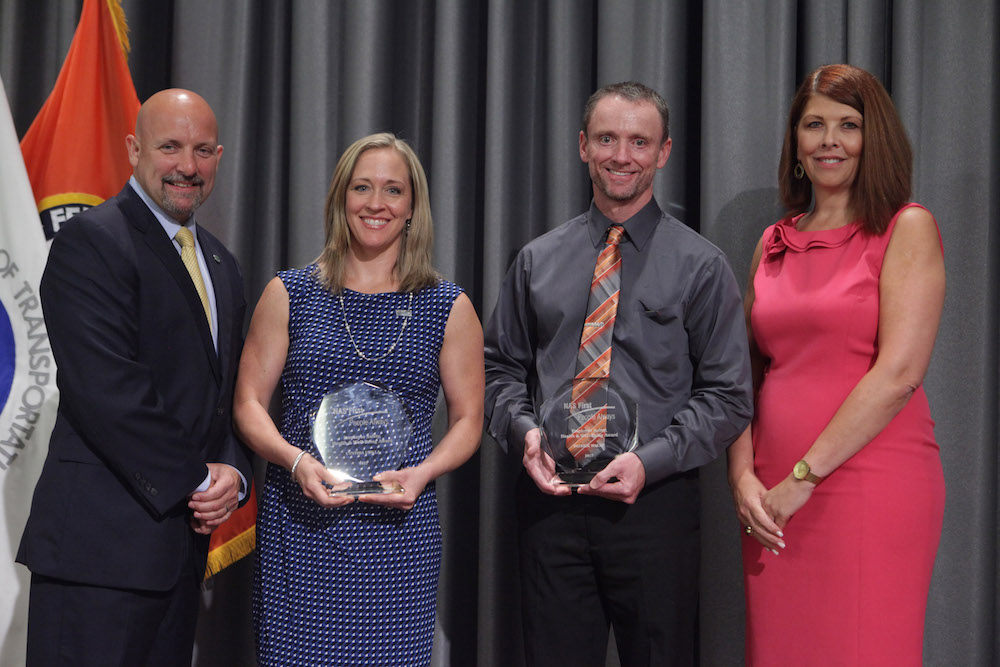 Tim Arel, Cynthia Ubilla, Patrick Walsh, and Teri Bristol.
NATCA member Patrick Walsh and Cynthia Ubilla were honored with the Employee Safety, Health and Well-Being Individual Award. Walsh is an engineer from the Northwest Mountain Region. Ubilla is also an engineer. When it comes to construction projects, there are numerous health and safety concerns related to aspects like digging trenches, avoiding power lines, drilling holes in buildings with asbestos, amongst others. Adding to this challenge is that some sites are in remote locations at high altitudes. Walsh and Ubilla have worked with FAA engineers to make sure that employee safety and health safeguards are in place when developing every phase of a construction project. They use a checklist system, conduct seminars for employees, and provide timely and detailed recommendations to identify risk. Above all, they have been successful because their approach has always been personal, collaborative, and professional.
---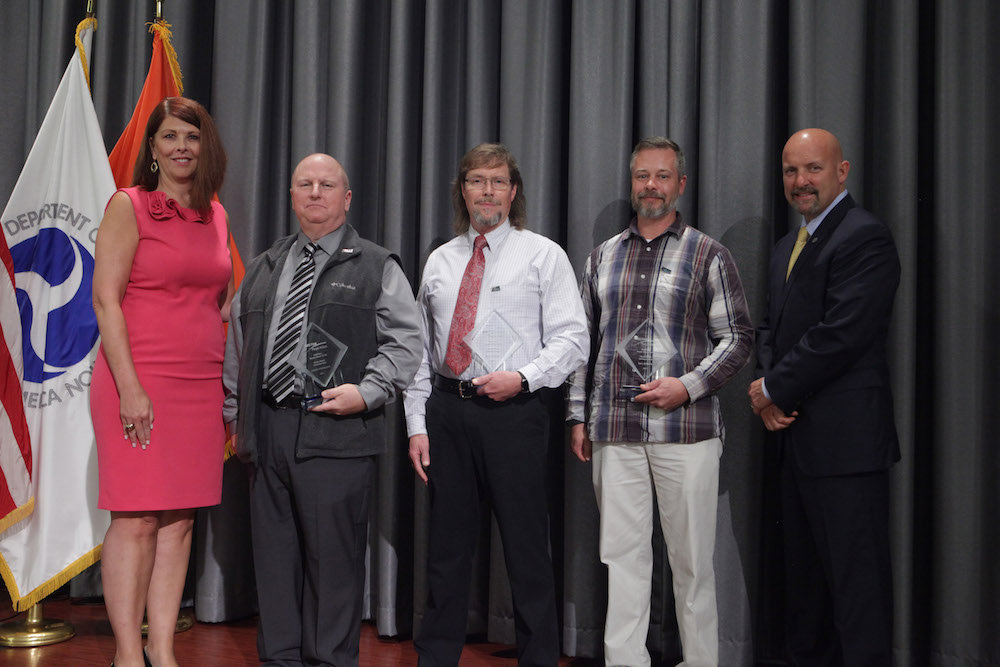 Teri Bristol, Robert Stephenson, Scott Eastepp, Paul Mueller, and Tim Arel.
The Alaska Rescue Assistance Team was honored with the NAS First, People Always Team Award. NATCA Quality Control Specialist Scott Eastepp, Anchorage Center (ZAN), was a crucial member of the team and was there to accept the award. The NAS First, People Always Award honors significant and continuous immeasurable contributions to safety, effectiveness, and efficiency of the NAS. These awardees have shown a profound level of excellence and professionalism.
The Alaska Rescue Assistance Team went above and beyond to locate a general aviation pilot and his family on Sunday, Jan. 29, 2016. The Cessna 180 took off from Lake Hood, Alaska, with a planned route to fly 65 miles southwest to Kenai, Alaska. When the aircraft did not arrive at the airport on schedule, a concerned family member contacted Kenai Flight Service Station. They performed a search for a flight plan but found no information nor contact with the aircraft. They then transmitted an alert notice to Anchorage Center (ZAN).
The ZAN team immediately began looking for the missing aircraft. The search first centered on Kenai and the planned route. After learning more information, including that the aircraft did not have a transponder, they knew the aircraft was not on the typical planned route and began reviewing records on FALCON.
Eastepp identified a possible target from one of the replays and tracked it until it descended below radar coverage. The track went not towards Kenai but to the west, which was outside of the search grid. Eastepp identified another aircraft in the area from the replay and reached out to the pilot. The pilot confirmed he had seen the plane and recognized the call sign. He also mentioned that the Cessna180 pilot stated over radio that he was heading up to The Pass (Merrill Pass), which was over 100 miles away from the intended destination of Kenai.
The team immediately alerted Alaska's Rescue Coordination Center. A severe winter storm was fast-approaching the area. The Coast Guard deployed a helicopter to locate the plane and passengers. When they arrived, they discovered that the aircraft had flipped upside down after attempting to land on an abandoned snow-covered airstrip. Because of the team's innovation, hard work, and collaboration, the young pilot, his father-in-law, and 12-year-old daughter were saved.
---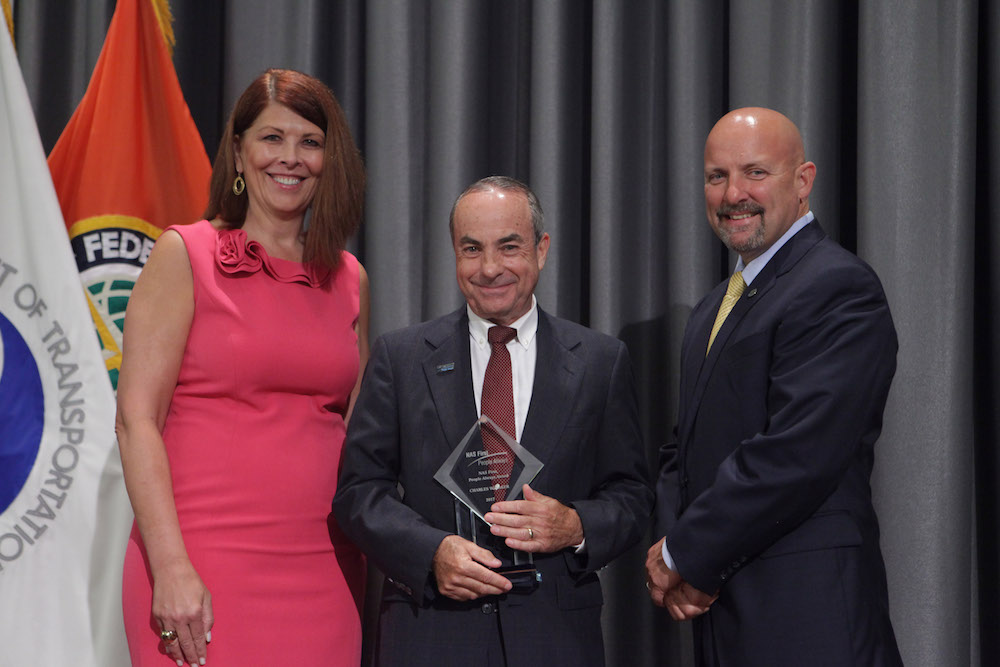 Teri Bristol, Charles W. Baker, and Tim Arel.
Pensacola TRACON (P31) member Charles W. Baker was honored with the NAS First, People Always Award Individual Award. Throughout Baker's tenure as a Staff Support Specialist at P31, he's consistently demonstrated the highest levels of professionalism, service, integrity, and positive work ethic. P31's airspace is some of the most complex, high-volume in the country. Known as the "Cradle of Navy Aviation," the facility supports military flights by both the U.S. Navy and U.S. Air Force.
Baker is proactively engaged with these costumers and has worked with them to develop local safety initiatives, design facility procedures, and improve two-way communication to ensure local airspace procedures are understood by everyone. He has dedicated countless hours, both on and off duty, to brief over 350 military pilots and local general aviation pilots on P31's unique airspace requirements, procedures, and operations. He has also met with military leadership to better understand their needs within P31's airspace.
Baker has worked as a part of a collaborative work group to redesign local airspace for the busiest military airport in the world, which led to improved efficiency at P31 by reducing verbal and non-verbal coordination by 25 percent in sectors affected by special military operations. He is also part of a collaborative workgroup to develop local airspace and expedite training during formation flying. This has saved the U.S. Navy about 30 minutes of flight time per round trip.
Baker has also spent more than 80 hours reformatting every letter of agreement and standard operating procedure that applies to P31. Prior to this, they were in different formats and files that were hard to locate and edit. The reformatting made it easier for managers and controllers alike to access facility documents when they were needed. Through his professionalism, attention to detail, and his customer service focus, he's made a big difference for P31 and all who use the airspace.