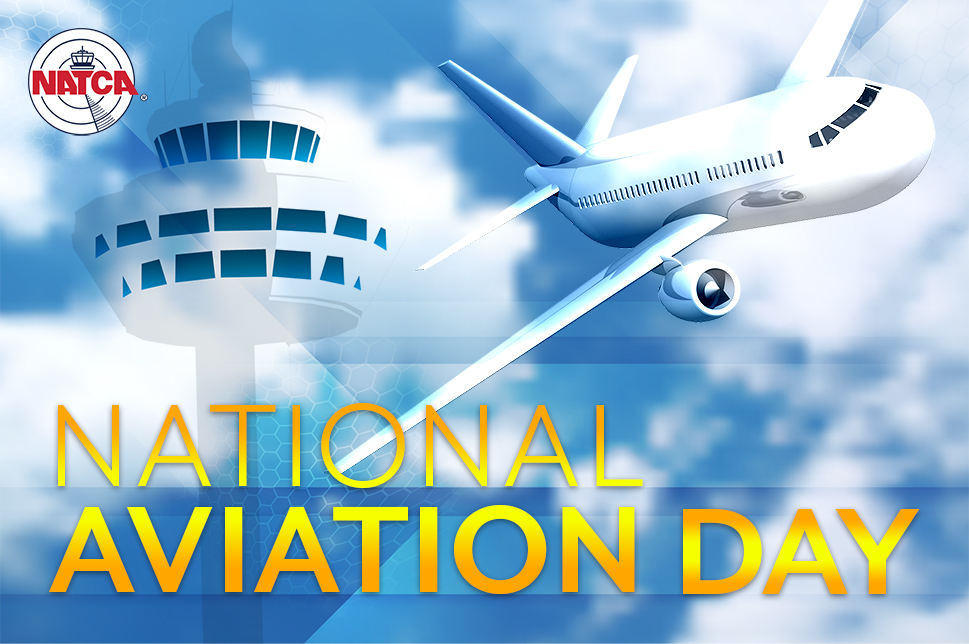 Aug. 18, 2017 // National Aviation Day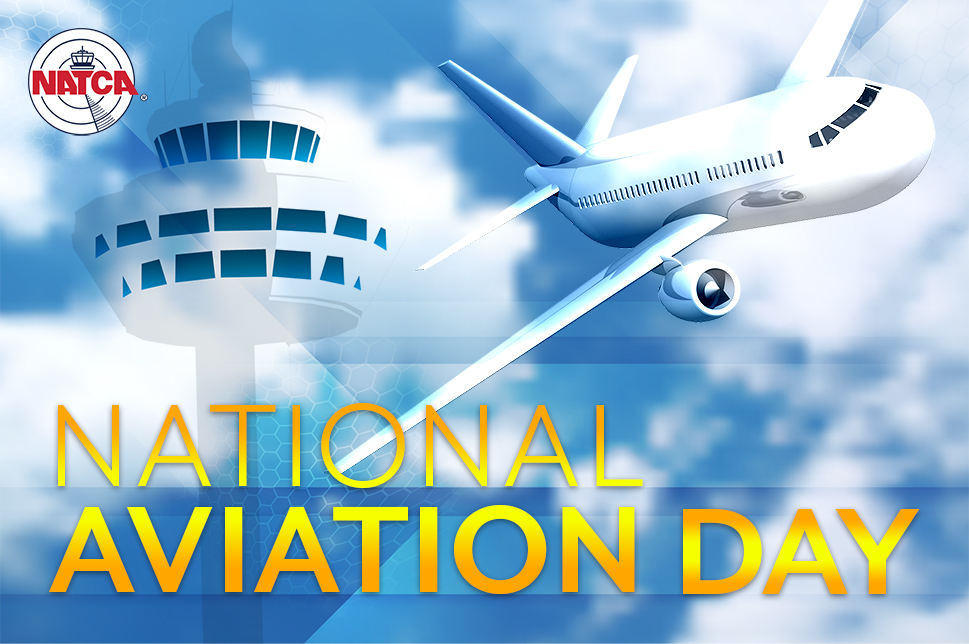 In 1939, President Franklin Delano Roosevelt issued a presidential proclamation designating the anniversary of Orville Wright's Aug. 19, 1871 birthday as National Aviation Day. This weekend, National Aviation Day continues this tradition and celebrates aviation in the United States.
We thank you, NATCA-represented aviation safety professionals, for your steadfast dedication to the National Airspace System (NAS) and ensuring the flying public gets to their destinations safely every single day.
NATCA encourages its members and all aviation enthusiasts to celebrate the aviation safety professionals that have safeguarded the uniquely American tradition of aviation throughout history. Share your love of aviation with NATCA's 10 favorite ways to celebrate National Aviation Day:
1. Learn More About Aviation History Through the Creation of NATCA
All year NATCA is celebrating its 30th anniversary with a series of articles detailing the history of our Union and the passionate leaders that have changed the course of aviation history in the United States. Read more.
2. Thank an Aviation Safety Professional
NATCA represents more than 20,000 aviation safety professionals that have dedicated their careers to keeping the flying public and the NAS safe, from developing the equipment on the ground to guiding the aircraft to a safe landing. Every time you fly, they are there 100 percent of the way. Take a minute to learn about each of our bargaining units, and share some thanks on Facebook and Twitter.
3. Get Active!
NATCA's legislative efforts continue to shape the future of aviation in the United States. From local facility visits or events to the national stage on Capitol Hill through events like NATCA in Washington, you can make a difference. Not sure how to begin? Start by contacting your Facility Legislative Rep, State Coordinator, or Regional National Legislative Committee Chair. Learn more.
4. Tell NATCA About Your First Flight!
Did riding in an airplane give you the aviation bug at a young age? We'd love to hear about your first flight and how it evolved into your love of aviation today. Share your story and tag us on social media:
5. Visit Your Local Aviation Museum
Local Aviation museums and historical societies will host their own National Aviation Day festivities. Check out what's happening near your own neighborhood on this list.
6. Teach Your Children About Aviation
Going to an air show is a great way to teach your children about aviation and help them understand your profession. You can also use NATCA's coloring and activity books as a great conversation starter. Click here to download.
7. Build a Model or Paper Airplane
Building a model or paper airplane is a fun way to celebrate your favorite type of aircraft or engage with your family. Just visit a local hobby shop or grab a piece of paper and start designing. NASA has some pretty awesome resources to try at home.
8. Keep Up with What NATCA is Doing to Transform the Future of Aviation
NATCA is involved from the ground up on several projects that will enhance the NAS and safety for all flying passengers. You can learn more about NATCA's Safety and Technology Efforts here.
9. Explore the Science and Engineering Behind Flight
Aviation has so many components: Airplane parts, the principals of flight, propulsion, weather, engineering feats—the list goes on. If you or your child is curious about how things work, sit down with them and explore the mechanics behind the profession we all love. Here's a resource to get you started.
10. Watch an Aviation-Themed Film
Do you have a favorite film or documentary that involves aviation? Host a get -together and let imaginations run wild. Check out others' recommended aviation movies here and here.