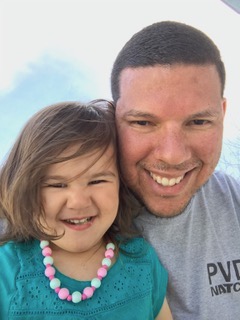 Aug. 18, 2017 // Member Focus: Juan Ledesma, Providence ATCT (PVD)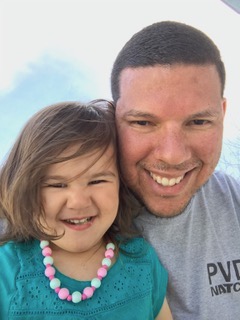 NATCA/FAA career:
Jacksonville ATCT/TRACON (JAX) November 2009-December 2010
Bangor ATCT/TRACON (BGR) December 2010-November 2014, Vice President 2012-2014
Maine State Legislative Coordinator, 2012-2014
Providence ATCT/TRACON (PVD), November 2014-Present
Rhode Island State Legislative Coordinator, 2015-Present
Born and raised, other places of living: I was born in New York City, N.Y., and raised in Lynn, Mass. I enlisted in the Air Force and was stationed at Yokota Air Base, Japan, from July 2005 to July 2008, and Ellsworth Air Force Base, S.D., from July 2008 to July 2009.
Education: Community College of the Air Force, Associates, Airway Science.
Family: My wife of seven years, Jennie, and my two daughters: Eva, 2, and Gianna, 1.
Q: How did you become a NATCA member?
A: I joined during my first meeting with my FacRep in JAX. We were freshly out of the White Book and that allowed me to see the sacrifices that our brothers and sisters made during the previous three years for the betterment of future generations. I realized then that I had to give back, like the controllers before me did for us.
Q: How did you get involved and what are you involved in with NATCA?
A: I got involved when I decided to attend my first NATCA in Washington (NiW) in May 2012. There were three of us from Maine that attended, all for the first time. We all had a great experience, and got to see the tremendous job that NATCA does. I walked away from D.C. proud and impressed at the work we all did there. When I got back home I was offered the State Legislative Coordinator position for Maine.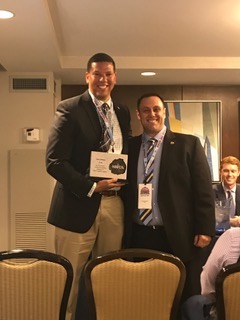 Ledesma and Jean.
Q: What made you decide to take on leadership roles within NATCA?
A: I wanted to help. Legislative work can be very intimidating for first-timers. I remember my very first legislative meeting. It was with Senator Susan Collins, R-Maine. I was so nervous that my voice was soft and cracking the whole time. But I stuck with it, and have been able to develop great relationships for NATCA.
Q: What's the most rewarding part of being a Legislative Rep? What's the most challenging?
A: The most rewarding is by far NiW. Watching around 450 NATCA members come together for a common goal and visit every congressional office in D.C. is quite spectacular to watch. We have a very powerful voice in D.C. when we come together and speak as one. The most challenging has been learning the legislative process in Congress — it can be long and complicated.
Q: What was it like to be presented with a regional legislative award at NATCA in Washington this year?
A: It was unexpected. This award is all because of our team effort here in New England. I'm fortunate to have countless leaders that I can look up to and depend on — leaders like New England Legislative Committee Chair Andre Jean. He has been a great mentor and role model.
Q: Out of all your involvement within NATCA, what speaks to you the most?
A: The camaraderie of our great Union. It doesn't matter where you go, you'll always know someone in every state you visit.
Q: Has there been a favorite moment for you while at NATCA?
A: One of my proudest moments was being called by my Congress member's office asking me what NATCA's stance was on a vote. That lets me know that what NATCA is doing legislatively is working. It's a lot of hard work, and a lot of time spent away from my family. But moments like these remind me that what I'm doing has a purpose, and ultimately it comes back to protecting my family's livelihood.
Q: Do you have any advice/tips/messages for members who would like to get involved?
A: Volunteer as much as you can. Don't be afraid, you'll always have someone who will help you.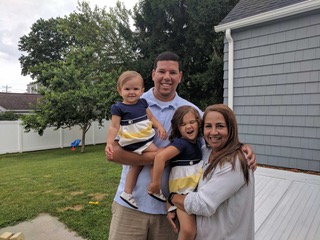 Ledesma with his family.
Let's go beyond your involvement with NATCA.
My favorite band is: Marc Anthony.
My favorite quote is: "If you ain't first you're last."
My celebrity crush is: Scarlett Johansson.
I have a major phobia of: Snakes.
I absolutely cannot stand: Dunkin Donuts.
My local hotspot is: Any good coffee house.
If I could pick four people to have dinner with, dead or alive, I would you choose: My wife, Elon Musk, Bernie Sanders, and Barack Obama.
My favorite comfort food is: Buffalo Chicken Pizza.
The best place I've ever travelled to was: Santo Domingo.
My favorite sport is: Football.
My favorite type of aircraft is: A10.
My favorite sports team that I live and breathe is: New England Patriots.
The funniest movie I have ever seen is: The Hangover.
The one chore I absolutely hate doing is: Cleaning the bathroom.
The one thing that always makes me laugh is: My kids.
Candy or Chocolate? Chocolate.
Dogs or cats? Dogs.
NFL or NCAA Football? NFL.
In my spare time, I enjoy: Going to the beaches of Narragansett with my family.