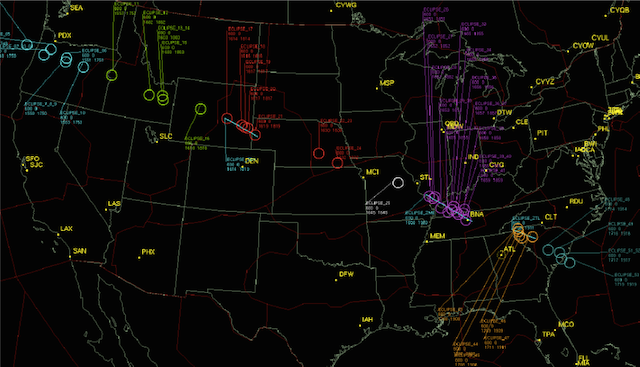 Sept. 1, 2017 // NATCA Members Shine During Eclipse
Air traffic facilities across the National Airspace System (NAS) experienced an increase in air traffic operations during the solar eclipse on Monday, Aug. 21. It was the first total solar eclipse in the U.S. since 1979 and the first time in 99 years that a total solar eclipse crossed the country. It inspired massive interest from the aviation and space communities that resulted in heavier than usual traffic, especially at airports near the 100 percent totality areas.
Controllers in the Traffic Management Unit (TMU) at the Federal Aviation Administration (FAA) Command Center (DCC) began preparing in advance of the event with a "PERTI" (Plan, Execute, Review, Train, and Improve) Plan. FacRep Tony Smith explained that PETRI is a Traffic Management outlook put out by DCC to give a heads up to facilities and industry of things to watch out for on a daily basis. The daily plan first was published on Aug. 29, 2016. Dwight MacConnell is the NATCA Article 114 representative on the PERTI project.
PERTI plans for the 2017 eclipse included weather forecasts; terminal and en route information and other constraints; high-altitude balloon activities; and other useful information for facilities preparing for an increase in traffic.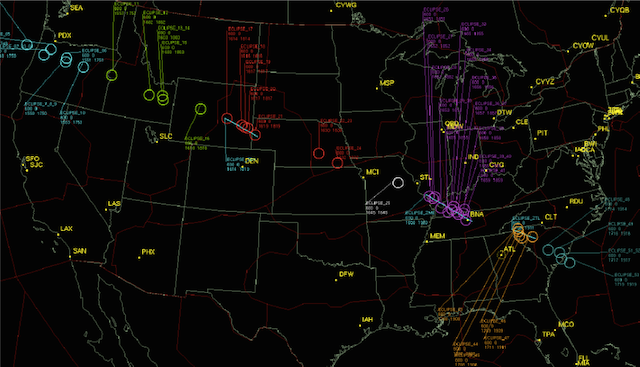 Planned high-altitude balloon activity depicted in the 2017 eclipse PERTI report from DCC.
"NAS operations were up 4-5 percent for the day," explained Smith. "That is a quite significant increase."
To understand the full effect of the increased traffic for the eclipse, the Air Route Traffic Control Center (ARTCC) numbers help tell the story. The path of totality showed traffic counts far above normal.
| | |
| --- | --- |
| ARTCC | Percentage Increase |
| Oakland Center (ZOA) | 26 |
| Denver Center (ZDV) | 23 |
| Indianapolis Center (ZID) | 36 |
| Jacksonville Center (ZJX) | 26 |
| Seattle Center (ZSE) | 33 |
| Salt Lake Center (ZLC) | 27 |
| Kansas City Center (ZKC) | 35 |
| Atlanta Center (ZTL) | 29 — and went over 10,000 operations. |
Smith said that many airports set records. Nashville (BNA), which had 832 operations, required a ground stop to mitigate volume issues. Marion, Ill. (MWA), saw a 305 percent increase; Columbia, Mo. (COU), saw a 233 percent increase; St. Joseph, Mo. (STJ), saw a 201 percent increase; Jefferson City, Mo. (JEF), saw a 93 percent increase; and Carbondale, Ill. (MDH), saw a 61 percent increase in traffic.
DCC was engaged with all the affected centers throughout the event and participated in teleconferences to discuss strategies leading up to the eclipse itself. Beth Adams and Mike Chambers from the DCC Procedures Office helped with the pre-planning effort.
On the day of the event, DCC kept users and facilities up-to-date as the day progressed and the traffic impacts generated via a strategic planning webinar, which was conducted every two hours.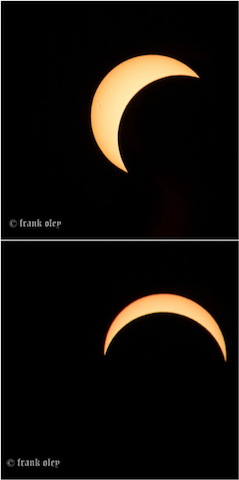 Frank Oley, Director, Airline Operations, DCC, captured these shots from the DCC parking lot during the eclipse.
DCC supported field facilities by issuing ground stops as needed and providing routes to airports experiencing high traffic. According to Dan Demers, Severe Weather Specialist at DCC, advisories and routes were provided from Portland, Ore., to North Carolina.
Randy Kirkland was working the Terminal West Area of DCC and said that several centers developed red sectors (alerts) when the satellite traffic departed VFR (visual flight rules) and attempted to pick up their IFR (instrument flight rules) clearances in the air.
At ZKC, FacRep Aaron Merrick explained that it was an all hands on deck operation leading up to and immediately following totality. Weather was an issue in the upper Midwest, which pushed additional traffic into ZKC's airspace.
"It was hard to estimate the effect of civilian aircraft that would be traveling to airports in the line of totality," Merrick said. "There were literally hundreds of VFR aircraft, but our controllers did a great job."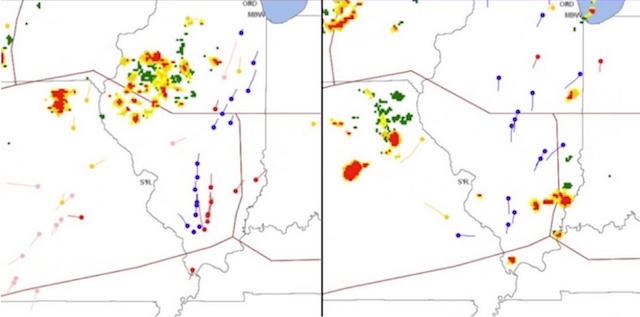 Stills from the arrivals (left) and departures (right) replay from ZKC depicting MDH, MWA, JEF, and COU prior to and immediately following the eclipse.
At Evansville Regional Airport (EVV), FacRep Justin Hobgood said the facility was expecting additional traffic, but did not have a full picture of the volume until he saw it himself. EVV is a level 5 up/down facility. Their daily average volume is 269 flights. On eclipse Monday alone, controllers worked 659 aircraft.
"I came in at 9 a.m. to find the airspace completely filled with aircraft," said Hobgood. "I thought the filters were malfunctioning and we were seeing all of ZID's airplanes." He said it remained that way from about 8 a.m. to 5 p.m.
"We made it work," said Hobgood. "Just like everyone does when crazy stuff happens you're not expecting."
ZTL FacRep Dan McCabe said that there was no way they could have imagined the number of VFR aircraft in their area.
"We're used to seeing 10,000 operations a day — just not on a Monday," said McCabe. "It was absolutely unbelievable. I've never seen such a large volume of airplanes in my whole career."
At ZDV, FacRep Joshua Waggener and employees at the facility tried to be thoroughly prepared for what he called the "apoc-eclipse." ZDV's Traffic Management Unit (TMU) worked with Casper, Wyo. (CPR), to help them prepare for the additional traffic using logistics and lessons learned from their work with Colorado ski country airports. On the day of the eclipse, ZDV TMU implemented internal routing for all the affected airports to manage the arrival flow.
For the day of and days surrounding the eclipse, the most heavily affected areas were staffed above normal levels to handle the anticipated increase in traffic.
"We were able to have one of our Traffic Management Coordinators (TMC) act as a liaison at CPR on the day of the eclipse," explained Waggener. "There was a last-minute decision (on Tuesday, Aug. 15) to install a temporary tower at Alliance, Neb. (AIA), which required a lot of training and planning as that area does not normally deal with any VFR towers."
On the day of the eclipse, ZDV had one of their experienced controllers from the ski country area available as a subject matter expert (SME) to the more heavily affected areas. The VFR traffic demand was unprecedented.
"Kudos to FacRep Bronson Burriss at CPR for all his work in getting his facility ready to handle all the ridiculousness that ensued," said Waggener.
At CPR, Burriss was able to capture some great shots on the day of the eclipse amid the abundance of exceptional coordination.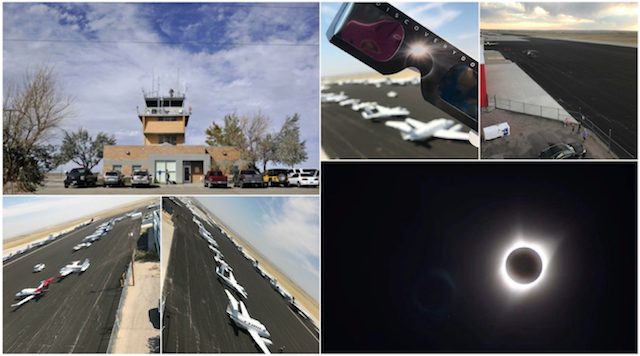 Controllers Gentri Gemar Engelke, Pamela Butler, and Adam Schriefer captured these photos on Aug. 20 and Aug. 21 at CPR. The runway before the eclipse can be seen on the top right. The aircraft lined up on the day of the eclipse.
"We at Casper have never had this volume before or this unique opportunity," said Burriss. "Our controllers really pulled together and conquered." He credits numerous hours of preparation and simulated training with CPR's success during the event.
"It really was a huge success and shows how teamwork can make things go smoothly," said Burriss. "Without great collaboration between local NATCA facilities and the FAA, this would have been even more difficult."
At ZSE, FacRep Troy Harrison said the increase in traffic was incredible and made for a crazy day.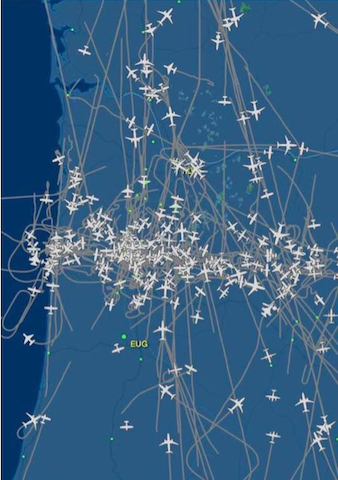 The completely saturated airspace of ZSE on Aug. 21.
At ZJX, the volume of traffic experienced was much higher than anyone on site had expected. The low sectors that surround Columbia, S.C., and Charleston, S.C., worked a volume of traffic that exceeded most holiday traffic volumes. ZJX and local approach controls implemented unique traffic management initiatives to regulate the high volume of privately owned light aircraft that were flying to and from the event. ZJX also brought in additional controllers on overtime that day to cover the event explained FacRep Mike Koffarnus.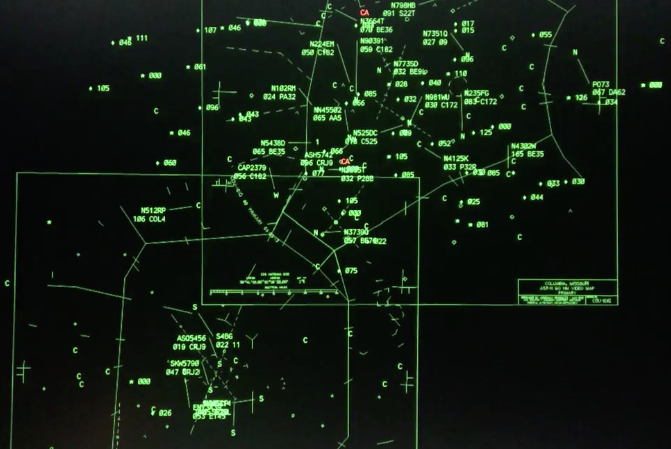 Falcon replay of the airspace handled by SGF during the eclipse.
At Springfield-Branson National Airport (SGF), one controller worked the traffic for aircraft in the Springfield, Mo.-area airspace.
At ZAU, the effect on traffic was significant. "Between the complex convective weather and the eclipse, we shut off southbound departures from O'Hare (ORD) and Midway (MDW) going into ZID airspace for more than two hours," explained FacRep Toby Hauck.
At ZLC, the airports within the path of the total eclipse were beyond advertised capacity, specifically at Sun Valley, Idaho, Idaho Falls, Idaho, and Jackson Hole, Wyo. "VFR traffic during the day of the actual eclipse was simply staggering," said FacRep Kelly Wood. "I have never seen so many VFR targets on radar. Obviously, there were significant additional traffic advisories required."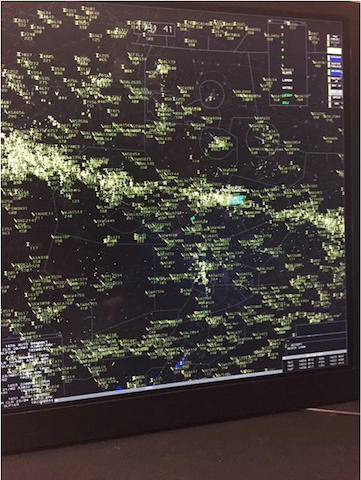 This photo was taken at the ZLC training lab of live traffic on the day of the eclipse. The left side of the photo is Washington and Oregon. The right side of the photo is Colorado and Montana. The top of the photo is Canada. The bottom of the photo is Arizona and Nevada.
At ZID, the traffic count for the day was 7,728 aircraft. "To make the situation even more complicated, ZID dealt with developing thunderstorms, multiple swap routes, and an abundance of VFR traffic," said FacRep Jim Larson. "While an increase in general aviation traffic was anticipated, no one expected the level of increase in traffic that was eventually generated by this event."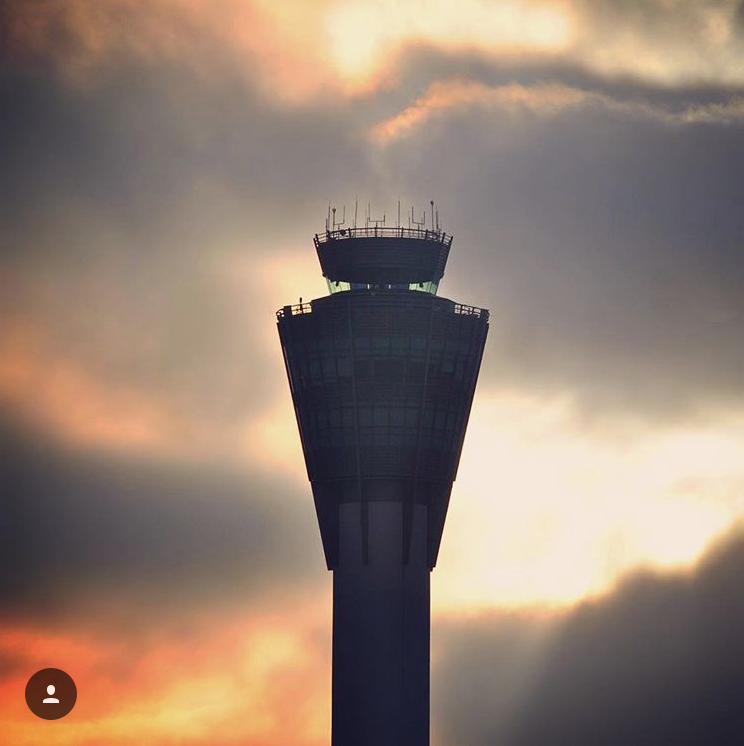 A still from radar replay that depicts traffic at ZID on Aug. 21.
NATCA is extremely proud to represent the dedicated professionals that helped travelers enjoy the 2017 solar eclipse safely and efficiently. Bravo to all aviation safety professionals on a job well done.