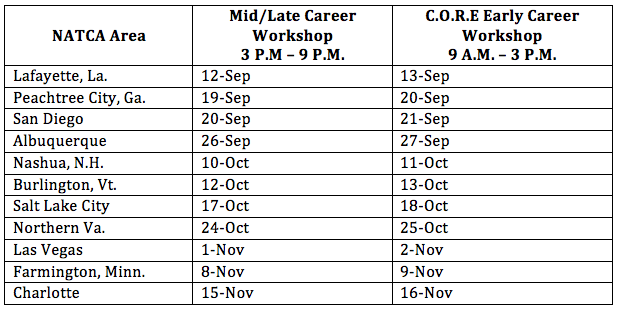 Sept. 1, 2017 // This Week's Notebook: NATCA Member Portal, Benefits Spotlight, and Seminar Dates
NATCA Member Portal
Have you moved recently and need to update your mailing address? Do you need to update your email address? No problem! Simply log in at the Member Portal and update your contact information. If you're registering for the first time, you must have your NATCA member number ready as it is needed when you register. For further assistance, contact Customer Service at 800-266-0895 or email uwadmin@natca.net.
---
Benefits Spotlight: Why Buy Union?
Did you know that for every $1 spent on American-made products, $1.32 goes back into the U.S. economy? Did you know that on average, a union worker makes 30 percent more than a non-union worker nationally? That a union worker, on average, receives more than twice the health benefits a non-union worker does? And that a union worker is much more likely to have a guaranteed retirement than a non-union employee?
As members of NATCA, some of these things aren't as much of an issue for us since we are federal employees, organized and protected under different guidelines than most unions. But with only a little more than 11 percent of the national workforce belonging to a union, we are all brothers and sisters in the same battle of ensuring the workplace is a safe, protected environment, and our workforces are fairly compensated and continue to have a voice with our employers and national leaders.
Buying union-made products protects and creates jobs for union employees and for our country. Buying union-made ensures you receive something that has been built or created by skilled craftsmen and women who will stand behind their product. Union-made means less jobs getting farmed out to other countries. The more union-made products you buy, the stronger the economic foundation for the middle class is set.
"Look for the union label" is more than a catchy ad slogan. It's a mantra to protect our brothers and sisters and the economy of this nation.
---
Upcoming Retirement Seminars Provided By 4 Square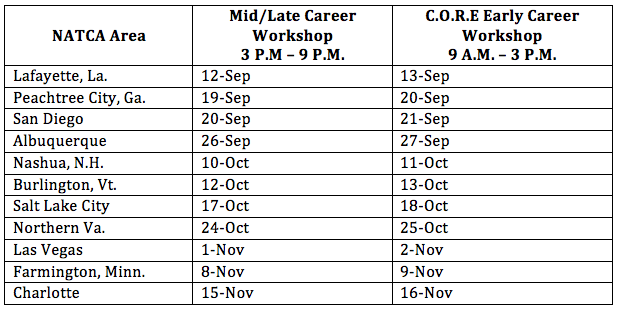 Thank you for your interest in attending a NATCA Retirement Seminar by 4Square Financial Literacy Partners. Each locale hosting a seminar will hold both a standard seminar for members with more than 15 years of service from 3 – 9 p.m. local time, and a Career Optimization and Retirement Education (CORE) Seminar for members with fewer than 15 years of service from 9 a.m. – 3 p.m. local time.
To register for a seminar, log in to the NATCA Portal and click the "Events" tab, followed by "2017 Retirement Seminars." Complete the requested information and click "Next." When you come to the screen listing the seminars, select the one you wish to attend, hit "Next," verify your requested seminar information and then click "Done."
You will receive a confirmation email once your registration is complete. A second email will be sent three weeks prior to the seminar with logistical information for the seminar along with instructions on how to obtain a benefits estimate at the seminar. You may access the benefits data collection form on the confirmation page once you register.
Spouses and significant others also are invited to attend. Please ensure that you add them to the registration when asked if you will be bringing a guest.
Although you may register anytime, we ask that you register three weeks prior to the event. Walk-ins are permitted with a membership ID number. However, you will be unable to obtain a benefits estimate at the seminar.
For any questions or problems with registration, please contact retirement@natca.net.
---
Oklahoma City Q&A Dates: 2017 Schedule
NATCA leadership makes it a priority to educate ATC Academy Students about NATCA and their rights as part of the future air traffic controller workforce. NATCA will be hosting a lunch meeting in Oklahoma City at 12:30 p.m. local time and a dinner meeting at 6 p.m. local time for each date listed below in Oklahoma City. The last Q&A of 2017 will take place on Oct. 12.
---
NATCA EDGE — Designed exclusively for NATCA members!
Can't get to an in-person retirement seminar? We'll bring the seminar to you! Presenting an all-new, flexible access, web-based session of our popular retirement benefits seminar. Log in to the NATCA Portal to register. The last seminar of 2017 will be held on Dec. 6 from 10 A.M.-5 P.M.