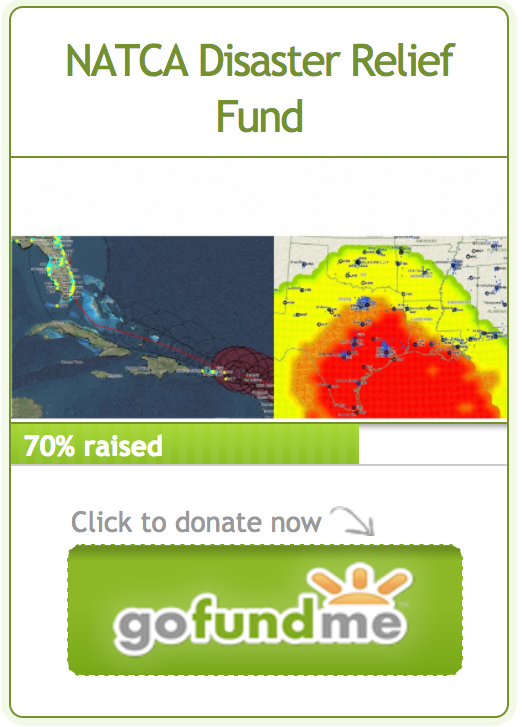 NATCA Members Come Together to Help Brothers and Sisters in Need Following Hurricanes
NATCA Disaster Relief Fund: Please help by making a donation. Click here. Donations will be given to NATCA members in need in the aftermath of both Hurricane Harvey and Hurricane Irma.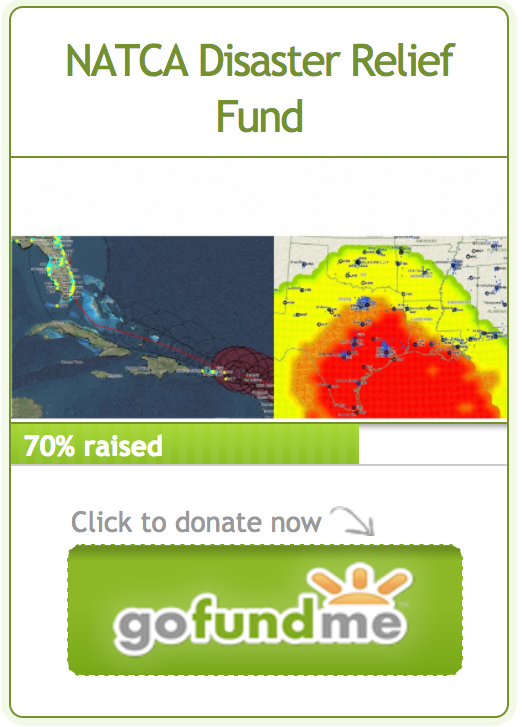 Do you need assistance from the Disaster Relief Fund? While NATCA has learned that all members in storm-affected areas are accounted for and safe, several members have lost their homes, and many other NATCA members have suffered significant damage to their property. If you — or any other NATCA member that you know — has a need for assistance in the aftermath of the storms, we are collecting specific information here.
Members in Need: We have members from Lake Charles (LCH), Beaumont-Port Arthur (BPT), Houston Intercontinental (IAH), Houston TRACON (I90), and Houston Center (ZHU) who have reached out for help. We plan to get that help to them. NATCA members in need will hear from the volunteer committee to find out how they are are doing and what they need. Any goods needed will be loaded up and brought to them from Houston Center. Any labor and help needed will be coordinated and organized for all FAA employees with ZHU being the headquarters for that effort.
To volunteer and to request supplies or help with cleanup efforts: Please send an email to harveyhelp@list.natca.net or irmahelp@list.natca.net and you will be put in contact with our volunteer committee.
Houston Center (ZHU): Ashley Amato arrived at work on Sept. 1 and began working to chair the NATCA Southwest Region's volunteer committee, called "Harvey Help," to help members affected by the hurricane. A Harvey Help listserve was created for members to request help and supplies. On the first day, it was up and running, Amato worked all day, contacted every person who had reached out, including over 20 victims, comforted those that cried, promised to do whatever was necessary for those that needed it, and then she did. She loaded her car with relief items brought in by NATCA members at other facilities, then made her way after work to every location. Other members of the volunteer committee have included Austin Szalmasagi (ZHU), Tara Zeck (DWH), Noa Raymond (ZHU), and Kristi Cziok (ZHU).
New Orleans Lakefront ATCT (NEW): Christina Messina has been a controller since 2008. She's a former FacRep at NEW and is currently a Professional Standards member for her facility. She is volunteering as part of a newly formed grassroots group called Cajun Airlift. It started with a couple of pilots talking at NEW and grew into a team of 40 pilots. The group has been collecting supplies with churches and other organizations in the New Orleans, loading up aircraft, and delivering the supplies to victims of Hurricane Harvey. They have brought much needed items to the Houston, Beaumont, Port Arthur, and Orange areas.
San Juan CERAP (ZSU) and the Caribbean: Wladimir Castro, a controller since 2011 who is also a pilot who owns and flies a Cessna 172 Skyhawk, has participated with other local pilots in the "Caribbean Flyers Relief Mission." They have made more than 40 trips to islands devastated by Hurricane Irma, including Tortola, St. Maarten, Anegada, St. Thomas, Jost Van Dyke, and Anguilla. During a relief mission to Anegada on Sept. 12, 5,000 pounds of supplies were delivered. This was the first relief effort to arrive on the island since the hurricane. Donated supplies for the Caribbean Flyers are brought to the Million Air FBO near the control tower at Isla Grande Aiport (SIG) in San Juan. The group has started a GoFundMe to help pay for fuel and to buy basic necessities for the people affected.
Controllers at San Juan CERAP also got a little help bringing in supplies from Kenny Chesney, who lent his plane to the relief efforts. Supplies have been brought to several locations, including Culebra, Tortola, Anegada, and St. Thomas.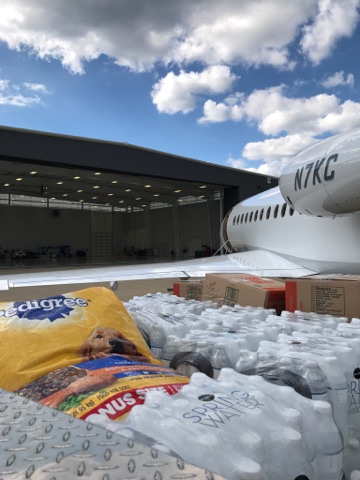 The below images are from Tortola, which experience extensive damage to the tower and airport.
---
Houston Center (ZHU): Food arrived thanks to Scott Milligan, Brian Pair, and others who braved the elements to bring in food for the approximate 45 controllers working at ZHU in the aftermath of the storm.
---
Houston TRACON (I90): A dozen volunteers have been working to begin the cleanup process at the home of I90 member Anna Mitchell and her husband Scott, and also at the home of I90 member Robert Moore. Both houses are in Kingwood, located northeast of Houston, east of IAH. There was approximately five feet of water in each home at the height of the flooding this week. I90 FacRep Clay Matheny said there are numerous members helping other members and working together. For more photos from Mitchell's home, click here.
| | | |
| --- | --- | --- |
| | | |
| I90 member Tyler Miller unloads debris at Mitchell's home. The street in Kingwood (below) was lined with debris and also with cars of volunteers helping many residents. | I90 FacRep Clay Matheny (left) and member Davy Sanchez work on removing damaged drywall in Mitchell's home. | Working at the home of I90 member Anna Mitchell Thursday, Aug. 31 – (left to right) Tyler Miller, Natalie Hart, John Howell, Samantha Hanner (wife of I90 member Todd Hanner), and Davy Sanchez. |
---
HOUSTON CENTER (ZHU): Photos below, courtesy of FacRep Chris Parris, show the gathering of supplies this week as members prepare to assist their brothers and sisters with anything needed.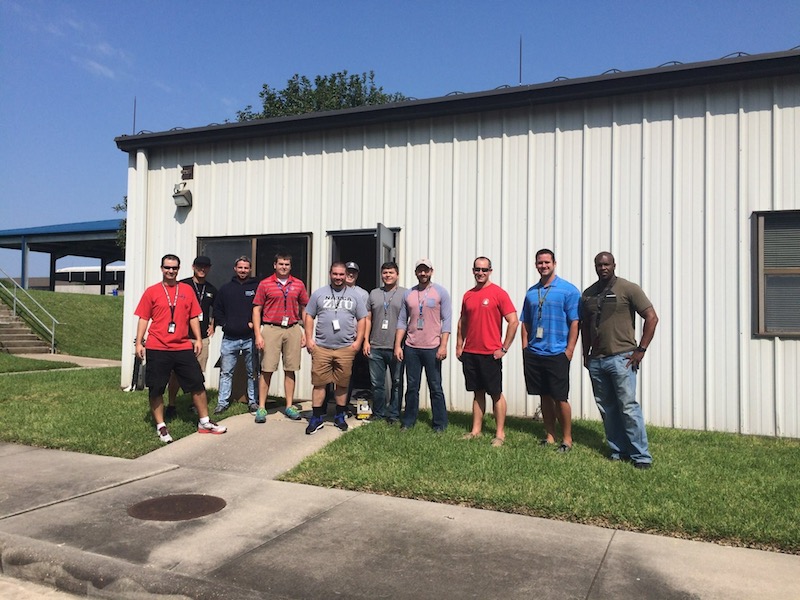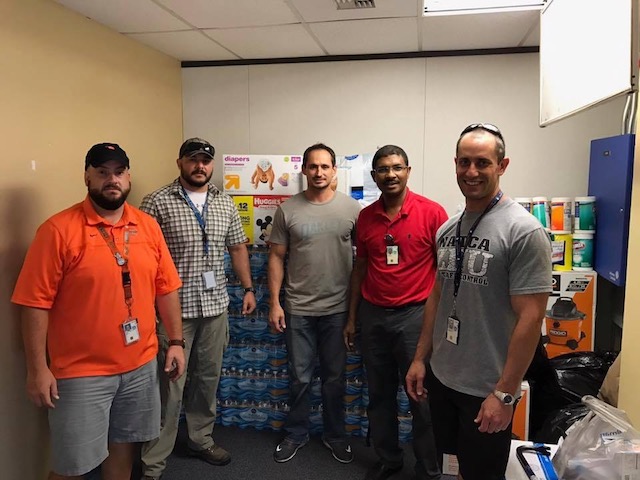 ---
Houston Center (ZHU): Houston Center (ZHU): Dustin Newell, a pilot, has worked as a controller since 2008 and is a former area rep at ZHU. On Sept. 5, he loaded his Piper PA-28 Cherokee – and a friend's aircraft – with supplies such as water and cleaning materials and flew them to Beaumont ATCT to help the NATCA members there.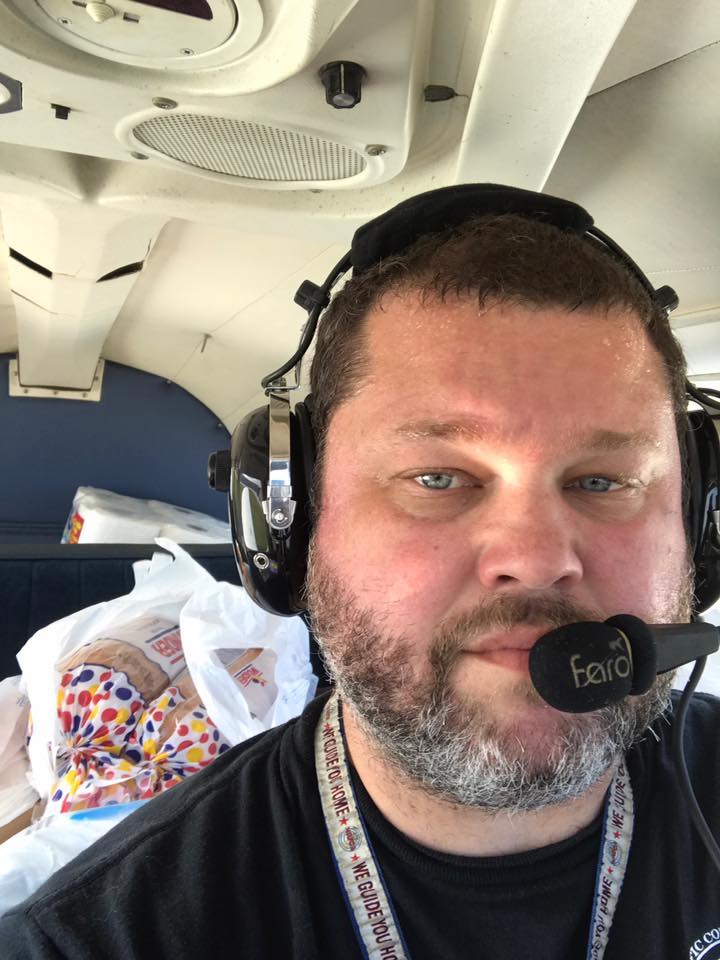 ---
Fort Worth Center (ZFW): NATCA member Jeff Duer and his crew rolled into ZHU and rolled out the red carpet for NATCA's membership. Local memebrs can't thank him and his folks enough for their camaraderie and outstanding BBQ.