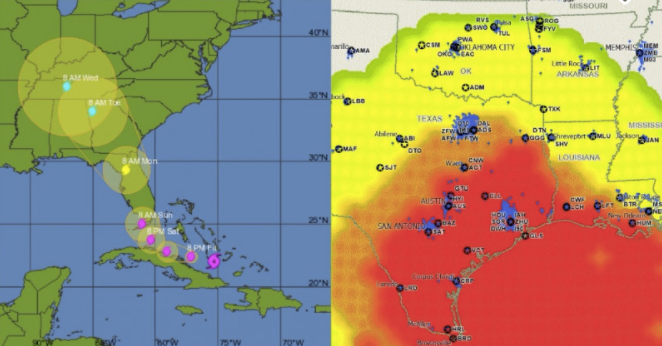 Sept. 15, 2017 // Controllers Rise Above to Safeguard the Skies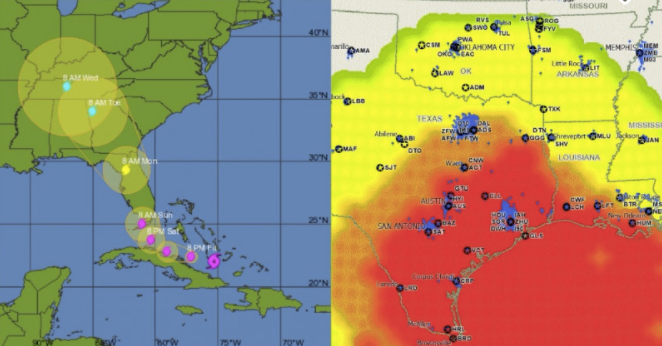 NATCA's members are extremely proud to safeguard the National Airspace System (NAS) for the American people. But what happens during a natural disaster? Aviation safety professionals are prepared for emergencies. Air traffic control services are essential during and immediately following a hurricane. Aircraft need to be moved, citizens evacuated, and rescue operations continued throughout the duration of the event.
NATCA members across the country stepped up during Hurricane Harvey and Hurricane Irma. In some cases, they stayed behind to ensure that the safety of the NAS — and the rescue and emergency operations within it — were never compromised.
In response to Hurricane Harvey, air traffic controllers in Houston and around the Gulf Coast region worked around the clock to coordinate humanitarian flights bringing relief supplies into the disaster zone as well as search and rescue missions flown by the military, the Federal Emergency Management Agency, and others.
Roads in and out of air traffic facilities were completely flooded, so controllers volunteered to hole up in the tower and stay for the duration of the storms. They split into crews to alleviate fatigue. Some volunteers stayed at work for upwards of 80 hours. They did all of this while they and their own families also faced the anxiety and stress caused by these very powerful and destructive storms in their communities. They didn't know when they'd be able to return home or whether they had experienced property damage. They continued to focus on the operation in the facilities.
Adam Rhodes of Houston TRACON explained that he and his colleagues worked the rescue efforts that took place in the area along with fellow local facilities including Houston Center (ZHU), Houston Hobby Tower (HOU), Houston Intercontinental Tower (IAH), Ellington Tower (EFD), and Galveston Tower (GLS). "At any given time, we were working a dozen rescue helicopters to get them to families in need in dire situations, as well as inbound and outbound support airplanes."
Thousands of people around Houston relied on those first responders in the air, who in turn, relied on our NATCA brothers and sisters to maintain separation and safety.
Air traffic control facilities in the Southeast managed efforts to move aircraft and evacuees out of Hurricane Irma's path. Facilities in Florida and the surrounding region also worked on plans to staff airports during Irma and immediately coordinate relief efforts once the storm passed.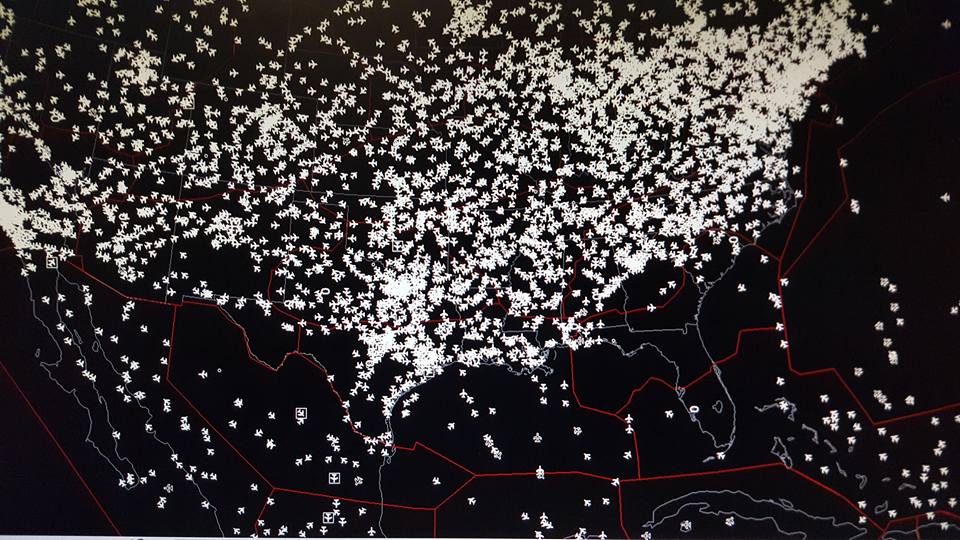 Florida's cleared airspace in anticipation of Hurricane Irma.
At Jacksonville Center (ZJX), FacRep Mike Koffarnus reports that Thursday Sept. 7 was the busiest day of the year at 10,107 instrument flight rules (IFR) aircraft. The previous highest day this year was in April with 9,200 IFR aircraft. The daily average at ZJX is around 6,000.
According to The New York Times, citing the FAA, controllers at Miami Center (ZMA), whose airspace includes the southern half of Florida and much of the Caribbean, handled 8,107 flights Sept. 7 — about 2,000 more than it managed the previous Thursday.
Pilots and evacuees were very grateful for the thousands of flights out of Florida. Memorial Hermann Life Flight pilot Thomas Ames said in an email to controllers: "I just wanted to say you guys are doing an amazing job! The traffic is non-stop and somehow you guys are keeping everything moving and safe! I personally appreciate all the hard work you guys are putting in and just wanted to say thanks!"
During Hurricane Irma, controllers in Florida stayed behind to continue to work evacuation flights. There were 49 volunteers that staffed six areas at ZMA, as well as the traffic management unit. Miami Tower (MIA) collaboratively discussed and identified their "Stay Team," to staff the facility throughout the storm, while ZMA collaboratively created and briefed their emergency readiness plan.
In the northeastern part of the Caribbean, conditions were most extreme. NATCA represents 114 total members at six Caribbean facilities: San Juan Tower (SJU), San Juan CERAP (ZSU), St. Thomas Tower (STT), St. Croix Tower (STX), Aguadilla Tower (BQN), and Fernando Luis Ribas Dominicci Tower (SIG).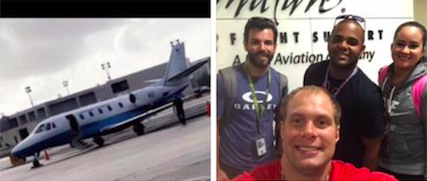 A group of ZSU controllers traveled to ZMA to prepare to work their traffic in the event that ZSU was knocked offline by Irma, which thankfully did not occur .
In San Juan, a team of members including Kyrandgel Rios, Keven Morales, and Hector M. Montanez volunteered to stay behind at the ATCT and continue to work traffic. A group of ZSU controllers were flown to ZMA, where they were ready to work traffic in their airspace remotely if needed. But fortunately, San Juan escaped the most severe damage and ZSU remained online.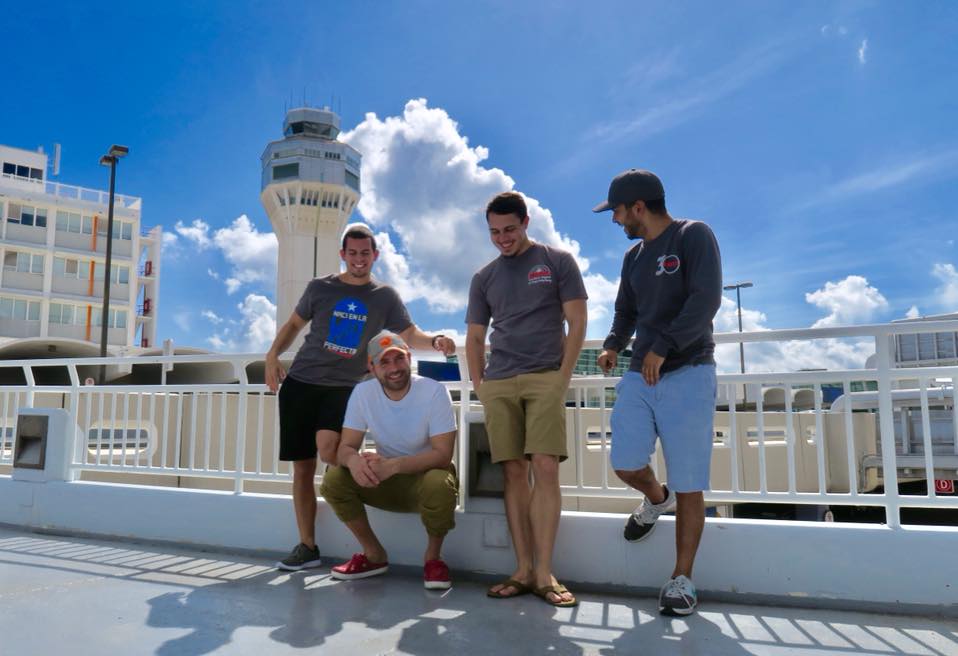 Pictured above are Keven Morales, Hector M. Montanez, Kyrandgel Rios, and Andrés Rincón.
"The three men with me in this picture (above) did not hesitate to volunteer to work during a Category 5 hurricane," Rios said. "They left their homes behind and packed for five days. Today, six days later, we go home extremely exhausted, but with an even bigger feeling of satisfaction for the work accomplished. We have never felt so proud to do what we do. Over 2,000 evacuees have landed in SJU in the past two days and the four people in this picture (along with one other) worked 24 hours a day to get them safely on the ground. More work remains to be done and our air traffic controllers across Puerto Rico will make sure that everyone gets a safe passage through our skies."
In the Caribbean immediately following Irma, STT members returned to St. Thomas. Because of damage to the tower, they worked traffic from a tent set up on the side of a runway. A portable, temporary tower was delivered by the FAA on Wednesday, Sept. 13.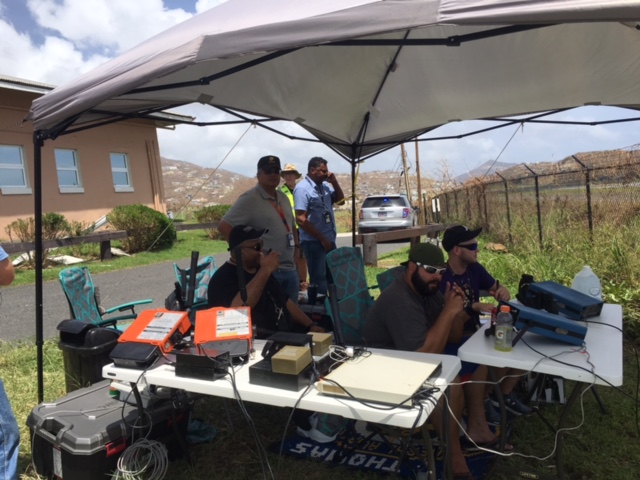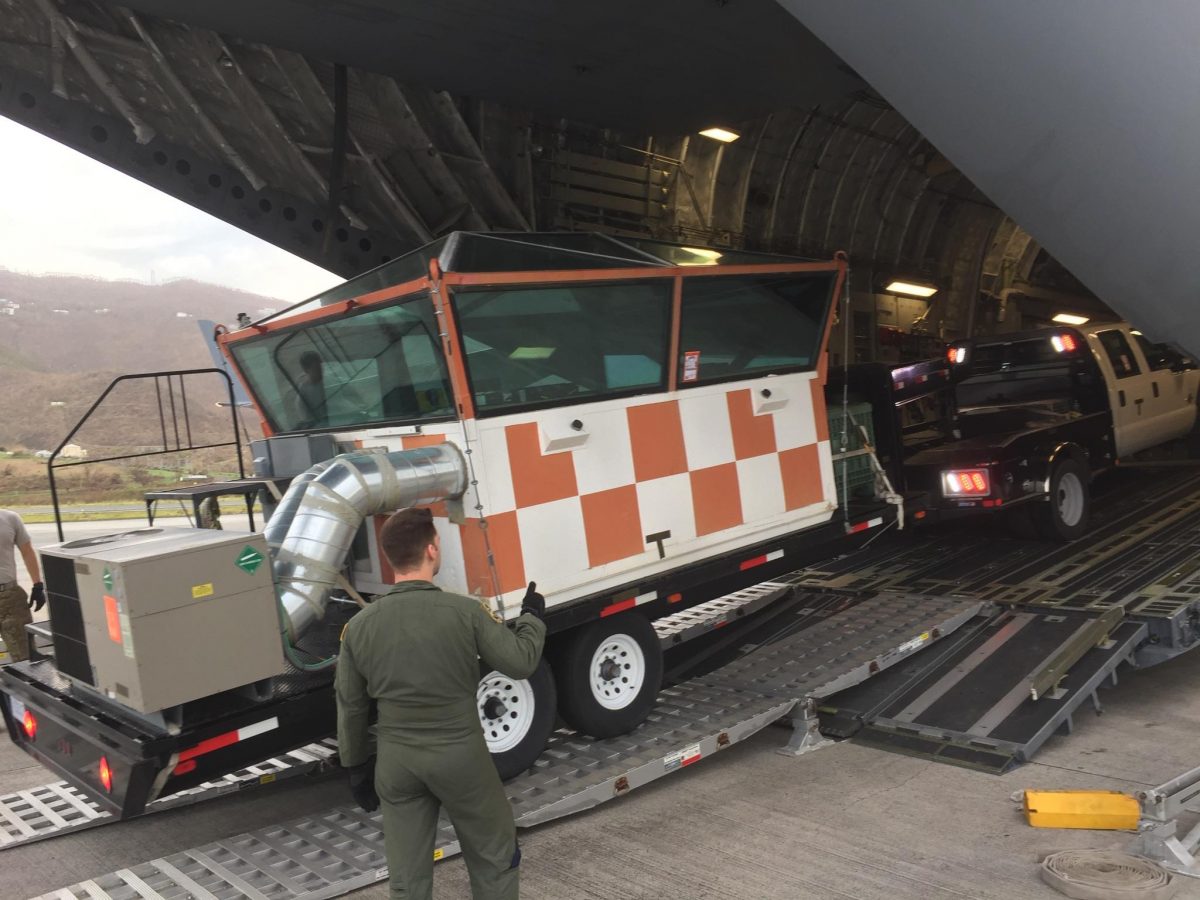 In the top photo: NATCA STT members Brian Jernigan & Jeremy Arkley, seated in front. Air Traffic Manager (San Juan tower) John Melecio is standing in the back next to Bruce Williams. Seated to the left is Front Line Manager of STT Tom Boatwright.
In the bottom photo: The mobile tower arrives at STT. In this photo, it is being taken out of a military transport aircraft.
NATCA members have also done incredible humanitarian work to assist their brothers and sisters and their communities during a time of need. Click here to learn more.