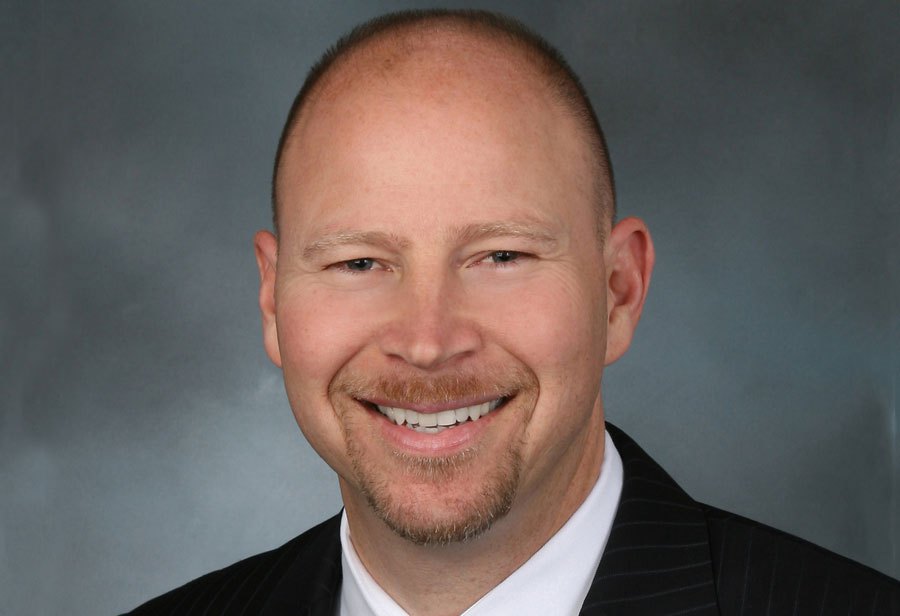 Paul Rinaldi Paves Path for the Future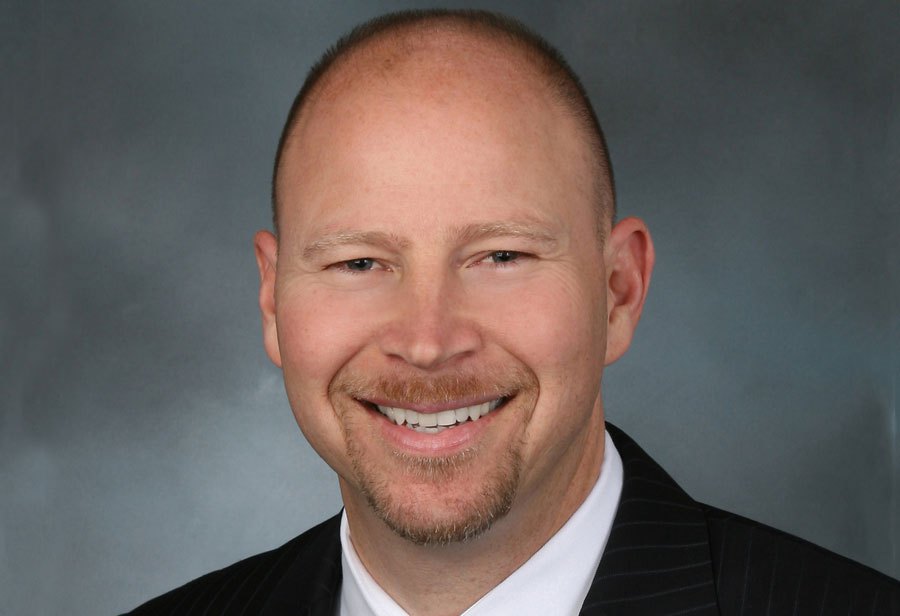 NATCA President Paul Rinaldi began his Federal Aviation Administration (FAA) career in 1991 at Washington Dulles ATCT (IAD). He served as NATCA Executive Vice President from Sept. 1, 2006, to Oct. 16, 2009, and was elected President and began serving on Oct. 17, 2009. Rinaldi is the first President in NATCA's history to serve three terms.
Rinaldi's father worked up to four jobs at a time to make ends meet. His father taught him to always work hard, never rest on 'good enough,' and to keep striving for greatness.
On his first day at IAD as a brand-new controller, Rinaldi was very nervous. He went into the administrative office to drop off some onboarding paperwork, and the administrative assistant there recommended he meet the air traffic manager. The IAD ATM wasn't welcoming. Her first words to him were that she didn't want him there because she thought that the facility's traffic was too busy for him.
Rinaldi went back to the training department, and later that day, the NATCA FacRep gave an orientation. Unlike his ATM, his FacRep was very welcoming to the new trainees. Rinaldi was already prepared to join the Union, but the kindness and compassion of the Union rep solidified that choice.
He immediately wanted to get involved and help NATCA. He became Vice President of the local within two years in 1995 and then served eight years as IAD FacRep. Rinaldi also served the union as the Eastern Region Alternate Vice President (ARVP) and on the Eastern Region's Labor Relations Team. From 1997 to 2006, he served as an air safety investigator.
From early on in his career, Rinaldi has demonstrated a passion for aviation safety. He has worked to involve NATCA in the enhancement of the aviation system.
"There is nothing our NATCA brothers and sisters can't achieve if they work together," Rinaldi said.
His vision as the Eastern ARVP would lead him to run for Executive Vice President, serving with President Pat Forrey from 2006-2009. In 2009, Rinaldi ran for President of NATCA.
Rinaldi has been recognized with awards and honors from NATCA and industry partners. In 2016, Rinaldi was honored with the Humanitarian Award from the Sons of Italy Foundation (SIF). The Air Traffic Control Association (ATCA) also presented Rinaldi with its highest honor, the Glen A. Gilbert Memorial Award, to close its 61st Annual Conference in National Harbor, Md., last year. Rinaldi is the first union leader to receive the Glen A. Gilbert award. Other recipients include Former FAA Administrator Jane Garvey and U.S. Congressman James L. Oberstar. The award is on display in the Smithsonian Air and Space Museum in Washington, D.C.
Executive Vice President Trish Gilbert described Rinaldi as selfless in his service to others over the last three decades, saying he not only works to make the lives of NATCA members better but also works to enhance safety of the U.S. airspace system."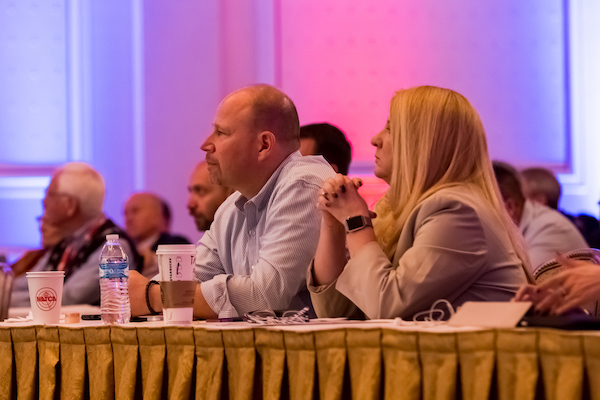 Rinaldi and Gilbert.
Rinaldi and Gilbert have worked together for more than 10 years. They were the first NATCA members to run for the office of President and Vice President as a team, even though they would be elected separately.
When Rinaldi became President of NATCA, labor-management relations were strained and third-party arbitrators had ruled on a new collective bargaining agreement. Labor input and involvement on technology programs were minimal, which created challenges across the NAS.
Their plan was to repair relationships within the FAA, Department of Transportation, the National Transportation Safety Board (NTSB), Congress, and the aviation community. In addition, they sought to cultivate new relationships for the Union and the industry.
"Our vision has been to unite the Union through education, motivate a new generation of members to get involved, and to build a collaborative relationship with the FAA and all industry stakeholders," Rinaldi said. "We want NATCA to lead the way with answers to the problems in the aviation industry."
Under their leadership, NATCA has shifted its direction. The values of NATCA changed, and so did the way people think about the Union externally and internally. Rinaldi and Gilbert have confronted conventional wisdom to battle a dominant "groupthink" culture and challenge the way America thinks about and understands unions altogether.
To achieve this, Rinaldi realized that collaboration was key and expanded it beyond labor-management relationships. He has consistently sought the input of, and provided the Union's perspective to, the broader aviation community. This attitude has become the industry norm over the past decade.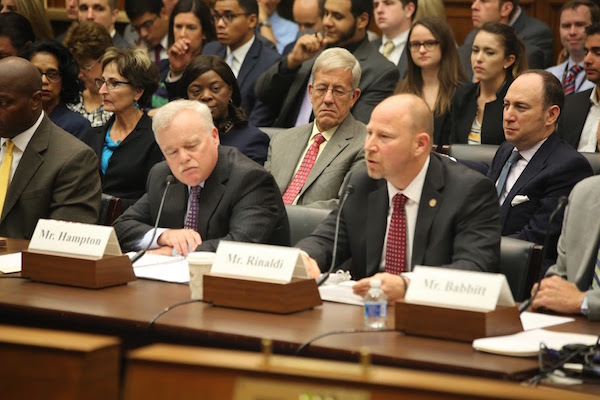 Rinaldi regularly testifies before Congress to inform our nation's leaders on the importance of protecting the workforce of aviation safety professionals who safeguard the NAS, and on any potential change to the air traffic system.
This collaborative stance and willingness to rock the boat has since defined the Union and has set NATCA on the path for unprecedented success.
Rinaldi's leadership has secured NATCA's engagement on many significant technological changes over the last decade. NATCA works to ensure new technology is properly implemented and that foreseeable problems are proactively addressed in order to avoid serious system outages, malfunctions, cost overruns and deployment delays.
"Participation of the front-line workforce throughout development, planning, and implementation allows leaders to foresee and avoid potentially serious glitches and usability concerns, and ultimately makes the system safer and more effective," Rinaldi said.
At the ATCA ceremony honoring Rinaldi with the Glen A. Gilbert Memorial Award, FAA Air Traffic Organization Chief Operating Officer Teri Bristol spoke about Rinaldi's efforts to change the strained culture within NATCA and the FAA.
"Paul's commitment to the air traffic system and the profession is relentless," Bristol said. "He leads by example and has certainly changed the labor management climate from one that could be combative to one that embraces partnerships, collaboration, and faces challenges head-on, together."
Through Rinaldi's realized vision for collaboration, the FAA and NATCA were able to reach a voluntary collective bargaining agreement last year — the Slate Book — that covers thousands of aviation professionals, including air traffic controllers.
In the history of FAA and NATCA, negotiation disputes have typically presented challenges between parties, and those disputes often spill over into other areas and become a distraction.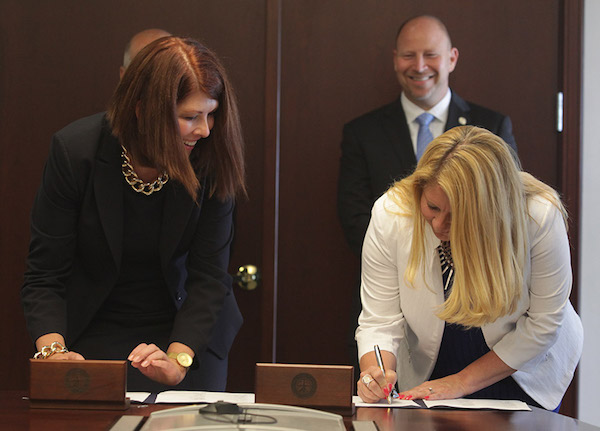 Bristol, Gilbert, and Rinaldi sign the 2016 NATCA-FAA voluntary collective bargaining agreement.
The relationship between Rinaldi, Gilbert, and Bristol built over the past several years enabled the two organizations to conclude the negotiations quickly and in a manner that satisfied the interests of all without third-party intervention. The agreement cements collaboration into the NATCA-FAA culture as the new standard for engagement on all workplace matters. It values the workforce as the backbone of the system and enables modernization of the NAS.
"Every time he has taken a tumble or been knocked down he gets up again and again," said Gilbert. "He goes harder when the challenges seem insurmountable. Paul's tenacity and leadership set the stage for us to collectively continue to move our organization forward."
Determination and stick-to-it-iveness applies to Rinaldi not just in efforts to better the working conditions of NATCA members and the NAS, but also in charitable efforts to his church, the NATCA Charitable Foundation, and others. At the 2016 Biennial Convention in San Diego, Rinaldi agreed to 'ride the wave' to raise donations for the NATCA Charitable Foundation. He did well, only suffered minor injuries, and raised over $52,000 for charity.
Rinaldi says his successes are a culmination of everyone in the Union, and that NATCA is not about recognition, it's about results.
"Those results come from all NATCA brothers and sisters working together and refusing to settle for good enough," Rinaldi said.
Rinaldi often repeats how proud he is to represent the hardest-working group of professionals in the world. His success continues to be their success and fight to achieve greatness.
"I didn't get here alone," said Rinaldi. "It's not about me. It's about all of us working collaboratively to protect our members and build a better system."
For more information on Paul Rinaldi, you can read his bio here.