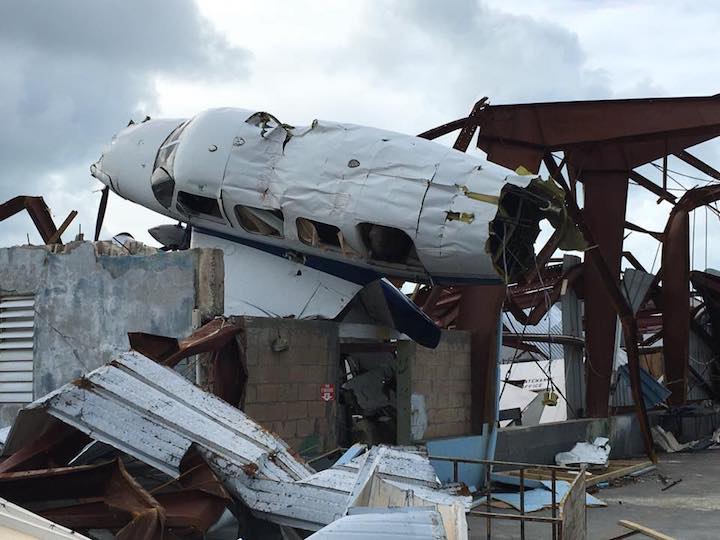 Sept. 29, 2017 // NATCA Hurricane Relief Efforts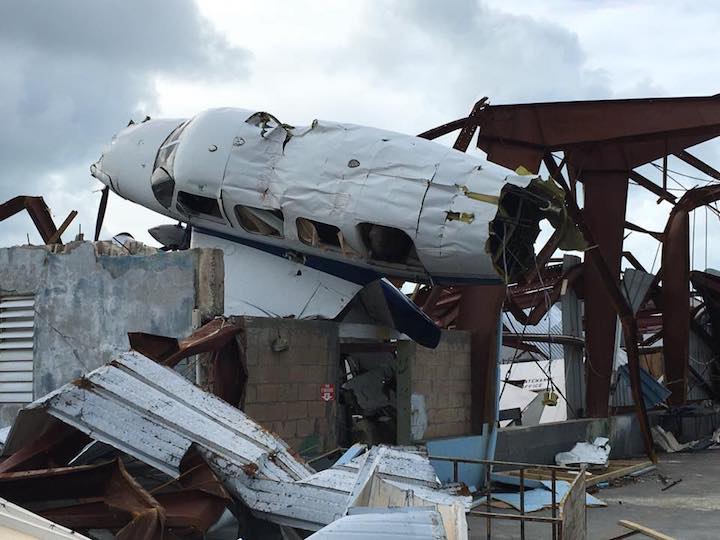 You can view NATCA's social media updates on Hurricane relief and efforts by visiting NATCA's Storify, click here.
Three hurricanes have now hit the United States, and NATCA members are only just beginning to process the far-reaching devastation to their homes and communities. NATCA members are on the front lines of these relief efforts and your donations to the NATCA Disaster Relief Fund make a difference in the lives of those affected. Your donations allow members to acquire much needed supplies and begin the long process of rebuilding their lives following catastrophic flooding and storm damage in the Southwest and Southern regions, including the Caribbean, which has been particularly hard-hit.
Southern Regional Vice President Jim Marinitti visited St. Thomas following Hurricane Irma to assess the damage and help coordinate relief efforts. To view images of the devastation on the island, click here. Shortly after these photos were taken, Hurricane Maria caused even further devastation.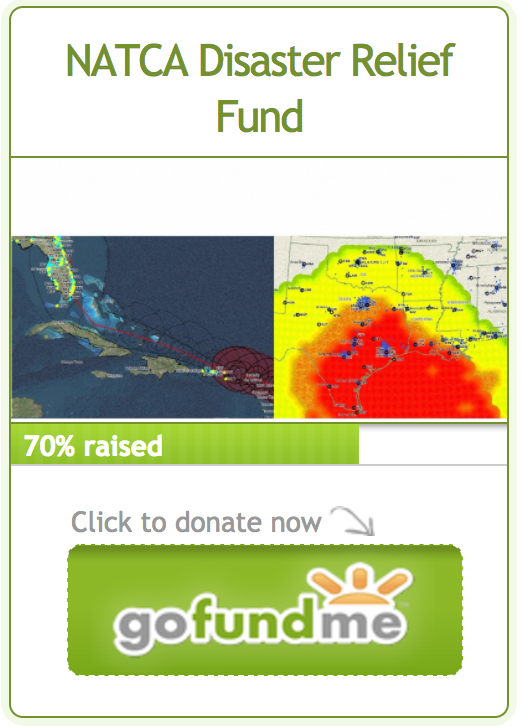 NATCA Disaster Relief Fund: Please help by making a donation. NATCA members are in need of supplies like generators and chainsaws to clear roads and paths in their communities. Please click here to donate and help NATCA support our brothers and sisters in need.
Do you need assistance from the Disaster Relief Fund? If you or any other NATCA member has a need for assistance in the aftermath of the storms, we are collecting specific information here so we can get you the help you need.
To volunteer and to request supplies or help with cleanup efforts: Please send an email to harveyhelp@list.natca.net, irmahelp@list.natca.net, or mariahelp@list.natca.net and you will be put in contact with our volunteer committee, who is already on the ground providing relief in real time. NATCA is still working on the logistics of how to gather and stage supplies and get assistance to Puerto Rico. One of these relief initiatives, instated following Hurricane Irma, is described below.
CISM Update: NATCA's Critical Incident Stress Management (CISM) team has been prepared to respond to any and all requests for support. In the wake of each hurricane, the team has directly contacted all facilities affected to provide immediate assistance, and to plan for a possible response after rescue and recovery efforts have ended. Members in Texas and Florida have reported doing well. We are still standing by for a possible response to Puerto Rico and the Caribbean area.
The NATCA Critical Incident and Stress Management (CISM) Team has been working around the clock. They're standing by to offer assistance to anyone at any facility. If anyone at all is feeling the emotional or psychological affects of the storms, please give us a call. The CISM hotline number, available any time of day, is 202-505-CISM (2476). You can also email them at cism@natca.net.
Relief Efforts: San JUAN CERAP FacRep Woody Camp said the workforce is doing amazing things. The technicians and engineers are working around the clock to get the equipment up and running. The level of commitment and teamwork demonstrated extends beyond what aviation safety professionals are trained for. The first plane of relief supplies arrived on Sept. 26.
NATCA is prepared to send more supplies to controllers in Puerto Rico. Javi Betancourt from Miami Center (ZMA) is the Southern Region's point of contact for collecting, organizing, and scheduling relief supplies to be sent to NATCA members in Puerto Rico. He has secured space for staging and distributing materials. NATCA members from Houston loaded a truck full of supplies this week and Houston TRACON members Chris Payne and Matt Sheffield drove it to Miami to support the relief efforts with the help of Clay Matheny.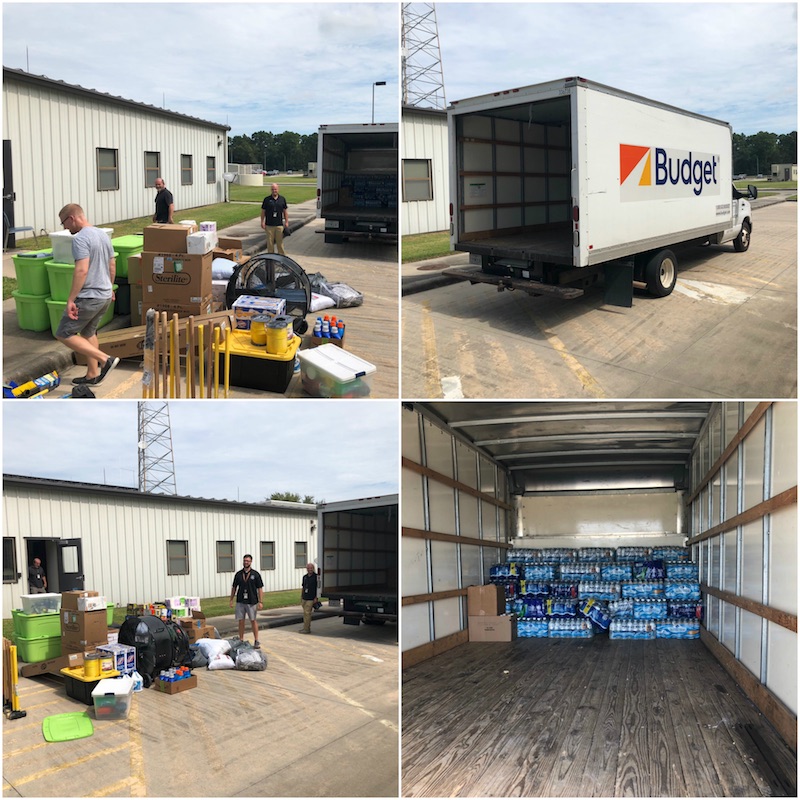 The photos above and below depict ZHU's hurricane relief trucks, preparing for transport to Florida.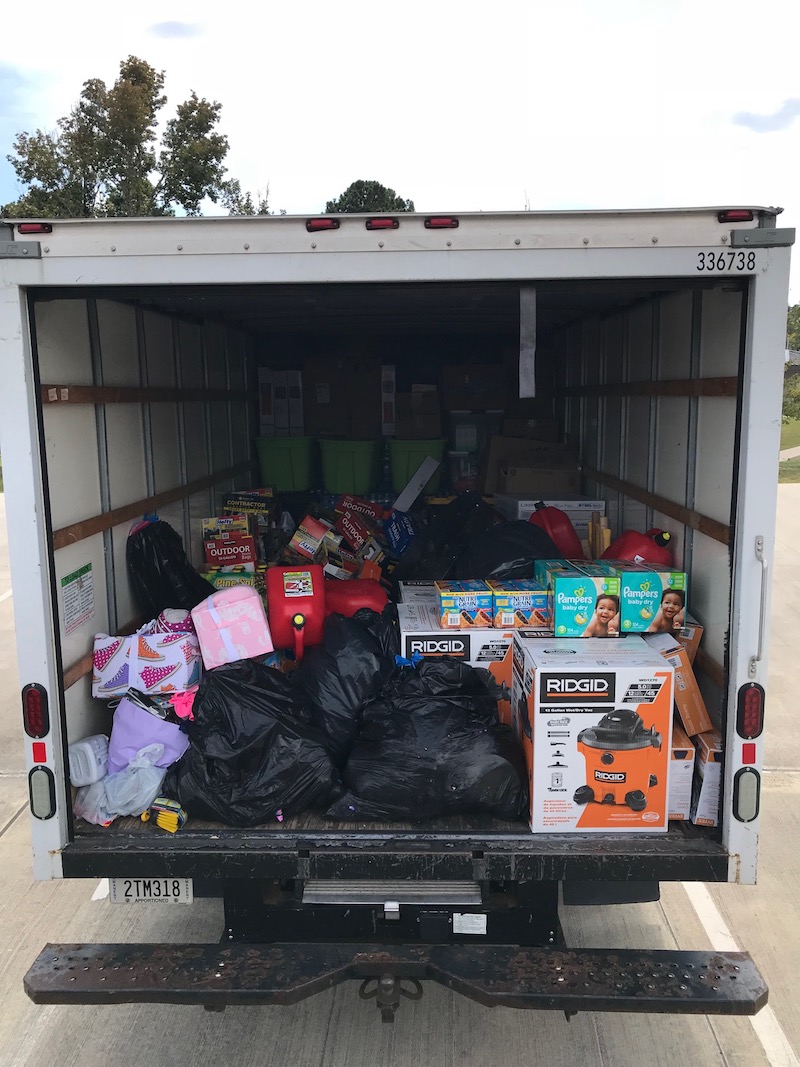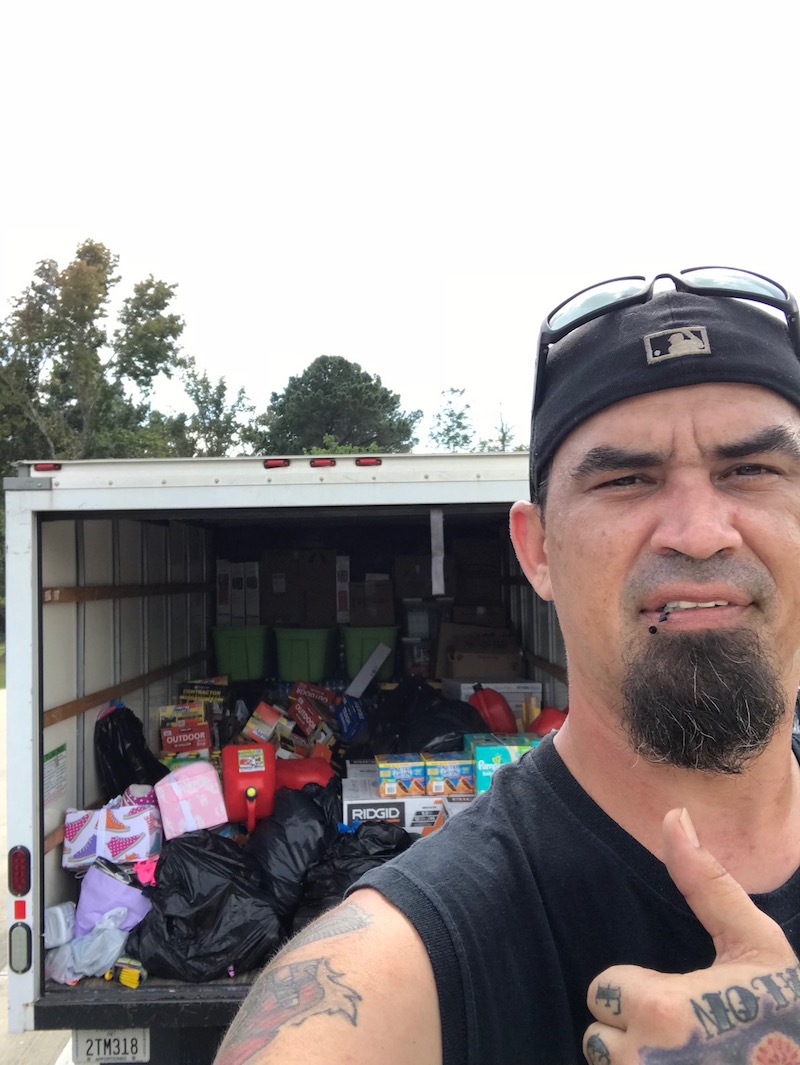 Support is coming in from all over the country, from controllers, facilities, aviation entities, the military, and private citizens. It's going to be a long road to recovery, but we will do it together, said Southern Regional Vice President Jim Marinitti.
The only way in and out of Puerto Rico until recently has been the airport because the ports were unable to accept ships. Last weekend, the only services available were the air traffic control tower with one frequency. The approach control and center had no power and generators had failed. The remote radio transmitter site for the radios for both the approach control and center had failed and required a helicopter trip followed by a two-mile hike to diagnose and repair. Because of the limitations on the airspace, they had to use non-radar separation (20 minutes in-trail) for all IFR (instrument flight rules) flights going into the airspace. When they got close, they'd contact the tower directly and they would space them with all the VFR (visual flight rules) flights that were also arriving.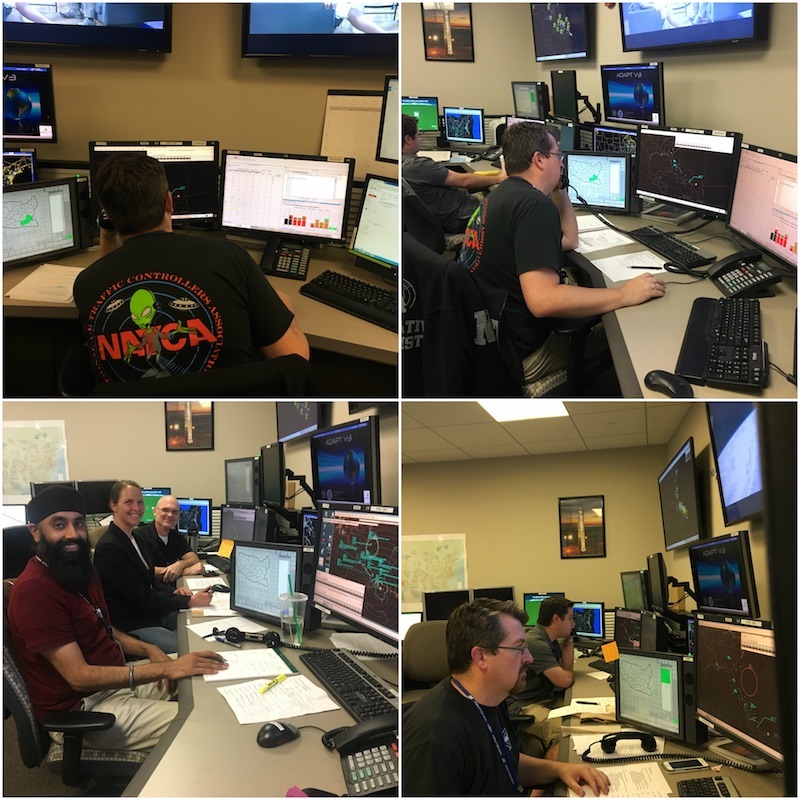 Pictured above are Hardial Singh, Amy Galvan, Jason Lanning, Dan Kerr, and David Murray.
On Sunday, Sept. 24, at the Command Center (DCC), NATCA members Dan Kerr and David Murray were assigned to work in the Airspace Access Response Cell (AARC) inside the Event Management Center. Kerr and Murray are National Traffic Management Specialists from the terminal and severe weather areas, respectively. The AARC is a room near the operations floor set up at DCC for any extenuating events affecting the NAS. Inside the AARC were two Specialists from the Command Center, FAA Special Operations and Security, as well as the military cell. In addition to Kerr and Murray, several NATCA members ahve been critical to the AARC's handling of hurricane efforts: George Sardineer, Bob Lucht, Bryce Nicol, Bryan Barker, Ryan Jacobs, David Kilpatrick, Trey Madrid, Kevin VanUden, Tony Smith, Adam Johnson, Hardial Singh, Amy Galvan, and Jason Lanning.
Earlier, NATCA members from DCC's Severe Weather area had implemented an Airspace Flow Program (AFP) at a rate of three aircraft per hour for San Juan. Because of the limitations of the airspace and the operation due to massive damage to aviation infrastructure on the islands, the three entities within the AARC were tasked with collaborating to attempt to make sure the right aircraft that could make the most difference were being put into the air, and also trying to manage the demand to avoid overloading staff at ZMA and the San Juan facilities.
On Saturday, everyone that called asking for a clearance that was a humanitarian flight were allowed to go first. On Sunday, DCC adjusted tactics and a central number was given out so that all requests for priority handling would go through the AARC instead of individual air traffic facilities. Kerr and Murray were tasked with evaluating the requests against FEMA-issued criteria and coordinating with traffic management units in the field to prioritize the release of aircraft in a safe and timely manner. This operation continued into the afternoon shift and over the next few days with NATCA members Brian Campos, Amy Galvan, Hardial Singh, and Jason Lanning. All the while methods were improved and the amount of traffic increased as San Juan's capabilities increased.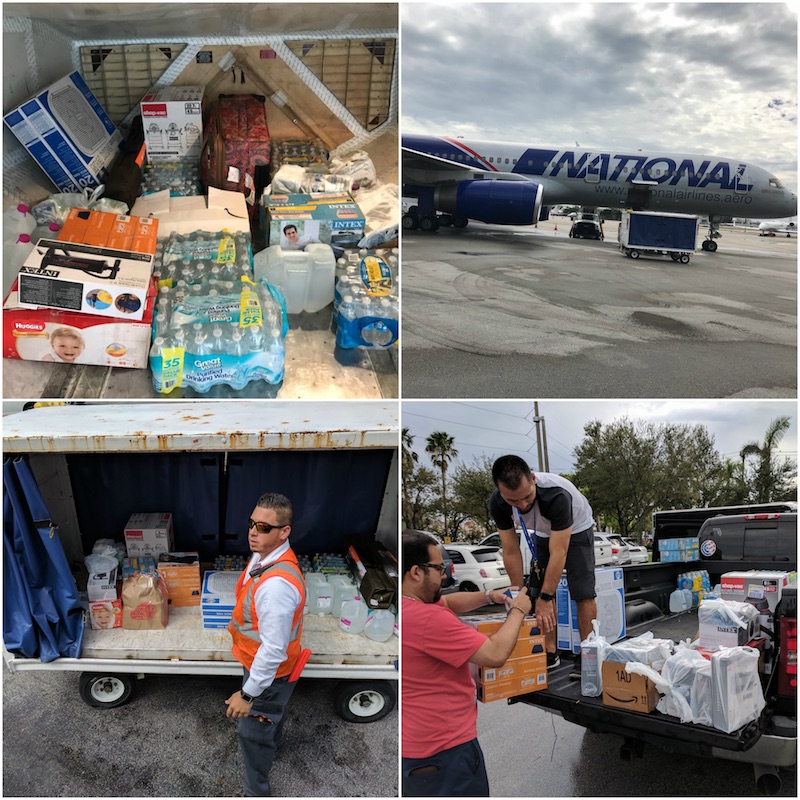 Supplies arrive in Puerto Rico.
The frequencies and radar now appear to be working at ZSU, and San Juan Tower has regained some operability. All controllers from ZSU that were evacuated to ZMA are flying back to San Juan as soon as they can. They have been able to cautiously increase the arrival rate, dependent on equipment operability.
Inter-facility communications are a priority. There are now nine countries that ZSU coordinates with. Hurricane Maria took out communications and airport operations at one of the others they used to communicate with, St. Croix. Reliable equipment and getting the operation to a somewhat normal state is of utmost importance so relief supplies can be flown in to help Puerto Rico.
NATCA's Region X professionals have been working tirelessly to address equipment and operation concerns. The Technical Operations team has jumped in at every opportunity to assess and recover the NAS over the Caribbean. Members of the NATCA Engineers & Architects bargaining unit have dedicated themselves to supporting Field Incident Response (FIR) missions. Senior Engineers Bruce Williams, David Marrero, and Tom Kibler sited and installed the mobile tower in St. Thomas and Electronics Engineer Christopher Atkinson has been integral in the recovery of Key West. Senior Engineer Steve Vitale provided predictive information on when to expect dangerous winds, and then lead damage assessment in the Miami area.
The list of efforts from Region X brothers and sisters is large, and NATCA is extremely grateful for and proud of the Engineers & Architects that have jumped in to provide fearless and energetic support.
NATCA members in Puerto Rico would like to thank everyone for the relief efforts and donations. There is a long road ahead. Please donate to the NATCA Disaster Relief fund to ensure we can support our members as conditions continue to change and develop.