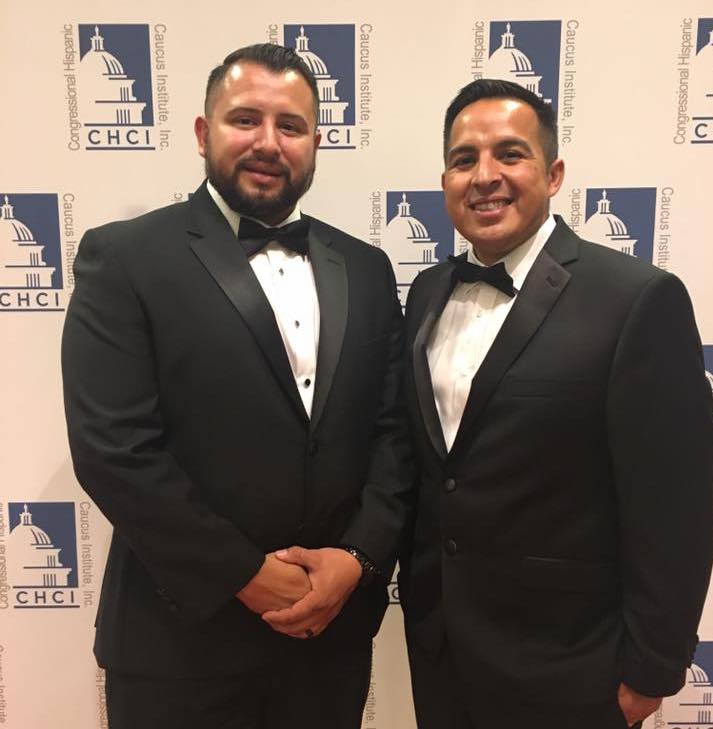 NATCA Celebrates National Hispanic Heritage Month
National Hispanic Heritage Month (NHHM), observed annually Sept. 15 to Oct. 15, celebrates the rich history, culture, and contributions of Americans whose ancestors came from Spain, Mexico, the Caribbean, Central and South America. This month, NATCA members across the country are celebrating Hispanic heritage and reflecting on the strength the Union draws from the diversity represented in its Hispanic members.
NATCA represents Hispanic aviation safety professionals across the country, including many at six facilities in the Caribbean: San Juan CERAP (ZSU), San Juan ATCT (SJU), Aguadilla ATCT (BQN), Isla Grande ATCT (SIG), St. Thomas ATCT (STT), and St. Croix ATCT (STX). Many of these members have been affected terribly by Hurricanes Irma and Maria; consider supporting them with a donation to the NATCA Disaster Relief Fund.
NATCA members Martin Ramirez (pictured below, left), Los Angeles Center, and Alex Cisneros (pictured below, right), Southern California TRACON, recently attended an event hosted by the Congressional Hispanic Caucus Institute. Ramirez and Cisneros are both legislative leaders within NATCA and took advantage of the opportunity to speak with members of Congress about issues important to the Union. Cisneros was also recently honored with a regional legislative award at NATCA in Washington 2017.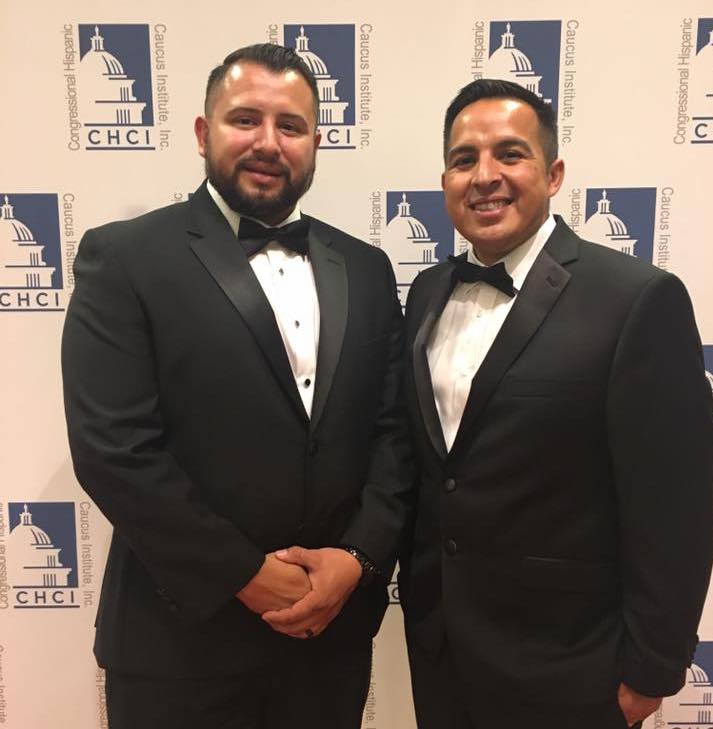 On Sept. 29, at Van Nuys Tower (VNY), members of NATCA and the National Hispanic Coalition of Federal Aviation Employees (NHCFAE) Western Pacific Region Chapter celebrated Hispanic heritage with festive food and solidarity. Participants included Monique Flores (left photo) and Alok Jain, Austin Jin Fronczek (pictured right).

The NHCFAE was established in 1979 and became a national organization in 1983. Today, the Coalition is the chief advocate for issues affecting Hispanics in the FAA.
NATCA enjoys a close and collaborative relationship with NHCFAE. The organizations share a vision for a safe National Airspace System and the success of aviation safety employees. NATCA Executive Vice President Trish Gilbert spoke on Aug. 22 to members of the NHCFAE as part of a labor-management roundtable discussion at NHCFAE's 39th Annual Training Conference in Torrance, Calif. The labor management panel was extended beyond the time for previous years' panels because of its popularity among conference attendees.
NHCFAE President David Dominguez (pictured below, right) thanked Gilbert and NATCA for its commitment and support of NHCFAE's mission to advocate for career placement and advancement of federal aviation professionals through support, education, and alliances.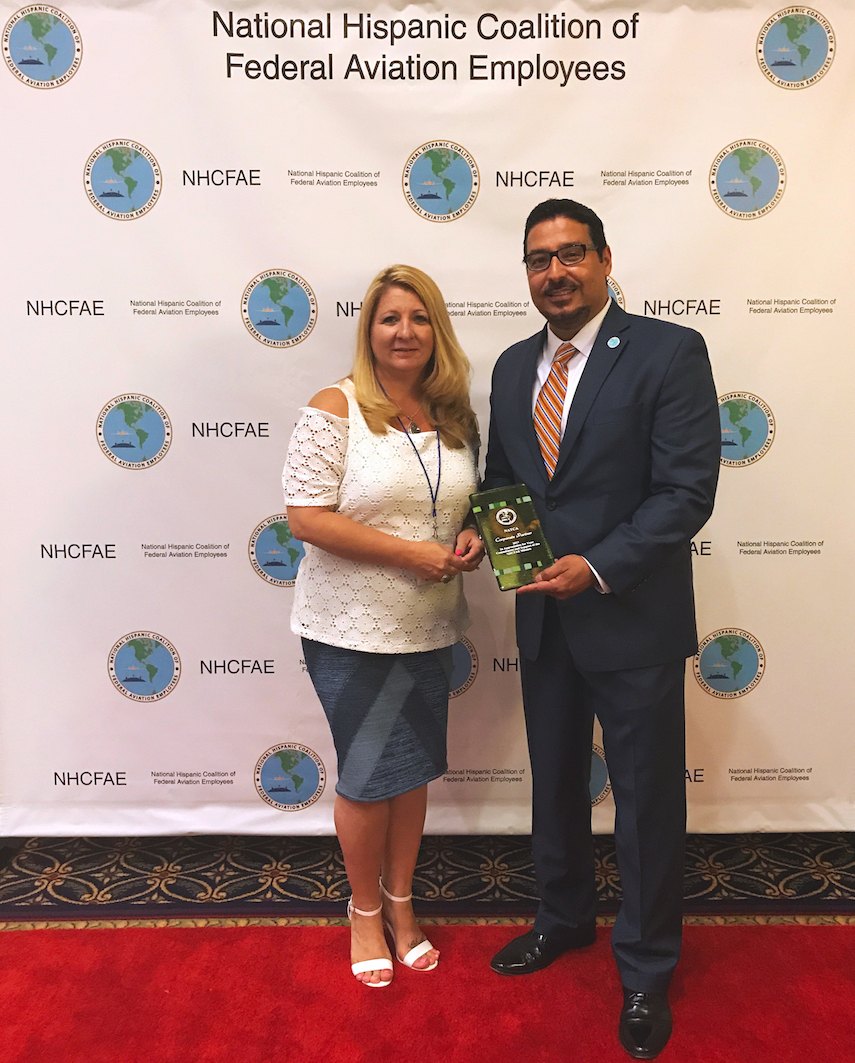 To learn more about NHCFAE, including how to join, please click here. Membership is open to anyone.
The FAA also celebrated National Hispanic Heritage month by honoring early Hispanic aviation pioneers.
Lieutenant Colonel Olga E. Custodio was the first female Hispanic U.S. military pilot and the first Latina to become a commercial airline pilot in the United States. Learn more about this amazing aviator here. Photo below courtesy of the FAA.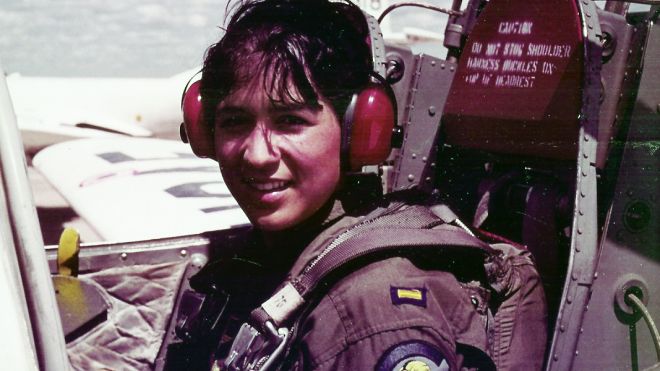 NASA astronaut Franklin Chang Diaz was the first Hispanic American to go to space in 1986 on the Space Shuttle Columbia. Diaz was later inducted into the NASA Astronaut Hall of Fame. You can learn more about him here. Photo below courtesy of the FAA.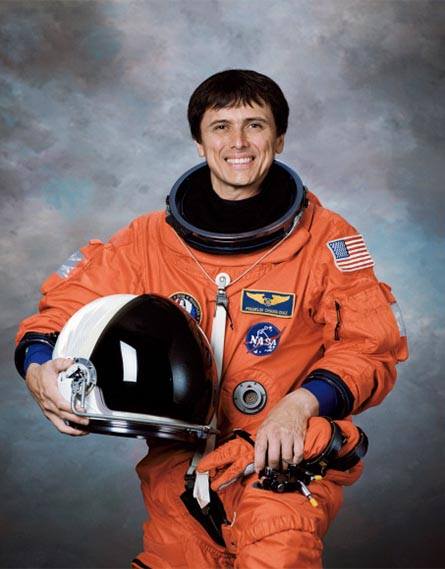 Learn more about National Hispanic Heritage Month at the official website.