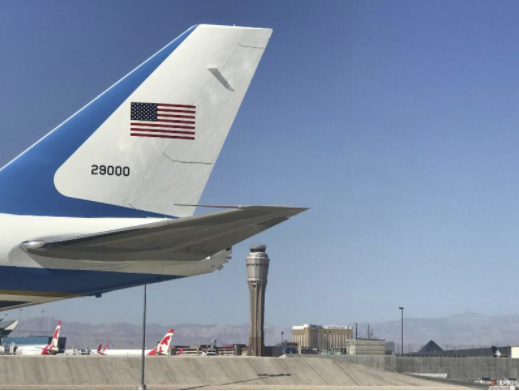 Controllers Expertly Manage Airspace During Tragedy in Las Vegas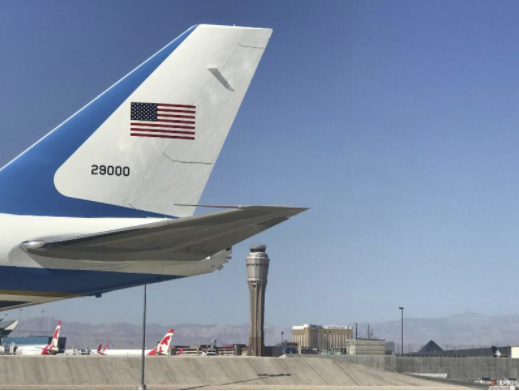 Photo above courtesy of LAS Airport Station 13 Fire Captain Bill Hutfilz.
On the evening of Sunday, Oct. 1, a gunman killed 58 people and injured more than 500 others during a music festival on the Las Vegas Strip. As the violence unfolded, NATCA members and aviation safety professionals responsible for the safety of one of the nation's busiest airports and the airspace over Las Vegas sprang into action after quick-acting Las Vegas Tower (LAS) member Christina Stewart alerted them to the shooting.
Stewart and her fiancé, Dale Cooper were at the festival when the shooting began. The mother of three has spent her 9-year FAA career at LAS. She served in the military prior to joining the Agency.
Stewart said she was approximately 75 feet from the stage. She and Cooper don't frequently attend concerts, and they hoped to make the most of the experience by being up close. The scene was typical for a concert, with everyone enjoying themselves. Jason Aldean was performing when Stewart began to hear gunshots.
"I'm standing there, I hear it, and I'm thinking it's fireworks," Stewart said. She began looking towards the sky to see where the light show was coming from. She knew it had to be close because the sounds appeared to come from the middle of the crowd. It quickly became apparent that what she was hearing was gunshots. The audience began to crouch down and the music stopped. Aldean left the stage, and floodlights were turned onto the audience. The approximately 20,000 attendees began to run and attempt to shield themselves.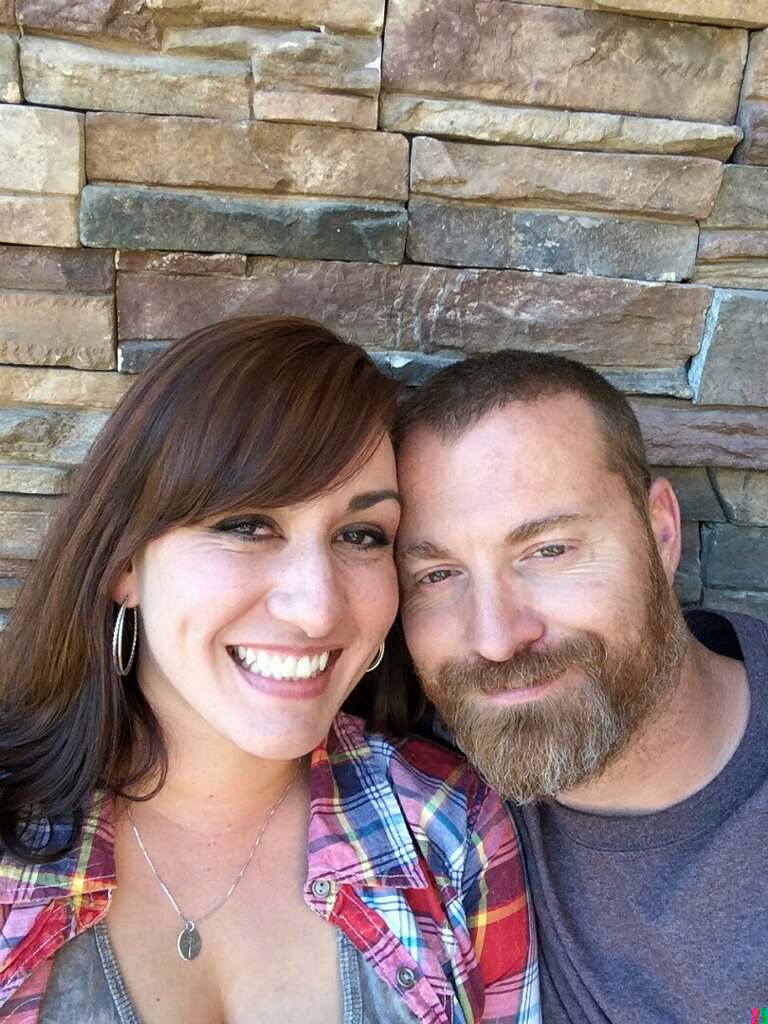 Stewart and Cooper crouched down, hoping to avoid being trampled by the crowd. People ran past them, Stewart said, as the shooting paused enabling her to assess the situation. Injured people were lying on the ground receiving assistance and others were being carried away.
As the gunman began to shoot again, the pair ran away from the main exit – towards Mandalay Bay – to an alternate exit closest to their car. As they ran, Stewart saw some of the carnage inflicted upon her fellow concertgoers.
As they neared their car, they saw many from the crowd near a locked gate bordering a parking lot. The two were able to make it around a corner of a concrete building. As they stopped running, Stewart thought to call the tower.
Over her nearly 10 years' experience, Stewart has seen that special events in Vegas contribute to heavier air traffic, on top of the already busy schedule of usual scenic helicopter tours. The departure route for these tours typically flies directly over Mandalay Bay. Fearing for the safety of the public, Stewart knew she had to contact LAS as soon as she could.
"I just knew there'd be 20 helicopters taking off at any time," she said. "I'm thinking I have to warn them. I have to make sure people are safe. I don't know what's going on, but a helicopter or an aircraft is a big target."
Crouching behind the corner of the concrete building in sight of her car, Stewart stopped to call LAS. She could hear the gunman continuing to fire and was shaking so badly she could not dial her phone and had to look up the memorized number in her contacts.
"Miguel Cantu answered the phone and I was happy that it was him because he was on my midnight crew and I thought he might recognize my voice," Stewart said. " I told him to stop the helicopters, to stop everything. That there's an active shooter."
Screaming into the phone with the noise and chaos of the situation surrounding her, Stewart feared Cantu wouldn't understand what she was relaying, so she and Cooper drove over to the tower to make sure.
At LAS on a midnight shift, typically only two controllers are in the tower. An increase in phone calls during an emergency situation like an active shooter can disrupt operations at the tower, making it hard for the controllers to keep up with phone calls and stay informed. In the operating environment there are no cellphones, no TVs, and no way to immediately know what was unfolding just across the runways. Stewart knew she had to get there to help.
As soon as Cooper parked Stewart grabbed her badge, ran to the building, and spoke immediately with Cantu and the other controller on position, Audrey Sells. He said that they received her message, and that they could hear noises coming from the direction of the festival, but were unsure what they were hearing.
Stewart insisted they halt helicopter operations and stop or redirect all other departures and arrivals. Aircraft at the time were arriving and departing on the runways closest to the Las Vegas Strip and Mandalay Bay.
Stewart stayed in the tower cab to work the phones as they began to call Las Vegas TRACON (L30) to divert flights. Cantu and Sells continued to work aircraft as airport ramp crews took cover. No one knew the extent of the attack at the time, including the number of shooters, or if there were other potential threats facing the airport and passengers, including bombs or other attacks.
L30 FacRep Anthony Borgert was signed in as the controller in charge (CIC) alongside two midnight shift controllers, AJ Rupert and Amy Beattie, who had just sat down at the scopes.
He explains that the night started as normal, with one good push of an estimated 60-80 arrivals to bring into LAS, mostly from Los Angeles Center (ZLA) Sectors 7 and 8 to the east. ZLA Sector 16 had several aircraft as well. They had one departure sector open and one arrival sector open at the TRACON.
At approximately 10:15 p.m. PDT, LAS tower called L30 to inform them of an "active shooter," that "departures are stopped," and that they "were moving the Strip tour helicopters off of their route."
There was some confusion as to who had alerted the tower to the active shooter and the LAS controller and L30 departure controller were trying to figure out where the call had come from. They soon would discover Stewart sounded the alarm after she arrived at LAS to confirm what she had seen with her own eyes.
As the situation on the ground unfolded, a crowd of what the Associated Press reported was more than 300 concertgoers broke through a fence to escape onto the airfield. Security personnel assisted those fleeing the gunfire.
"I waited a minute, figuring they were staffed for the midnight shift and might be very busy," Borgert said. "When I called up to local 1, I asked if they had time to discuss the active shooter situation. They responded 'no' and as I went to hang up I heard in the background, 'County Mobile 6, tower, we've got people running onto the airport. Stop the planes!'"
Borgert confirmed hearing the radio transmission and told local 1 he'd start working off of that information. He headed over to the scope and heard Rupert clear aircraft from runways 19R and 19L – the ones that people were just reported to be running toward.
Borgert let Rupert know what he'd heard, and that multiple approaches were cancelled. The team opened up two more scopes, with Beattie taking east side arrivals and Jason Kolpin jumping in to take the runway 26 final to redirect several aircraft to 26 left. They also issued holding instructions to several other aircraft with little to no information to give them.
Simultaneously, Borgert called Nellis Air Force Base Approach to ask for airspace, and called ZLA Sectors 7 and 8 and asked them to start spinning aircraft. He then called the FAA's Domestic Events Network (DEN).
"When I got on the line with the DEN, I did my best to repeat what I had heard over the tower line from Clark County Mobile 6," Borgert said. "I let them know we had people and vehicles on the air field and we would be down at least half of our runways."
He then called Front Line Manager Dave Leslie and Traffic Manager Matt Melvin, whose shifts had just ended, and asked them to return as soon as they could. They returned without hesitation and jumped right in to help out.
Borgert then called facility security to alert them of the situation and asked them to ensure the vehicle barriers were in place. Once Leslie was up to speed, Borgert relieved Kolpin from the 26 finals sector so that Kolpin could go up and assist the tower, as the only one on the L30 team who had previously worked there.
"Not knowing their staffing at the time, but knowing they didn't have time to talk earlier, I felt we had our operation under control enough that he could be an asset upstairs," explained Borgert.
In those first critical moments, several aircraft were diverted, including a Medevac and several air carriers. With Melvin and Leslie now handling a majority of the coordination, the team started to receive transmissions from a few airliners that had gotten very low on fuel and began to coordinate with Nellis Approach in case they had to send planes there to land.
With frequent updates now coming in from security, it was determined that LAS could bring in the airliners that had reported they were low on fuel. It was crucial to keep them as far from the west side of the airfield as possible, so the team spaced the arrivals out to get them slowed to final approach speed early, and descend the aircraft as low as the terrain allowed in an attempt to ensure they were able to exit the runway at the first high speed taxiway. This would keep them clear of the west side of the airfield where the incident was occurring.
"I'm proud of how we all performed. Everyone pitched in, ZLA performed great and were instrumental in keeping the situation from spiraling out of control," Borgert said. "LAS tower personnel could see the mayhem unfolding several hundred yards away and maintained their composure, and the TRACON controllers made a bad situation a little better by staying flexible and continuing to update their plan as new information became available. Nellis Approach readily accommodated our requests, and facility security kept us posted with information on what was happening just outside our facility."
Stewart remained in the tower, answering phones and sharing information with the TRACON and nearby facilities for two hours until a manager arrived to relieve her.
"I don't throw the term hero around loosely, but I believe our very own Christina Stewart to have displayed true heroism," LAS FacRep Jamaal Haltom said. "She was at the concert when shots rang out. She ran as everyone else did, but when she got clear, she immediately turned her concerns to her coworkers and the flying public."
Haltom also notes the dedication of Cantu and Sells in the tower, who were instrumental in keeping the area clear of helicopters and other aircraft.
"They conveyed calm to the users and assisted Metro (Las Vegas) Police in their operation," Haltom said. "They both worked an entire midnight shift without complaints, but with great concern for both the general and flying public."
Stewart and Cooper got home after 1 a.m. PDT. Stewart said they are still shaken from the experience. She said everyone has been supportive and she returned to work for her regularly scheduled shifts since her regular days off on Oct. 3 and 4.
Stewart's actions have been praised by Metro Police. Halting the helicopter operation was essential to their efforts to contain the situation, they said.
"A lot of controllers would have done the same thing," Stewart said. "I think we all know that as aviation safety professionals we are public servants, and we are instrumental in the flying public's safety. We think about others all the time."