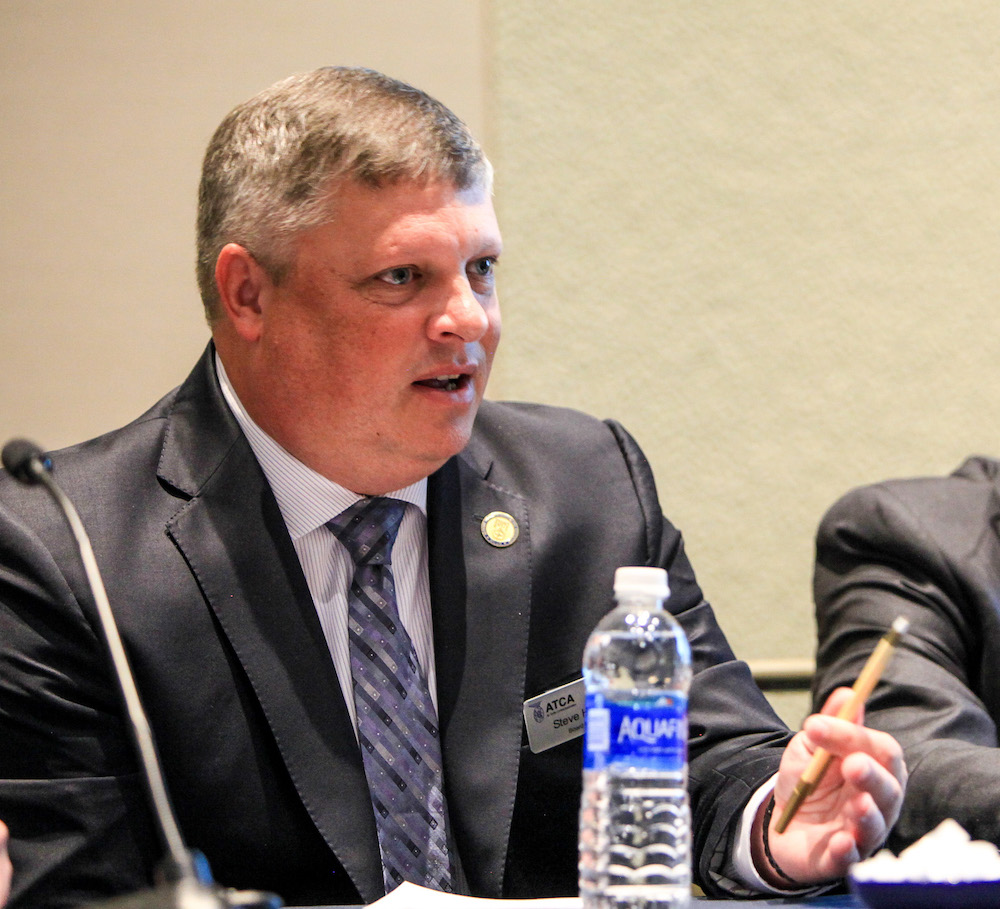 ATCA Annual: Weather or Not, Make Every Day a VFR Day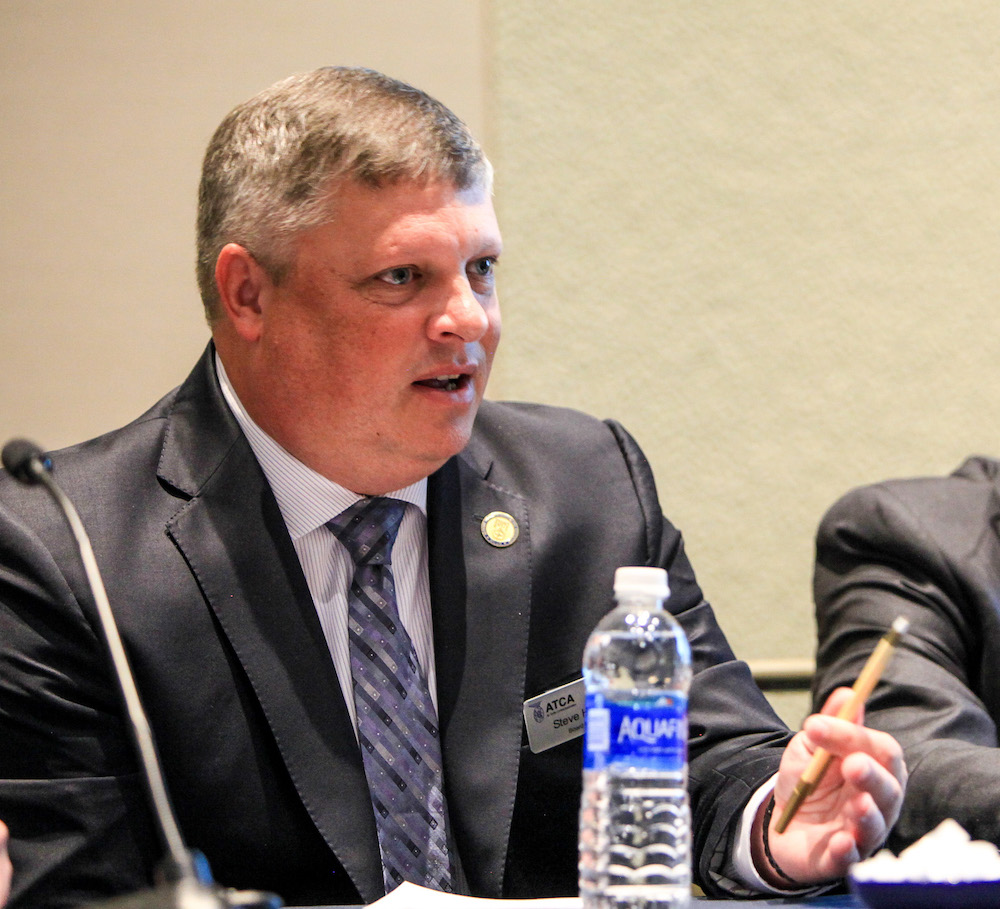 NATCA Safety Committee Chair Steve Hansen.
Photo courtesy of ATCA.
During a session at the Air Traffic Control Association's (ATCA) 62nd Annual Conference, NATCA Safety Committee Chair and newly-elected ATCA East Regional Director Steve Hansen stated that while weather forecasting services have increased over time, operational metrics on National Airspace System (NAS) weather performance have shown little effect in reducing weather impacts. Several years ago, a NextGen weather team examined this apparent paradox and concluded that the NAS needs to change how it utilizes weather information.
There has been research to "translate" weather information into system performance predictions, but the marriage of an operational deterministic NAS with the probabilistic field of meteorology has been a challenge.
CACI International Inc. Senior Program Manager Mark Andrews moderated the panel, titled "Weather or Not, Make Every Day a VFR Day," featuring Hansen, PASSUR Aerospace's Executive Vice President of Innovation and Customer Advocacy Tim Campbell, DXC Technology's General Manager of Transportation Solutions Rick Day, and FAA Managers Association Director of Legislative Affairs Mark DePlasco.
Andrews highlighted the need for weather translation tools within the NAS to prevent users from having to assume the role of meteorologist. These tools should provide predictions that impact the NAS and help bridge the gap between the weather and aviation communities.
Campbell said collaborative decision support tools (DST) would be beneficial with the goal of making weather data more actionable, predictive, and operational, saying collaboration on any weather translation tool or DST is essential to the technology being successful in the operating environment.
DePlasco said that there are tactical aspects to weather decisions and the impact weather has on the operation. Controllers utilize every tool at their disposal from current weather DSTs to looking out the window to make informed decisions.
Hansen explained that in regards to weather, the controller workforce is changing, and that controllers must work as a team with pilots by sharing information and disseminating pilot reports (PIREPS). Weather is a component of the NAS where injury and death continue to occur despite advances in the system, Hansen said.
"We need to change the culture of, 'My radar is better than their information,' and vice-versa," Hansen said. "We need to create an understanding about what each other has and that what the controller has is important to the pilot, and what the pilot has is important to the controller."
As part of the discussion on potential weather DSTs, Andrews asked panelists to discuss the challenges associated with a single authoritative source of weather information for users. He asked whether users could trust a single source, and if not, then how weather projections may need to change.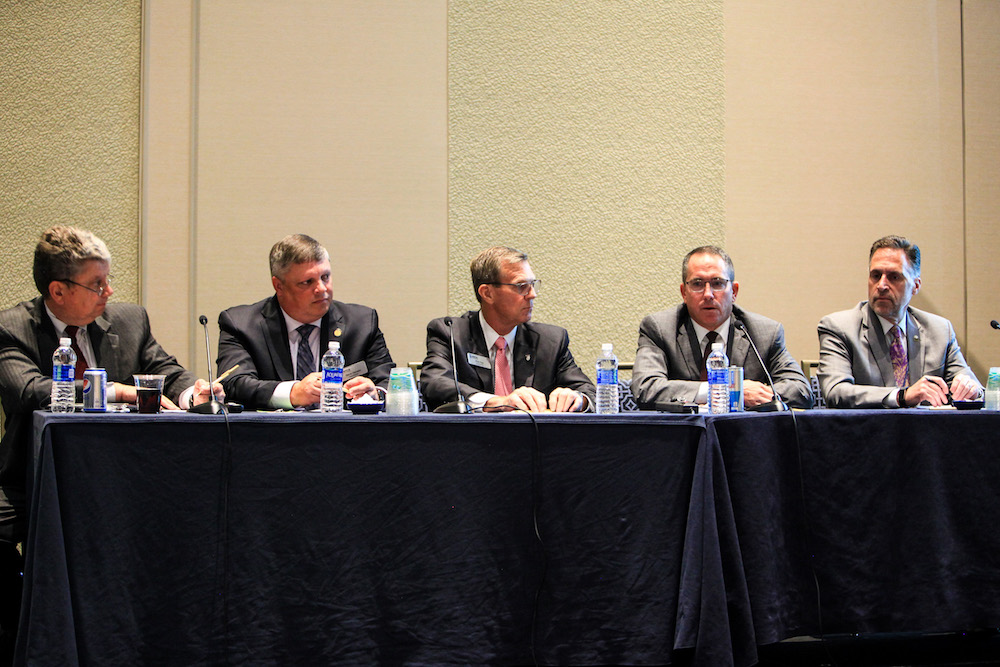 From left to right: Andrews, Hansen, Day, Campbell, and DePlasco.
Photo courtesy of ATCA.
Hansen said that a challenge with weather forecasts is predicting the exact time and severity of convective weather. A user may be able to trust what weather will occur, but not exactly how that system will behave.
"For example, a controller may know that every day in the afternoon there will be some sort of weather occurrence, but it could climb to an unpredicted altitude, could go east, could go south, could combine with another front," Hansen said. "As far as predictions go, it's impossible to trust exactly what the storm will do with current weather tools."
Hansen said he recommends steadfast education of the workforce through soliciting and utilizing PIREPS so that everyone is working from the same information, and more funding be put into research of weather predictive tools.
"The industry spends billions on efficiency," Hansen said. "There is a strong case to actually spend money to look at the weather component and improve safety while maintaining efficiency."
Hansen said that recurrent training on weather should also be a priority.
"While weather is no longer just considered an 'additional duty' on the controller checklist — separation, safety alerts, national security, weather, other — more can be done," Hansen said.