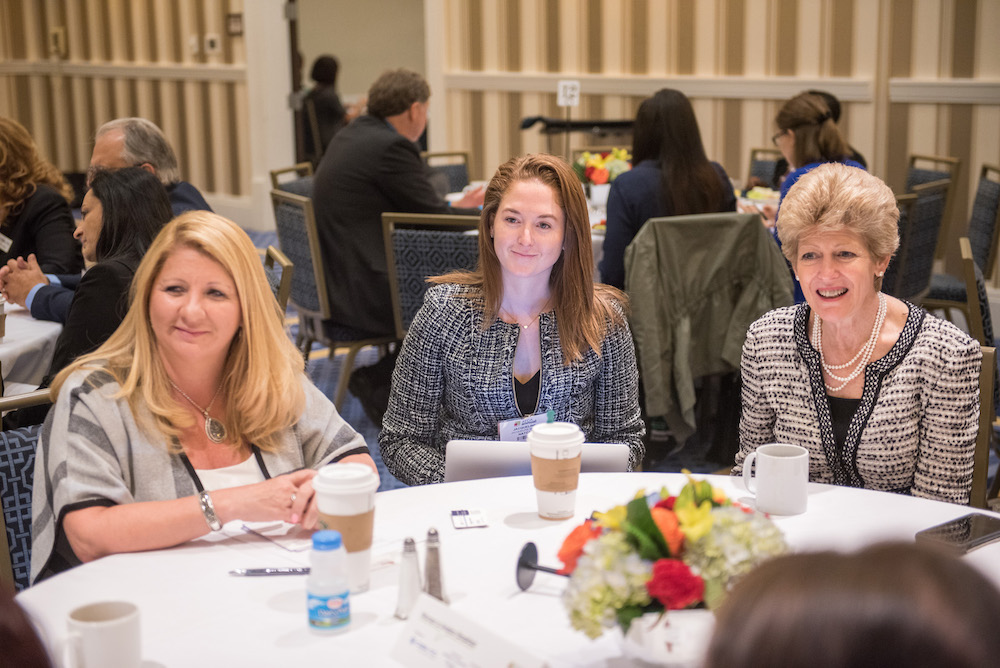 ATCA Annual: Women in Aviation Build Bridges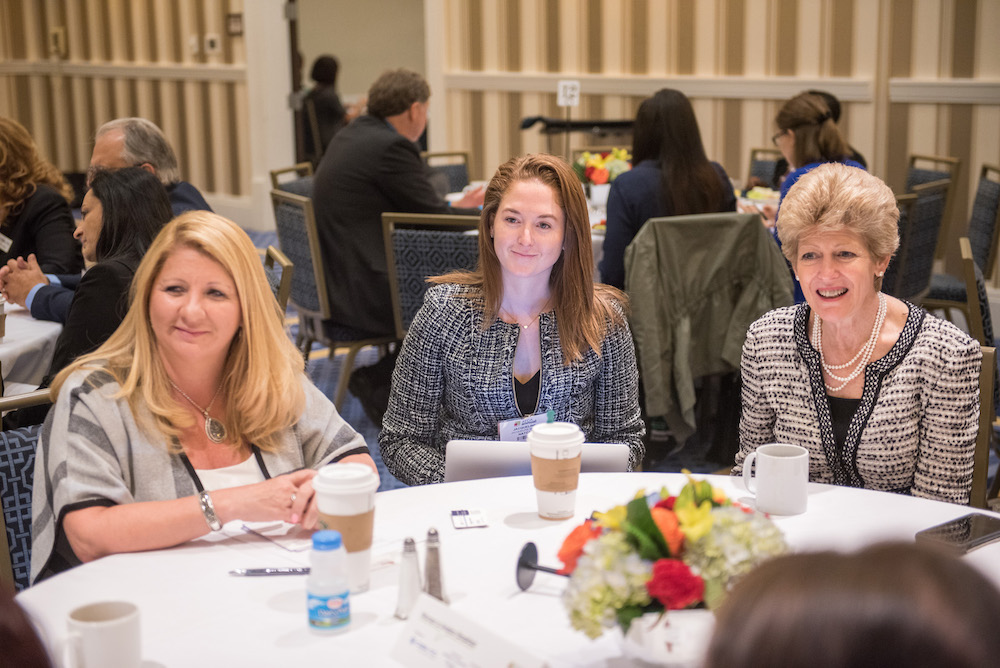 NATCA Executive Vice President Trish Gilbert (left) and NATCA Outreach and Special Events Coordinator Jacqui Smith (center).
Photo courtesy of ATCA.
NATCA Executive Vice President Trish Gilbert was a highlighted speaker at the Air Traffic Control Association's Women in Aviation breakfast held as part of ATCA's 62nd Annual Conference. The event was a mentorship opportunity featuring women in leadership in aviation.
One of ATCA's goals, served by the event, is to enhance the experience for women in leadership and encourage them to seek executive level positions within aviation. Gilbert spoke in two table discussions for the next generation of women leaders in aviation.
Gilbert offered advice based on her own career path from Houston Center controller to becoming NATCA's Executive Vice President in 2009. She discussed the continued gender imbalance in the ATC workforce. She described how the workforce was 16 percent female in 1988 and how it still is just 17 percent female three decades later.
"While there has been some progress made, there is still much work to be done," Gilbert said. "The aviation community needs to do a better job in providing STEM training to young girls and exposing them to the various careers in aviation."
Gilbert also presented the group with information from a recent article in Government Executive detailing the disparity between men and women in leadership positions in government. While women make up 47 percent of the federal workforce, they are severely underrepresented in positions making $150,000 a year or higher. Men occupy 67 percent of those leadership positions.
Gilbert and the group discussed recruitment, training, and how training programs can better help women step up to plate within their careers, emphasizing how women in leadership positions could help to build the confidence of women in their career field. Gilbert and other participants discussed whether their colleagues understood the importance of diversity within the workforce.
Gilbert said the business and aviation industry tends to be more conflict-driven and that can be challenging to some people. The group discussed how to teach women to have difficult conversations, be resolution-driven, and take the lead on tough issues in the workplace.
Gilbert also asked the group for their feedback. The group shared some best practices for encouraging women to thrive in their careers and seek advancement opportunities. Gilbert asked, "Do women feel a need to be extra-prepared for their next position, compared to men who don't feel the same need to check all of the boxes? Women often are judged differently from men in the workplace. That's why it's especially important that women mentor and lift up other women."
Gilbert also discussed women in politics and elected office.
"We need to focus on changing laws to benefit women and making sure we are all active and engaged in the political process," Gilbert said. "It is so important."