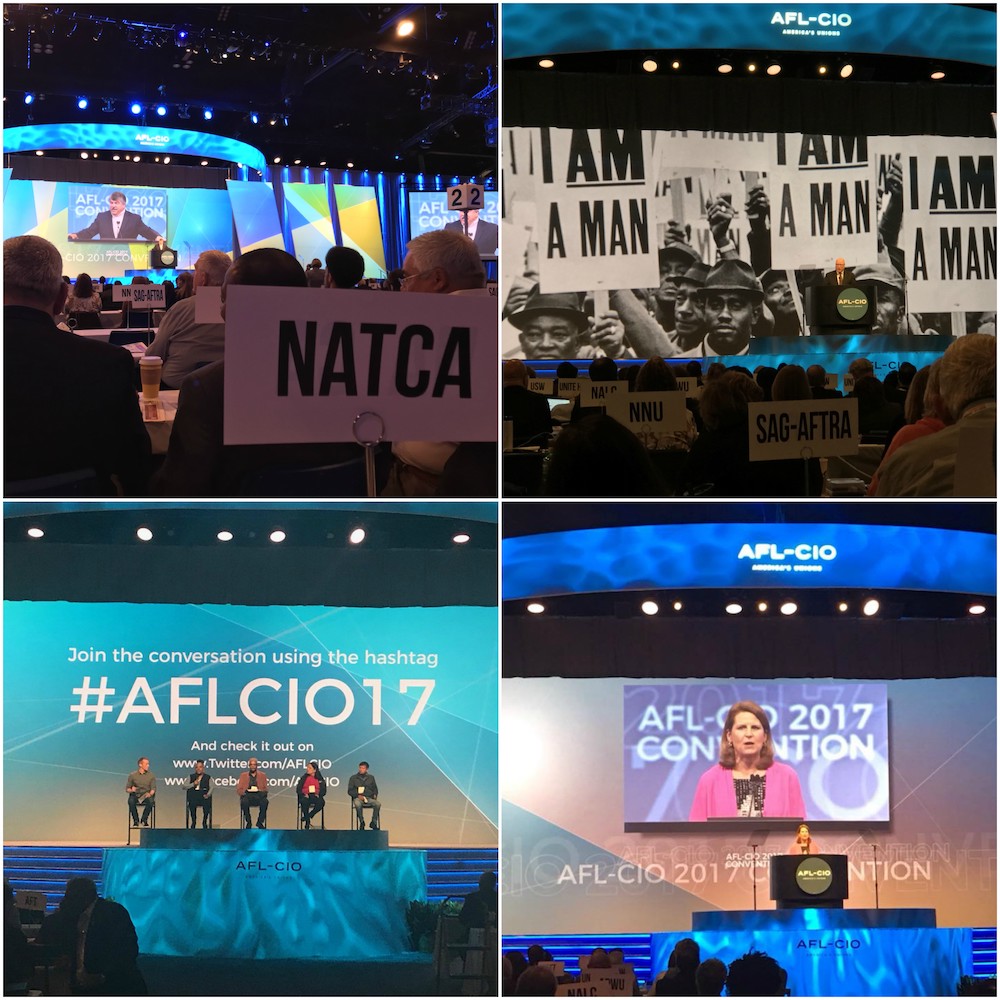 NATCA Attends AFL-CIO 2017 Convention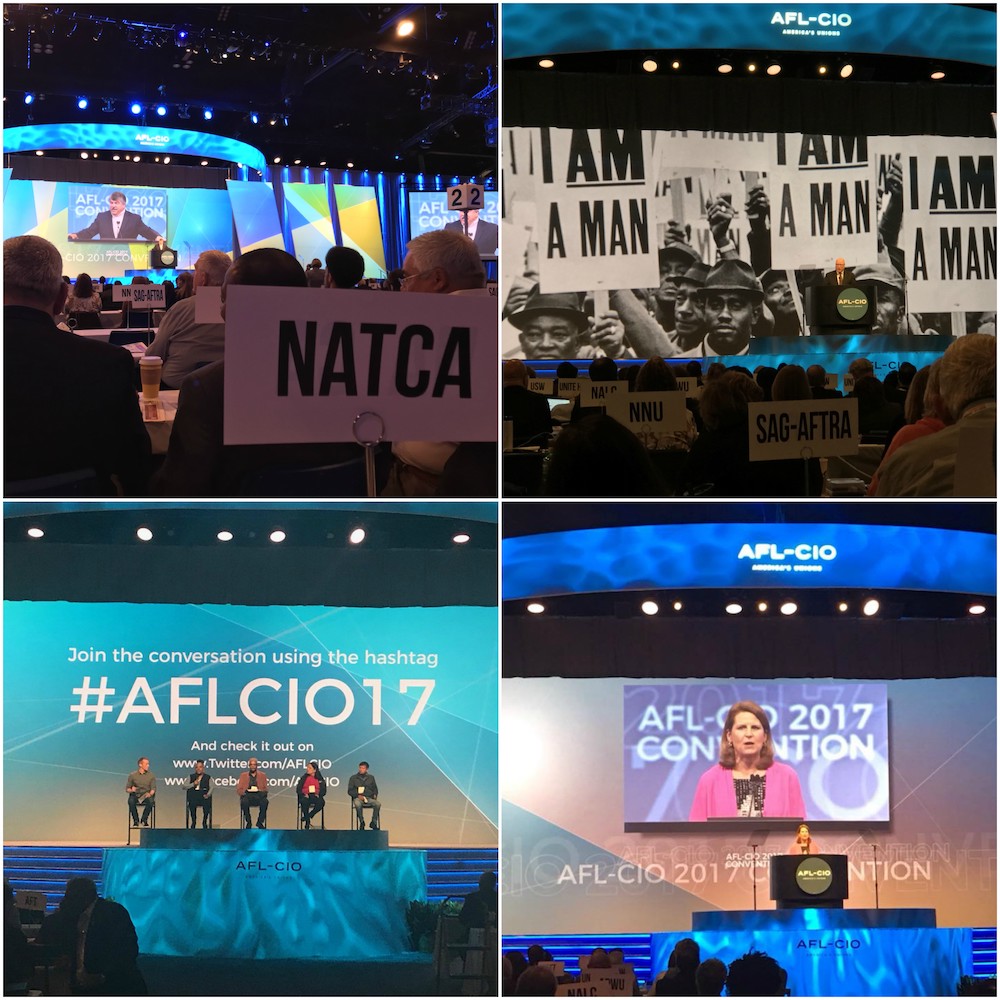 This week union members and allies gathered at the AFL-CIO (American Federation of Labor and Congress of Industrial Organizations) 2017 Convention in St. Louis to elect their leadership and make decisions about the priorities for AFL-CIO for the next four years.
During his opening comments, AFL-CIO President Richard Trumka talked about how unions not only protect American workers, but also protect America's middle class, our society, and our very way of life. He said, "Unions are as patriotic as the Statue of Liberty or the Flag! … American workers make America great!"
NATCA Executive Vice President Trish Gilbert represented our Union and introduced NATCA at the roll call of unions at the opening of the convention. In her comments, Gilbert talked about how NATCA represents controllers and other aviation professions throughout the United States, keeping the sky safe over the United States. She added, "The United States includes Puerto Rico and the U.S. Virgin Islands," to the loud cheers of the delegates in the hall. Gilbert concluded saying, "NATCA members guide you home."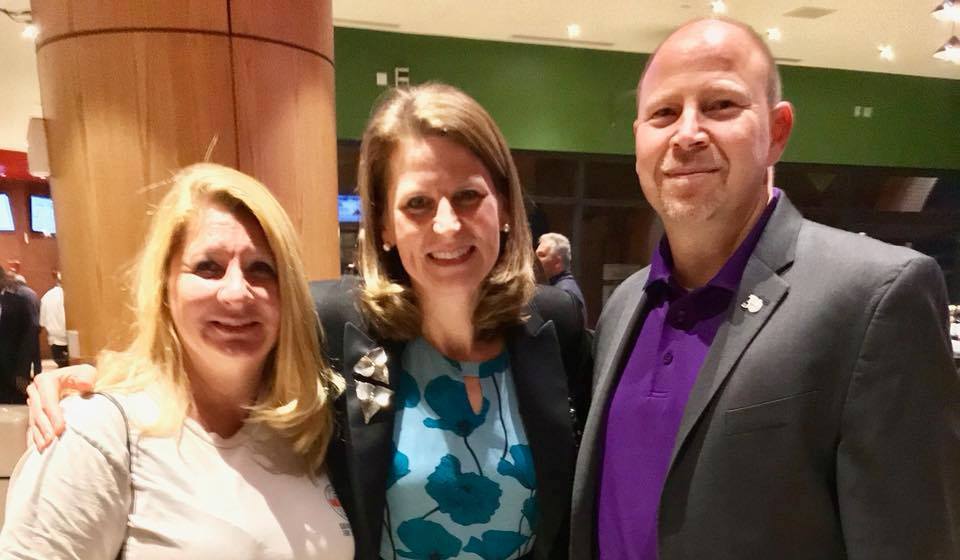 NATCA Executive Vice President Trish Gilbert, AFL-CIO Secretary-Treasurer Liz Shuler and NATCA President Paul Rinaldi at AFL-CIO 2017 Convention event at Busch Stadium.
The delegates re-elected its current leaders to another four-year term. NATCA's Trish Gilbert was among the AFL-CIO delegates who nominated AFL-CIO's Liz Shuler for re-election as Secretary Treasurer. NATCA's Paul Rinaldi also was re-elected as part of a slate of Vice Presidents of the AFL-CIO.
The convention program included inspiring stories about the heroism of union emergency responders who bravely have fought fires in California, responded to the shooting in Nevada, and rescued hurricane victims in Texas, Florida, the U.S. Virgin Islands, and Puerto Rico. The AFL-CIO delegates voted for the Union to advocate for more federal government resources to pay for hurricane rebuilding in Puerto Rico and the U.S. Virgin Islands.
On the second day of the convention, delegates watched an amazing video about how union members helped mitigate drinking water system problems in Flint, Mich. Then, Dr. Mona Hanna-Attisha, the pediatrician and public health advocate whose research exposed the Flint water crisis, addressed delegates. Dr. Hanna-Attisha talked about growing up in a union family and how important organized labor is to our country.
The third day of the convention also highlighted union members who have been able to get essential medical care through their union benefits. On this day, delegates voted for the AFL-CIO to fight for expanding medical coverage for all Americans.
The final day of the convention featured inspiring personal statements by recent immigrants whose unions have helped become American citizens.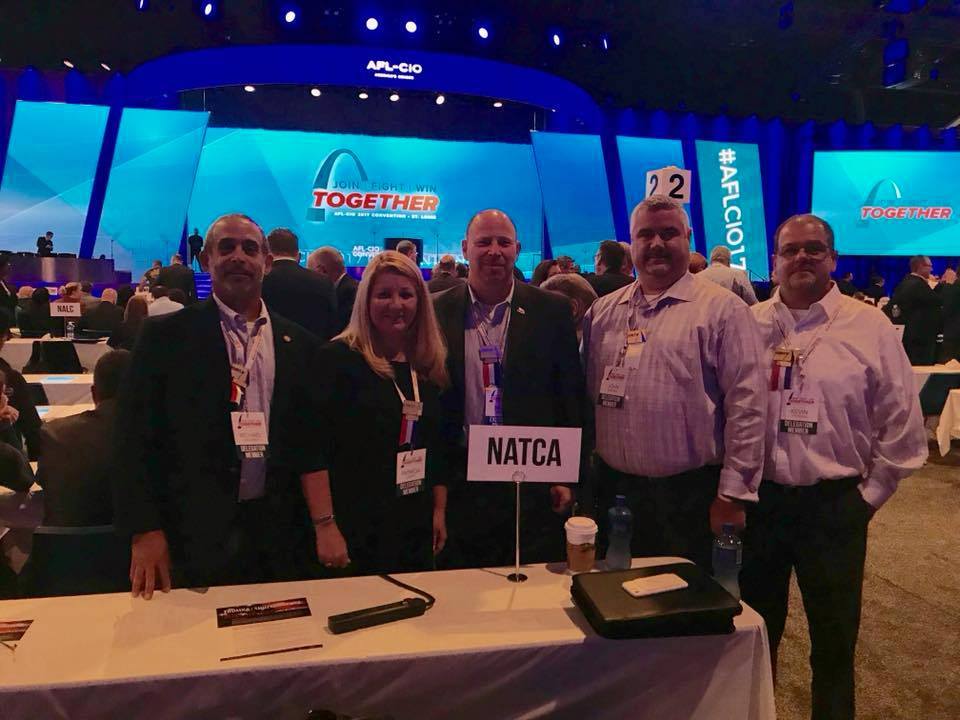 NATCA delegates at the St. Louis Americas Center for the AFL-CIO 2017 Convention.
During the convention, AFL-CIO delegates voted to support 59 resolutions for the AFL-CIO and affiliated Unions for next four years. These resolutions included fighting for a Worker's Bill of Rights that would guarantee American workers protections and essential benefits. There were votes to support expanding infrastructure projects throughout the country and to expand the AFL-CIO's commitment to diversity of all kinds throughout the house of labor and our society as a whole. AFL-CIO delegates voted to support legislation that would limit exemptions to laws requiring that federal procurement demand buy American. The delegates voted to expand efforts that encourage and help union members and pro-union candidates to run for public office. NATCA's delegation also voted to support resolutions supporting immigration rights, being a part of the climate debate, and protecting universal voting rights.
These votes also included:
A resolution for the AFL-CIO to stand with public-sector unions in the ongoing legal fight Janus v. AFSCME that threatens to expand "Right to Work" laws and other attacks by opponents of organized labor and collective bargaining rights.
Resolutions to encourage all AFL-CIO affiliated unions to engage their members about the important work they do on their behalf, in an effort to grow their memberships.
A resolution to support AFL-CIO efforts to develop a strategy and labor-movement-wide effort to educate Americans about the importance of unions and guarantee collective bargaining rights for all American workers.
A resolution supporting the AFL-CIO advocating for stronger overtime protections, expanding parental leave, paid sick leave, and other policies that allow American workers to have more time with their families.