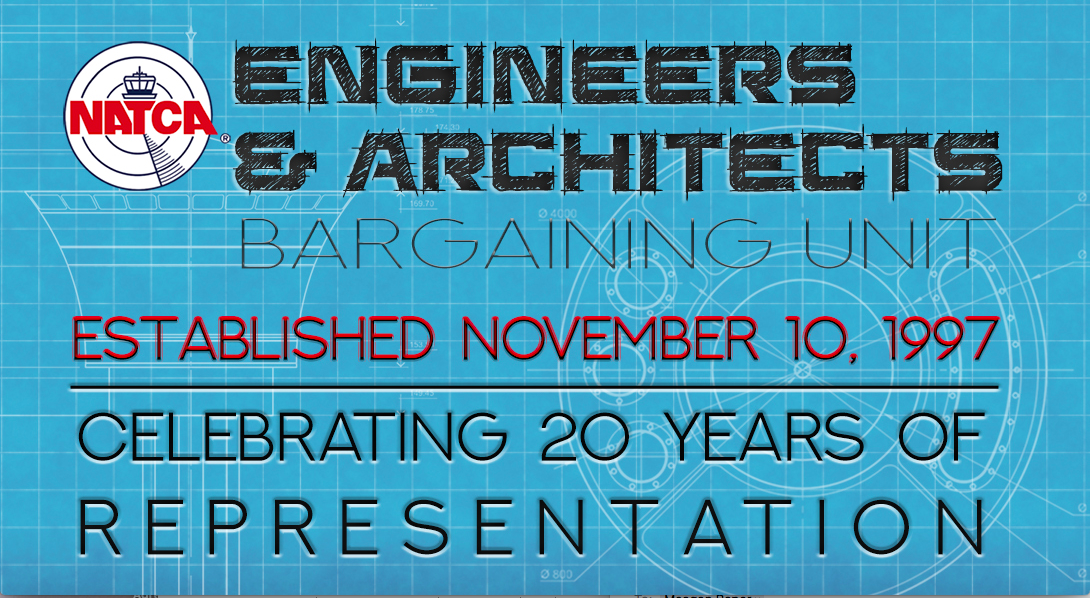 Nov. 10, 2017 // NATCA Proudly Marks 20th Anniversary of Engineers & Architects Bargaining Unit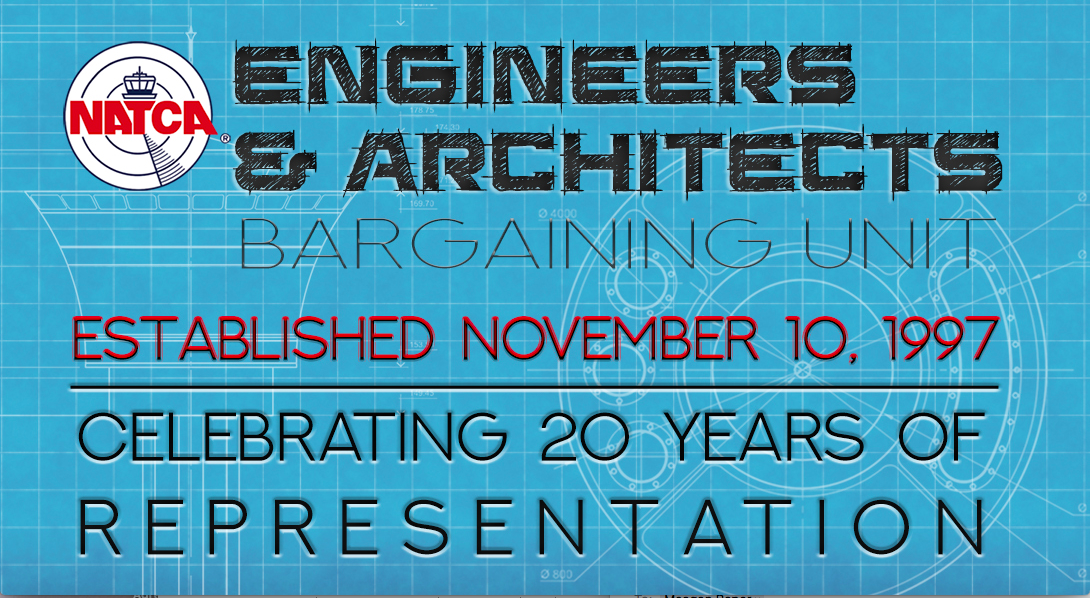 Dear Brothers and Sisters,
Twenty years ago today, with the support of NATCA's Organizing Committee, FAA engineers officially became a part of the NATCA family, when the Federal Labor Relations Authority certified our Union as their exclusive bargaining representative.
Two of the main reasons in 1997 that engineers wanted NATCA to represent them were NATCA's leadership in the aviation community and its ability to use a collective voice with the Federal Aviation Administration (FAA) to discuss concerns and issues.
"We didn't have a voice before now," said Floyd Majors after the vote to choose NATCA. Majors was an FAA engineer who helped spearhead the organizing efforts. "We knew NATCA could provide the resources needed to make our opinions heard."
Twenty years later, the bargaining unit – now named Engineers & Architects (E&A) – includes more than 1,300 employees. It is the largest component of NATCA's Region X. It's our Union's second-largest bargaining unit and remains one of our Union's greatest organizing success stories, reflecting the start of an effort that continues to this day to expand and grow our collective voice to represent a strong and proud majority of the aviation safety professionals at the FAA who are eligible to be represented by a union.
NATCA represents the engineers and architects who design new ATC facilities, construct or remodel new or existing ATC facilities, and replace aging National Airspace System (NAS) equipment. They evaluate systems and provide technical support to fix problems with that equipment. In addition, they analyze radar and communications coverage, correct deficiencies in existing systems, propose changes and upgrades, and present those changes to the agency to secure funding and support. Engineers determine whether facilities will be replaced or upgraded, develop plans for improvements and implement upgrades and construction, installation projects, and much more.
Employees in this unit are assigned to Air Traffic Organization (ATO) Technical Operations (Tech Ops) Engineering Services, Technical Services, and the Service Centers. They are located in all nine FAA regional offices, three service centers, air route traffic control centers, and many Technical Operations District Offices. Our engineers in Oklahoma City and Atlantic City in the Flight Operations and Operations Support organizations are also part of this E&A unit. Operations Support provides field support, maintains the configuration management of systems, and performs modifications of equipment. Flight Operations provides airborne flight inspection of Navigational Aids and procedures.
Every day NATCA E&A engineers work behind the scenes to ensure constant support and upgrades to important NAS systems and infrastructure. Few people have the opportunity to see this equipment, but their work is crucial to pilots and air traffic controllers who use it every second of every day.
NATCA engineers and architects are proud to support the flying public and help to make our complex airspace system the safest and most efficient in the world. Today and every day, we offer each of these highly skilled and dedicated employees our profound gratitude for the exceptional work they do.
In proud solidarity,
Paul Rinaldi
NATCA President
Trish Gilbert
NATCA Executive Vice President
Mike MacDonald
NATCA Region X Vice President