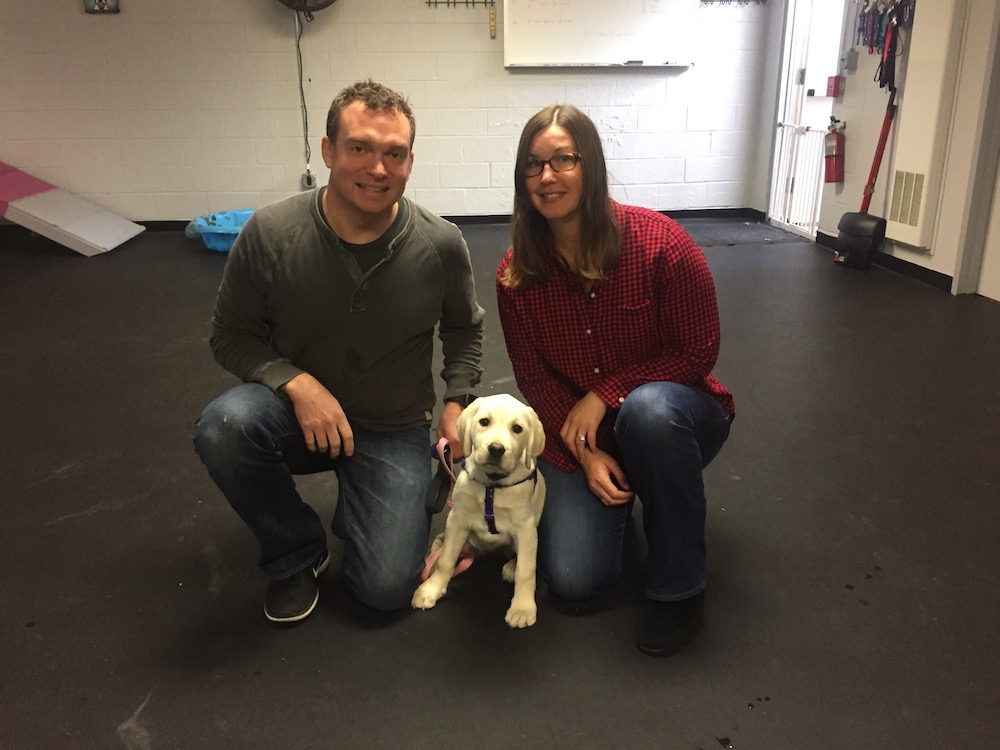 NATCA PHL Members John and Erin Murdock Raise Furry Friends for a Good Cause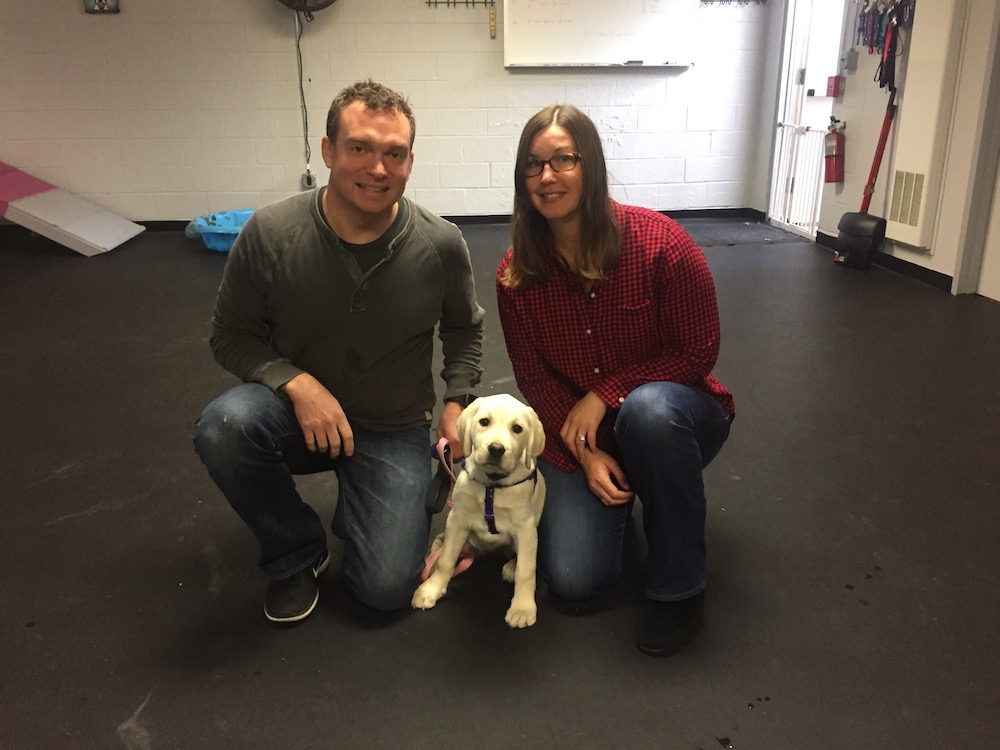 A round of 'appaws' is due for a Philadelphian furry face, but it isn't just her puppy eyes that make this hound a hero.
Faith, a beautiful yellow lab puppy being raised by Philadelphia area representative John Murdock and his wife Erin (pictured above), has a life mission that's nothing to be sniffed at. Faith is part of Alpha Bravo Canine, which supplies assistance or service dogs to U.S. military veterans suffering from combat-related PTSD (Post Traumatic Stress Disorder) and TBI (Traumatic Brain Injury).
Alpha Bravo Canine's website explains that the organization was founded by mother and son team to help the local community of veterans. Founder and certified dog trainer Jennifer Green is also an Army wife, and her son Kevin Daly, U.S. Marine Corps, was deployed to Afghanistan twice with the 1st Battalion 8th Marine Regiment. Upon Kevin's return home, they decided to combine their knowledge and experience of dog training and post deployment struggles to tackle these growing problems, and help to lower the suicide rates of U.S. veterans by providing emotional and physical support with trained service dogs.
Faith will be with the Murdock family for about 1.5 – 2 years before she goes to her veteran. Raising a service dog is no easy task and can cost upwards of $30,000 between food, toys, beds, bowls, collars, leashes, and other needs during the training period. Once the veteran receives the service dog, they generally take on these costs.
NATCA Charitable Foundation (NCF) and the 2018 Philadelphia Convention committee selected Alpha Bravo Canine as one of the official convention charities after John and Erin learned about the organization. NCF has donated $3,000 over the past two years through their work with the organization. John first heard about the charity through his service with the Coast Guard when a fellow Coast Guard member was given a service dog.
"I saw first hand how the dog changed his life," John said.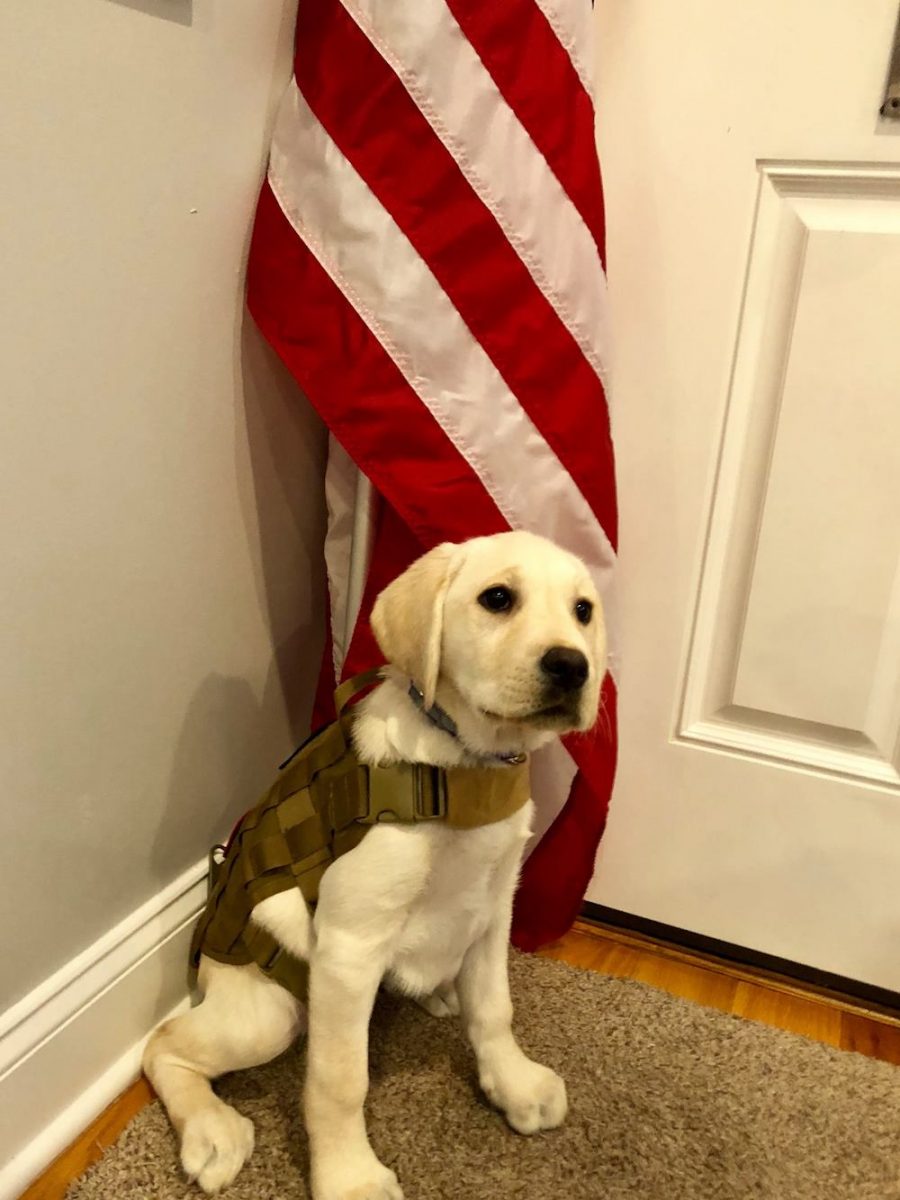 When the opportunity presented itself to raise a puppy with Alpha Bravo Canine, there were no bones about helping 'pup-are' Faith for her noble lifework. Eventually, Faith will be placed with a veteran through veteran resource groups. The organization receives approximately 40 applications for dogs a year. Five-to-six applicants are currently qualified and waiting to receive dogs. Priority is given based on severity of the veterans disability.
"Currently, we work with her and Alpha Bravo Canine with basic obedience commands such as sit, down, off, etc.," John and Erin said. "As the program progresses she will learn more tailored tasks such as opening a refrigerator door, retrieving items, and taking them to you."
The 'ruffest' part of training Faith?
"Preventing people from interacting with her during her training," the Murdocks said. "Who doesn't want to pet a puppy when they see one?"
"We fell in love with her immediately, and she is a part of our family," they continued. "But ultimately we know that she is going to bring much needed help and relief to a veteran that truly needs her services."
It's the Murdocks' dogged devotion to such a good cause and head-over-'heel' love for Faith that helps them through her regular puppy challenges like chewing, jumping, and relieving herself indoors.
So what's next for Faith? Puppies qualify based on temperament at an initial five week evaluation, and seven week re-evaluation. Dog training classes are held in the Bucks County area of Pennsylvania.
Alpha Bravo Canine hopes to grow their program. Currently, the organization only has enough funds to accept dogs/puppy trainers within 100-mile radius of the training location. This is challenging as the founders of the organization cannot both foster and train puppies to avoid confusing the future service animals. Their goal is to have sufficient funds to pay for transportation for veterans around the country to come and interact with their dogs, and then send them home together to live a happy and healthy life.
For those asking 'howl' they can help this pro-veteran effort, there are lots of 'pawsibilities' to get involved. 'Fur' instance, the organization needs volunteers to raise puppies and to help run fundraising events, and also 'dalmations' of money or items. All dogs are provided to veterans 'flea' of charge, but the cost to get them ready for their 'impawtant' jobs is not cheap.
Foster volunteers must agree to a two-year commitment and at least one hour of daily training time, as well as classes once a week. Alpha Bravo Canine provides food and covers the cost of veterinary visits for these furry heroes so if you're not ready to commit to bringing home a puppy, your donations can still make all the different in the life of our nation's veterans. You can support Alpha Bravo Canine and charities like it through a general donation to the NATCA Charitable Foundation.

If you have a charity you would like to support, you can do so through the NATCA Charitable Foundation's philanthropy program.
Another way to get involved is through spreading the word. Alpha Bravo Canine is looking for breeders through research, social media, word of mouth, and veterinary-referrals. Each source must undergo a complete credential check. If you or someone you know is a breeder who would like to work with or donate a puppy to this great cause, please contact Alpha Bravo Canine.
Learn more about the program at: http://alphabravocanine.org (and apologies that the dog puns were so 'corgi').