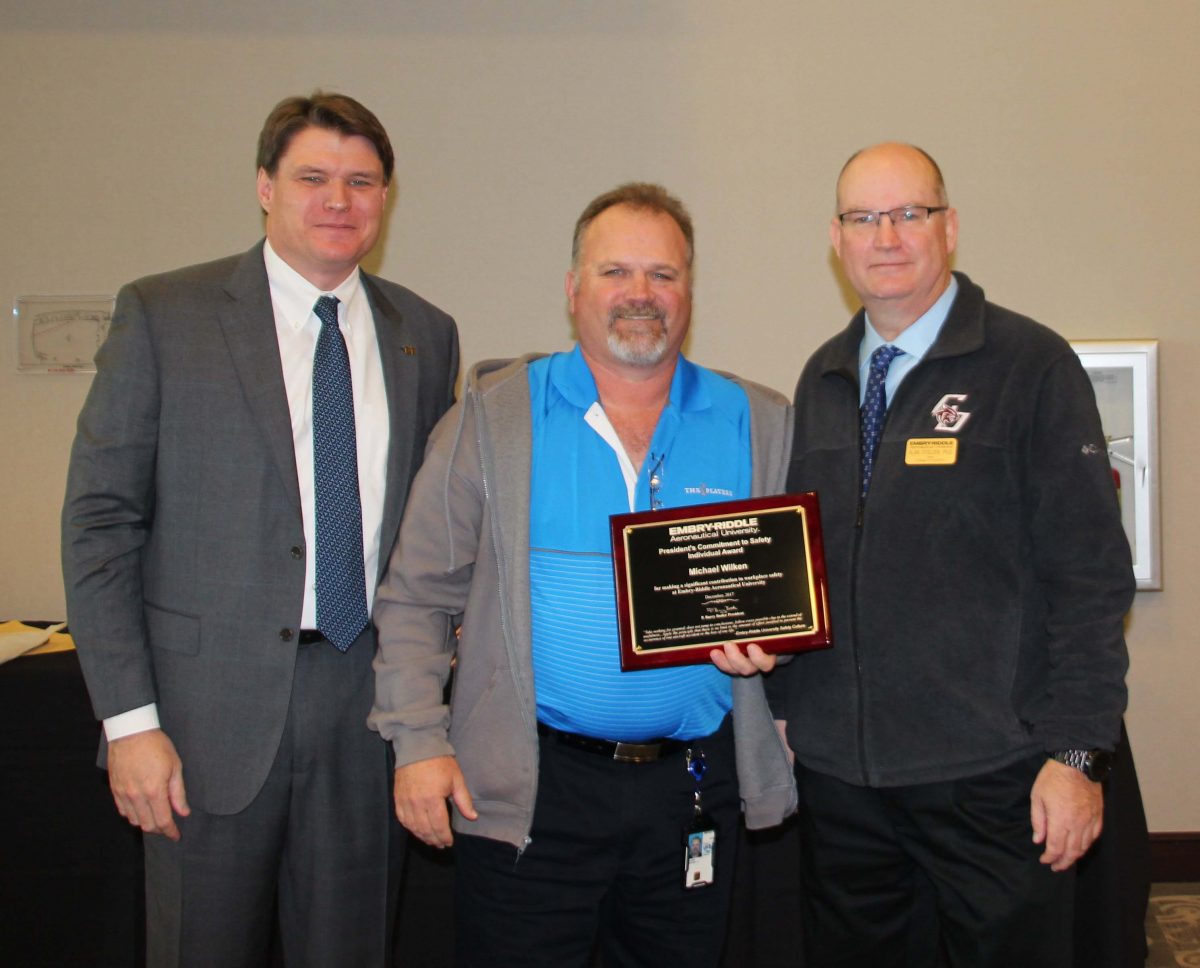 Counting the Days Away from Retirement
Story credit: Jim Tise, Focus FAA
Embry-Riddle Aeronautical University bestowed a singular honor upon Michael Wilken on Tuesday, Dec. 12 when he became the first controller — in fact, the first person outside of Embry-Riddle — to be recognized at the company's annual President's Safety Day luncheon.
For nearly 15 years, the Daytona Beach Tower controller has provided "above and beyond" service to thousands of students from Embry-Riddle and other flight schools in the area, as well as to air carrier/corporate/general aviation pilots. His voice — calm, reassuring, engaged — is embedded in the heads of students nervously learning how to navigate an airplane for the first time. And now, the flight instructors and students can put a face to the voice.
"We wanted to make it a point to acknowledge Daytona Tower controllers and the wonderful work they do, especially this controller," said Jeremy Mammen, director of aviation safety at Embry-Riddle. "It's very, very gratifying for us that [Wilken] is so enjoyable to work with," he added.
"I was kind of shocked and surprised," said Wilken of the honor. "I show up to work each day and do my best. I try to get through the day without being noticed. If you get a pat on the back, that's great."
Wilken so impressed Embry-Riddle officials that they went to extra lengths to identify him. The university — which accounts for roughly half of the 700 daily operations at Daytona Beach Tower — recorded numerous transmissions [LINK HERE] between Wilkin and flight school students, then sent the tape to FAA management at the tower for identification.
"Pilots who work in a certain airspace a lot get used to a certain controller's voice," explained Rick Lovell, a support specialist at the tower. "They know what kind of experience they're going to get from a particular voice." With Wilken, he added, a novice pilot knows "he's not going to lose his cool. He has a nice, solid, calm voice helping me through the system here."
"I guess I have a unique way of talking to them," said Wilken. "It goes back to my days at Tamiami Executive Airport," where he got his start in 1989. "We always considered the tower user friendly. You say, 'Good morning,' and 'Have a nice day.' You know, have fun out there and keep flying. I kept that philosophy throughout my career."
Mammen said that Wilken's willingness to work with and accommodate the flight instructors and students has been so consistently refreshing that Embry-Riddle staff assumed he was a younger controller, not a 29-year veteran. It's hard for controllers to maintain that level of enthusiasm while meeting the many demands of novice flyers, noted Mammen. "That may erode over time," he said. "But not with Mr. Wilken."
Mammen's sentiments are a strong endorsement for any controller working in the stressful environment that characterizes the Daytona Beach Tower, or any facility that has to handle numerous flight school operations.
Wilken and his air traffic colleagues must work with Daytona's "very dynamic pilot community" and in complex airspace that includes a heavy mix of corporate jet and air carrier pilots, plus low-time flight school students and instructors, noted Lovell. Adding to the complexity is the significant number of flight students for whom English is a second language.
"For younger controllers, that can be challenging at times," said Bob Howard, air traffic manager at the Daytona Beach Tower. "You have to assume that the students are not going to do everything correctly. You've given the instruction, but you still have to watch to make sure they carry it out. You have to expect errors more than with professional pilots," he added.
"It's easy to get frustrated, especially in this student environment," acknowledged Wilken. Because of language issues, "there are a lot of 'say-agains.'" When frustration mounts, Wilken simply pushes back from the radar scope for a few seconds, takes a deep breath, and then starts back in again.
The key, he said, to is understand that the students are nervous. "Give them a few seconds to respond," he suggested. "They're probably talking to their instructors, so give them some time."
Wilken's approach with novice pilots is similar to his work as an on-the-job instructor with younger controllers.
"He's always been one of the instructors we've always counted on to provide training to those having a hard time," said Lovell. "He has a little bit calmer approach to training. He lets them work the problems themselves without creating any nervousness. He develops an air of confidence in them that lets them progress in their training."
Wilken's advice to younger controllers is to take advantage of their breaks during the day. He likes to do crossword puzzles. "On break, I don't like to talk about work. Why do you want to talk about work at work?" he asked. "If there's a problem, we'll definitely hash it out. Otherwise, he suggested, "Put it aside a little bit."
"His work is always at a superior level," said Howard. "I think he rises among the rest of the troop and represents what everyone else should really be striving for. I wish we had 30 of him walking around," he added.
"I still enjoy the job and the challenge," said Wilken, who can work another three years before mandatory retirement. "I've been eligible to retire for four years. That takes the pressure off. I could step away any time. I counted down the days to my retirement. Now I'm counting away from it."