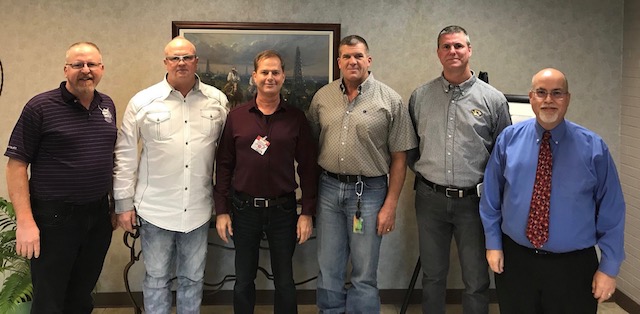 Emotional Reunion as Pilot Meets ZFW Team That Helped Save His Life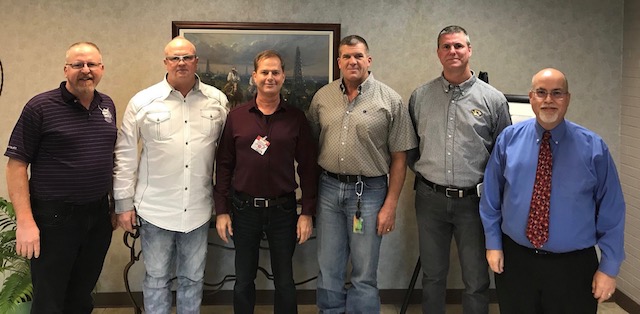 Pictured: (from left to right) Hugh Hunton, Thomas Herd, pilot Peter Edenhoffer, Phil Enis, Charlie Porter, Bryan Beck.
Not present or pictured: Mike Clifton and Mike Turner. Turner, the operations manager at the facility during the save, retired a few months ago.
On Jan. 10, pilot and Paris, Texas neurologist Dr. Peter Edenhoffer met and thanked air traffic controllers and managers at Fort Worth Center (ZFW) who came to his aid when his Cessna Cardinal experienced complete electrical failure on Super Bowl Sunday in Feb. 2017.
The teamwork and quick-thinking demonstrated by a team of professionals at ZFW with more than 150 years of combined experience – Hugh Hunton, Thomas Herd, Phil Enis, Charlie Porter, Mike Clifton, Mike Turner, and Bryan Beck – helped guide Edenhoffer to a safe emergency landing.
"It was really nice to meet the pilot we assisted and hear what he experienced," Enis said. "I know that it was a tense situation at ZFW, but it pales in comparison to what he was going through. Hearing him describe how he texted his son to tell him goodbye, thinking he wasn't going to survive the experience hit me pretty hard. It made me even prouder of the work the ZFW team accomplished. Getting him down safely is our job but the 'outside-the-box thinking' done that night is what made it possible."
Edenhoffer's flight began uneventfully, and he was cleared to land in Paris. But then Porter and Enis noticed the beacon code of the aircraft reappear on their radar scope. That would not be unusual, if a plane missed its approach and was going around for a second attempt, but the altitude indicator showed the aircraft was climbing well above the missed approach altitude of 3,000 feet to as high as 6,500. Enis attempted to reestablish communications with Edenhoffer without success. He then noticed the beacon code briefly change to 7700, indicating an emergency.
With very low cloud ceilings, the ZFW team knew the poor weather conditions would make landing without electrical power extremely difficult.
Over the better part of an hour, Porter and his Enis used every technique they knew to attempt to reach Edenhoffer. They asked other aircraft on frequency to attempt to reach Edenhoffer and continually advised him of his aircraft's position to emergency airports and more favorable weather conditions for visual flight, even with no response.
At that point, the team brainstormed new ways they could reach Edenhoffer. They finally were able to locate his cell phone number through a hospital that knew the doctor. Calls to the cell number were not answered but then they tried texting Edenhoffer – and it worked!
Edenhoffer not only had suffered a complete electrical failure, but he was flying on minimal fuel and needed to land quickly. "It was pretty tense," Edenhoffer said. "My worst flying hours that I've had."
With the help of the ZFW team that contacted Majors Airport in Greenville, Texas, Edenhoffer was able to land safely.
"This is an awesome bookend to what has been a wonderful 33-plus-year career as an Air Traffic Controller," Hunton said after Wednesday's meeting with Edenhoffer. "It was really neat to sit around the table with him and share stories of that evening with perspectives from both sides of the microphone. Meeting the guy on the other side of the microphone, that you helped out of a bind, almost never happens.
"Peter was truly appreciative of our efforts that evening and we were even more appreciative that Peter's piloting skills and resourcefulness – he navigated above and in the clouds, in pitch black, with a failed electrical system using his cell phone's automotive GPS mapping system – helped him end his flight with a successful outcome."
Said Edenhoffer, "It was really great to go full circle and meet the guys that actually helped save my life. Hearing what happened on their side was like watching a movie from another camera. Lots of adrenaline was flowing that night on both sides."
ZFW FacRep Nick Daniels said it was "quite a moment" in the facility's conference room. "You could see the pilot getting emotional and some controllers getting emotional," Daniels said. "It was definitely special. There was 150 years of experience in that room that was behind him (Edenhoffer) during this save event. He was shocked and blown away by that."
To mark the occasion of the reunion, Edenhoffer presented the team with a thank you letter, which read:
"I find myself with the difficult task of expressing my thanks for all your efforts in working together to help save my life in the late-night hours of February 5, 2017 near KPRX; but, there are no sufficient words. After all, how can simple words of thanks ever express the depths of saving a life? There are, however, only words of appreciation which can be offered.
"Had your team not been willing to think outside the box, to use personal ingenuity even against the conventional rules in place, I might not be sitting here to write today. So often rules are so ingrained in individuals that they impede even the goals they are designed to reach. Thankfully, such was not the case that night.
"Thanks to someone having the initiative to leave the tower, obtain a cell phone, and text me directly, I was able to come out of a situation beyond any expectation I might have had. The one hour flight that night in IFR without electrical power was the longest hour of my life in a surreal space between earth and heaven, which ended anti-climactically as a 'squeaker' landing at KGTV amid the flashing red lights of fire trucks at KGTV. In my mind's eye I somehow thought you guys would be there to say thank you.
"Words cannot express my thanks sufficiently, but I offer them wholeheartedly regardless. Your dedication, ingenuity, and genuine concern will not be forgotten."