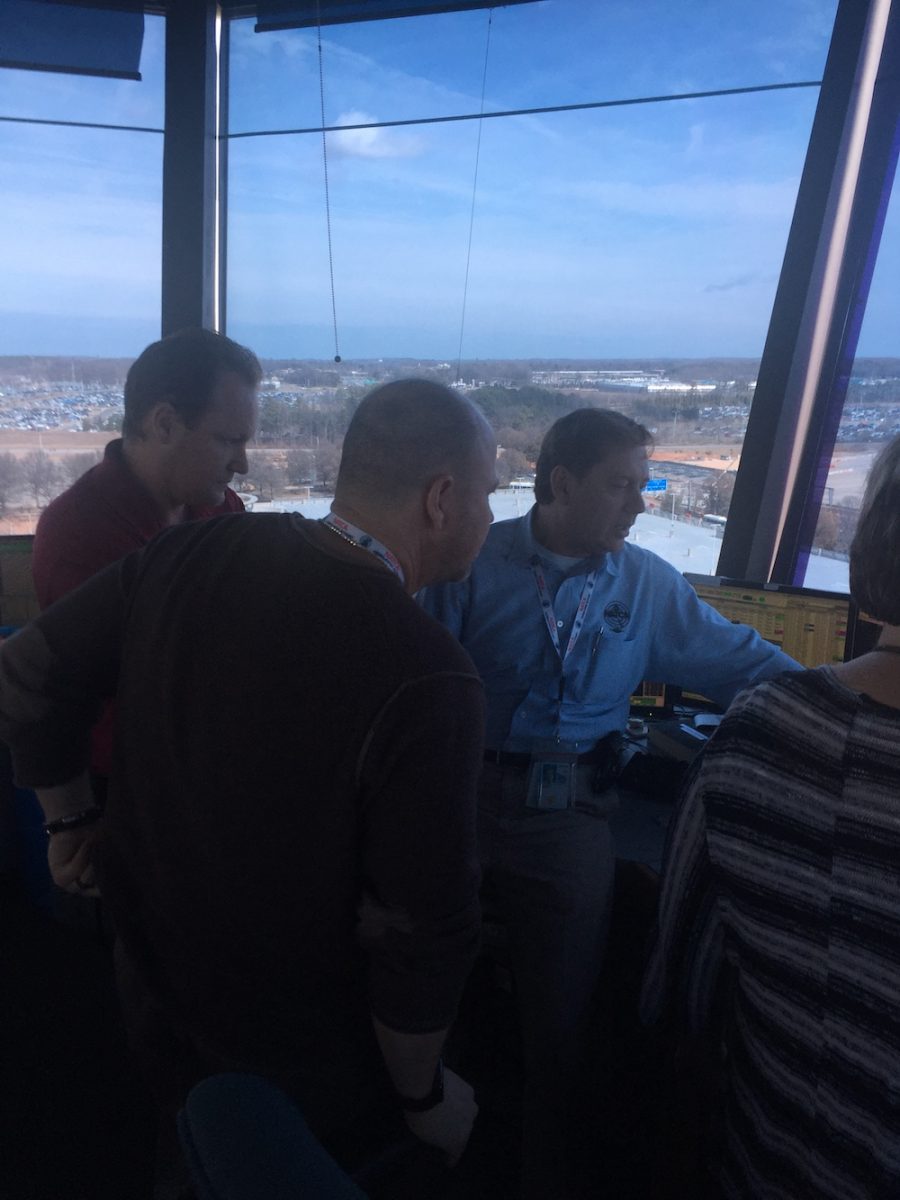 NATCA Visits Charlotte-Douglas International Airport to View Metroplex Enhancements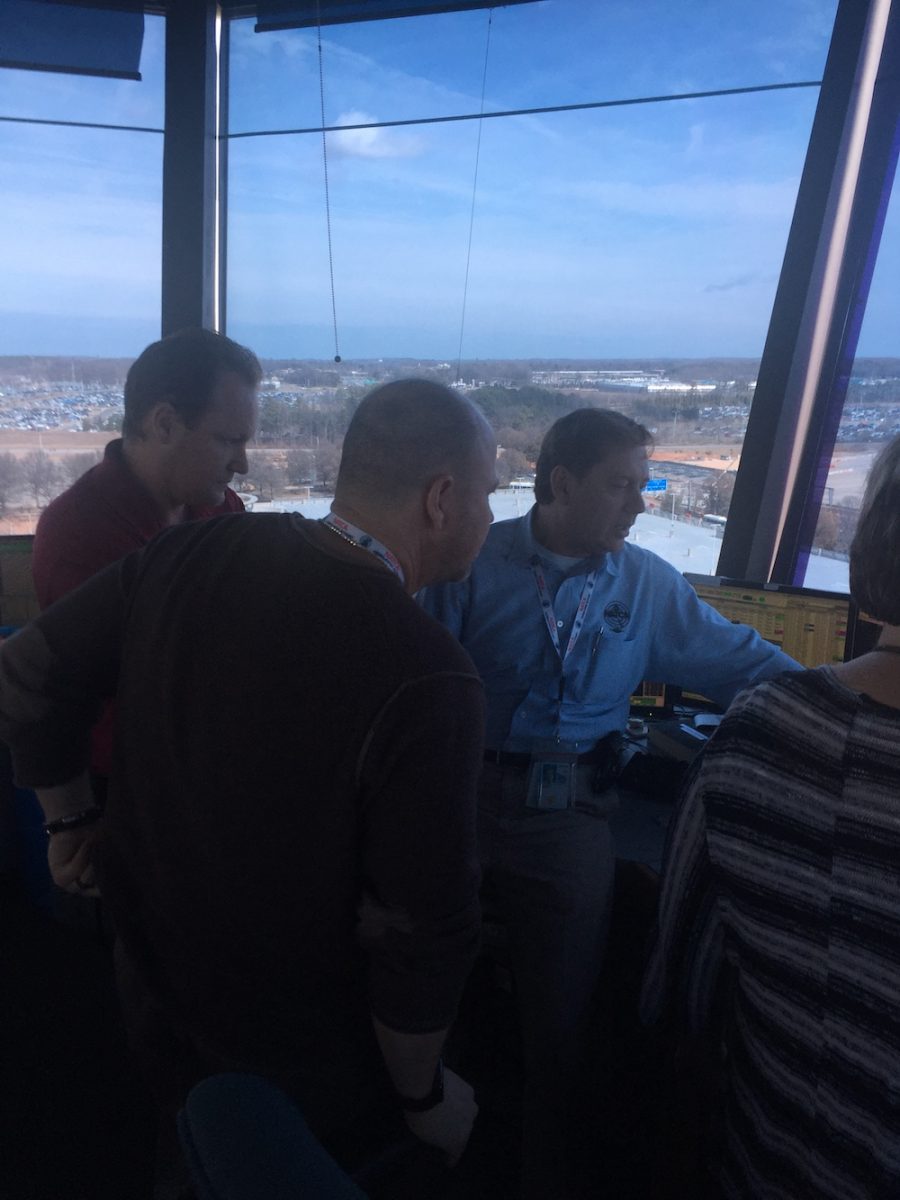 NATCA President Paul Rinaldi, Director of Safety and Technology Jim Ullmann, and Program Management Organization (PMO) Rep Jeff Woods toured Charlotte-Douglas ATCT (CLT), where the Airspace Technology Demonstration 2 (ATD-2) effort provides solutions to the multi-airport metroplex environment. The demonstration phase of this technology included participation from the American Airlines ramp tower at CLT, American's Integrated Operations Center (IOC) in Fort Worth, Texas, the Federal Aviation Administration's (FAA), CLT members and management, and Washington Center in Leesburg, Va.
The technology is a collaborative effort by NATCA, NASA, FAA, and industry that integrates arrival, departure, and surface (IADS) concepts and technologies — effectively increasing predictability and improving efficiency and safety within the National Airspace System (NAS). ATD-2 was introduced at CLT in 2017. What has followed is a strategic effort with increased sophistication of surface scheduling demonstrations. Center participation will increase through 2020.
"The decision for CLT to be the site for the ATD-2 effort was both a data and an operational driven decision," says Woods. "This was based on CLT's complex surface operation as well as the interaction CLT departures have with Atlanta (ATL) and the eastern seaboard traffic."
The technology was developed to alleviate the lack of communication and coordination within the system between operators who manage the phases of flights in complex airspace. While other projects have been independently pursued to address this issue, ATD-2 brought together the needs of many air transportation stakeholders in order to create a sustainable solution. By sharing information across a single platform, stakeholders can increase predictability of aircraft movement times, improve system efficiency, and reduce fuel burn and emissions.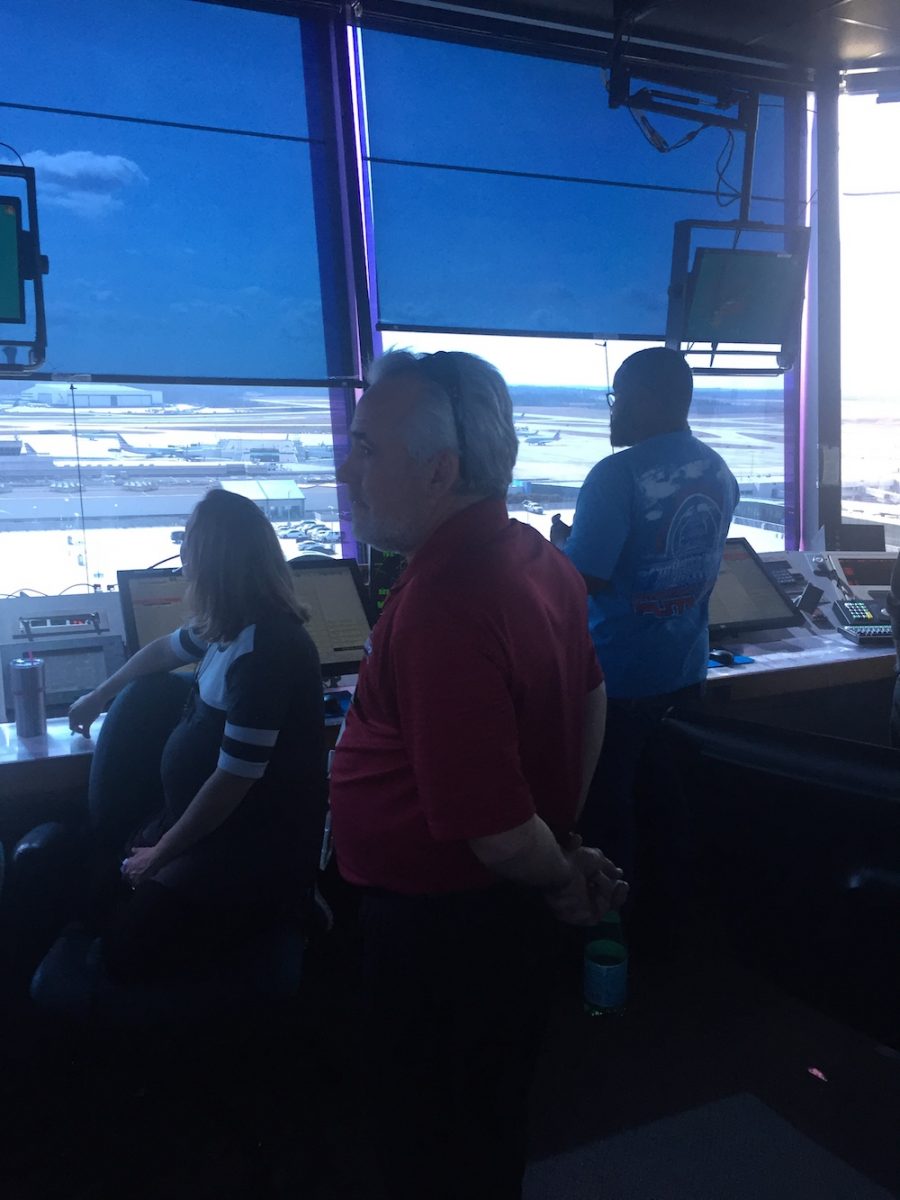 So what changes with ATD-2? Typically, departures are managed in order from when the aircraft leaves the gate. This can crowd runways, leading to long taxi and hold times. There is also often a lack of predictability surrounding the length of taxi-out and climb phases of flight. To address this unpredictably in timing, airspace restrictions are implemented to ensure safety.
"ATD-2 helps validate and further refine requirements for TFDM (Terminal Flight Data Manager)," Woods says. "This is an important step so we can ensure the decision support tool integrates with other tools and is usable in the operation. The one thing to remember is that this is not a 100 percent solution. It will require a controller to manage the tool."
The FAA's NextGen Advisory Committee that Rinaldi sits on, recommended establishing an initial airport surface departure metering capability that reflects the FAA's Surface Collaborative Decision Making (S-CDM) Concept of Operations. ATD-2, through multiple phases, will demonstrate tactical surface departure metering at CLT.
It also integrates several other technologies, including the Traffic Flow Management System (TFMS), Time Based Flow Management (TBFM), and TFDM. ATD-2 specifically incorporates TFDM's Electronic Flight Data user interface in the tower and the S-CDM departure metering functionality. In addition, the collaboratively developed Spot and Runway Departure Advisor (SARDA) and the Precision Departure Release Capability (PDRC) are also contributing to more predictability and safety within the NAS.
SARDA improves the efficiency in complex airspace through time-based metering of aircraft and improved situational awareness of flight operations. The technology creates a tactical surface scheduler that computes gate pushback advisories displayed via the Ramp Traffic Console (RTC) user interface software — a touchscreen monitor that represents virtual aircraft data, and enables scheduling activities.
The FAA projects that benefits of ATD-2's Metroplex departure scheduling include reducing overall departure delay by 40 percent and enabling flights to absorb more delay time while still at the gate. In addition to environmental savings on fuel and emissions, the FAA also projects that over a 20-year lifecycle, ATD-2 is estimated to result in $8.2 billion in savings at CLT, ATL, Dallas/Fort Worth, San Francisco, Chicago-O'Hare, Los Angeles, New York, and Newark.