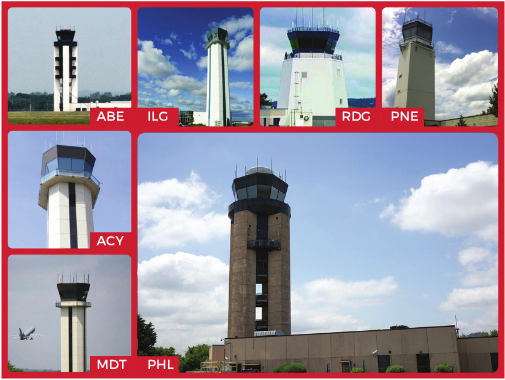 NEA, NATCA Philadelphia Area Locals Welcome You to the Nation's Birthplace and Labor's Heartbeat!
The Eastern Region (NEA) welcomes you to NATCA's 17th Biennial Convention in Philadelphia! Local facilities Philadelphia ATCT/TRACON (PHL), North Philadelphia ATCT (PNE), Wilmington ATCT (ILG), Reading ATCT/TRACON (RDG), Harrisburg ATCT (MDT), Atlantic City ATCT (ACY), and Allentown ATCT (ABE) are delighted to host their sisters and brothers this week as they arrive in the nation's birthplace.
PHL is home to 90 NATCA members. FacRep Patrick Ream is proud of the dedicated membership which, he says, is home to some of the best performing professionals in the Union.
"PHL is one of the busiest facilities that regularly uses CRDA (Converging Runway Display Aid) for converging-runway operations," Ream says. "We are also one of only three level 11 or above up-down facilities – Miami (MIA) and Charlotte (CLT) are the other two."
The facility is also set apart by the water vessels that sail through the airspace. The busy facility expertly manages a schedule dependent on the movement of ships so tall, that members must mitigate conflicts with their masts over the Delaware River.
Nearby PNE is home to 13 proud NATCA members who consider each other family. FacRep Christopher Gallant reports one thing that sets the facility apart is its ability to adjust schedules despite their small size. He says that everyone is willing to adjust and help with leave and to make sure training gets accomplished and all operations run smoothly.
PNE members strive to stay involved with Union activities and Gallant has encouraged them to volunteer for positions that cover health and wellness, OSHA (Occupational Safety and Health Administration), Professional Standards, a Local Safety Council, legislative activities, and traffic count to name a few.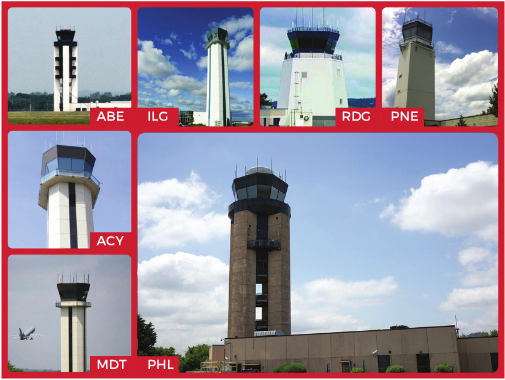 "Our traffic count is increasing again following a decline that resulted from the passing of the owner of a local flight school several years ago," explains Gallant. "There are many projects on the airfield that will hopefully help us build traffic once again. A new large hangar is under construction and, by springtime, construction of our largest runway will begin."
The new runway will be capable of supporting heavier aircraft. In addition, the air traffic control and airfield managers have a close collaborative relationship and are petitioning the city to rebuild a fire station on the field. This would make PNE more attractive to both air taxis and flight schools.
Another unique aspect of PNE is AgustaWestland Philadelphia Corporation, which produces several hundred helicopters per year. They soon will be producing a new tilt rotor aircraft and currently are testing an experimental aircraft at the field prior to full production.
ILG is a small but strong facility with 11 proud NATCA members. The members there have the distinction of working in the only FAA tower in Delaware. Additionally, ILG works operations of the Delaware Air National Guard and Army National Guard.
FacRep Nathan Schultz is proud of the immense professionalism displayed by ILG members, especially when it was the primary airport of use for Vice President Joe Biden for the eight years he was in office.
There are 19 NATCA members at RDG. FacRep Thomas Hendel says approach operations are handled from the tower, something that sets the facility apart from others.
"This makes the facility a great training environment for newbies," Hendel says. It helps them get the basics down before moving on to a bigger facility if desired."
MDT is home to 33 NATCA members across three bargaining units.
"We have members who range in experience from 25 years down to the newly hired, but they are all proud activists," Says FacRep Philip Gesumaria.
MDT serves the Pennsylvania state capital. It is also located right next to "the sweetest place on earth," Hershey, Pa. It is the home of the Hershey's Chocolate World and Hersheypark, which makes it an exceptionally sweet place to work.
There are 31 NATCA members at ACY, most of whom have been in the Agency for three years or less. The facility had 12 CPCs when FacRep TJ Woodyard transferred there in 2015, and within a year-and-a-half ACY received 15 more new hires. Many brought military experience with them. The facility has gone through a major transformation of personnel that has been both a blessing and a curse due to training demands, Woodyard explains.
There are several factors that set ACY apart from most other facilities, but the most famous claim to fame, Woodyard says, is that the facility is the premier (and only) TRACON in New Jersey. The facility is also home to 17 veterans, putting the local at over 50 percent with military service.
"Over 50 percent of our local traffic is military aircraft," says Woodyard. "Both the New Jersey Air National Guard and Coast Guard have squadrons here. They fly the F16 and AS365 helicopters respectively. We get quite a bit of heavy military transport aircraft from Dover Air Force Base and McGuire Air Force Base that come over to beat up our tower and instrument pattern. We also have the pleasure of being a favorite practice airport for the Presidential fleet of aircraft (B747, B757, B737, and GLF5)."
ABE is also thrilled to welcome their brothers and sisters to their home region.
Although each facility in the local area is unique, solidarity is a driving force behind these and all facilities in the Eastern Region. Their commitment to the Union through activism, solidarity events, and educational events ensure all members are informed and active participants in their careers and their futures. The Philadelphia locals welcome their dedicated sisters and brothers and hope you enjoy NATCA's 17th Biennial Convention! ✪