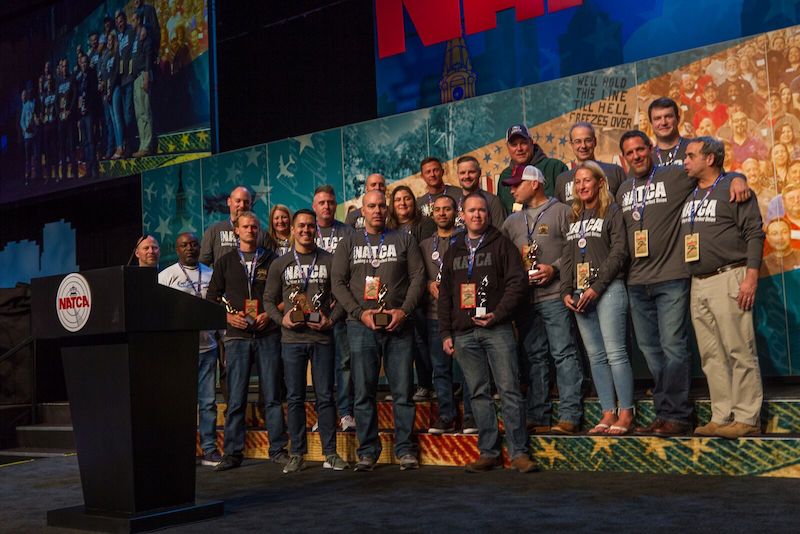 Beacon of NATCA Award: Honoring Members for Disaster Relief and Recovery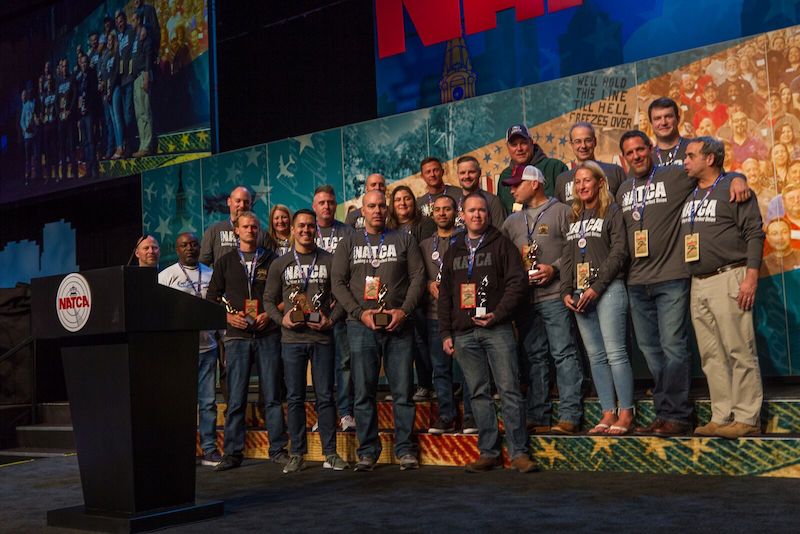 On the last day of Convention, NATCA took time to commend the facilities and individuals who worked under unthinkable conditions and rose up to support the National Airspace System and their brothers and sisters during a year of unprecedented natural disasters. Whether natural or man-made, disaster events are often unpredictable, and no amount of planning, training, or preparation can prevent them. But when they do occur, NATCA members answer the call without hesitation. Unfortunately, 2017 provided ample opportunity for NATCA members to show just how effective a team of trained, motivated, and compassionate individuals can be.
Created in 2017 to honor Baton Rouge (BTR) members for their efforts during the August 2016 flooding, the original Beacon of NATCA inscription read, "in recognition of a tremendous, inspiring effort during a disaster event, and providing exceptional ATC services that prevented potentially catastrophic outcomes." In 2017 however, NATCA learned that even the most tremendous and inspiring work cannot always prevent catastrophic outcomes. This year, NATCA recognized some of the facilities that were affected by hurricanes Harvey, Irma, and Maria for their "inspiring effort during a disaster event and providing exceptional ATC services," even through the devastation. Many facilities were affected by the storms as they helped lessen the burden of keeping the skies open and safe, but the Beacon of NATCA award goes to those most severely devastated by the storms.
The scope of these particular disasters and the relief efforts that followed went beyond the ATC services NATCA members provided from facilities. NATCA was compelled to recognize individual NATCA members for their generosity, hope, enthusiasm, dedication, organization, and willingness to do whatever is necessary to help those in need. Another version of the Beacon of NATCA was created this year to recognize individuals for their "contribution during a disaster event in support of the National Airspace System and the professionals who operate it," as the award inscriptions read.
It was a record-breaking year of disasters on several fronts. Natural disasters in the United States included droughts, floods, mudslides, tornados, and unthinkable wildfires. Requests for federal aid for disaster relief increased ten-fold from 2016.The most destructive wildfires in California's history ravaged the state for weeks, killing dozens of people and destroying vast swaths of land and property. Several states saw record-breaking flooding and temperatures. Any of these disasters would constitute a devastating year, but Mother Nature wasn't done. Hurricanes Harvey, Irma, and Maria wreaked enduring damage throughout the Caribbean, Southern United States, and Texas in the most destructive hurricane season the United States has ever seen in both fatalities and property damage.
Hurricane Harvey broke landfall on the Texas coast on Aug. 25 as a Category 4 Hurricane, breaking a 12-year streak without hurricanes of that strength in the United States. Harvey dumped an unprecedented amount of rain on Houston and the surrounding areas of Louisiana and Texas over the following week. The storm brought more than 25 trillion gallons of water with peak accumulation over 60 inches, causing record-breaking damage and flooding in the area, and displacing more than 30,000 people. When the storm was finally over, it was responsible for $125 billion in damages and 106 deaths in the United States.
NATCA honored Houston ARTCC (ZHU) represented by FacRep Chris Parris, Houston TRACON (I90) represented by FacRep Adam Rhodes, Houston Intercontinental ATCT (IAH) represented by Vice President David Kelly, Houston Hobby ATCT (HOU) represented by President Ann DeCastro, and Beaumont-Port Arthur ATCT for their work around the clock. Members Jenifer McCoy (D10) and Jeff Duer (ZFW) and ZHU member Ashley Amato were also honored for their individual efforts.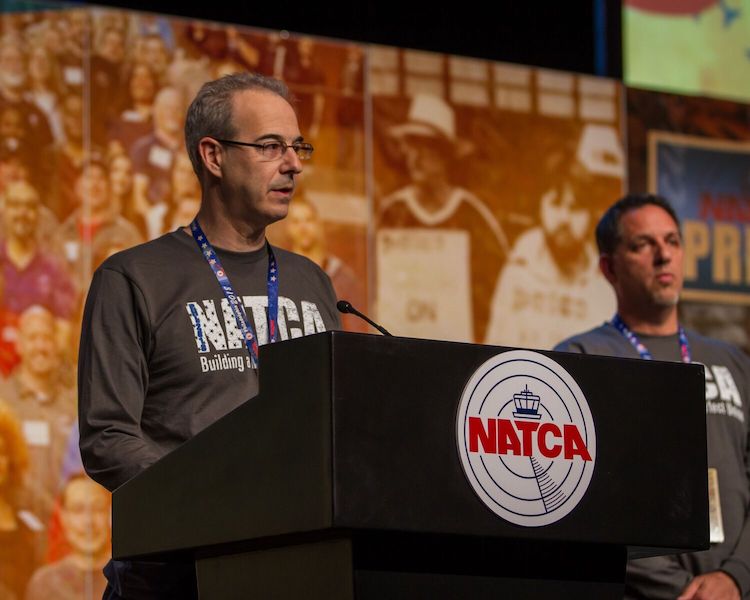 Southwest Regional Vice President Andrew LeBovidge (at podium) and Southern Regional Vice President Jim Marinitti.
With the effects of Hurricane Harvey not yet fully apparent, Hurricane Irma threatened to make landfall in the Caribbean and the continental U.S. Irma broke the record for sustained wind speed of 185 mph for 37 hours before hitting Barbuda as Category 5 storm on Sept. 6. Hours later, Irma passed over the U.S. Virgin Islands at near maximum intensity, dropping at least a foot of rain. Over the next few days, the storm continued to wreak havoc in the Caribbean, hitting Hispaniola, Cuba, and passing just to the north of Puerto Rico causing major power outages and damage. By Sept. 9, Irma had fluctuated between Category 5 to Category 2, but re-intensified to a Category 4 storm before making landfall yet again, this time over the Florida Keys and heading north up the western coast of the state. The damage to the Keys and South Florida was devastating, causing more than $53 billion in damages in the U.S. and its territories and killing 102.
Although Puerto Rico had seen significant damage from Hurricane Irma, it was not decimated to the same degree that St. Thomas and other islands had been, and residents from several of the U.S. and British Virgin Islands had taken refuge there, not knowing that the worst was yet to come.
Just ten days after Irma, Hurricane Maria, the 10th-strongest hurricane ever recorded in the Atlantic, hit Puerto Rico directly as a Category 5 storm. Parts of Puerto Rico were pummeled with 30 inches of rain in one day, equal to the amount that Houston received over three days during Hurricane Harvey. Approximately 80,000 people were still without power from Hurricane Irma, and Maria would wipe out the rest of the island's power grid, along with long range radar, NEXRAD weather radar, telecommunication lines, and most other infrastructure. Millions of people would remain without power, tap water, or phone service for months after the hurricane.
For their work during Hurricanes Irma and Maria, St. Thomas ATCT (STT) represented by FacRep Patrick Cieniewicz, San Juan CERAP (ZSU) represented by President Woody Camp, and Miami Center (ZMA), represented by FacRep Jim Dossing, were honored. For their work during hurricane Maria, San Juan ATCT (SJU), represented by FacRep Kyrandgel Rios, was honored. Camp, Rios, ZMA Area Representative Javier Betancourt, SAV member Mary Mayconich-Beasley, MIA Area Representative Frank Bullock, and ZMA Vice President Tom Flanary were honored for their individual contributions during and after the storms.
Over the weeks and months that followed, NATCA members poured everything they had into helping their brothers and sisters in Texas, Louisiana, Florida, St. Thomas, and Puerto Rico. NATCA activated its Disaster Relief Fund which has raised over $100,000 since September 2017 to help provide supplies, repair, and rebuild.
NATCA also honored several Engineer/Southern Region (ESO) members for their essential work planning for, repairing, and rebuilding after Hurricanes Maria and Irma. Engineers Alan Stensland, Bruce Williams, and Chris Atkinson were recognized, represented by ESO FacRep Chris Dalbec.