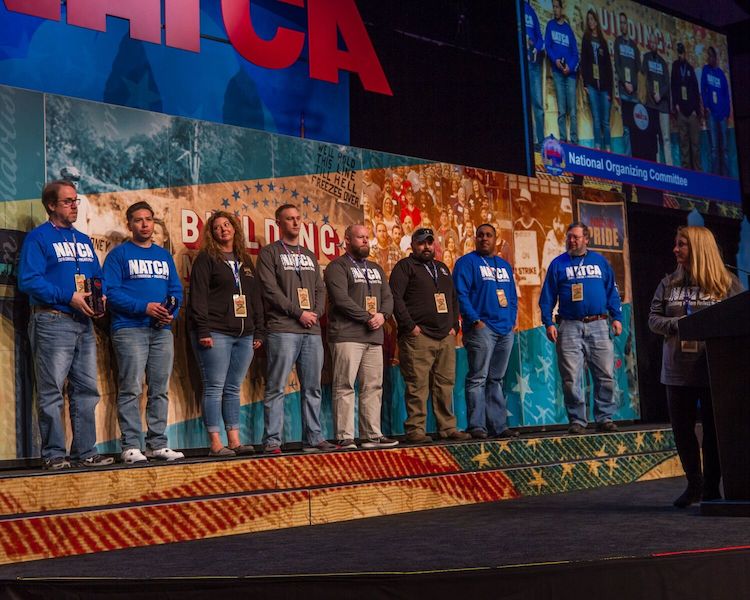 The NATCA Team Excellence Award: Presented at the 17th Biennial Convention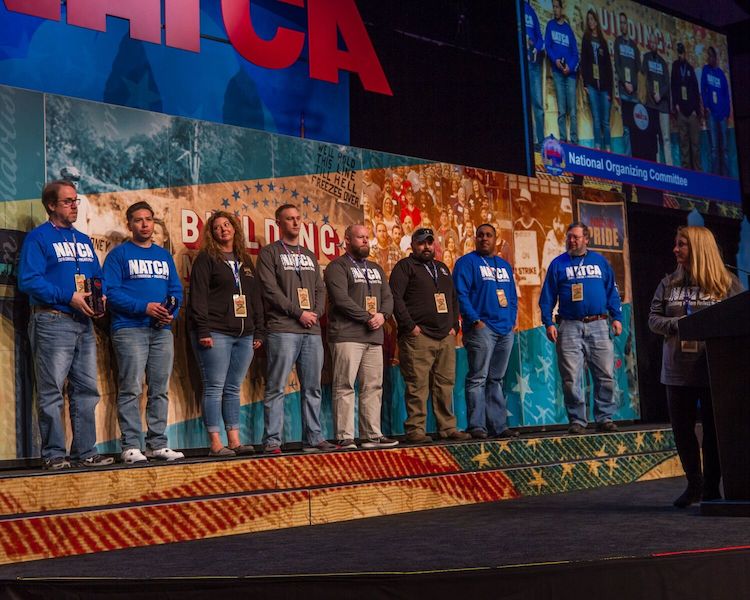 NATCA created the Team Excellence Award in 2016 to honor the Slate Book Contract team for their phenomenal work negotiating the best Collective Bargaining Agreement in our history. It was given in 2017 to the Professional Standards Workgroup for their continued dedication to raising the standard of professionalism for our workforce.
This year, NATCA Team Excellence was given to three dedicated teams that have worked tirelessly for our Union, profession, and members.
The On-the-Job Training Instructor (OJTI) Curriculum Workgroup was empaneled in 2013 to work on a new OJTI Workshop and OJTI Cadre course to replace the out-of-date workshop that was in place. As the work progressed, the Air Traffic Safety Action Program (ATSAP) identified an increase in incidents involving different factors related to OJT, and it became apparent that an OJTI Supplemental Workshop was needed. Over the course of the next three years, Tom Hedeen, Marc Schneider, and Jimmy Lake worked tirelessly to develop an OJTI Supplemental Workshop as well as the OJTI Workshop and Cadre Courses. The first course was conducted in December of 2016 and began rollout to the field in April 2017. This team dedicated countless hours and extraordinary effort to ensure that the members they represented would receive the best possible preparation to provide OJT.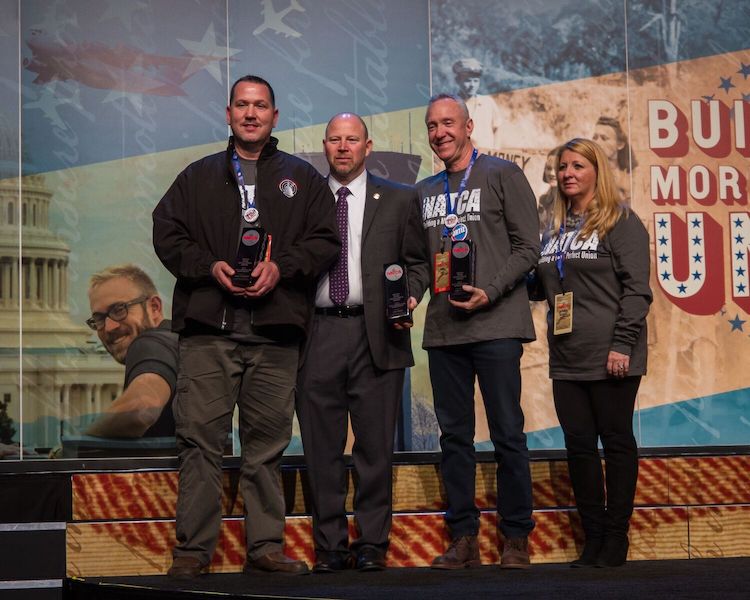 NATCA's National Organizing Committee was honored for their dedication to growing the NATCA family and ensuring that all aviation safety professionals who seek representation are assisted by the best. In 2014 the committee launched the NATCA Difference campaign, highlighting the benefits and opportunities that come with NATCA membership. In 2016 we saw those efforts pay off when NATCA won a runoff election for the Financial Management (AFN) bargaining unit, adding 1,300 new NATCA Bargaining Unit Employees (BUEs). Since the mid-1990s, NATCA has been working to represent Federal Contract Towers (FCT), and in March 2018, NATCA chartered its 100th FCT NATCA local. The Organizing Committee has shown extraordinary dedication, and continues to expand our family with new members and locals. Committee chairman John Bratcher (FSM), and members Clarence Cadenhead (MCI), Israel Bonilla (PHL), Mike Weekley (CMH), Phil Hughes (A90), Rob Valland (ZDV), Ken Slauson (EAL), Susan Lefler (ENM), Brad Burtner (PMP), Michael Gifford (CHA), Cesar Cordero (ELP), and Melissa Pollard (L30) were honored.
Finally, but certainly not least, NATCA honored the Critical Incident Stress Management (CISM) team (pictured below) for the work they did this year during and after the devastating natural disaster season, particularly hurricanes Harvey, Irma, and Maria, but also for the California wildfires, and everything in between. CISM team members Chris Schenk (ZSE), Carrie Uphus (STP), Holly Cron (ZHU), Kristine Mooso (ZBW), Travis Jensen (ZAN), Kristen Laubach (PHL), Matt Ellington (ORD), Joel Weiler (LGB), Mike Napolitano (ZMP), Deb Stewart (CRP), Andrea Moore (CLT), Tom Hedeen (DEN), Sarah Grampp (ZKC), Krystal Causey (ZMA), and Maliesa Nichols (MYF) have been there for our members in the most harrowing times. Even during Convention, they were on standby to lend an ear and advice for those affected by SWA Flight 1380 in Philadelphia and the death of member Kristle Jimenez (SFO). These members take little acknowledgement, but are there for each of us any time an incident occurs or we need an understanding peer to talk to.