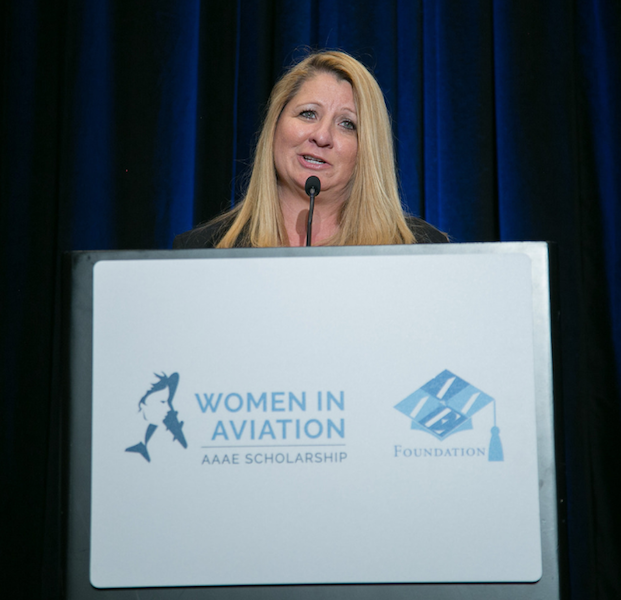 Remarks From AAAE Women in Aviation Scholarship Luncheon
Remarks by NATCA Executive Vice President Trish Gilbert, Federal Aviation Administration Air Traffic Organization Chief Operating Officer Teri Bristol, and NATCA President Paul Rinaldi during the May 2 American Association of Airport Executives Women in Aviation Scholarship Luncheon.
TRISH GILBERT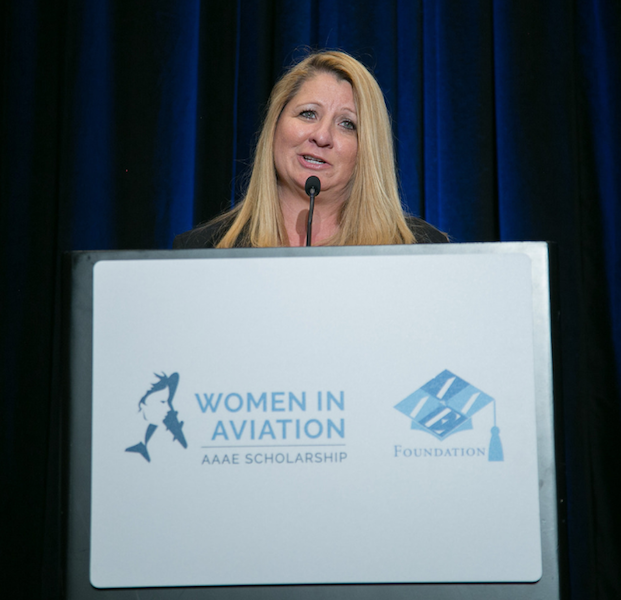 I certainly will never be able to convey just how honored I am to be a part of this great cause.
So, thank you all for being here and supporting AAAE scholarships for Women in Aviation. Thank you to AAAE, the Host Committee, the generous donors, my colleagues here from the UK and Canada, NATCA staff, NATCA members that serve across the U.S. airspace system, fellow NATCA board members and friends from all corners of the aviation industry and government.
Your donations and being here today helps to continue and grow these scholarships and ensure their multi-generational effects.
These scholarships will not only allow young women to embark on new opportunities that an education can bring, but also introduces and encourages them to join an industry that is full of possibilities.
I have been blessed to work in a profession that I have loved for 30 years now, with 21 of them on the frontline as an air traffic controller.
As a young girl of 22, I entered the air traffic control workforce at Houston Air Route Traffic Control Center. I still remember thinking it was all a dream and I was afraid to pinch myself for fear I would wake up and find myself doing something else.
Those in the room who are air traffic controllers know that finding yourself doing something else is a valid concern while training to become a fully certified air traffic controller.
As it remains true today, reaching full certification is accomplished by only about 50 percent of those hired into the profession.
While serving as an air traffic controller, I served in many roles for the National Air Traffic Controllers Association (NATCA) in both elected and appointed positions, finding ways to be an advocate for the National Airspace System and the men and women that safeguard it.
In 2009, I was elected NATCA's Executive Vice President and humbly represent more than 20,000 men and women working every minute of every day to keep the skies safe.
By honoring me, you are honoring NATCA. I am so proud of NATCA, the professions we represent, the safety policies and initiatives we partner on, the technology we test and deploy, the public we serve and keep safe, and the role we play in the economic engine that is the US national airspace system.
Last week, NATCA sponsored and I co-chaired the Professional Women Controllers' (PWC) annual conference. At the conference, speaker after speaker described the very real barriers to recruitment and hiring of women in to aviation careers.
It certainly reminded me while culturally at the FAA we have made great progress however we have a long way to go.
From my first election as area rep – where I lost when the rhetoric was that they would in fact be electing my husband, who was an air traffic controller (now retired) and a rep from another area, and not me to the position.
To now serving in one of the top elected positions in our Union for 9 years now, there has been progress. What hasn't changed much is the number of women in air traffic control. When I was hired in 1988 there were 16 percent women in ATC and today in 2018 there is 16.6 percent.
It isn't just the air traffic control profession where women remain underrepresented. Women continue to be underrepresented in so many aviation professions.
The aviation industry is full of interesting and well-compensated careers where women can and do excel.
The amazing women here today each have demonstrated significant contributions to their organizations and our industry.
These AAAE scholarships demonstrate our commitment to seeing more women work in our beloved aviation professions where they can unlock their potential, and pursue their dreams of careers in aviation.
I hope we can continue to empower women to join aviation professions, to get involved, to take on leadership roles, inspire future generations and move our industry forward.
It's humbling to join Linda Hall Daschle and Gina Adams in sharing this honor. And it's humbling because STEM education – specifically STEM education in aviation fields – is something that I am very passionate about.
And having one of the two new permanently-endowed scholarships named in my honor is hard to believe. Knowing though, that a scholarship with my name is synonymous to naming it after the profession I love and the Union I love even more, NATCA.
So, thank you again to everyone who is here supporting this great program, and ensuring a bright future for women and the aviation industry for generations to come.
TERI BRISTOL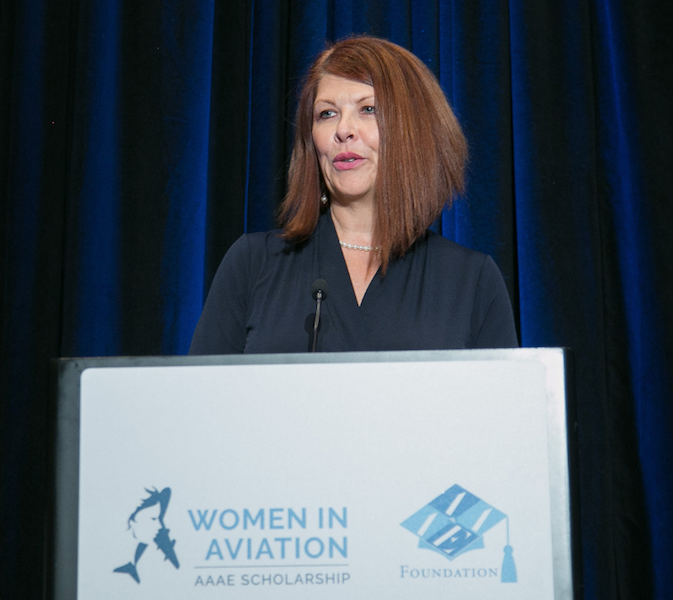 It's wonderful to be here. Good afternoon to everyone. It's certainly an honor and a privilege to participate, and honor Patricia Gilbert. Now, I don't know anybody that calls her Patricia. We call her Trish.
Trish's contributions to the aviation community and the profession of air traffic control are countless. She's a true professional and a role model to all, especially women. She's a wife, a mother of two and soon to be a grandmother in September! And she's a Union leader of approximately 20,000 aviation professionals in the private and public sector.
If that's not enough, Trish continues to give of her time to serve on many boards and committees, all of them dedicated to modernizing the National Airspace System, Improving aviation safety and advancing the profession of air traffic control.
Now I understand that Trish began her career in 1988 and while many women in business strive to break the proverbial glass ceiling, Trish completely shattered it.
Her accomplishments are in a profession that is only 16 percent female. That's right – 16 percent. She's elected by a predominantly male workforce and Trish is an inspiration certainly to all women out there, demonstrating that perceived barriers can be overcome.
Now labor-management relations have been up and down at the FAA and have certainly been strained previous to Trish becoming the Executive Vice President of NATCA in 2009. I'm happy and proud to say that I've had the opportunity to work alongside Trish over these past several years on evolving labor-management relations at the FAA.
Since assuming her role as Executive VP, Trish has served as the first labor chairperson of the FAA's labor-management forum and in this role, Trish provided leadership to eight national unions. She also co-chairs the ATO-NATCA Collaborative Steering Committee. It's a committee that works to proactively address challenges in the workplace and promote collaboration.
She's laser focused on increasing professionalism in the workplace and she's championed on behalf of NATCA what we know in the Agency as the Foundations of Professionalism. It encompasses several initiatives that focus on safety and the human elements that play such an important role in the safety of our National Airspace System. Programs like Professional Standards. Her fingerprints are all over it. It took a lot of work to get these done.
Professional Standards is a program that promotes the highest degree of professionalism and conduct in peer to peer coaching and resolution.
Turn off Tune In – It's a program that proactively eliminates distractions in our operational areas of our ATC facilities.
Fully Charged – a program that provides employees and supervisors educations on the effects of fatigue.
ATSAP – a program that embraces a safety culture, enabling identification and mitigation of hazards in the airspace system.
And finally RESPECT – it's our newest program and it supports a workplace that creates an environment of mutual dignity, support, and respect, between all individuals who work to protect the airspace system.
So as a colleague, I have the highest respect for Trish. As a woman, I admire deeply what she has achieved, what she stands for, and how she does it all with such grace and dignity. Now Trish is one of those individuals that doesn't need to speak loudly to be heard and we all know that those of us who work with her know she's persistent – in a good way. She's focused and she's very measured. She is the real deal. The whole package.
So congratulations Trish. You're truly deserving of this honor.
PAUL RINALDI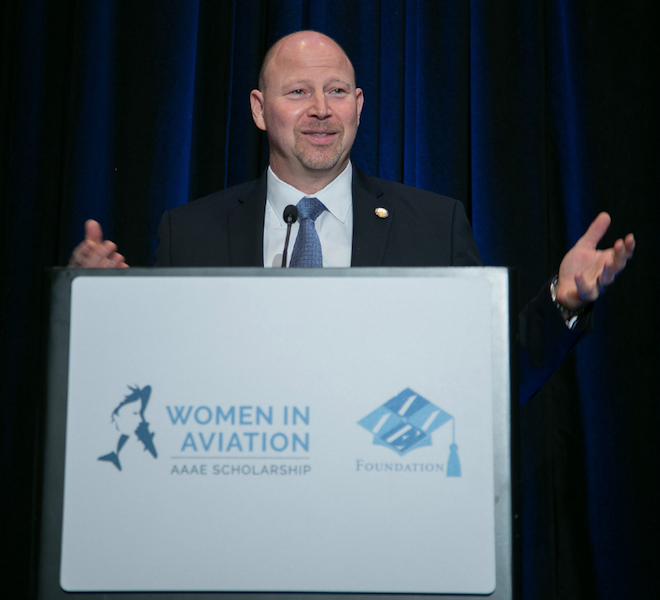 It is an incredible honor to be able to say a few words about my dear friend and my NATCA leadership partner, Trish Gilbert.
In the NATCA world, we say Trish and everybody knows who we are speaking about. It's kind of like Cher, Madonna, Adele. No second name is needed. You know exactly who we are speaking about.
This distinction has been earned over the last 30 years with an impressive resume. 21 years as an air traffic controller at Houston Center, a very busy facility. Six years as the leader – the FacRep – of that building. She was a member of our original organizing committee back in the early 90s. She's served on many positions in the NATCA Charitable Foundation. She's chaired our legislative committee and served for over eight years.
She's serving her ninth year as the Executive Vice President and she's the first person to serve three terms. And I have no doubt that she will be re-elected in July to serve a fourth term. She's known internationally and she serves as the Vice Chair of the International Transport Workers Federation, ITF – the Air Traffic Control Services Committee. And she serves on the Political Committee of IFATCA. She serves on the Aero Club Board of Governors, on the Drone Advisory Committee, on the AFL-CIO Political, Legislative Committees and the Committee on Women's Workers.
She serves on any job she can to elevate our profession. Over the last nine years, she has helped lead and oversee NATCA's comprehensive efforts to build a successful collaborative relationship with the FAA, DOT, industry, AFL-CIO, and members of Congress. This has resulted in excellent progress for our members' lives and enhancing the safety of the National Airspace System.
There's something I want to tell you about Trish and you can't read it in her bio. When she became EVP – Executive Vice President – in 2009, she left Houston and came to Washington, D.C., and she was such a major activist in so many parts of that local that they immediately named an award after her – the Trish Gilbert Houston Center Activism Award. When I left Dulles Tower in 2006, they threw out my headset, they scraped my name off the locker and changed the locks.
You know, it's fitting to be in this room today to honor Trish Gilbert because for the last 20-plus years, she's been in this room at least two weeks out of the year putting on what we call Lobby Week – NATCA in Washington – where we bring 4-500 air traffic controllers to hit the Hill and talk about our issues. She's been on this stage, talking about legislative issues and it's pretty cool that she's getting recognized here. And after she left the Legislative Committee in 2009 also – after she became Executive Vice President – they decided to create an award for Trish. See a pattern here? So in 2009, they created the Trish Gilbert Legislative Activism Award, which is given out every year on this stage where we give it out in her honor.
And the greatest award where I saw my Union say, 'yes, she deserves recognition,' was in Philadelphia two weeks ago. In our Constitution, it sets the pay for the President and Vice President and they were talking about the pay, and the Union body unanimously raised her pay to equal pay. There's a lot of talk about equal pay for equal work and my Union took the first step toward ensuring there is equal pay for equal work.
Simply put, Trish Gilbert is an amazing individual. In a male-dominated profession she has propelled through all the inherent institutional boundaries and excelled at everything she tries to do. No task is too difficult, no challenge too daunting for Trish to take the lead on. She has elevated our Union to the highest level and enhanced the safety of the National Airspace System by always challenging the status quo. I personally believe there is nothing she can't do, except maybe sing like Cher, Madonna, and Adele.
Trish is a spring-into-action type person. She's tough. She's ferocious. But she's also very compassionate. She will listen to you and she will understand your side of the story. No matter the challenge, representing our members in all of their roles, to representing the communities around our facilities in our NATCA Charitable Foundation, or to helping people in need, where there are hurricanes, floods, or wildfires, she is truly a roll-up-your-sleeves, get-to-work type of person.
Trish Gilbert has been truly an inspiring figure for aviation and certainly for NATCA and in my own career, and she continues to lead by example. She acts as a mentor and a role model for all who seek to improve the National Airspace System, and she's a special role model for all women in labor and in aviation.
Over the last 30 years, she has elevated the life of every single one of our Union members and has made the National Airspace System safer. That's truly making the world a better place.
So in closing, I am proud and honored to work alongside Trish. I have seen first-hand every day her relentless dedication to aviation safety professionals in improving the lives of those who work in the system. She is so richly deserving of this tremendous honor of having this scholarship in her name. It is wonderful to see this scholarship program and I can't say enough good things about her, so congratulations Trish Gilbert.