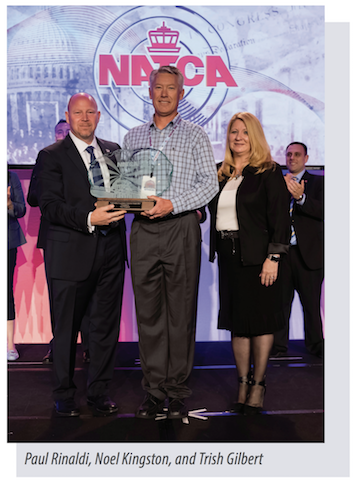 Trish Gilbert Legislative Activism Award
In 2009, NATCA established the National Legislative Activism Award to be presented at NATCA in Washington. The following year, the award was renamed for one of NATCA's most effective activists, Trish Gilbert.
Trish set the standard and defined what it means to be a legislative activist in this Union. It was named after her because of her incredible work ethic, her drive to take NATCA from "good" to "great," and the inspiration she was to others.
Previous winners include Noel Kingston (2017), Steve Weidner (2016), Jason Arnold (2015), Toby Hauck (2014), Mitch Herrick (2013), Betsy Beaumont and AnnMarie Taggio (2012), Brody McCray (2011), Mark Griffin (2010), and Linda Miller (2009).
The award is given each year to an activist who has demonstrated the passion to serve the Union through legislative activism and stepped up to do extraordinary work.
NATCA also honors activists from each region as chosen by their RVP. These NATCAvists have devoted a lot of time and energy to build congressional relationships, educate other members about NATCA's legislative efforts, and advance legislation important to NATCA. Each region will award this year's winner in their regional break out Monday morning.
Will you be next year's winner of your region's Legislative Award or the Trish Gilbert Legislative Activism Award?