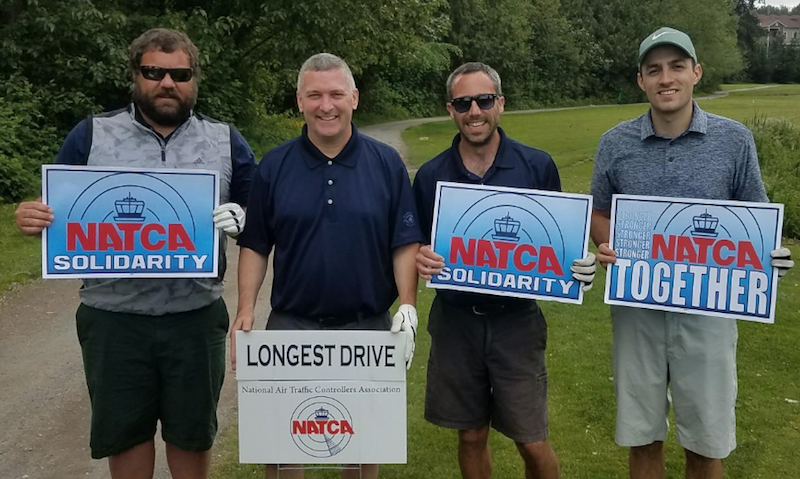 Seattle Center Members Hit the Green to Raise Some Green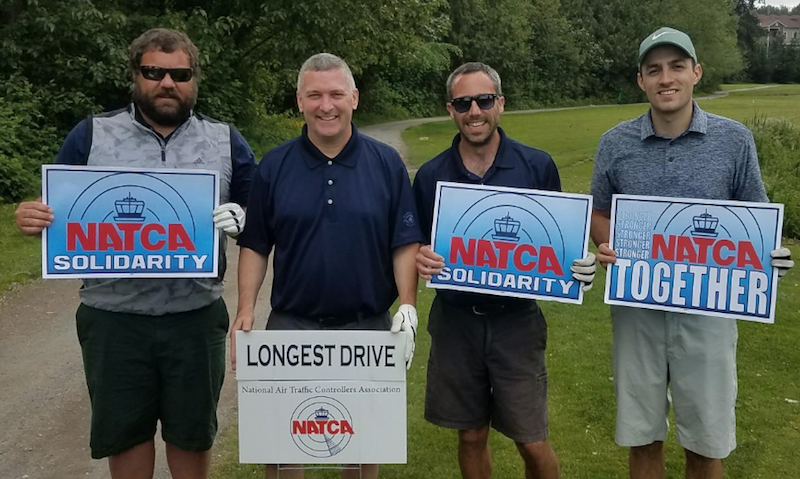 Pictured at top, from left to right: Eric Hartley, Rick Lund (retired), Tony Germann, and Josh Palmer.
NATCA members at Seattle Center (ZSE) recently competed in a local golf tournament in Puyallup, Wash., to benefit the Sumner Community Food Bank.
"With the help of our local here at ZSE which donated $300, a donation from NATCA Charitable (NCF) of $500, our individual contributions from each player, and a few silent auction items, we were able to bring in over $1,300," ZSE member Tony Germann said.
On a spring day perfect for golf, 18 teams teed off for the the 5-hour scramble. The NATCA team shot either birdie or eagle on almost every hole to cumulatively score 16-under par. With some tough competition, though, it wasn't enough for the team to rank in the top three.
"But we crushed it!" ZSE member Eric Hartley exclaimed with disbelief upon hearing the scores.
"We'll get 'em next year," ZSE member Josh Palmer said.
Every year, the food bank golf tournament grows. Last year, it brought in around $15,000 and this year's event raised a little more than $25,000, with an increase from 25 organizations sponsoring to more than 46.
"We look forward to next year and hope to raise even more to benefit the hungry in our community," Germann said.
The ZSE NATCA team also extended a thanks to ZSE FacRep Troy Harrison and the rest of the local executive board, and ZSE member Alex Navarro for his efforts in coordinating with NCF.