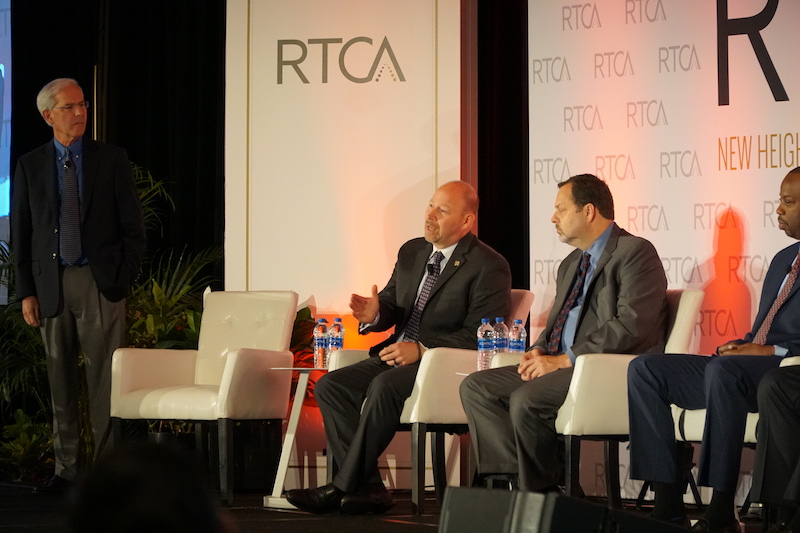 NATCA President Paul Rinaldi at RTCA Symposium: Staffing Impacts Modernization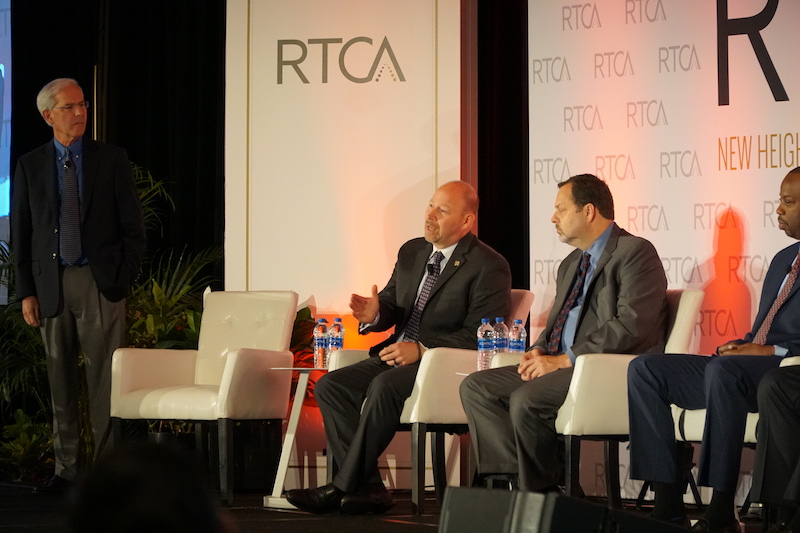 On June 12, NATCA President Paul Rinaldi spoke as part of a panel, "NextGen in the Northeast Corridor: Let's Do This!" at the RTCA Global Aviation Symposium in Crystal City, Va., an annual forum to examine current and emerging issues facing the aviation community.
Joining Rinaldi on the panel were Delta Air Lines Senior Vice President of Flight Operations Captain Stephen M. Dickson; JetBlue Airways Senior Vice President of Safety, Security and Air Operations Captain Warren Christie; Federal Aviation Administration (FAA) Vice President of Air Traffic Services Glen A. Martin; and Port Authority of NY & NJ Director of Aviation Huntley A. Lawrence, with National Business Aviation Association (NBAA) Chief Operating Officer Steven Brown moderating.
The panelists discussed the progress and trajectory of NextGen in the Northeast Corridor (NEC), which encompasses airspace from Washington, D.C., to Boston.
Delays in the NEC account for nearly 50 percent of all delays in the entire National Airspace System (NAS). With so many scheduled flights going through the NEC, its performance impacts the entire NAS and operations around the world.
The panelists addressed the effect of new technologies intended to increase efficiency.
"When there's a human in the loop — controllers at the glass and pilots at the controls — that's where you get efficiency. It's about finding the right balance," Rinaldi said.
Collaboration was another hot topic of the panel, with all panelists recognizing the need for working together, especially on the smaller scale.
"It's by using collaboration at the local level that you are going to get the best results," Rinaldi said. "You'll get under-budget contracts. You'll save time and resources. It's a great way to move forward, so we can modernize the NAS in a more timely way."
June 27 is the next meeting of the NextGen Advisory Committee (NAC), which partners with industry stakeholders, sets priorities, and delivers benefits to industry and NAS. Rinaldi has been on the NAC from its inception.
"We've focused on modernizing our system. We have real tangible things we can look at as evidence of how we've modernized our system," Rinaldi said.
"It's really hard work, and it doesn't happen overnight. It's going to take a long time to implement these changes. We run the safest most efficient system in the world. Safety is the bottom line.
"As we look at each one of these initiatives, we will keep safety at the forefront."
Rinaldi said NextGen and modernizing the NAS are impacted heavily by the current staffing crisis of Certified Professional Controllers.
"We have to get our staffing to a proper level so we can get the subject matter experts to contribute to these efforts to modernize the system," he said. "We need the controllers off the positions to help us with the procedures and equipment."