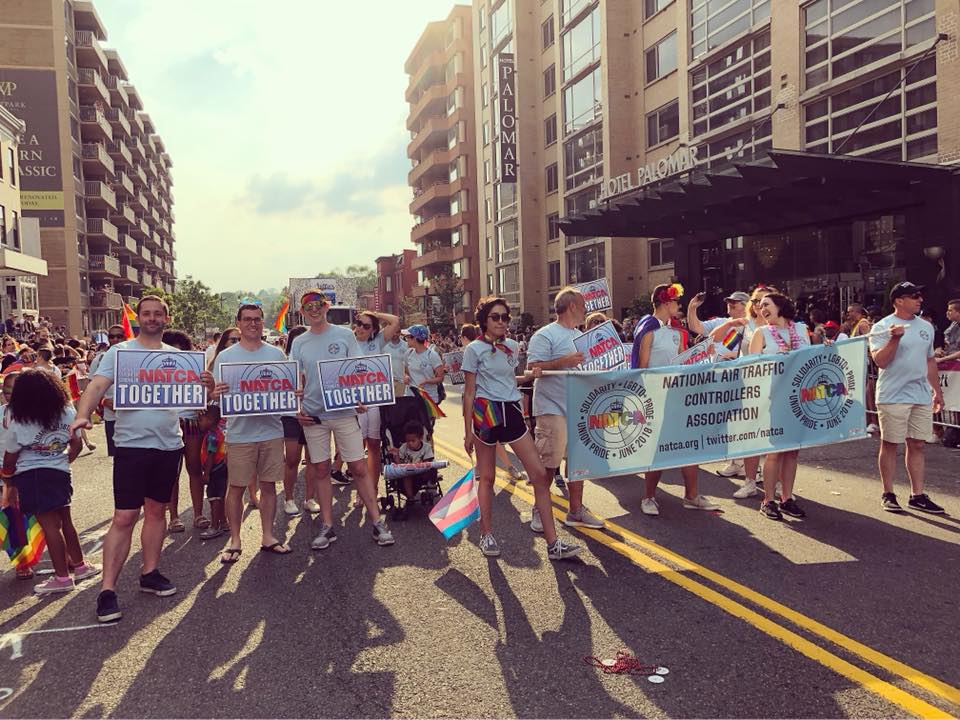 NATCA's Participation in Capital Pride Parade Draws Big Support and Enthusiasm
′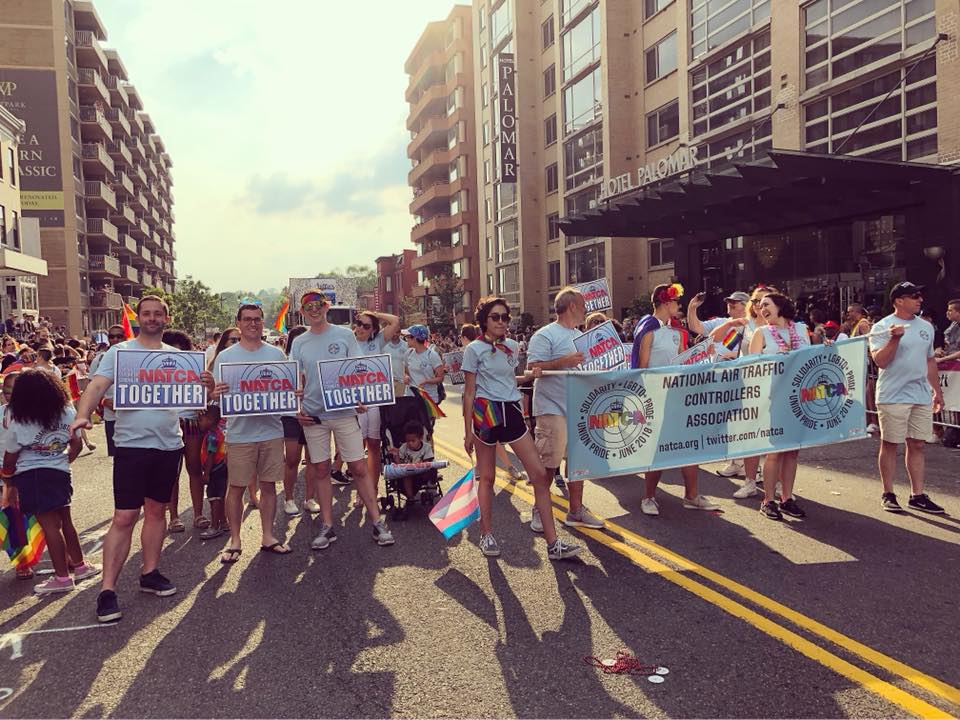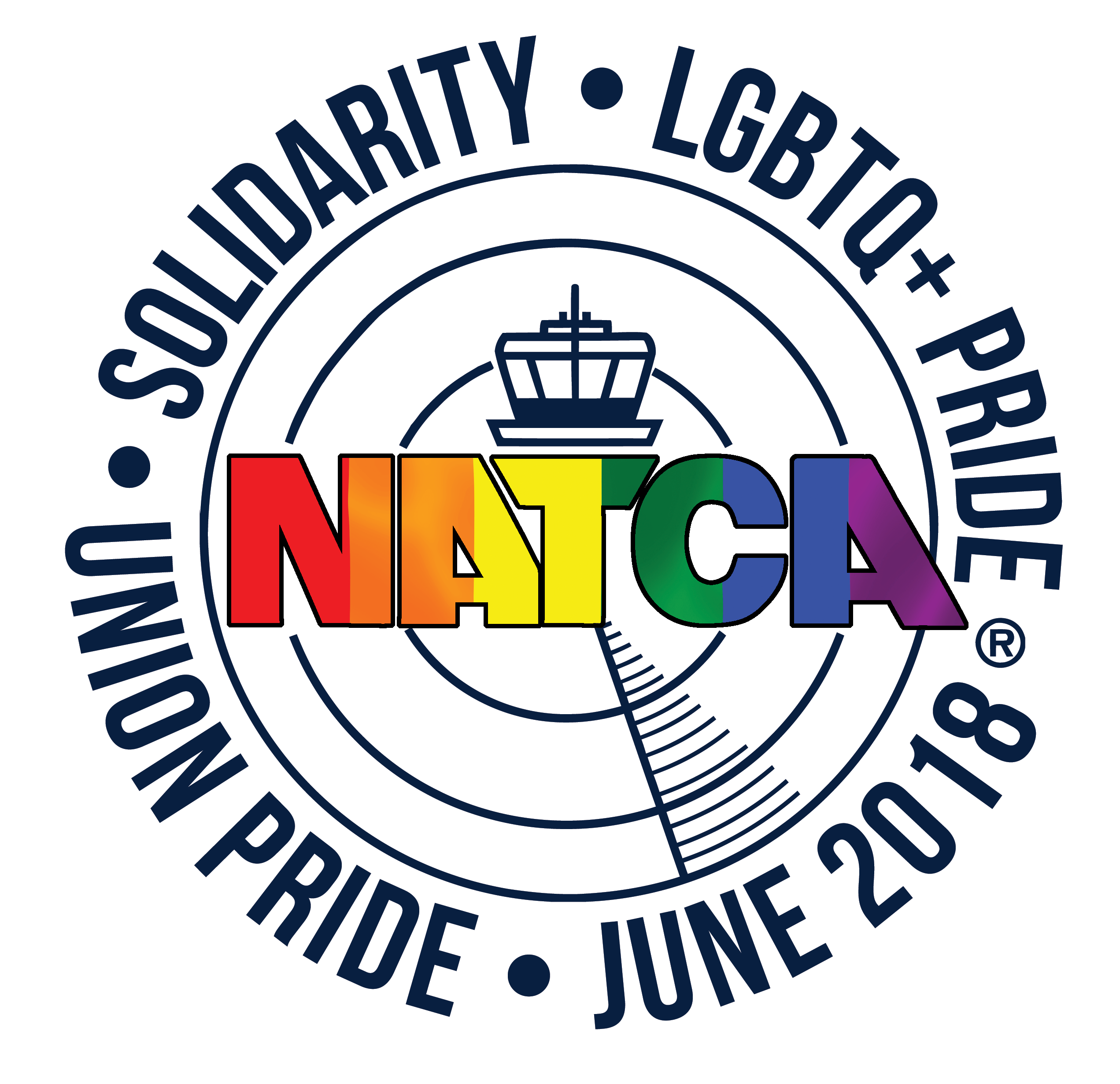 A group of about 40 NATCA members, staff, and their family and friends from Pennsylvania, Maryland, Washington, D.C., and Virginia represented our Union in the 2018 Capital Pride Parade on June 9. This group included NATCA Eastern Regional Vice President Dean Iacopelli. There were almost 200 groups/companies in this four-hour parade. NATCA joined other labor unions like the American Federation of Government Employees (AFGE) and companies like American Airlines, Southwest, Wells Fargo, Bank of American, Microsoft, Lockheed Martin, Facebook, IKEA, Marriott, and Hilton. There were lots of positive comments from spectators along the route regarding NATCA's participation in the parade.
The D.C. Pride Parade is the largest parade and one of the most widely-attended events in Washington every year. Police estimated that about 250,000 people crowded the 1.5-mile route. The parade also was broadcast live on local television on WJLA-TV, Washington's ABC station. The parade route takes place in the neighborhood where NATCA is headquartered in Washington, D.C. This event, like other events that NATCA members participate in across the country, demonstrate our ties to the community and builds name recognition for our Union.
NATCA participants in the parade carried "NATCA Stronger Together" signs. They marched behind a banner and wore shirts decorated with a NATCA Pride logo that was approved by the NATCA National Executive Board. These limited-edition shirts also are being sold online in the NATCA store. The price of each shirt includes a donation to the Trevor Project, a nationwide nonprofit that provides crisis intervention and suicide prevention services to LGBTQ young people. The NATCA Charitable Foundation matched the first $1,000 of these donations. With that NCF match, through the sale of nearly 250 of these shirts, NATCA already has raised nearly $3,500 for this charity.
Our participation also demonstrated solidarity with our NATCA family members who are LGBTQ or family/allies. We have gotten incredible notes from members who appreciate NATCA doing this. NATCA Dallas/Fort Worth TRACON member Ryan Kimball said, "We were so excited to see the National Office and local members participate in the D.C. parade. To be honest, it was a bit emotional to see that support. I am hopeful we'll expand our representation and visibility in more pride parades."
Already, NATCA members from around the country are participating in Pride celebrations in their communities. We hope to collect more images from some of these other celebrations.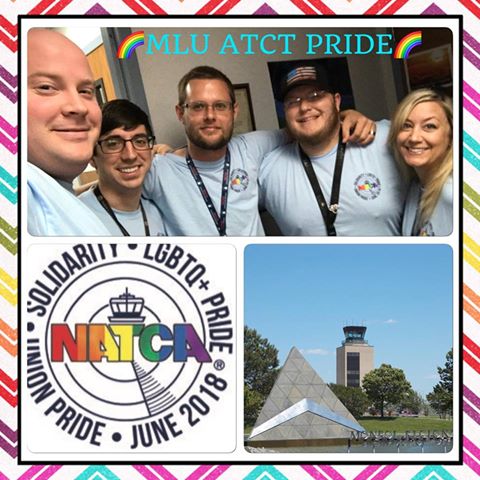 Monroe ATCT members, pictured from right to left: Stepheni Shicksnider, Justin Andrae, Nicholas Butler, Kenneth Heffley, and Chris McDeavitt.
Happy Pride!
View our photo album from the event.
Watch a time lapse recording of the NATCA contingent along the entire parade route here.
Watch a recording of the the WJLA-TV Washington, D.C., broadcast of the entire parade here. The NATCA contingent appears about 01:49 into the recording of the broadcast coverage.
Buy a NATCA Pride shirt in the NATCA store here.