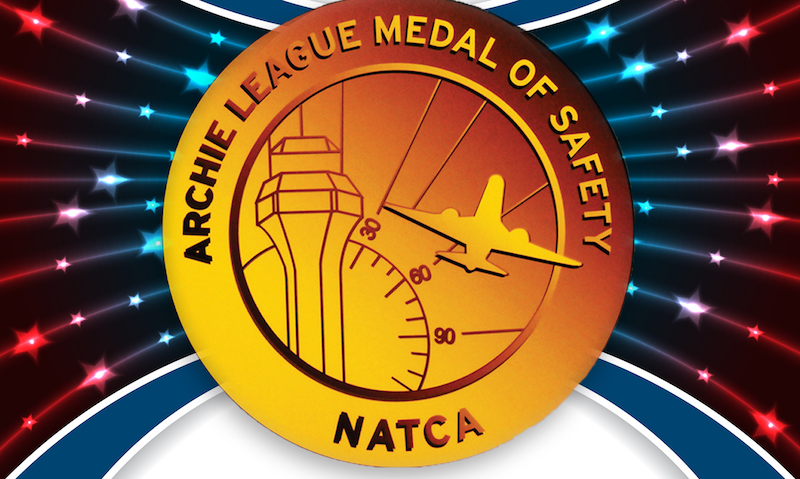 Archie League Awards 2018: A Text Connection In the Nick of Time Turns Perilous Journey to Triumph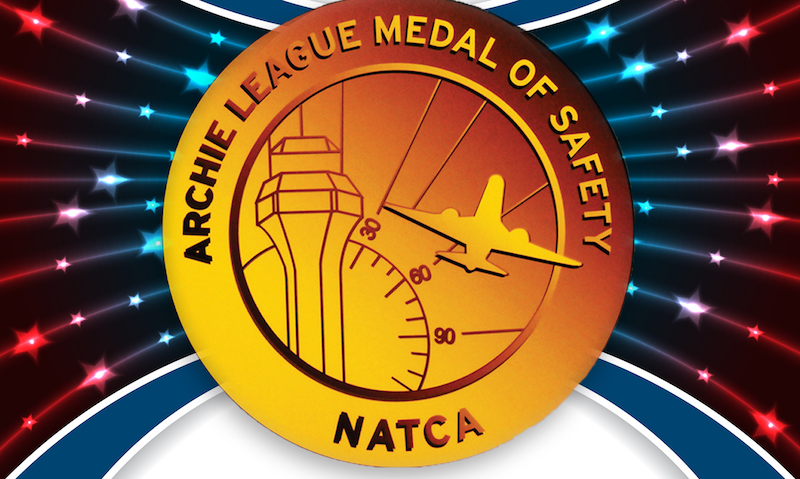 The 14th Annual Archie League Medal of Safety Award Winners
Southwest Region
It was an emotional moment on Jan. 10, 2018 when pilot and Paris, Texas, neurologist Dr. Peter Edenhoffer met and thanked the air traffic control team at Fort Worth Center (ZFW) that came to his aid on Super Bowl Sunday 2017 when his Cessna Cardinal experienced complete electrical failure. Hearing Edenhoffer describe how he texted his son to tell him goodbye -thinking he was not going to survive the experience – hit the controllers hard.
But Edenhoffer did survive, thanks to the teamwork and quick, outside-the-box thinking demonstrated by the team of professionals at ZFW with more than 150 years of combined experience: NATCA members Hugh Hunton, Thomas Herd, and Phil Enis, with support from Charlie Porter, Mike Clifton, Mike Turner, and Bryan Beck.
The three NSW Archie League winners and others on duty that Sunday evening had just one hour left on their shifts. Edenhoffer's flight began uneventfully. He was cleared to land in Paris, which was reporting ¾-mile visibility with 200-foot cloud ceilings. But then Porter and Enis noticed the aircraft's beacon code reappear on their radar scope. That would not be unusual if a plane missed its approach and was going around for a second attempt, but the altitude indicator showed the aircraft was climbing well above the missed approach altitude of 3,000 feet to as high as 6,500.
| | | |
| --- | --- | --- |
| | | |
| Phil Enis | Thomas Herd | Hugh Hunton |
Enis attempted to reestablish communications with Edenhoffer without success. He then noticed the beacon code briefly change to 7700, indicating an emergency. Over the next hour, Porter and Enis used every technique they knew to attempt to reach Edenhoffer. They asked other aircraft on frequency to attempt to reach him and continually advised him of his aircraft's position to emergency airports and more favorable weather conditions for visual flight, even with no response.
The team brainstormed new ways they could reach Edenhoffer, including a Google search of the aircraft tail number. That led to a Google search of the Edenhoffer's name based off his registrations, which in turn led to finding out he was a neurosurgeon. Then they searched locations where he could possibly practice neurosurgery near the home base of the aircraft, which led to a call to a hospital that knew Edenhoffer. They finally were able to locate his cell phone number. Calls to the cell number for 45 minutes were not answered but then they tried texting Edenhoffer – and it worked.
Texts revealed Edenhoffer not only had suffered a complete electrical failure, but he was flying on minimal fuel and needed to land quickly. "It was pretty tense," Edenhoffer said. "My worst flying hours that I've had." The team of controllers texted Edenhoffer the VFR areas in his vicinity. He texted ZFW to request they turn the runway lights on at Majors Airport in Greenville, Texas. The controllers tracked him and waited anxiously before receiving a triumphant final text from Edenhoffer that he had landed safely.
To mark the occasion of the reunion, Edenhoffer presented the team with a thank you letter.
He wrote, "How can simple words of thanks ever express the depths of saving a life? There are, however, only words of appreciation, which can be offered. Had your team not been willing to think outside the box, to use personal ingenuity even against the conventional rules in place, I might not be sitting here to write today. So often rules are so ingrained in individuals that they impede even the goals they are designed to reach. Thankfully, such was not the case that night."
More on this event:
Emotional Reunion as Pilot Meets ZFW Team That Helped Save His Life