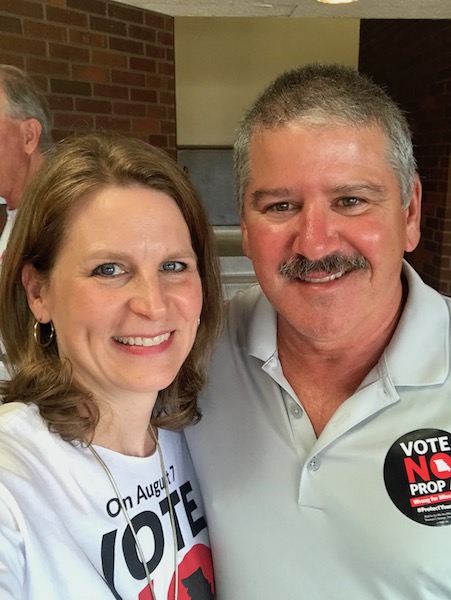 NATCA Boots On The Ground: Big Week Punctuated by Missouri Win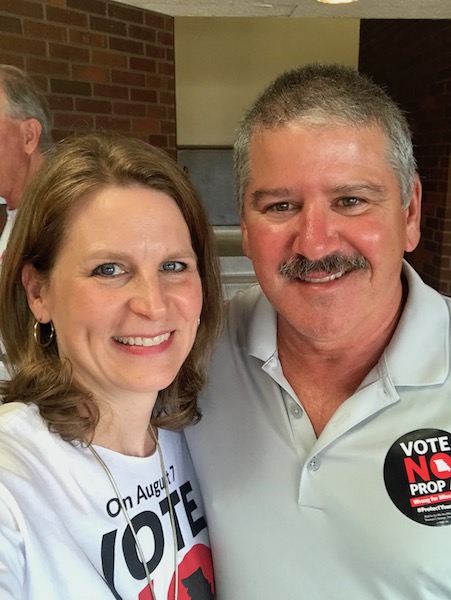 (Aug. 10, 2018)
Labor had a very good week, highlighted by a big win in Missouri on Tuesday when voters rejected "right to work." They voted no on Proposition A to reverse right to work legislation.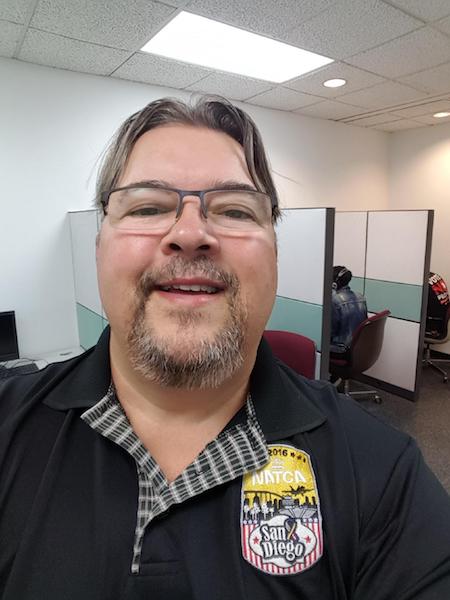 NATCA members were hard at work on this important effort, including Boots On The Ground team members Rick Schmidt (pictured above last Monday, Aug. 6, with AFL-CIO Secretary-Treasurer Liz Shuler) and Jeff Cox (pictured at right at a phone bank).
The intention behind "Proposition A" was to dismantle unions and weaken their ability to fight for our values. "Proposition A" would have driven down wages for Missouri families, making it harder to make ends meet. It would cost jobs and make it harder for private sector employers to negotiate with their workforce and effectively manage their business.
While right-to-work legislation does not affect federal employees, it is an attack on the labor movement in general. We are seeing increased attacks on organized labor and it is important that NATCA stand united against these attacks as part of the broader labor movement.
"They did it!" wrote Cox on Twitter after the win in Missouri. "Hundreds of calls, tremendous outreach! That's the way you do it folks!"
Wrote AFL-CIO President Richard Trumka:
"Missouri is the latest sign of a true groundswell, and working people are just getting started. The defeat of this poisonous anti-worker legislation is a victory for all workers across the country. The message sent by every single person who worked to defeat Prop. A is clear: When we see an opportunity to use our political voice to give workers a more level playing field, we will seize it with overwhelming passion and determination. Tonight is the latest act of working people changing a rigged system that for decades has been favoring corporations, the mega wealthy and the privileged few.
"The victory in Missouri follows a national wave of inspiring activism that is leading to life-changing collective bargaining agreements and electoral triumphs that remind America the path to power runs through the labor movement. From statehouses and city councils to the halls of Congress, working people are fighting back; and this November, we will elect our allies and retire our enemies. Working people across Missouri made this transformational moment possible, and we are following their lead to changing the world."
Elsewhere in Boots On The Ground News:
Arizona
The A. Philip Randolph Institute (AFL-CIO) held its National Education Conference in Phoenix this week with 500 members attending. NATCA Boots On The Ground Arizona members Noel Kingston and Chuck Muñoz assisted this important labor constituency in preparing for the convention.
Last month, Munoz and Kingston joined a local AFL-CIO-led rally to defend the rights of working Arizonans and support affordable health care.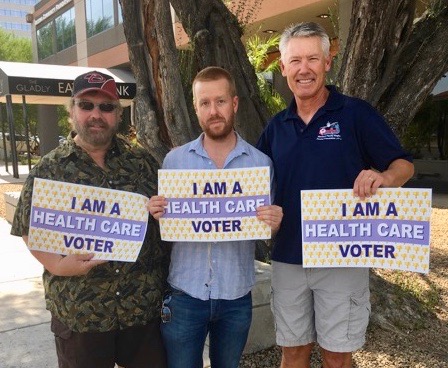 From left to right: Chuck Muñoz, Joe Murphy (Arizona AFL-CIO field director), and Noel Kingston.
New Mexico
Boots On The Ground New Mexico member Yvonne Hawpe (pictured below) joined a local union rally to protest the Administration's executive orders that are negative for federal employees and their unions. It was part of the large #RedForFeds rally initiative that was centered on Capitol Hill.