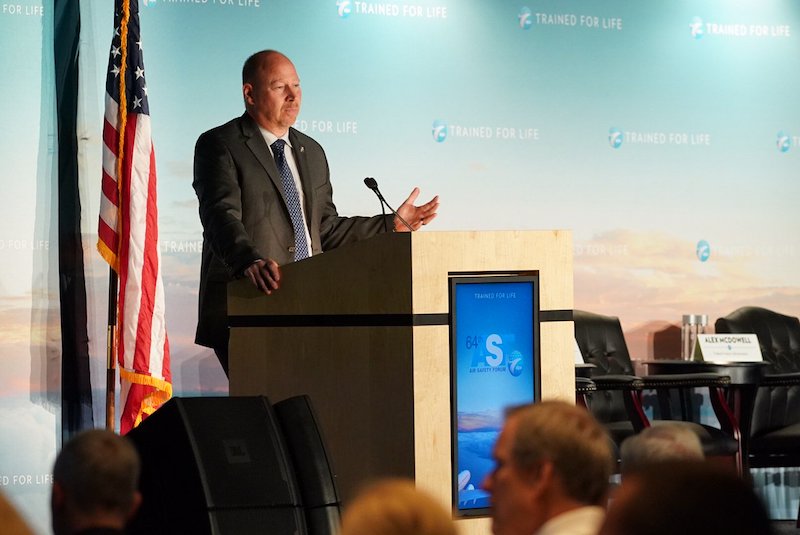 Rinaldi: 'If the Pilots and Controllers Stick Together, We Can Accomplish Anything'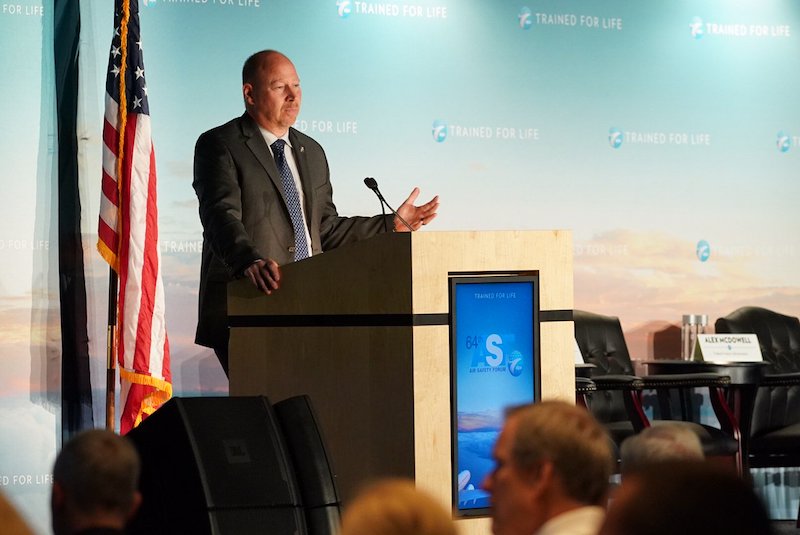 (Aug. 10, 2018)
NATCA President Paul Rinaldi delivered the event-closing keynote address at the annual Air Line Pilots Association, Int'l (ALPA) 2018 Air Safety Forum last week in Washington, D.C.
The event brings airline pilots, subject-matter experts, and government and industry partners together for in-depth discussions to drive improvements in aviation safety, security, and pilot health in the U.S. and Canada.
ALPA President Capt. Tim Canoll introduced Rinaldi, citing the longstanding and collaborative relationship the two organizations share.
"We are all happy to hear that Paul was just elected this week to his fourth term. Under Paul's leadership, NATCA has promoted a strong safety culture in a spirit of collaboration," Canoll said. "Evidence of this can be seen in Air Traffic Safety Action Program (ATSAP), efforts toward fatigue mitigation, and the Professional Standards program."
Rinaldi also highlighted ALPA and NATCA's close relationship, using a well-known European phrase to emphasize that pilots and controllers are of the same fabric of aviation professionals, both on the front line of the world's largest, safest, most complex airspace system.
"There is a saying used to describe the common cultures of Greek and Italian people: 'Stessa faccia, stessa razza,' or 'same face, same race.' That's NATCA and ALPA," Rinaldi said. "We work in the ultimate team occupation. We have accomplished great things together over the years, with a great safety record."
He added, "We are partners on all burning issues. If the pilots and controllers are together on aviation issues, it is really hard for someone to speak up against us."
Rinaldi also discussed the challenges facing both organizations and the National Airspace System, particularly the legislative barriers to progress.
"We're seeing increased traffic, and unmanned aircraft systems (UAS) are entering our airspace. There's a pilot shortage, and we certainly have a controller shortage," Rinaldi said.
"What we have in front of us is a broken governance system," he said. "Congress has to appropriate us and they have to reauthorize the FAA. They set the funding and set the rules and over the last 10 years, all we see are short-term extensions on rulemaking and funding."
What happens with all these shutdowns, threats of shutdowns, and deadlines, Rinaldi said, is that it will continue to delay progress in modernizing the aviation system and being able to meet the challenges of the future.
"Now is not the time for complacency and now is not the time to say it's 'good enough,'" he said. "If we sit back and say 'good enough,' that will be the demise of our aviation system.
"This system has to be safety first. And it has to be us, the operators, standing together, so we can continue to enhance and grow aviation in this country. I call for you to stand up for safety, and have this airspace funded properly. Stable predictable funding will get us across the finish line.
"If the pilot and controllers stick together, we can accomplish anything. We can continue to be the best in the world as long as we do it together."