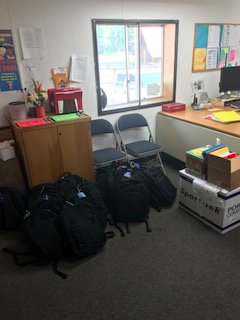 ZID Members Work With NCF to Make Special Backpack Delivery to Rural School in Washington State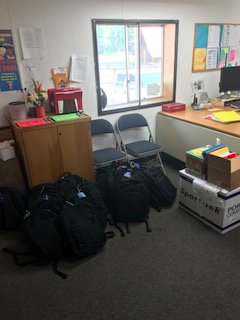 (Aug. 10, 2018)
Indianapolis Center (ZID) NATCA FacRep and Great Lakes NATCA Charitable Foundation (NCF) representative Marc Schneider and his wife Wendy (also a member at ZID and a Great Lakes NCF member) provided the Onion Creek Elementary School in Colville, Wash., with some desperately needed school supplies.
Working with NCF via "Operation Backpack," 15 backpacks and supplies were given to the school. The teachers were also provided with supplies to assist with the development of lesson plans and daily teaching activities. Onion Creek is a remote public school in Stevens County, Wash. The school has approximately 32 students in K-8th grade. The Schneiders have a cabin in the area that they use for vacations.
"We saw a need and already do this in Indianapolis, so it just made sense to approach the NCF to see if they could help, and of course they did," Marc said.
Marc and Wendy, through the NCF, along with a host of other volunteers, also provide backpacks for central Indiana school systems and the Northport, Wash., school system.
"When the principal of a school cries and says 'thank all of the NATCA people for us, this makes such a huge difference,' you just want to do more," Wendy said.