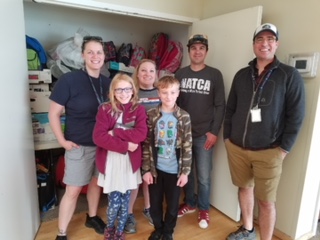 MRI Members Step Up to Help Deliver Much-Needed School Supplies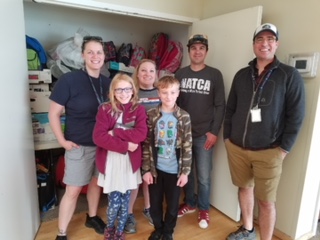 Pictured from left to right: Jessica Schwartz (MRI Secretary-Treasurer), Alaskan Region National Legislative Committee Representative Dawn McFalls and her children, MRI FacRep Eric Mauro, and MRI pilot outreach and legislative rep Fred Snyder.
(Aug. 24, 2018)
Last week, Merrill ATCT (MRI) organized and delivered school supplies collected by MRI and Anchorage Center (ZAN), with support from the NATCA Charitable Foundation.
They stuffed 50 backpacks and donated 25 school supply kits (everything a student needs just without a backpack) and more to their local Mountain View Boys and Girls Club, which sits in a low-income neighborhood located between MRI and ZAN. The club manager, whom the children call "Mr. Dave," expressed much gratitude for the NATCA efforts, particularly because the local program that usually helps support those kids with school supplies moved to a different location. Their donation couldn't have come at a better time as the volunteer base just hasn't been there like it has in the past, said MRI FacRep Eric Mauro and MRI Secretary-Treasurer Jessica Schwartz. "We are very proud to help set up some of our local kids to a great start to their school year," they wrote. "Some of our NATCA kids even helped with the delivery!"
"We have a great crew for how little of a facility we are!" said Schwartz.